THE BIRTH OF "AUTOMOBILES CLASSIQUES A BAGATELLE"
The first issue of the French magazine "Automobiles Classiques" was released in 1983. The aim of its inventor, Arnauld de Fouchier, was to create a reference magazine for all classic cars lovers, a high-quality journal printed on thick paper. The first issues were incidentally closer to a book than to a magazine, considering both thickness and price (110 FF).
"Automobiles Classiques" gradually became more democratic in order to conquer a larger audience: less sumptuous paper, lower price (50 FF, then 35FF). However, "AC" has always remained unique by the quality of the photos (taken by Peter Vann, Alberto Martinez, Michael Zumbrunn...) and the articles (written by Serge Bellu, Antoine Prunet, Pierre Dieudonne...).
The editorial staff noticed that France was missing an upper-class car event as it missed an upper-class car magazine before "AC" had been created. The journalists wanted to revive the traditional Parisian "Concours d'Elegance" of the twenties, thirties and fifties. They set up the "Club Automobiles Classiques" to organize the show, and Paris' mayor allowed them to use the prestigious "Parc de Bagatelle" in the "Bois de Boulogne", next to Paris. The first "Automobiles Classiques a Bagatelle" show took place on September 11th and 12th, 1988. It is now considered to be the French "Pebble Beach".
WHAT IS "AUTOMOBILES CLASSIQUES A BAGATELLE" ?
The show is divided into three parts.
- the "Concours d'Elegance" : almost 65 cars are rated on historical value, pedigree, restoration... The cars are prestige, sports, race or show cars, ranging from twenties to nineties, with an emphasis on thirties and fifties. Besides the "Best of Show", there are several categorized prizes: best restoration, most elegant car, choice of the audience...
The jury is composed of people like Patrick Le Quement (Renault design's head), Bob Lutz (Chrysler's chairman), Mauro Forghieri (famous engineer, who even worked for Bugatti!), Paul Bracq (designer), Paul Frere (race driver)...
- the thematic exhibit : each year, the organizers choose a topic and six corresponding cars are shown apart from the "Concours d'Elegance".
- other exhibits :Louis Vuitton, co-organizer of the event, shows each year a car with special Louis Vuitton's luggage (in 1995 it was the Renault Initiale concept car).
Sometimes scale models or young designer's mock-ups are shown. Once were also exhibited the De La Chapelle Parcours (stillborn upper-class monospace), "Champagne Krug"'s Rolls Royce Silver Shadow Delivery, or the ItalDesign Machimoto, slowly driving in the alleys.
FRENCH BEST CAR EVENT
"Automobiles Classiques a Bagatelle" immediately became an unavoidable event for any car amateur. Most of the cars are rare ones or one-offs, and there are few repetitions from one year to another: there is always something to discover at Bagatelle.
If following the jury examining each car, it is possible to hear the sound of the engines, because all cars have to be in perfect condition. Isn't it wonderful to listen to the sublime murmur of a Bugatti straight eight, or to the frightening barks and roars of a '71 Ferrari 512 M ? It is also amusing to see the swans and the peacocks that are living all year long in the park quietly sauntering between the cars.

As "Automobiles Classiques a Bagatelle" is a prestigious event, lots of VIPs and jet-set people are there, especially to see their names printed in gossip newspapers. They fortunately spend the week-end all together in big white tents beside the show, so that the true enthusiast can quietly inspect the cars without undergoing uninteresting remarks from ignorant make-belivers. Really a perfect show !

If you are still not convinced that "Automobiles Classiques a Bagatelle" is worth visiting, here is the list of all the "Best of Show"s :

1988: Rolls Royce Silver Ghost.
1989: Delahaye 135 MS Cabriolet by De Villars.
1990: Ferrari 330 P4.
1991: Talbot Lago GS Coupe by Chapron.
1992: Talbot Lago SS Faux-Cabriolet Goutte d'Eau by Figoni & Falaschi.
1993: Bentley Speed Six Convertible by Mulliner.
1994: Cisitalia 202 MM by Vignale.
1995: Mercedes Benz 500K Spezial Roadster.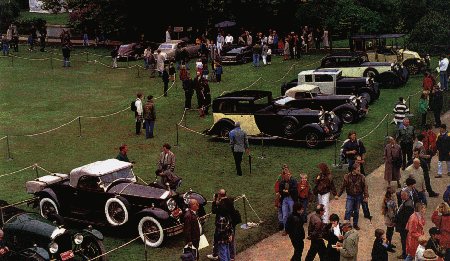 Click on the picture to see a larger version.
Description of the cars on this photo at bottom of page
If you don't like cars, you will be able to see "Le Petit Chateau de Bagatelle" (built in 64 days by architect Bellanger for Artois' count, in 1775), the english gardens by Blakaie or the famous rosery.