Techno Classica Essen 2022
Jaap Horst

At Retromobile I heard about the double engined Type 30 (_Blank of page), which I found extremely interesting to go and see. Thus, a week after Retro, my friend Bart Oosterling (several articles in the BugattiRevue were written by him) went by car to Essen, not really far from where we live in fact, and quite a bit closer than Paris....
I had never been before to Essen (well, to the Essen Motorshow in 1986...), so I didn't really know what to expect. As the Saturday was the only day that we could both make it, I was worried that it might be very busy. In fact, it was not busy at all, there was plenty of room to see and photograph all the cars there.
The poster is an old one, indicating the date in 2020. An event which never took place...
Quick links to a specific section:
Bugatti automobiles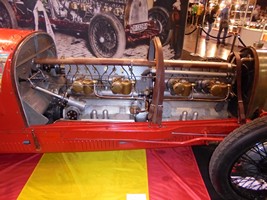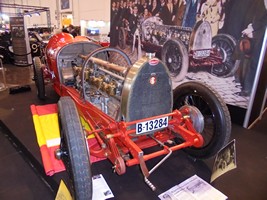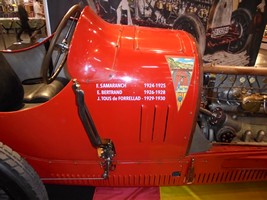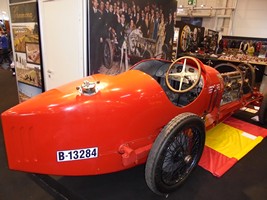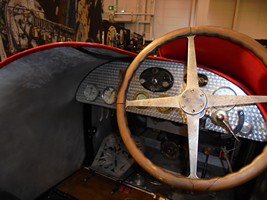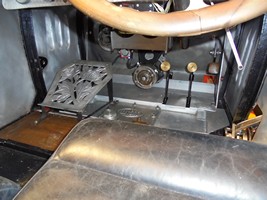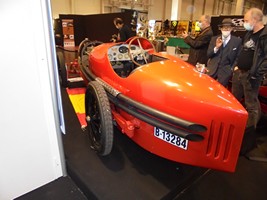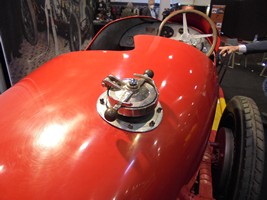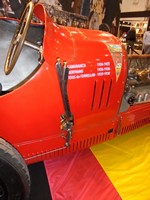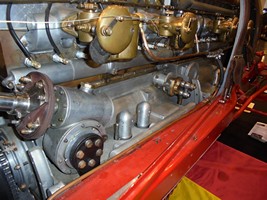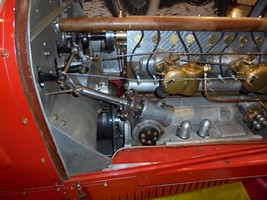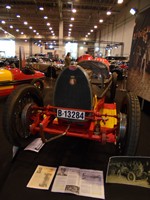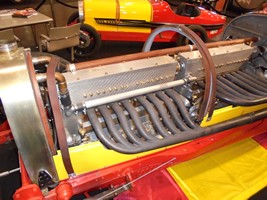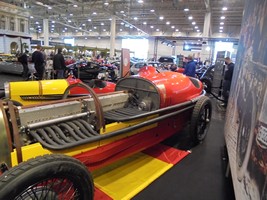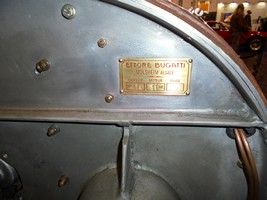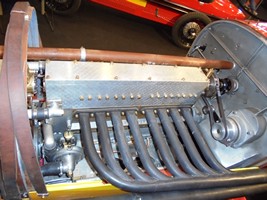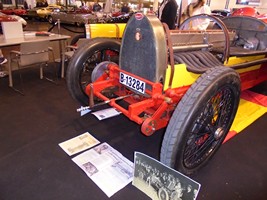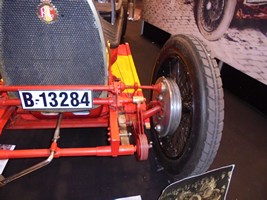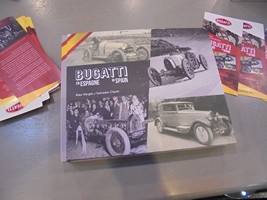 Double-engined Bugatti type 30, Chassis 4105. The car was built in the late 1920's or early 1930's by Jose Tous de Forrellad from Barcelona, just because he had two T30's, of which he crashed one, but the engine was still Ok. He did this to participate in a local hillclimb.
The engines in this car are new, however, the chassis frame is said to be original, having extensions of the parallel front section to the rear, to be able to mount the 2nd engine. The length of the chassis was not changed, just the seats put rearward by quite some distance.
The original twin-engined car never had a body with these two engines (The current body is made in the style as it could have been made in those days). The 2nd engine was removed later, and the car put back to it's original configuration.
The last picture shows the book which will appear in 2023, and which will have all details on this special type 30 and it's history.
Mr. Tous de Farrellad later (after WW2) was in the Spanish and French Newspapers, because he invented a hydraulically driven, four-wheel steered automobile, which was never built though. That car was not his only invention, though!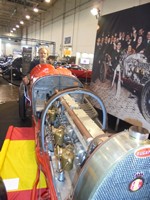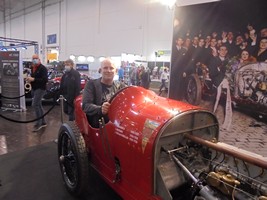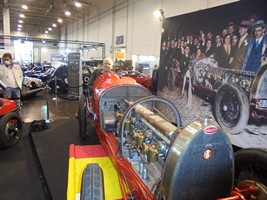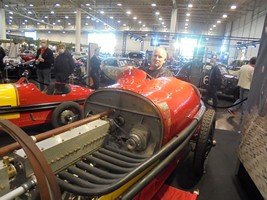 Myself and Bart Oosterling at the wheel of the 16-cylinder T30.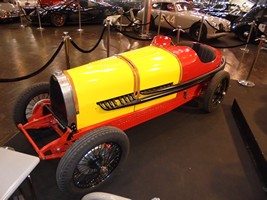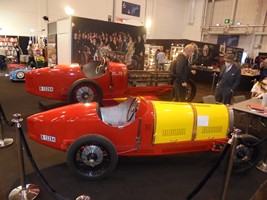 The same team that resurrected the car, also built a 3/4 electric model. In the same Spanish colours.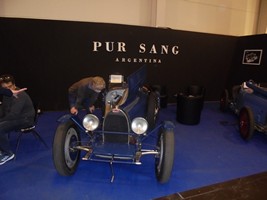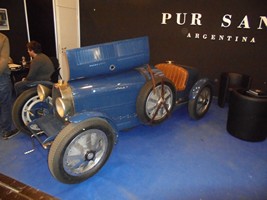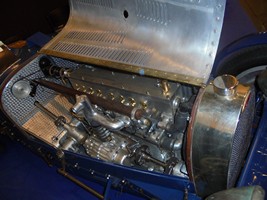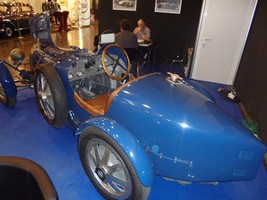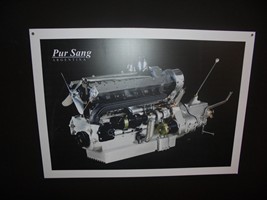 Bugatti T35B replica by Pur Sang, the same one they displayed in Paris, the same photo of a T57 engine on the wall.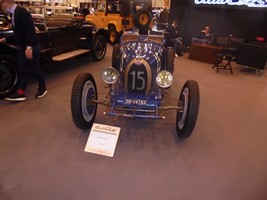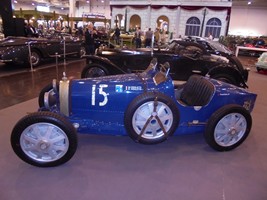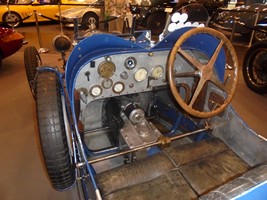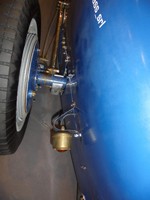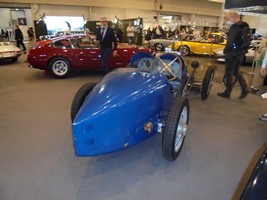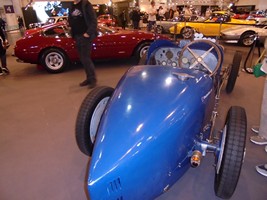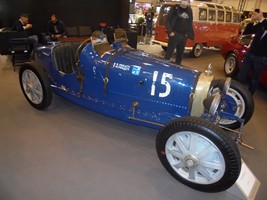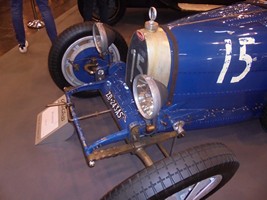 Bugatti T37 , chassis 37206. This car was sold new to the Netherlands, and had some racing history driven by Robert Tielens.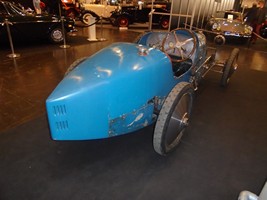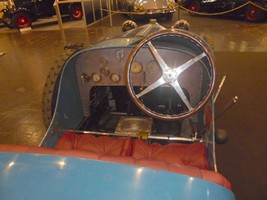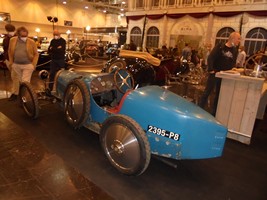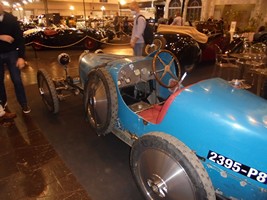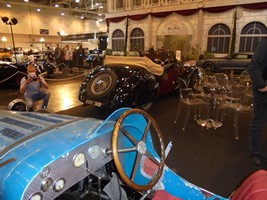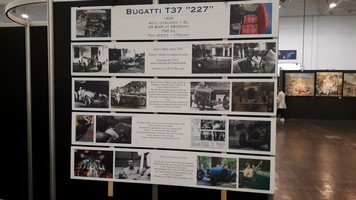 Bugatti T37, chassis 37227. On the stand of Jaap Braam Ruben. One of the early owners was Ernest Friderich, his daughter Renée also drove the car. The wheels disks are new, but were on this car early in it's life.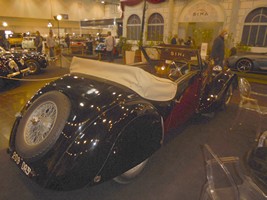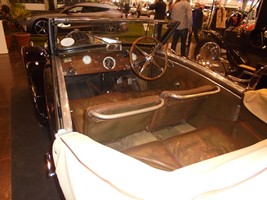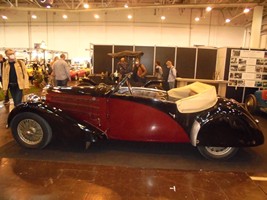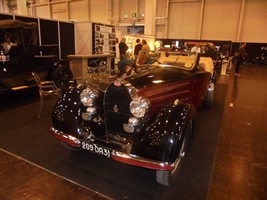 Type 57 Cabriolet Stelvio by Gangloff, chassis 57181. On the stand of Jaap Braam Ruben.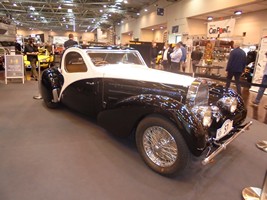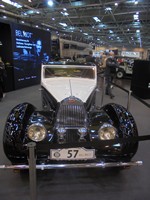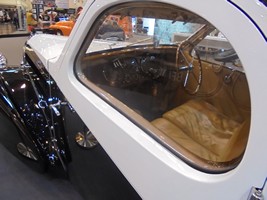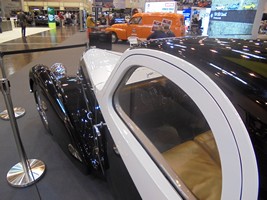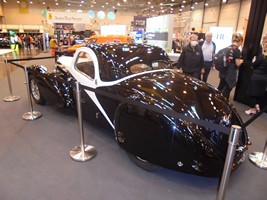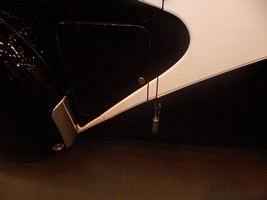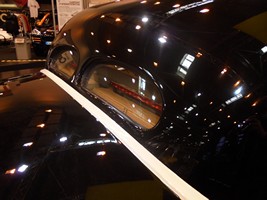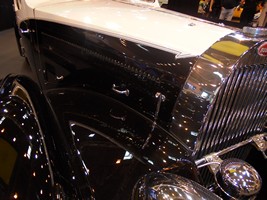 A very nice and rather new looking Type 57 Atalante, on the stand of an insurance company. Take a look at the LED brake lights behind the rear windows!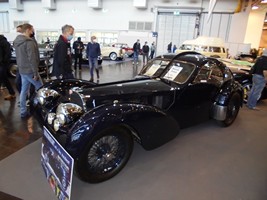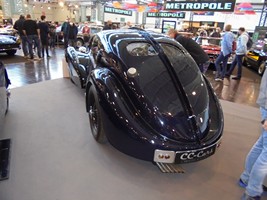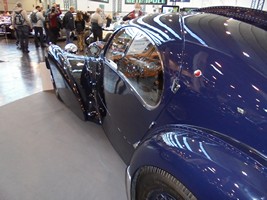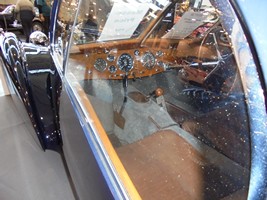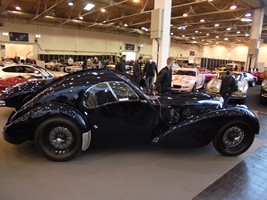 Jaguar engined T57S Atlantic replica by Eric Koux. In fact, this one has been for sale (from Denmark) for quite some while now.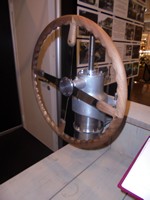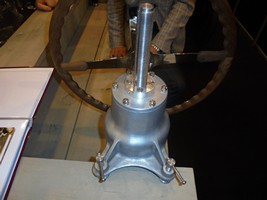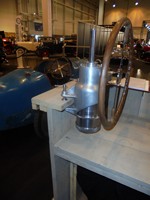 Well, one can make replica's of many things. This one is the famous pasta machine, using a very intricate mechanism in fact and mostly parts specifically made for this. Just the steering wheel is identical to that of an automobile. On the stand of Jaap Braam Ruben.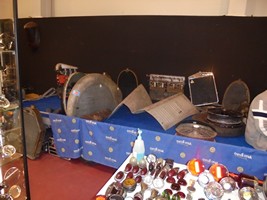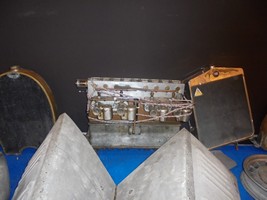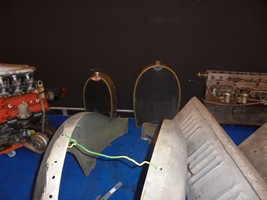 Lot's of parts, some interesting Bugatti ones. Who can identify the 8-cylinder engine with the 4 carburettors? The same engine was already on this stand at Retromobile, and also at Retromobile 2020....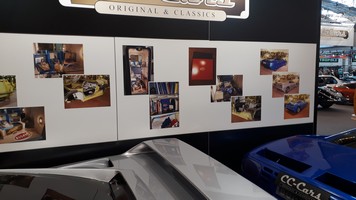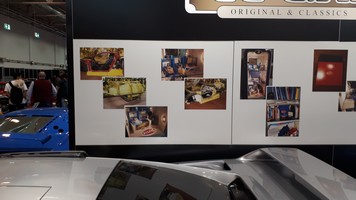 Three prototypes for the EB110 (prototypes A1, A6 and A7). All without engines, just mock-ups for show and windtunnel tests. Some of the cars have two different sides. Included in the sale (and shown in the last two photographs) also a lot of parts and a couple of damaged bodies which were used for crash tests.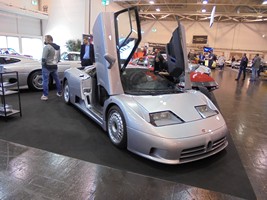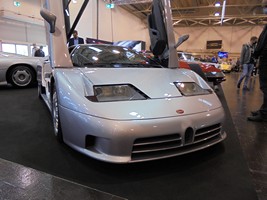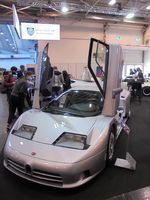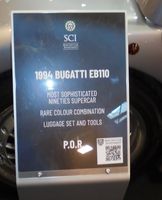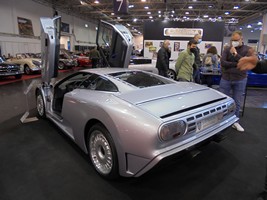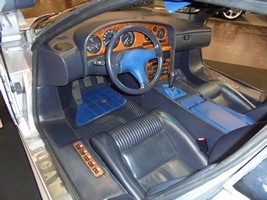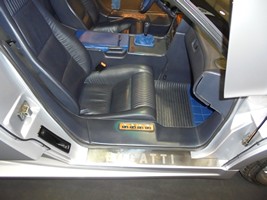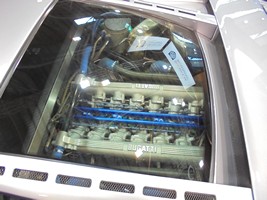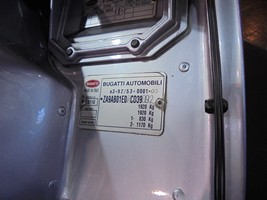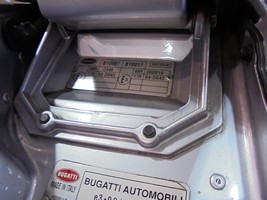 And a 1994 EB110 GT, in metallic Silver, a colour used mostly on the EB 110 SS.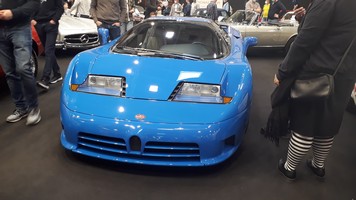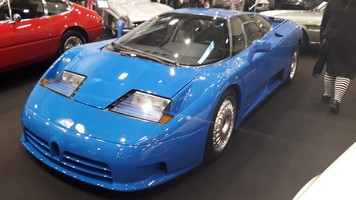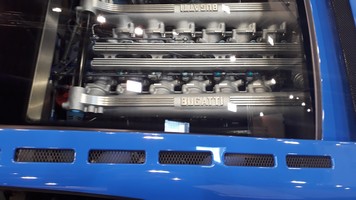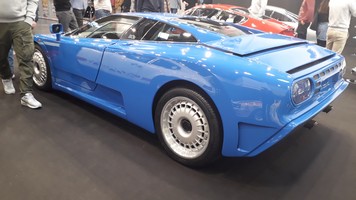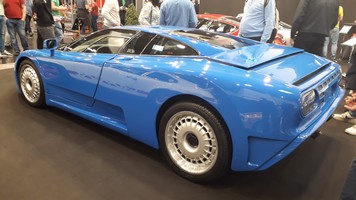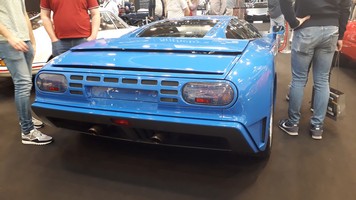 Yet another Artioli-Bugatti this one a EB110 GT in the characteristic blue.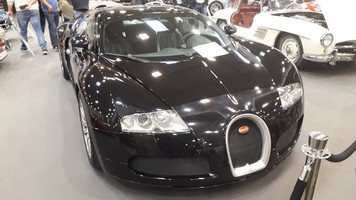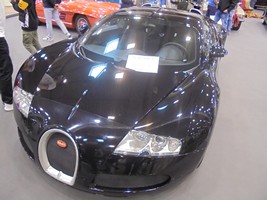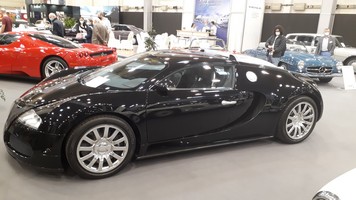 And yes, there were Bugattis from all Era's, including this Veyron
Bugatti art and miniatures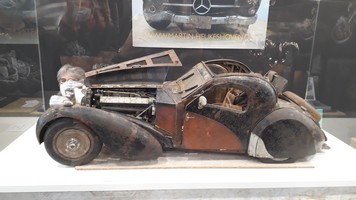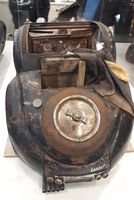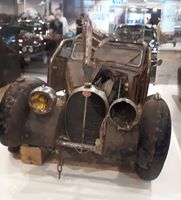 T57S Atalante "Barnfind" miniature by Martin Heukeshoven. He told us that there is only one way to make these models old; by using old, corroded, materials.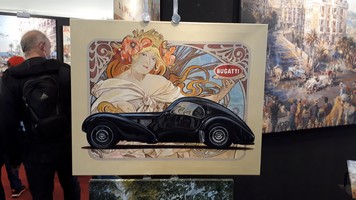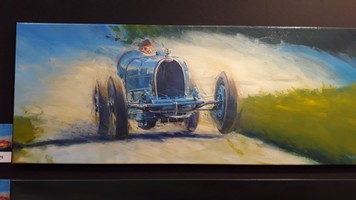 Left: rather nice and original Art Deco painting of a lady with a T57S Atlantic
Right: "Aiming" by Klaus Wagger
Other automobiles etc.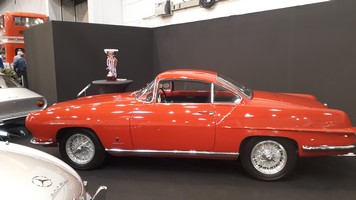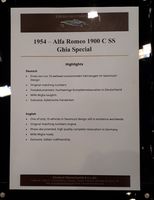 This one was voted the most beautiful of the show, a 1954 Alfa Romeo 1900 C SS Ghia Special.