Jaap Horst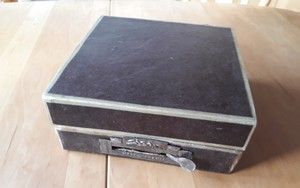 The Manège Mécanique games are quite well-known in France, and were used to gamble in pubs and the like. Sometimes maybe even at home. There are many different versions, all with one or two rows of cast metal horses, that run in concentric circles. The horse closest to the finish when the (spring driven) game stops, wins the game. Some games even have a metal bowl in the middle, to put in the coins used to bet.
However, I could find only one version with cars (an early version, with cars from before 1910), and now there is this Bugatti version, which must be a rather rare version! 4 Bugatti cars, in colours blue, red, brown and white, carrying the numbers 1 through 4. The miniature cars, about 4cm long, are of cast metal, and were painted rather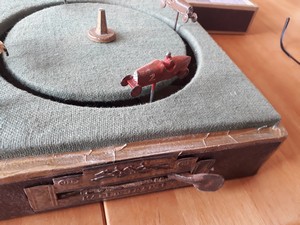 roughly. They are clearly GP Bugattis, though rather narrow, and therefore single-seaters.
The finish is represented by a long pole, with the French flag flying.
The box, with lid, is made of a wooden structure closed with cardboard. Edges are finished with gold-coloured foil. The small handle of the spring mechanism hinges, so it can be put flush with the box, to prevent damage when transporting. Manufacturer is JEP, famous Paris toy manufacturer.
As far as I can see, the whole game is in very good shape, with no signs of restoration. I'm not sure though if the cars were repainted later.
Click HERE or on the top image, to see how it works!