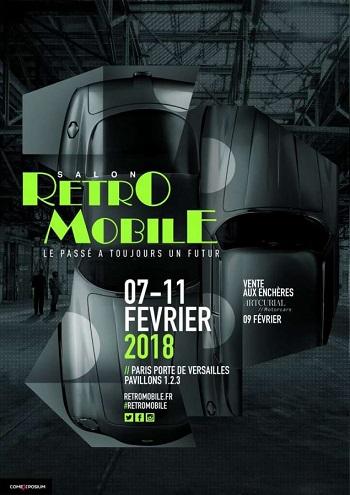 A virtual magazine for a true passion!

Editor: Jaap Horst
---
Volume 23, Issue 2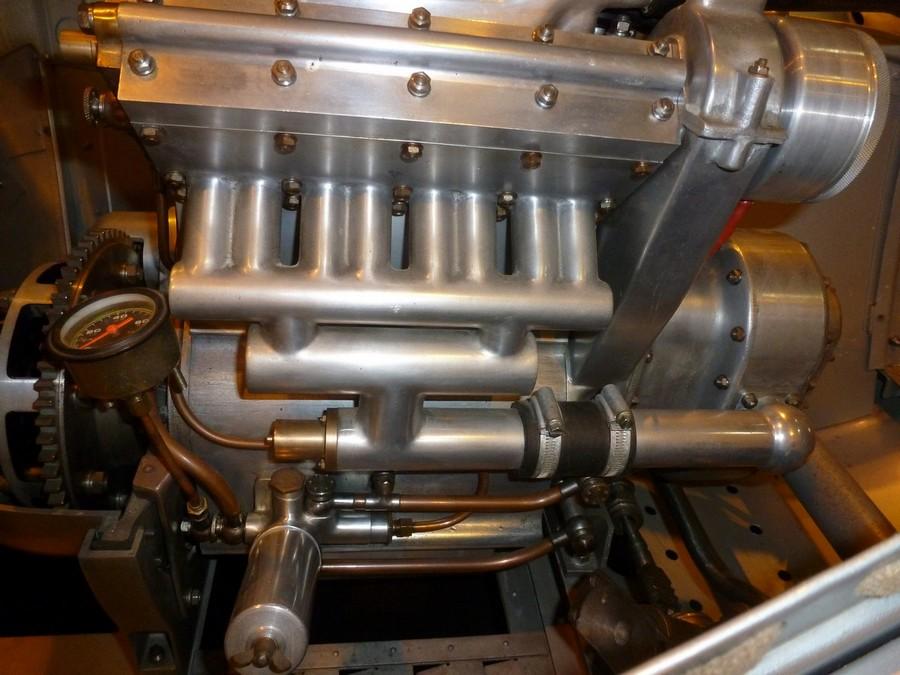 Retromobile 2018
Jaap Horst
Click on a picture for an enlargement. Big pictures open in a separate window.
This year I went again to Paris on the Friday, alone this time in my faithful old Peugeot.(Sorry, the picture is from when I bought it, a few more scrathes etc. now).
The trip down to Paris was strange; snow had been announced, and in Belgium some kind of alert was called out. It was very quiet on the roads, and I did not see a flake of snow, until I was quite close to Paris, The snow caused no problems. What did cause some delay was a special alert for Paris. To avoid heavy trucks from blocking the main streets there (sliding down on inclines for example), Paris was closed for Trucks. So what do you do when you need to park several thousands of Trucks? You close off the left two lanes of the three-lane Motorway, and park them there. Miles and miles and miles of them.....
In the end, the delays were not that bad, the exit of the parking garage was also the rear-entrance of Retromobile (with nobody waiting there!), so within minutes of leaving my Peugeot, I stood in one of the three halls. Yes, it did snow quite heavily in Paris (after I arrived), as you can see in the photograph on the right!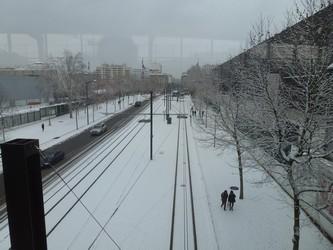 This year, there were again a lot of Bugattis, and some very interesting ones. How often did you see a Type 68 Coupé? (photo above) And then of course there was the auction, including several Bugattis, but most interesting a very original Atalante. There were of course also several friends whom I met, somehow at Retromobile I always run into Andrea Capra from Switzerland. Not at a stand with Bugattis, but just at some undefined isle.
Of course, there were also a lot of other cars, a few of them which have my special interest I represent here, the rest you will have to find on other websites.
At around 8.30 PM I had seen about everything, and drove home again, filled with impressions and quite tired. Luckily all the snow had melted. Until next year...!
Quick links to a specific section:
Bugatti automobiles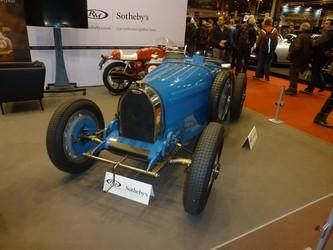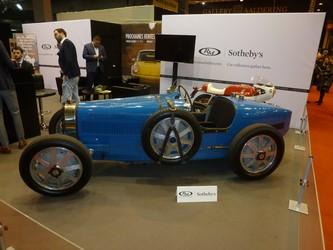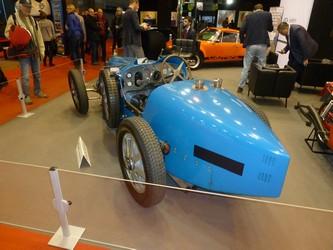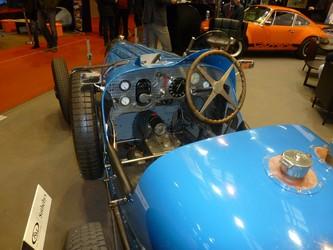 A type 51 at Sotheby's.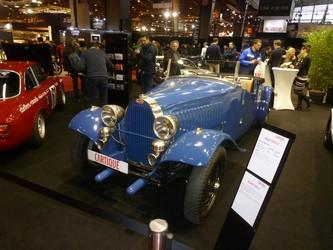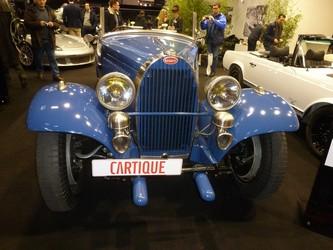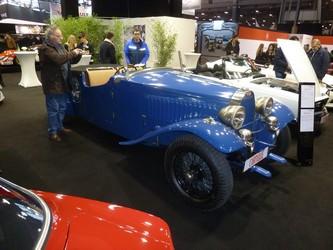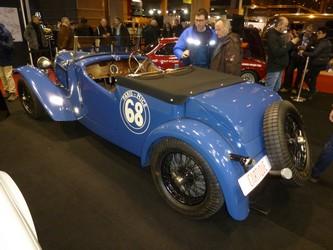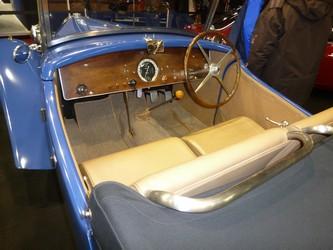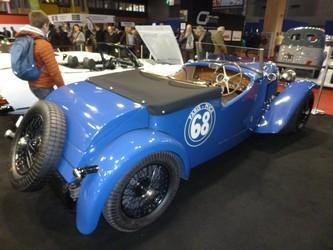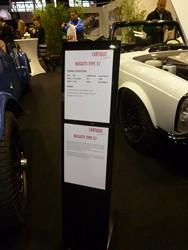 Seen this before at Retromobile, the very interesting T57TT, chassis 57300.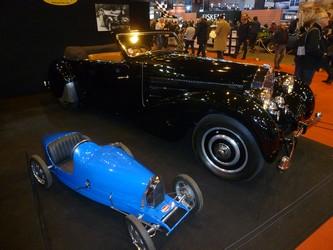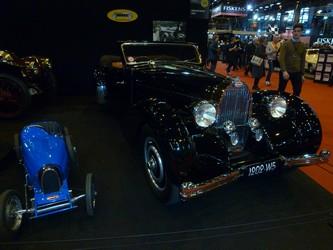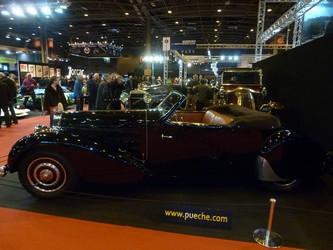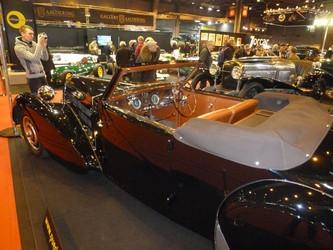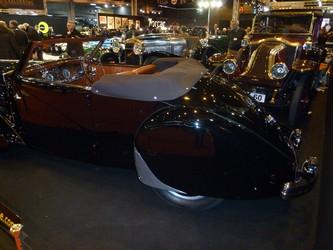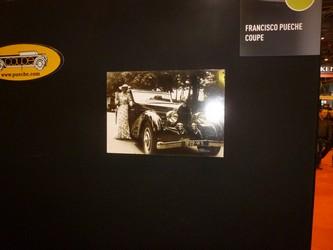 T57 Cabriolet, which is in fact a modified Atalante (see the B&W photo in the last image.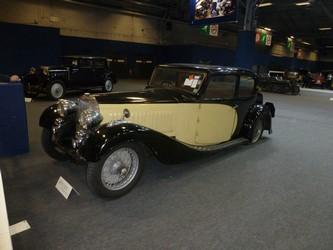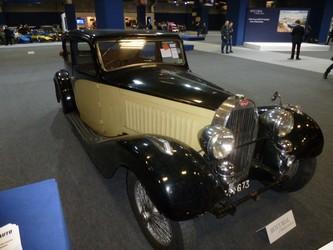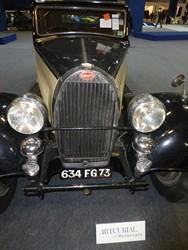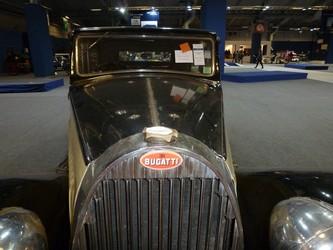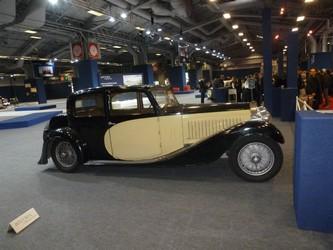 The T57 Galibier - 1st series, that was auctioned.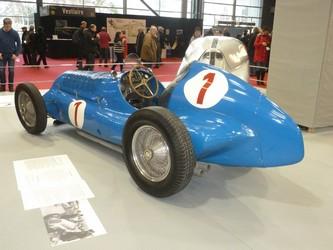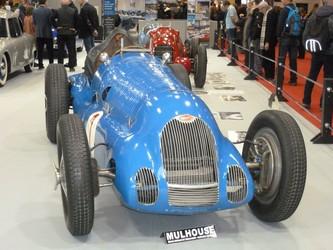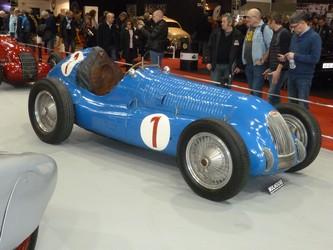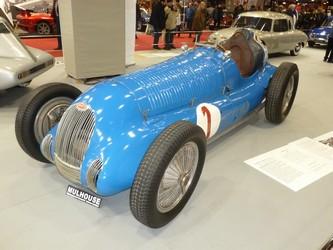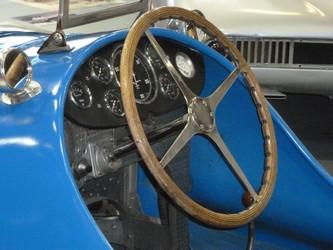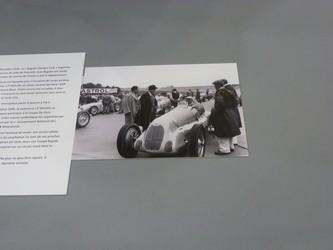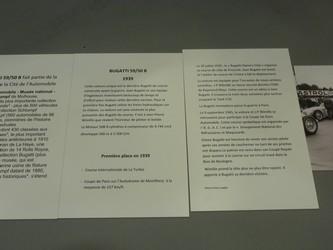 The T59/50B, on loan from the Schlumpf museum, and displayed in the Wimille section.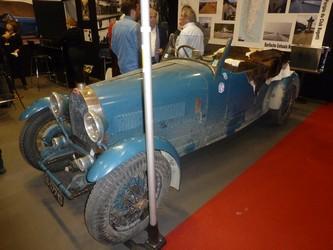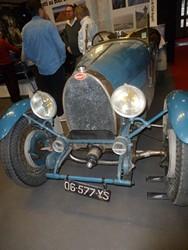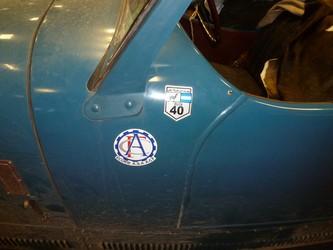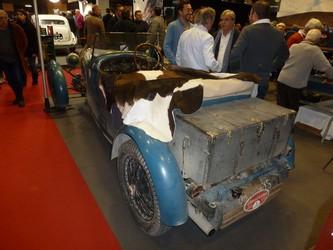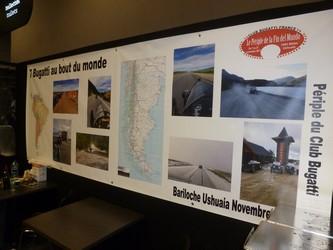 On the Bugatti Club France stand one of the Bugattis that went on a tour of South America, well, Argentina only, but plenty of roads there in Patagonia! This here is a Type 44 Grand Sport.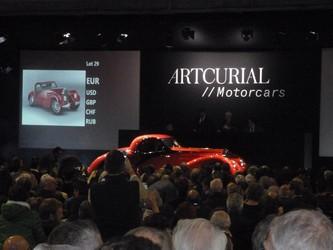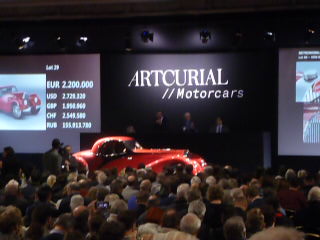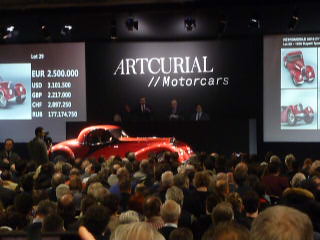 The Atalante in the Artcurial auction. Click on the two images on the right to see the actual bidding, going from 2.2 to the final price of 2.5 million (bidder in the audience), and in the second movie, an additional call for more bids, after the hammer had already fallen. Strange.
Excuses for the image quality, the sound quality is rather good, though. But of course your French must be likewise!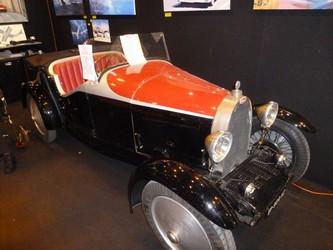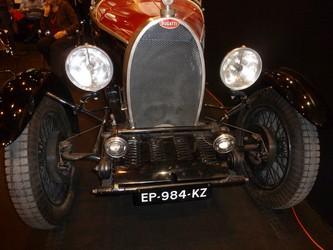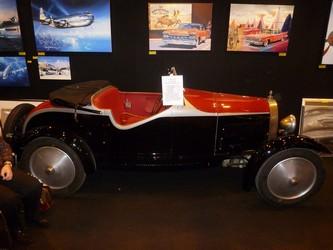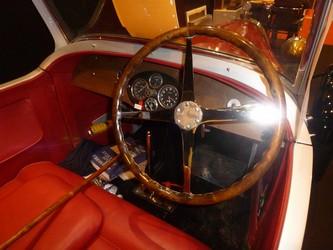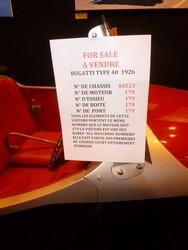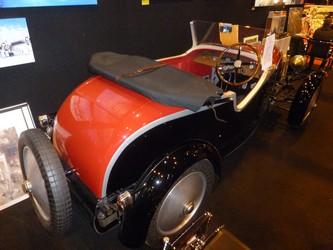 One (of many) Bugattis for sale, a Type 40, 40233. I don't know if I like the bodywork entirely.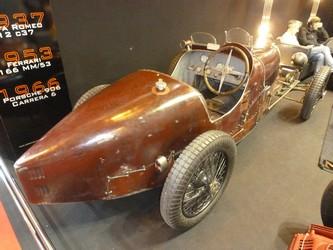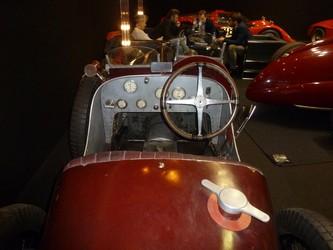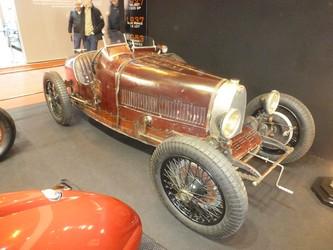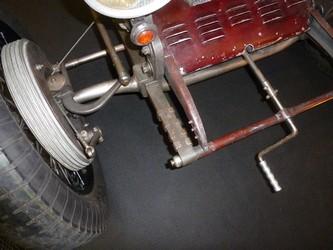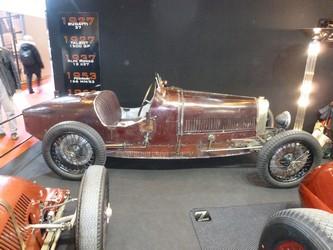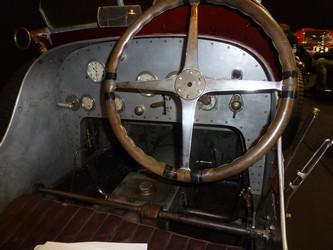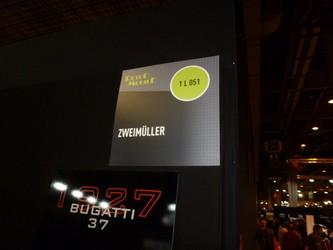 Well used 1927 Type 37, at Egon Zweimüller.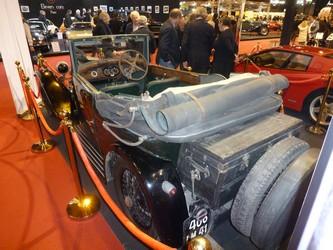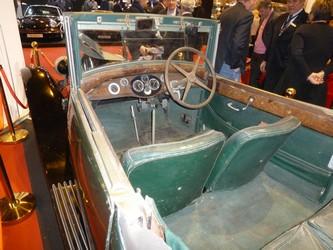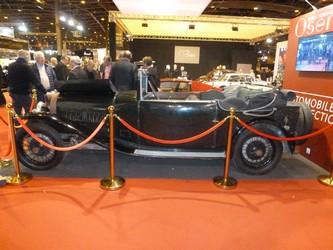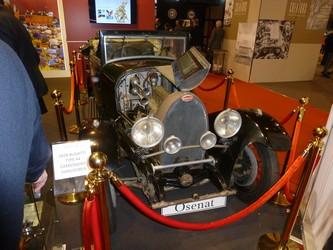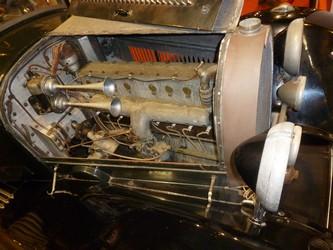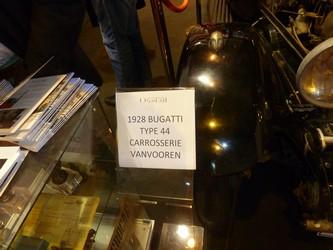 Type 44 at Osenat. This was auctioned later in March, and fetched €360,000.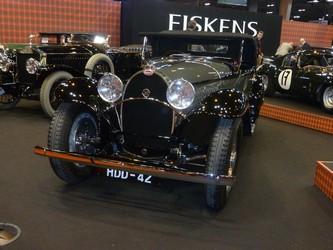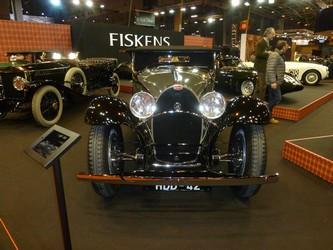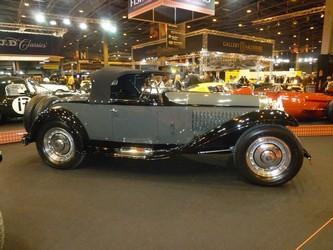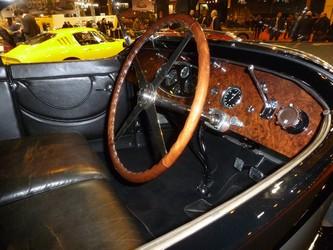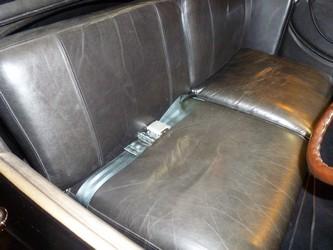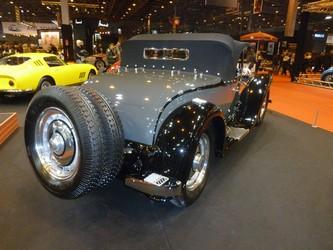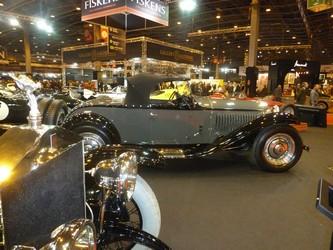 Handsome Type 50 at Fiskens. They have it still for sale.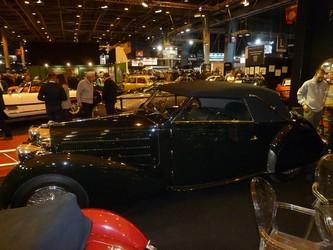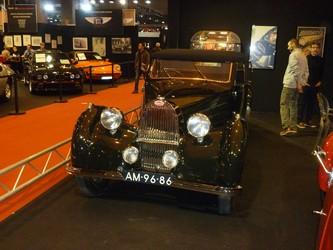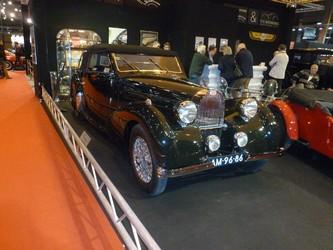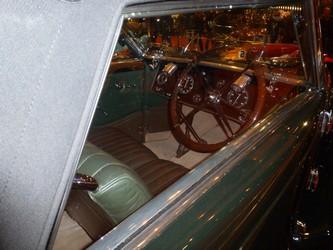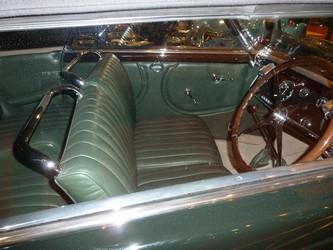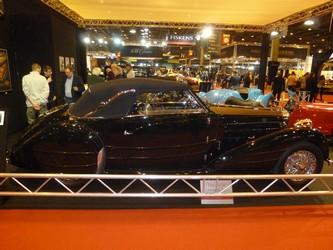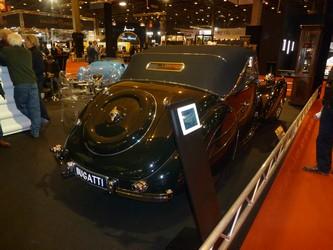 T57C Stelvio Gangloff at Braam Ruben's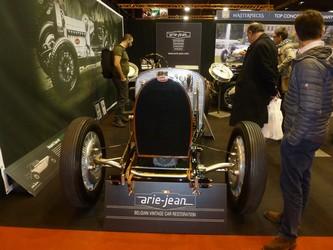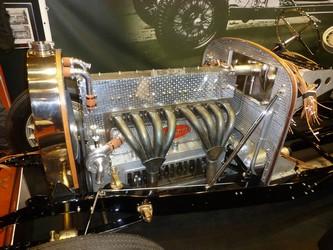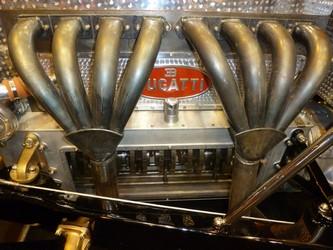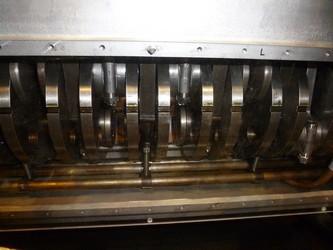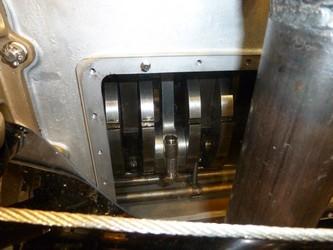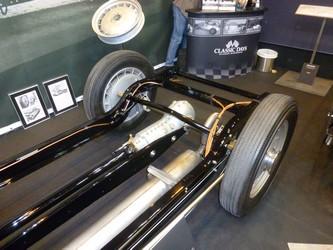 Arie - Jean from Belgium presented a much advanced T46 chassis, which was displayed a few years ago in Maastricht.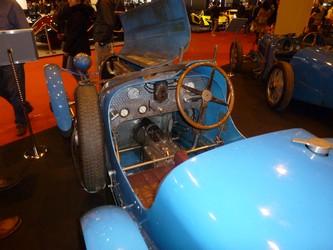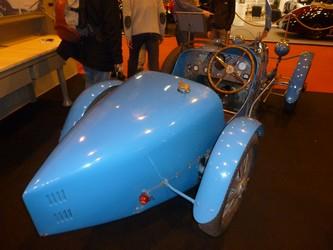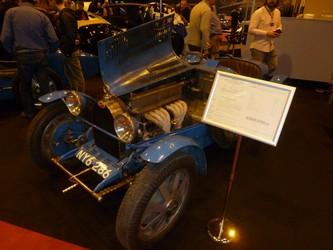 A load of cars at Ivan Dutton's, to start with this T35B, BC001.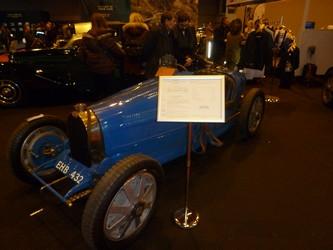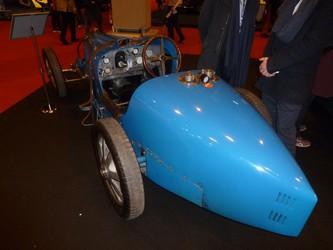 The second one this T51, but then I got distracted by the miniature Bugatti sitting alongside it.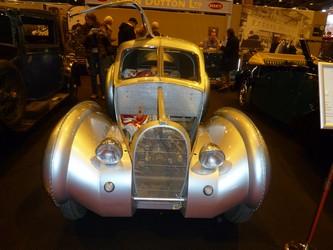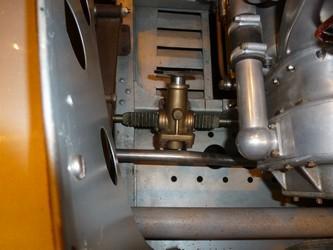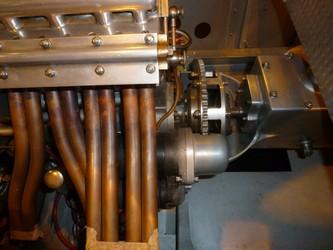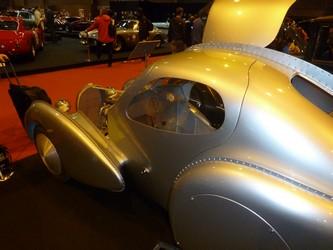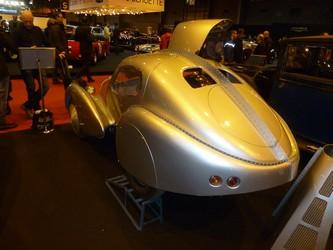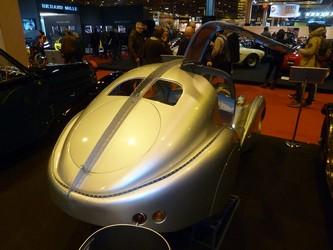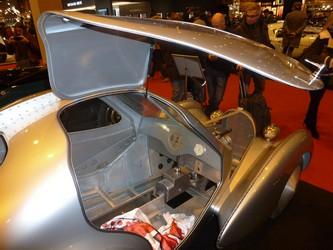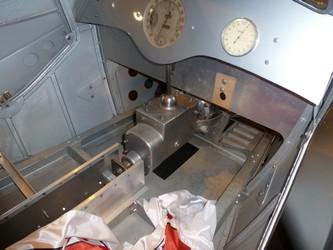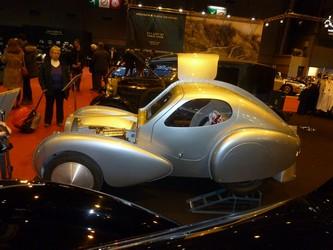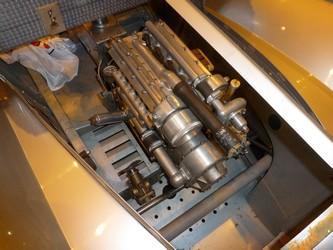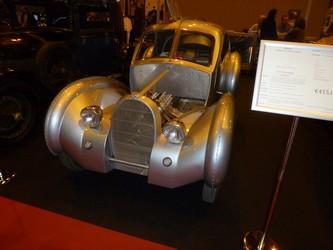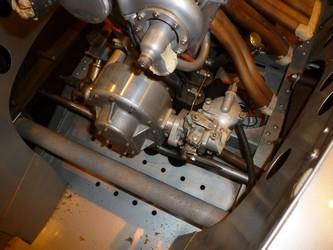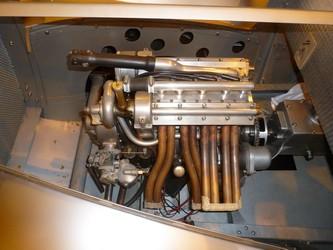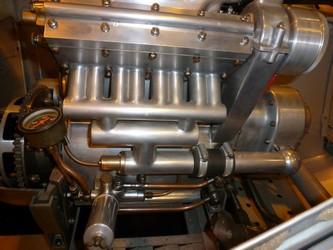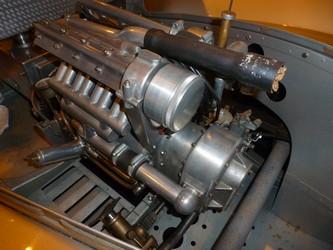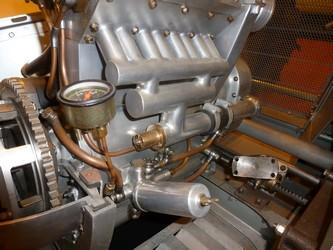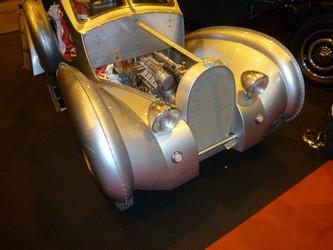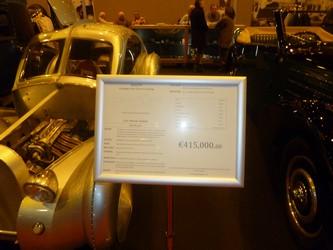 Very interesting this tiny T68 coupé. Of course, only the engine of this originally Uwe Hucke project is in fact made by Bugatti (not in Molsheim, but Paris, during the war), and the body and possibly chassis are later interpretations, the body following an original sketch, though it is unclear who made that sketch. Maybe Roland?
Still: look at the details on that engine!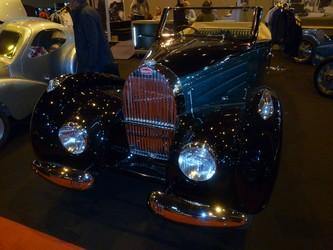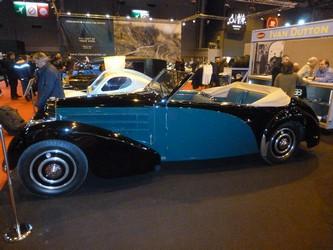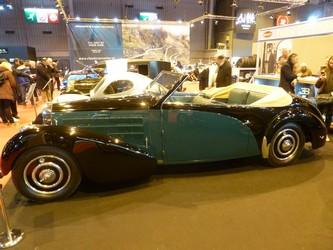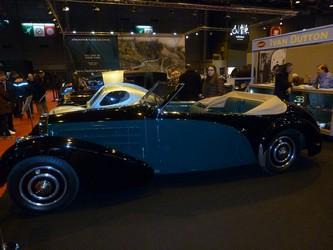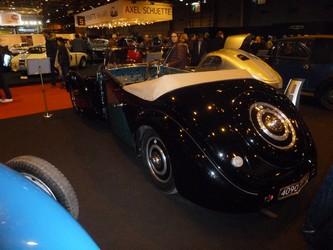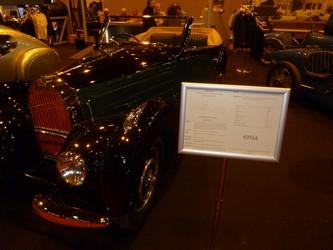 Another at Dutton, this T57C Stelvio. And no, there are not two cars with different colour. The same car, but difference between with and without flash.... The real colour is different still....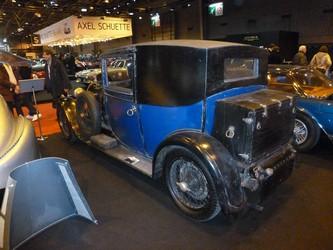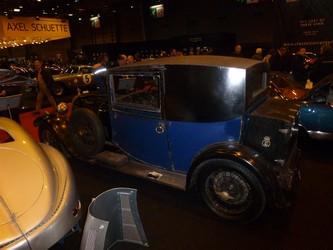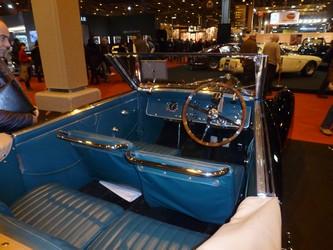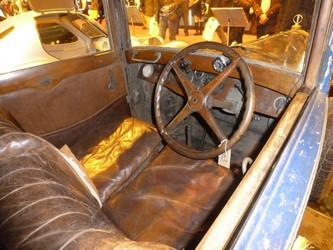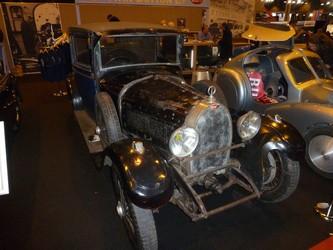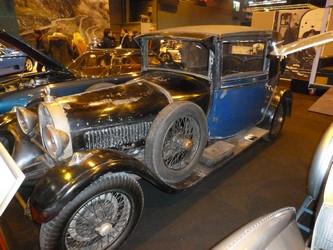 Very interesting, this T44 Fiacre. It looked very original indeed. Hopefully this finds a good home!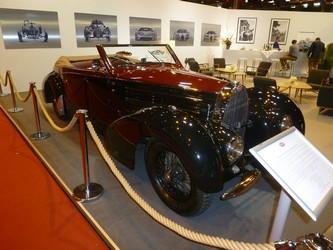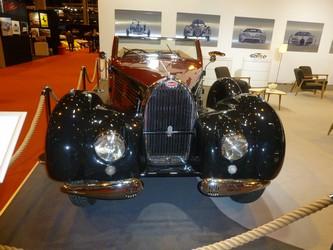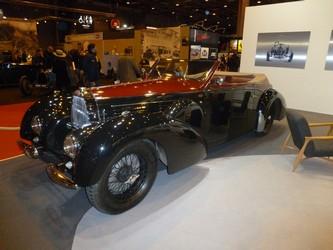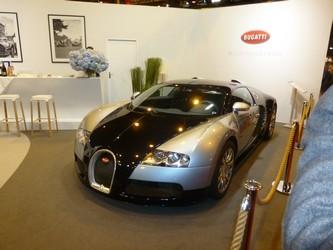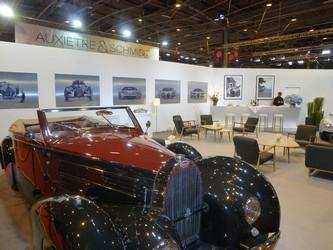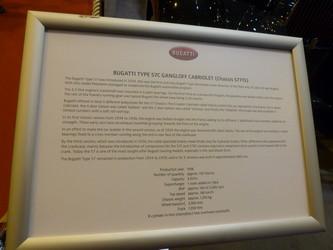 Bugatti SAS had on it's stand not just a Veyron, but also a real bugatti, T57C Gangloff Cabriolet.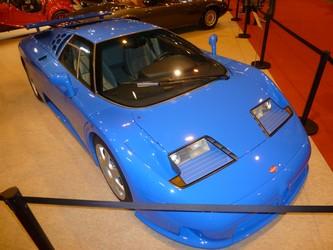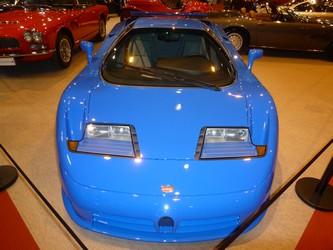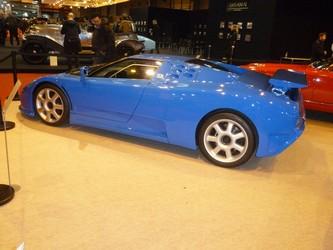 Talking about modern Bugattis; how about this EB110!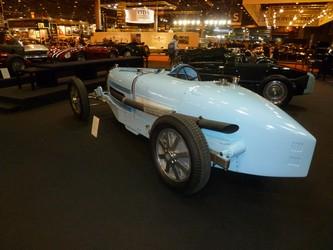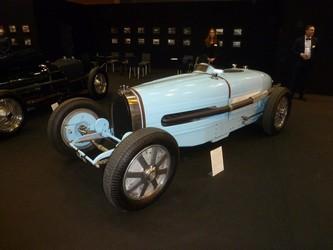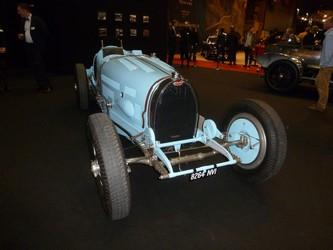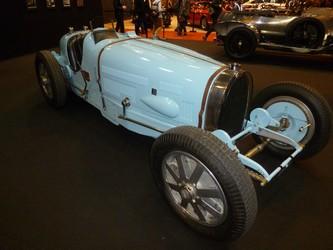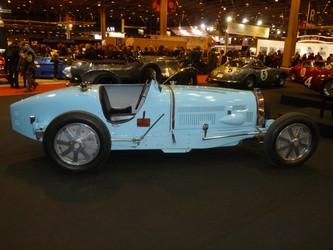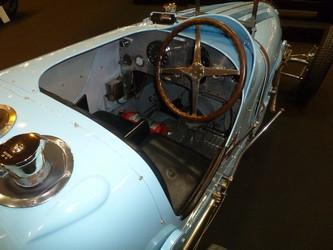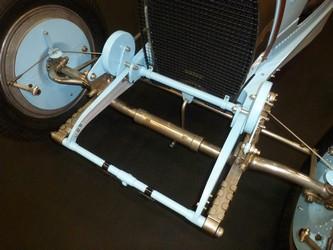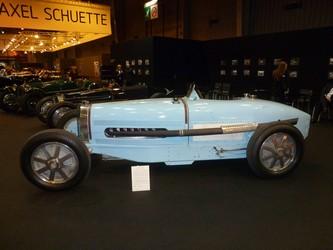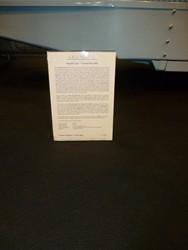 Lukas Hüni as usual has some very original, extremely rare Bugattis on his stand, like this T54, chassis 54208.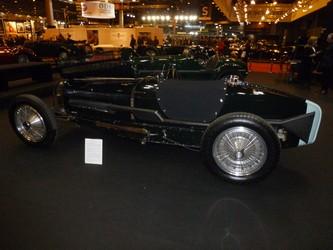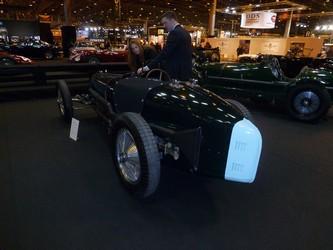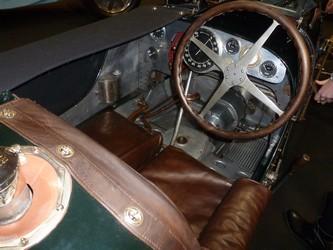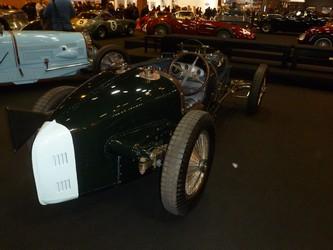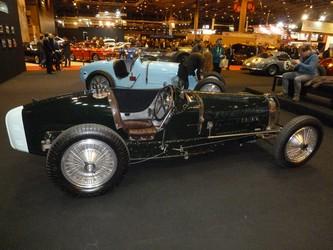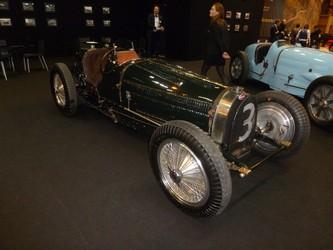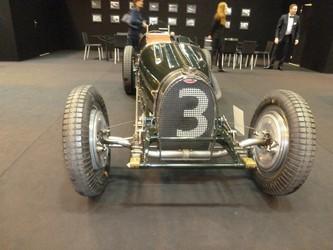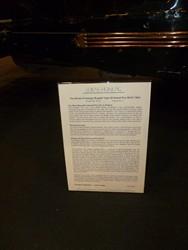 And then of course there is this Type 59, one of the best looking Bugattis. This one is the works prototype 59121.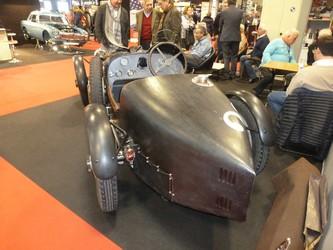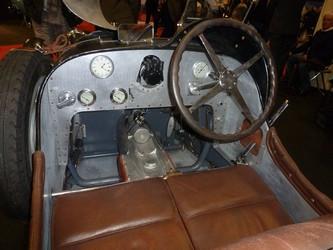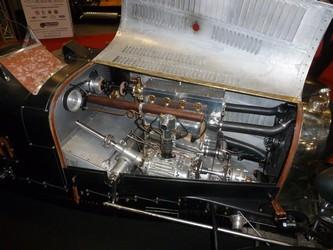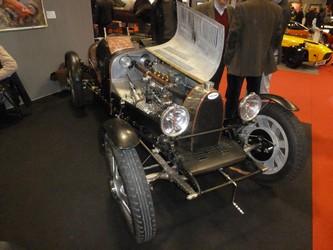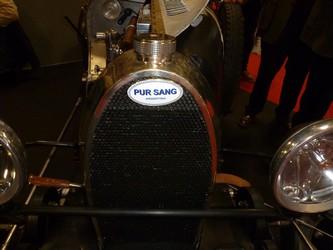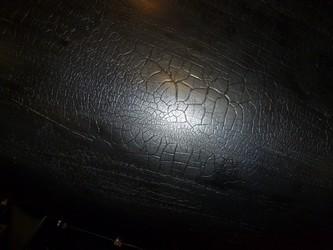 The Argentian firm Pur Sang with a supercharged four-cylinder, the first time I see them with one of those!
The Bugatti badge has been replaced by their own model, but of course they can not control if the owner would mount a red one later!
What they did to the bodywork? Some kind of artificial leather, or the paint-job went absolutely wrong!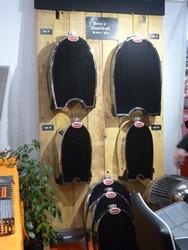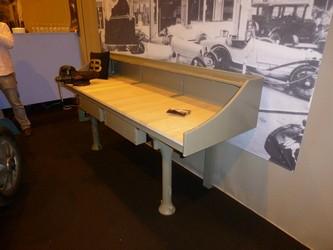 Need a new radiator for your Bug? On the right your much-needed Bugatti workbench (on display at Ivan Dutton's.
Bugatti art and miniatures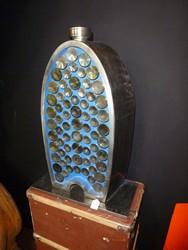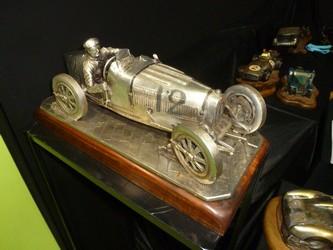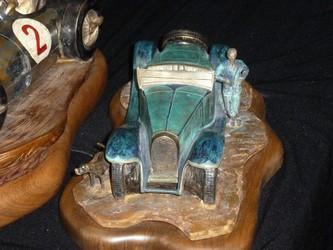 From left to right: Ingenious radiator with valves, by Raoul W., two very different sculptures by Esteban Serassio.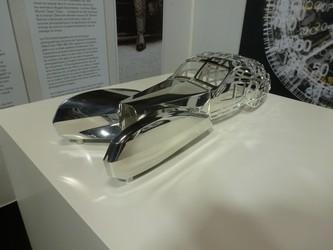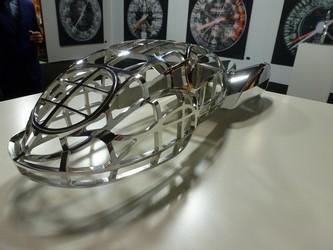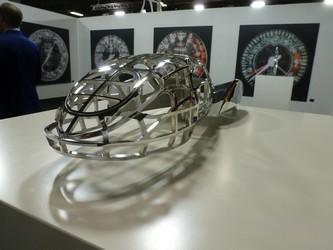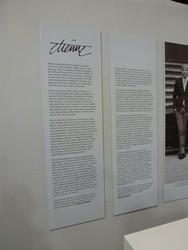 Bugatti Atlantic interpretation by Etienne Salomé, see also this article dedicated to his Bugatti art also in this issue of the Bugatti Revue.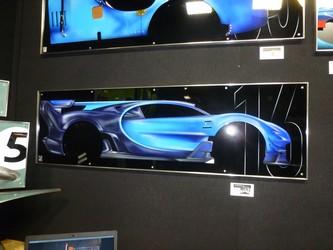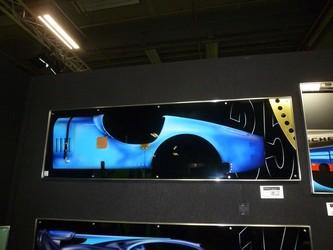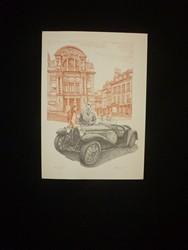 On the left two very modern paintings by Nicolar Dubost Automobile art, on the right a rather classic print by Patrick Brunet.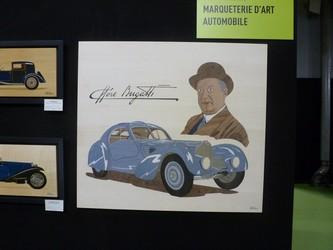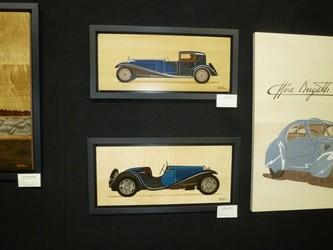 Thurnherr Marqueterie d'art, inlaid wood "paintings".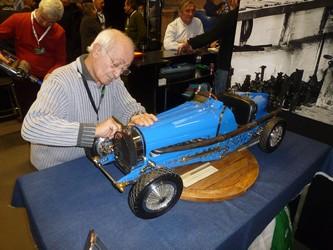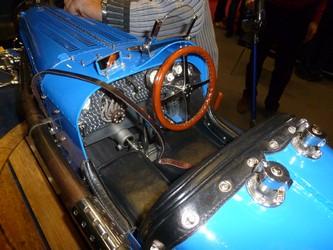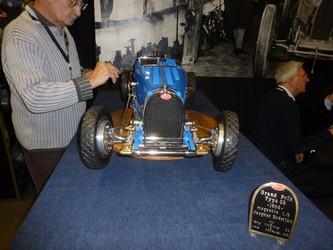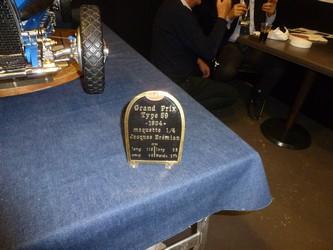 Type 59 model in 1:4, with functional engine. Made by Jacques Erémian.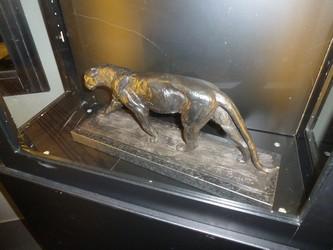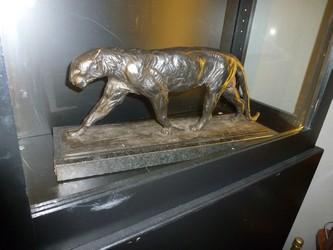 One Rembrandt Bugatti Panther, and an Elefant. Probably replica's.
Other automobiles etc.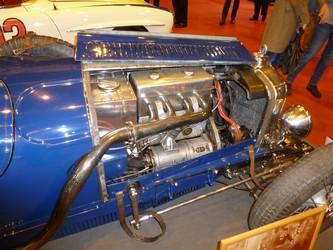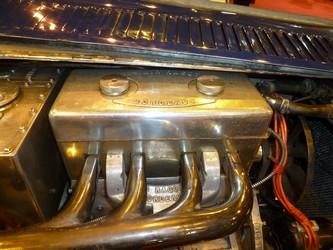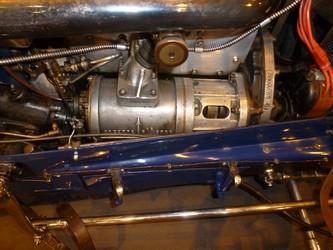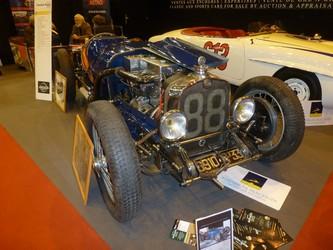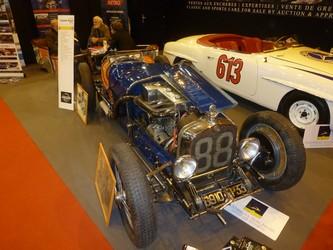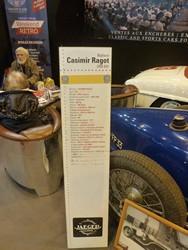 A very interesting Casimir Ragot CRS001 Biplace.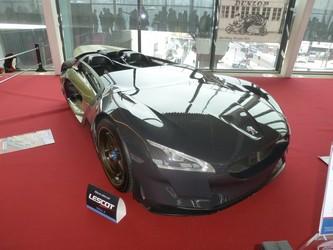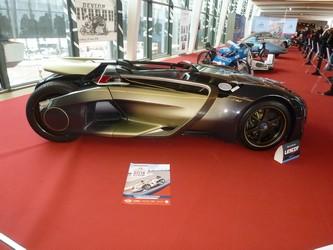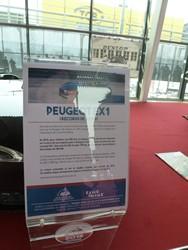 Something very different, a record-breaking Peugeot EX1. However, I doubt it if this electric record breaker would have taken me in the same time from home to Paris, as my own Peugeot...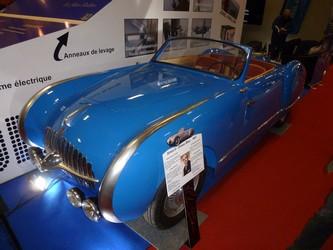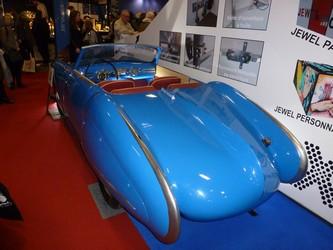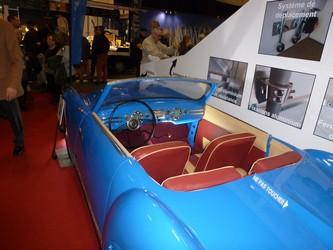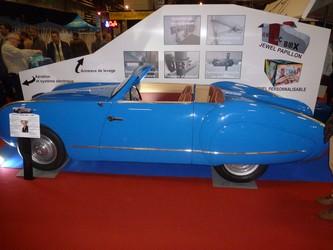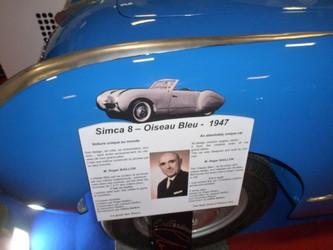 A very handsome little Simca 8 - Oiseau Bleu, looking moch more modern than 1947!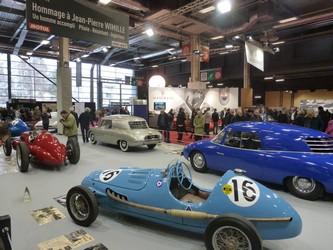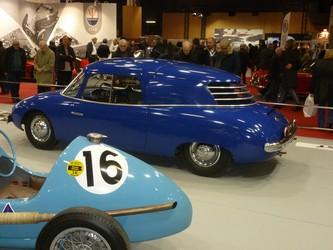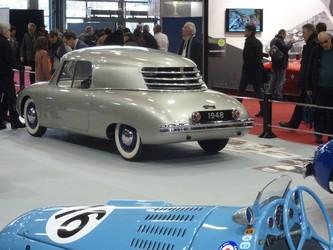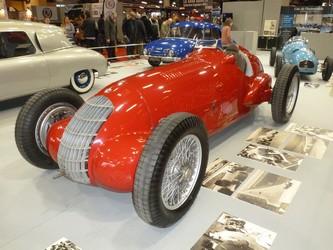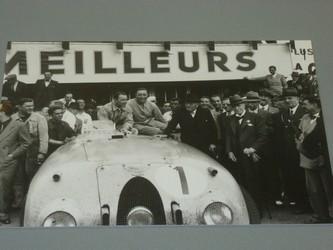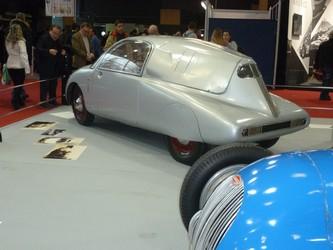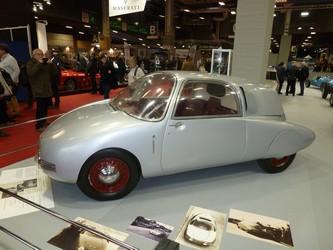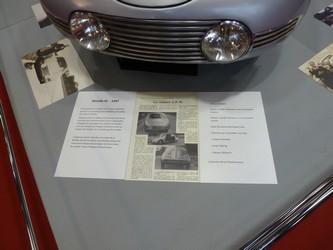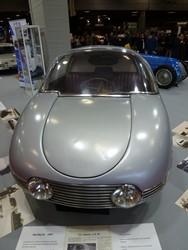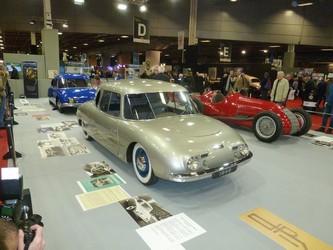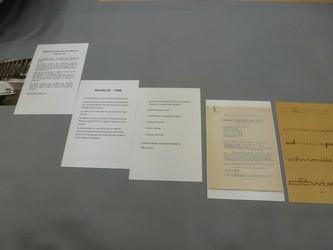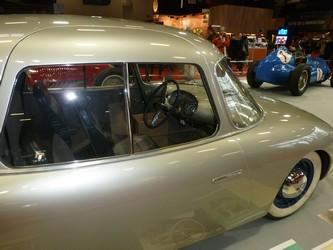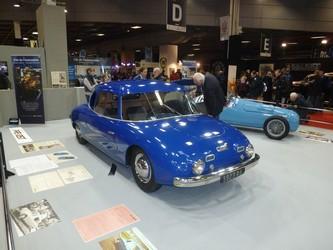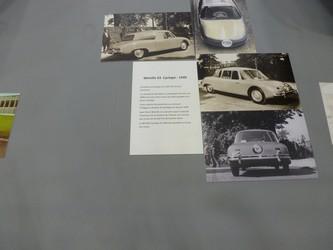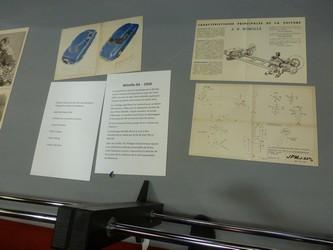 A whole series of cars, all dedicated to Wimille, either the cars he raced (like the Bugatti T59/50), as well as the rear-engined streamline cars which he developed. But of which never more was produced then a few prototypes.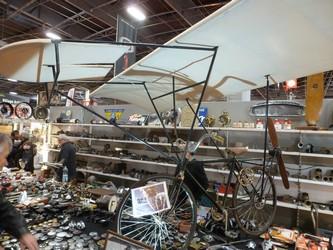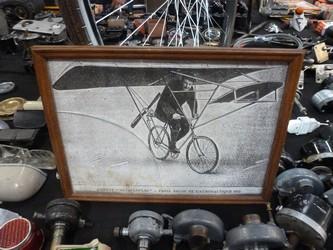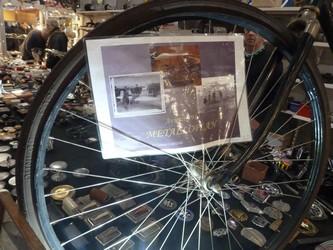 Where else would you see this? A flying bicycle, Metalloplan, from 1913. If this is the original? I guess I don't have to help you with deciding if it actually flew or not.
Human powered flight was quite a thing in those days, with the Prix Peugeot prize of 10.000 Francs for the first man to hop 10 meters in both directions still very much active in 1920. Important enough for Louis de Monge, later designer of the Bugatti 100P airplane, to get involved in that, together with a bicycle champion!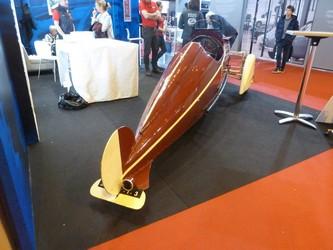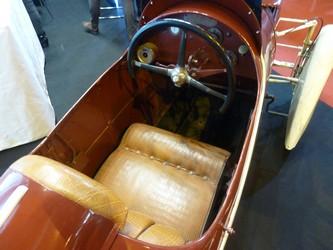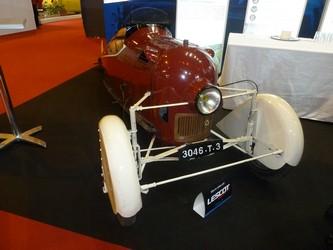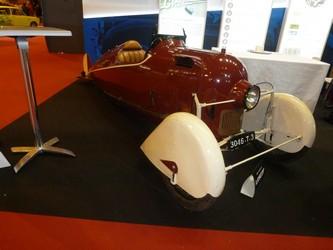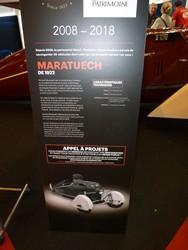 This interesting vehicle is very much like an airplane that lost it's wings, it even has a tail, though I wonder if that has any effect at the moderate speeds the 250 cc BSA engine would propel this rather handsome craft. It's a Maratuech, from 1920.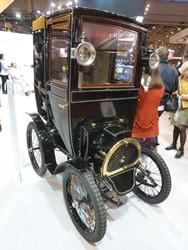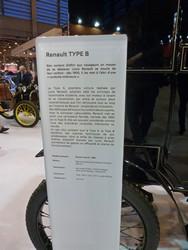 Ever thought that your Smart two-seater was short. See this Renault Type B of 1899. You would sit in relative comfort though, especially in the rain!
Chassis numbers
For those of you who want to know the chassis numbers of the Bugattis, Christian Anicet put them all together, they are the following:
T13 R Brescia (BC 1035)
T35B R Grand Prix '1928' 1969/74 (BC 001)
T35B R Grand Prix (Pur Sang)
T37 Sport 1927 (37268)
T37C R Sport (Pur Sang)
T40 Grand Sport 1926 (40131)
T40 Roadster 1926 (40223)
T40 Grand Sport 1928 (40717)
T44 Cabriolet by Vanvooren 1928 (44646)
T44 Grand Sport 1928 (44692)
T44 Coupé Fiacre 1930 (441342)
T49 Roadster by Pichon-Parat (49481)
T50S Cabriolet by James Young 1931 (50123)
T51 Grand Prix 1931 (51127)
T51A Grand Prix 1934 (51154)
T54 Grand Prix 1932 (54208)
T57 Torpedo TT 1934/1937 (57222/57264/224)
T57 Torpedo 1934 (57300)
T57 Cabriolet Atalante 1937 (57428)
T57C Stelvio by Gangloff 1938 (57597)
T57C Stelvio by Gangloff 1937 (57516)
T57C Atalante 1938 (57624)
T57C Stelvio by Gangloff 1938 (57715)
T57 Cabriolet by Vanvooren 1939 (57780/'57757')
T57 Conduite Interieure by Vanvooren 1935 (57291)
T59 Grand Prix 1933 (59121)
T59/50B 4.7l. Monoplace 1936/39 (50180)
T68 R Coupé Profilé ('68002'-R)

There were also Bugattis at the Artcurial auction by Hervé Poulain, Rétromobile, Paris, February 9, 2017. However, only some of these could be seen on the Friday.

T40 Grand Sport 1926 (40131)
T57 Conduite Interieure by Vanvooren 1935 (57291)
T57C Atalante 1938 (57624)
T57 Cabriolet by Vanvooren 1939 (57780/'57757')
---
Back to the Bugatti revue
---
Vive La Marque !!