A virtual magazine for a true passion!

Editor: Jaap Horst
---
Volume 15, Issue 2

Bugattis in 1961
I received this very interesting letter from Richard Henry of the USA, he encloses a letter from 1961 from Grand Prix Imports' Gene Cesari, plus their "catalogue", also from 1961. A few interesting details, especially about the T64 Chassis for which a body was being made, and apparently a Royale chassis, which should be the prototype that Ettore crashed, and was NOT scrapped. Where did these cars go?
And of course; marvel at these prices!

We start with Richard Henry's letter:

Dear Mr. Horst -
I've really enjoyed your website. Bugatti enthusiasts everywhere owe you a debt of gratitude. I recently rediscovered a letter and brochure sent to me in 1961, when I was just turning 16 years of age. It was from Gene Cesari and I have enclosed a copy. It's quite a fascinating document and I thought your ''readers'' might enjoy it. I probably got Mr. Cesari's name and address through the ads in the back of Road & Track magazine. At that time (and for the next 49 years) I was and have remained enthralled by the Bugatti, and apparently my urgent appeal for further information prompts Mr. Cesari to send me a personal letter and his latest brochure.

This was not the first time I had sent of for information about a car. I guess I was somewhat precocious in terms of written expression, for at the age of 12 I wrote to a car dealer in Phoenix, M requesting details on an early 50's Bentley DHC which I saw during a visit with my aunt and uncle. I did such a convincing job that he dispatched a sales person in the Bentley to my home in Tucson, 130 miles south of Phoenix. When a white Bentley drophead stopped in front of the house, and an impeccably attired salesman enquired if Mr. Richard Henry was home, my mother was somewhat surprised. But not nearly as much as the salesman upon learning that the hot sales lead he'd driven through the scorching Arizona desert to see was a 12 year old kid. He departed a good deal faster than he arrived.

Apparently my style remained persuasive. While it did not result in a visit, it did produce the correspondence attached, which has proven so durably fascinating that I have kept it all these years.

Feel free to run it on your website if you think your readers would enjoy it. And please keep up the good work.

Richard Henry
Prescott, M 86305 USA

The letter from Grand Prix Imports:

GRAND PRIX IMPORTS, American Representative , Thetford , Vt

August 5, 1961 Dear Mr. Henry:
I am chagrined at the delay in sending the enclosed brochure. Things have been hectic. Re the brochure, it is still a bit up to date. We do have the T73C chassis here now (at a friend's near Philadelphia), we have the T57S Le Mans winner here now, and the T55 remains unsold since I hate to part with so pretty a car. In Europe we do have some Interesting iron. However I would need to hear from you regarding what you want - touring or sports - rough or very fine - and what you feel you can invest in such a machine. One choice item ls a T57 convertible in very fine condition owned by Henry Garat the 1930's movie star. Quitte choice and it would deliver to your nearest port for about $2200.

I have a type 59 of my own, needing chassis adjustment to compensate for improper work (not damage as it seems nearly new), fitted with a new engine, and needing a body. This is the most sought after Bugatti. As with everything, It must have a price tag if this is to be a business. So, the lowest five figure price you can come up with seems to be in order.

Do write again - I am sure I can provide you with a fine Bugatti (or Alfa as we have a nice drophead 1750cc twin cam with spare engine) for far less than you'd expect.

Gene Cesari

p.s - The T73C with body was sold in Europe. The one here is in chassis form. Our coachbullder in Europe is a genius, and can create a fine sports or sports-racing body for you at a low figure about $1000. If you want this car, which runs very well and is indeed new, I can reduce the price significantly as we sold the other one for a very high price.

Follows the Brochure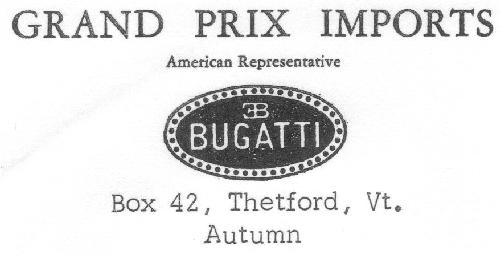 Type 57C Bugatti #57749 64C , Aravis by Saoutchick. Sale of this wonderful machine shortly before this brochure was printed necessitated the changes which delayed mayling. However, it is so handsome and fine a machine that we feel it merits top billing. It runs as well as it looks , for it purred smoothly at 8 mph in fourth and was still violently accelerating at 100 mph.
The rest of the machine's described are still available , but interest has been such that we expect this list to be dated within a few weeks. Since words seldom convey the true essence of beautiful machines, we have included photos , which do the machines less injustice .
Some of our stock is overseas , some is on display here, and for good reasons , intended to assist our clients. The major one is restoration work. particularly mechanical restoration work. which our experience proves is always best handled by mechanics familiar with the machinery in garages which do not adjust their rates upward as the exotic character of the machine increases. Succinctly, our overseas rates for skilled work by experienced men are less than one third of corresponding rates in specialist shops here. Also , by limiting overhead. we are able to give the impecunist a look in on this fascinating avocation. Naturally. we invite professional appraisal of our overseas stock by agents of established auto clubs, and are happy to supply details and photos of any car which interests you.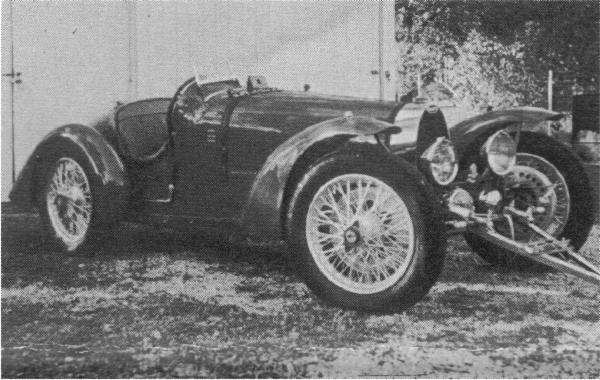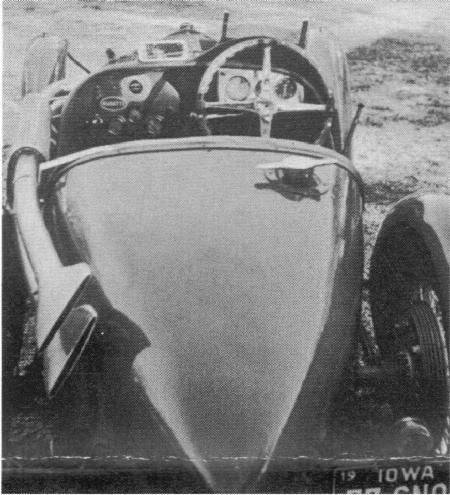 A less exotic but highly desirable Bugatti is our Works lightened T35, shown above. It is in superb condition, already a concours winner, and you may observe us fitting the rebuilt engine. At $3000 it represents an excellent value.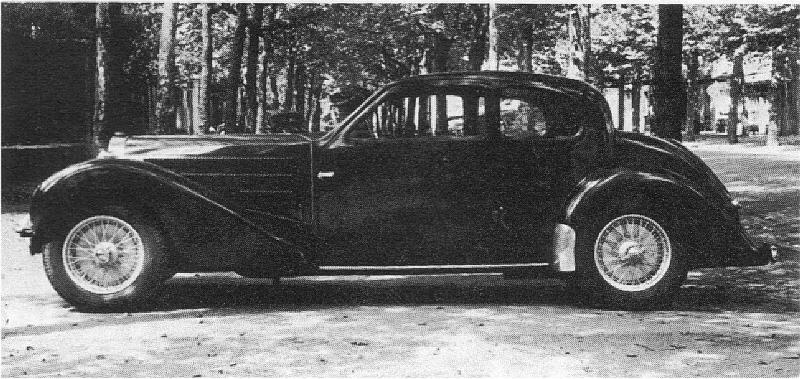 In our Ambler shop we are now rebuilding a Type 57 Ventoux, like that shown above . Ours is gray, which is a most unflattering color on this model. so we show one in darker hues to show you what is meant by ''handsome'' when the term is applied to automobiles. With the rebuilt engine fitted , and with certain necessary re-chroming done . the car will soon be ready. The price of $2000 is less than actual cost, and enthusiasts who have driven this one pronounced the steering unsurpassable.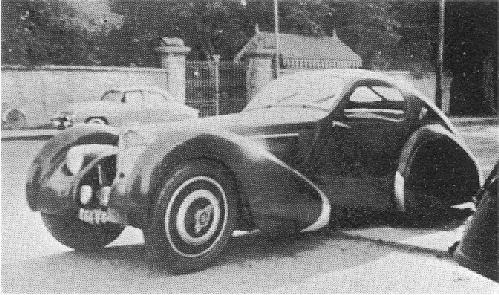 The wee coupe to the right has long since been sold. but it was so handsome we still consider it a standard by which to Judge others. On a T51 chassis it stood but 40" high and captivated even the most jaded automotive esthetes.

One of our most select items is a T55 roadster, one of the most exciting automobiles of all time. Ours is in superb condition , and its excellence merits our price of $4500.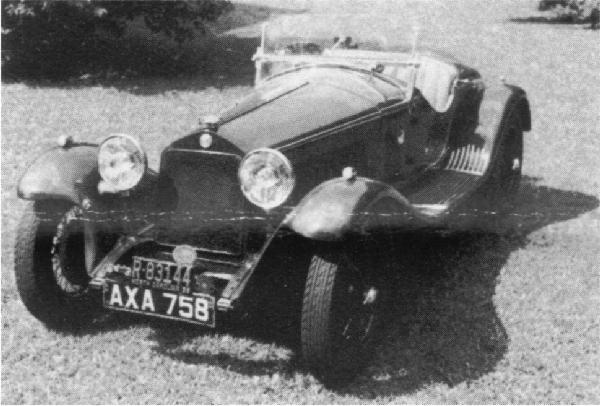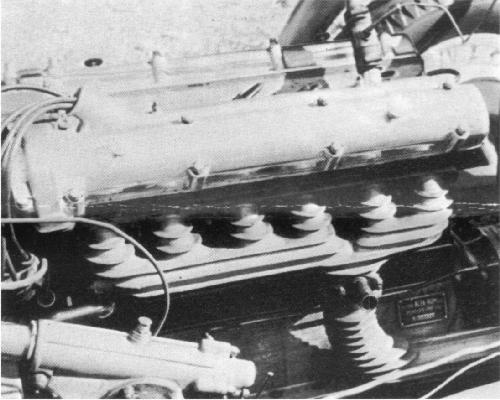 As a companion piece , the Alfa Zagato 1750cc6C shown here needs no apologies. A Thompson & Taylor redo of the engine included fitting a new crank and valves , and the car simply cannot be faulted in any way. Lesser examples have sold for more than our price of $2700.
And the impecuniast . who has patiently waited , will find below a few of our ''mechanic's bargains ''. The Type 40 is good , but needs kingpins and cosmetic work. However. at $900 delivered, it is definitely underpriced. We also have a T44 which is not shown . at slightly more, and this is a most chic Weymann coach with sliding roof . all for $1100, and we invite you to inspect it when in Ambler. Our stock of similar priced machines changes too quickly to warrant illustrations here, but this petite T37 which is to be fitted with a T40 engine and sold at $1500 f.o.b. Europe is a good example of what we do turn up.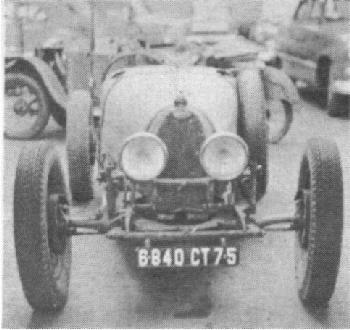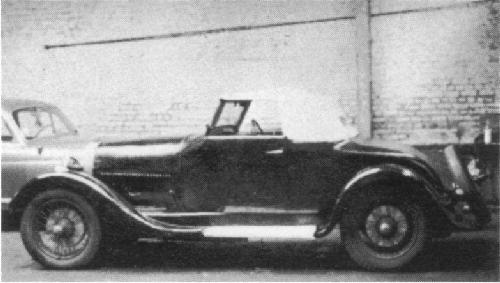 In the next few months we expect to offer some recent acquisitions to our overseas stock, at least two of which will be imported this winter. These include an immaculate Type 57 drophead, and an equally fine Type 57C with striking open coachwork by Ganglof. We have acquired two Grand Prix Bugattis , one a Type 35C and the other reputedly a T35B. which we haven't yet seen.
Our domestic stock is currently on display in the Philadelphia area, by appointment. To see these machines . write us at 99 Hague's Mill Rd. , Ambler, Pa. , or call MI 6-6292. First , and rarest, is the Type 64. Jean Bugatti . whose abilities and skill led to the development of the Le Mans winning 57S and 57C , designed this chassis to incorporate all the lessons learned from the justly famous 57 series machines. Beginning with an aluminum chassis of exceptional rigidity and strength , he then specified a 4.5 liter twin cam eight. However, the lightness of the frame made the added power superfluous . and after careful testing on a prototype , the first and only ''production '' machine was fitted with an engine derived from the famous twin cam 3 1. 300. Intended to be placed on display at the October 1939 Paris Salon, the chassis was finished in detail, only to be relegated to storage and, eventually, partial disassembly when the war intervened. After months of searching and negotiating , we were able to re-assemble the chassis and obtain original drawings for the proposed coachwork.
The chassis and engine are new, and any qualified buyer will receive a new car guarantee. Coachwork to Works drawings is now being fabricated and the machine in the "white" will be available for delivery in late December.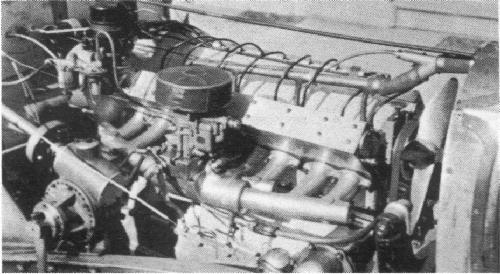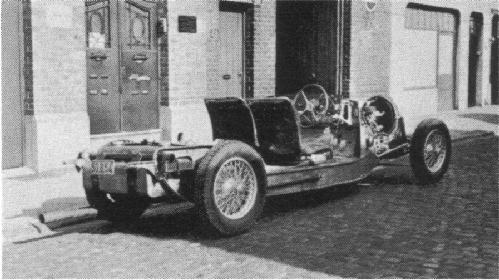 Low , with 57S style radiator, the rigidity of the chassis is evident. Improved springing brought the suspension up to the capabilities of the machine (approximately 1800 lbs. and 200 b.h.p.) with springing, braking and steering superior to that found on earlier touring Bugattis. By any standards, it is a most modern automobile, with an engine whose reliability and flexibility have seldom been surpassed.
To this absolutely new chassis . we are fitting sports-touring coachwork, new seats , and the standard instrumentation using original, new gauges and dials. This machine . ''in the white '' , could not be duplicated for twice our f.o.b. price of $5000.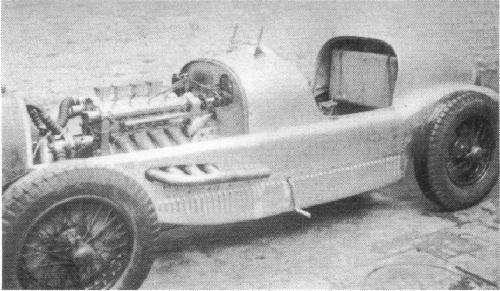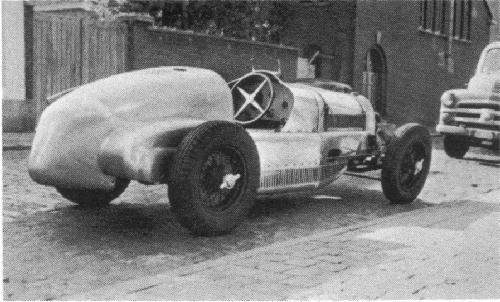 Next in rarity and perhaps excelling the T64 in modernity are the Ettore Bugatti designed Type 73's , one of which is shown above. This machine , designed to compete with the Alfettas , the 4 CTL Maseratis and the big Talbots , represents the highest point in Le Patron's achievements. Bugatti himself , enthusiastically discussing the machine with Roger Labric , said , "I have put into this machine thirty years of racing experience , " a statement which is borne out by his brilliant blending of traditional design concepts with the most modern engineering developments.
Bugatti's active mind was never at rest as the evolution of this design proves. Originally he envisioned a single cam four cylinder 1.5 liter sports machine to replace the Type 55. Before the prototype engine was tested, he decided that wet liners were imperative. While the draftsmen altered blueprints, Bugatti decreed that the engine must become a twin cam unit to allow the basic design to achieve its full potential. Hence the T73 the T73A and the T73B.
By now Bugatti was excited by the design, and felt it should be applied to his first love, a full Grand Prix machine. At this point further modifications were in order, including the addition of a supercharger, and Bugatti had a most modern engine . The crank driven supercharger drew through two Solexes and filled the cylinders through excellent intercooling. With plain bearings , an immovably rigid crankcase and internal oil lines to obviate the leakage found on earlier models , the engine was complete , and tested out at above 220 b.h.p.
A chassis commensurate with the engine was in order, and here Bugatti showed his ability to blend proven concepts with new ideas. He used a tubular axle , but designed it to offer the advantages found in i.f.s. , and fitted immense twin leading shoe hydraulic brakes , capable of hauling the bolide down from its anticipated 240 k.p.h. Springing was traditional, as was steering , the latter remaining the criterion for judgment of any machine , racing or touring. The frame proved that Bugatti had learned more than a little from the illustrious T59 . for it was light , strong and rigid.
A synchromesh gearbox was frame mounted, but gone from the engine and other components were the square corners which had proved fatigue prone under the stresses the new machine was designed to withstand. Inspection ports allowed easy inspection of the cams, now chain driven. At the front, confident that he had gained enough to offset any aerodynamic loss, Bugatti mounted his classic -radiator.
A series of twenty cars was projected , but Le Patron's death brought all thoughts of racing to an end when parts sufficient to assemble two were nearly completed. We have had the remaining parts made at Molsheim, and have assembled one . fitting the body Bugatti's original drawings showed. The second is now being completed. With body mounted, the first is available now at $5500 f.o.b. The second can be bought ''naked '' for $4400. Both, as delivered , are new and complete but will require the detailing work on externals which we did not do in order to keep prices at a reasonable level.
The Royale does exist, but we will not photograph it until much more work has been completed. We knew that Bugatti had crashed the original Royale and had then sold it. After four years of sleuthing, our cloak and dagger boys turned it up, sadly neglected but indomitably proud, in a barnyard in France. Thus far our restoration has been difficult, with many new parts being made at considerable expense in Molsheim, preventing us from quoting a price at this time. We expect to sell it in the chassis form: allowing the future owner to select his own design features , which will surely be in the classic tradition. Future stocklists will appear irregularly , so it is best to let us know your wants so that we may notify you when a suitable machine is found or purchased. When you are in our area, stop by to see what is currently reposing in our mews - at last count we had the T35 a 1912 UNIC , the T57 Ventoux , a T50B 500 bhp engine with Works seals unbroken, and an aluminum chassis in which we plan to fit it, plus more than a few spare items. We have bought the following automobiles which are being taken to our European garages for inspection and tuning: Type 40 Bugattl Boat-tail; a very potent Type 37A which we expect to restore . A standard Type 37 , and an absolutely mint Type 57 convertible. By special arrangement we are able to offer the Type 101 Sedan which we are now refurbishing. We were very fortunate to recently unearth and purchase the Le Mans-winning Type 57S which was dismantled and stored near Paris in 1939. This will be reassembled and sold for the highest offer above $4000.
We are currently negotiating for and expect to purchase the following: One Type 57C drophead in superb condition; possibly a similar model in comparable condition; a type 35C in near-mint condition; a Type 35B supposedly in very fine condition with documented Works race history; and the only Type 43 we have been able to locate in the past three years. Details on these cars will be sent to interested parties upon request.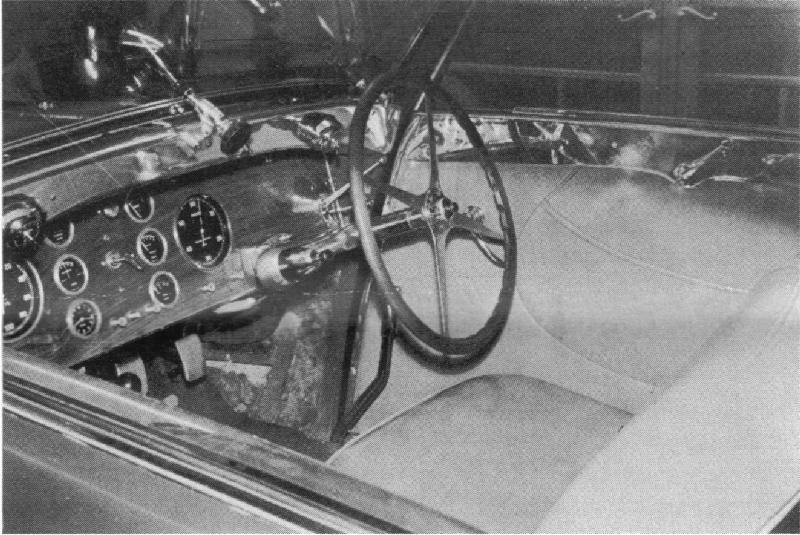 ---
Back to the Bugatti revue
---
Vive La Marque !!