A virtual magazine for a true passion!

Editor: Jaap Horst
---
Volume 15, Issue 2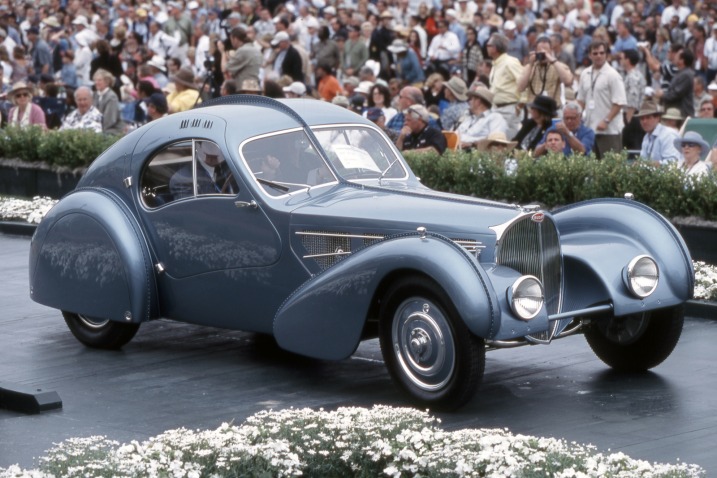 Bugatti Type 57SC Atlantic: Coup de Grace
Ken Gross
People always ask if I have a favorite car — and I do. It's a Bugatti, the Type 57SC Atlantic.
Although it's over 70 years old, the Atlantic's dramatic, art moderne shape, clouded history and race-inspired, supercharged straight-8 engine make it a timeless classic.
The Romance of the Streamline
It's truly stunning, with a hand-formed, all-aluminum body designed under the close supervision of Jean Bugatti, the son of company founder Ettore Bugatti. Recent research confirms that just four Atlantics were made, and now only two survive. Each has won the coveted trophy for "Best of Show" at the Pebble Beach Concours d'Elegance.
The fate of the other two Atlantics is shrouded in mystery. One was virtually destroyed by an SNCF train when it stalled at an unguarded level crossing near Gien, France. The owner had purchased the car in the name of his mistress so his wife would not discover its existence, and he was teaching another attractive blonde how to drive it when tragedy struck. The fourth Atlantic, a factory demonstrator, was the first example built. It disappeared just before WWII.
Ettore Bugatti was an Italian who lived most of his life in Alsace-Lorraine, a province in Eastern France. His father Carlo had created astonishingly elegant, museum-quality furniture, and his brother Rembrandt was an accomplished sculptor of animals. Briefly trained as an apprentice engineer at a time when the automobile had newly seized the imagination of everyone, Ettore possessed the dreamy soul of an artist.
From 1911-1939, Bugatti built uncompromised automobiles of great beauty and sporting pretension. Often technically (even perversely) complex, Bugatti cars were expensive, temperamental and often hauntingly beautiful. Bugatti experimented with aerodynamics, favored expensive de Ram shock absorbers, eschewed supercharging for years and insisted on using cable-operated brakes long after hydraulics proved superior.
Another Sales Promotion
Although the depression of 1929 was slow to impact France due to the country's high tariffs and restricted trade, the market for luxury automobiles had finally dwindled by the early 1930s. Ettore and Jean Bugatti knew that a very special model was imperative to help their company survive, and the Type 57 was that car.
The concept for the Atlantic was first shown in 1935 at both the Paris and London auto shows. Called the Competition Coupe Aerolithe (using the French word for "meteor"), it rode on a prototype chassis from a Bugatti Type 57S and was powered by a normally aspirated, 3.3-liter, DOHC straight-8. Historians are certain that two Aerolithes were built as prototypes, but they did not exist simultaneously and neither survives.
Although other manufacturers were experimenting with aerodynamics, Bugatti's outrageously curvaceous Aerolithe proved to be a design sensation. In production, it became known as the Aero, and Jean Bugatti set out to make the body from Electron, an alloy of magnesium and aluminum. When welding proved difficult, Jean Bugatti and assistant Joseph Walter united the sections with rivets, which explains the spinelike center rib dividing the svelte body, a theme repeated in its teardrop-shaped fenders.
Production Atlantic bodies were aluminum. The rivets were no longer needed, but they looked exotic, so the illusion of a riveted spine was retained. Close-coupled, cramped, poorly ventilated and quite impractical, the sexy lightweight coupe was nevertheless an enthusiast's delight and one of only a handful of sports cars of the era that could top 130 mph.
The Story of Four Cars
The first car sold was built in February 1936 and purchased by Lord Victor de Rothschild, then one of the world's richest men as well as an enthusiastic amateur racer. The second car (and the first to be called "Atlantic") was bought eight months later by Monsieur and Madame Holzschuch. At an undetermined time, the fenders were restyled, and new headlights were faired in, perhaps by Figoni and Falaschi. After a checkered history, this car was the one eventually purchased by the amorous Monsieur Chatard and fated to be badly mauled in the horrific accident at the railroad crossing. The third and last customer car went to Mr. R.B. Pope in March 1938. The tall Englishman usually wore a hat, and he insisted the roof be made 1 inch taller. Ventilation slots were cut into the car to facilitate driving in warm weather.
The ex-Rothschild Atlantic was fitted with a supercharger, along with a period Cotal electromagnetic gearbox. After several owners, it was sold in 1971 for the then-astronomical sum of $59,000 to Dr. Peter Williamson, who still owns it. The former Pope Bugatti, also retrofitted with a supercharger, went through just three owners before its purchase by noted clothier and collector, Ralph Lauren. The factory-owned demo is believed to be forever lost. The ex-Chatard coupe languished for years while legal action raged over responsibility for its demise. Finally released from bondage, it was rebodied twice, using some original and salvaged parts. Arguments persist to this day over whether it can still be considered a truly authentic Atlantic.
At the Wheel of $10 Million
I've loved these cars since I was a teenager and read their story in Ken Purdy's Kings of the Road, but I could never afford even a prosaic Bugatti, let alone a fabulous Type 57SC Atlantic. In 1967, Mr. Pope sold his car to Barrie Price for £3,000 (about $8,500), the same year I paid $1,600 for a new Volkswagen Beetle!
Luckily, I've had my chances to get close to the surviving Atlantics. I saw Lauren's 57SC shortly after it arrived at Paul Russell's shop in Essex, Massachusetts, for a frame-off restoration, and I was present at Pebble Beach when it won Best of Show in 1990. Co-restorer Scott Sargent, responsible for much of the work on the Williamson coupe, kindly gave me a ride in the car last year, when the Saratoga Automobile Museum featured Dr. Williamson's collection. At the same time, I drove Williamson's Type 57SC Atalante, a slightly larger, heavier and yet still elegant cousin of the Atlantic, of which just 17 were built.
And what a thrill! Bugatti's supercharged straight-8 is good for close to 220 horsepower, and you can feel it. The long shift lever has surprisingly short travel. Throttle response is immediate, and the gear-driven overhead cams whirr and click with a delightful metallic cacophony. The deep exhaust note bbbrrraaaaps with authority, and despite the car's advanced age, skinny tires and stiff suspension, the low-slung Type S still accelerates briskly and corners smartly. Oversized Jaeger instruments mounted on a polished wood fascia feature long, slender needles that wave like a conductor's baton.
Mindful of this car's immense value, which is approaching $10 million, one hesitates to drive quickly at first, but the spirits of Ettore and Jean Bugatti will bristle if you simply toddle along.
A few Type 57 Atlantic replicas have been built on genuine Bugatti chassis. Jay Leno owns an exact copy. And a German enthusiast replicated the Aerolithe last year. You can't blame them. Ahead of its time, really a racing berlinetta for the street, Bugatti's Type 57SC Atlantic is a sports car for the ages. Famed author Ken W. Purdy called Bugatti "the Prince of Motors."
"Imagine a string-straight, poplar-lined Route Nationale in France on a summer's day," Purdy wrote. "That growing dot in the middle distance is a sky-blue Bugatti coupe rasping down from Paris to Nice at 110 miles an hour...".
Just watch those railroad crossings.
From: www.edmunds.com
---
Back to the Bugatti revue
---
Vive La Marque !!