A virtual magazine for a true passion!

Editor: Jaap Horst
---
Volume 14, Issue 3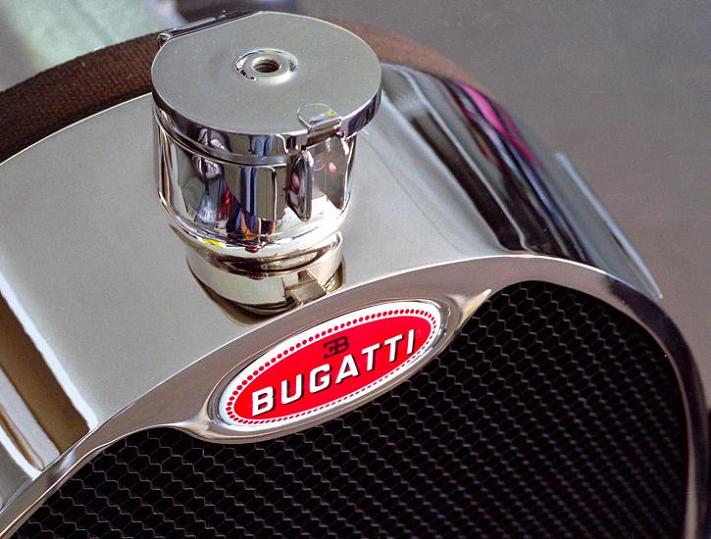 Bugatti 57 / 59 Roadster Special............A Dream becomes reality
L. Marvin Senior, 2005
Comment from the editor: I know that this car is highly discussed, and of course we all know that it is not the most original of the Bugattis. But: Mr. Kellogg had a dream, and he made this dream come true. He wanted left-hand drive, so he built it, he had the car made as he liked it. Some owners preserve the originality to the maximum, which is a noble thing to do, though sometimes this has to do more with value than anything else. Mr. Kellogg returned to the "good old days" of the 30's to 70's, when owners did with their Bugattis what they wanted, above all drive them!
And; I just happen to like the design, with the long wings and piano-wire wheels!
This year at "The Quail" in Monterey there were a number of very exciting and historically important legends of automotive history on public display. As is most often the case, each of these examples of automotive beauty is wrapped in an exclusive coachwork package. The arrival of the EB16 was overshadowed by an even more stunning Bugatti roadster owned by Ron & Sonya Kellogg of Whitter, California.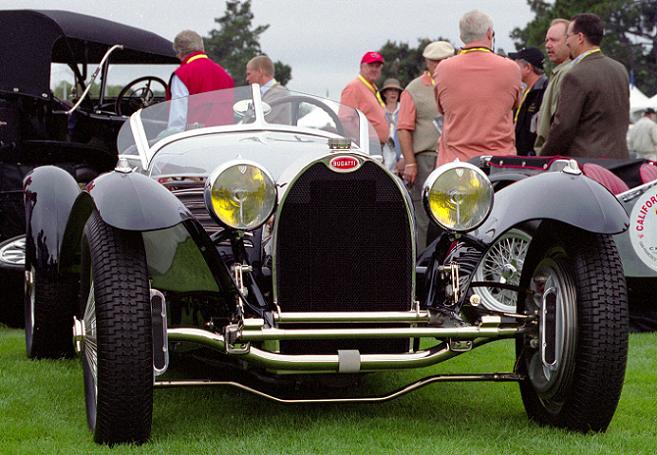 It's almost like 1937 time machine.
The Bugatti is a 57/59 Special Roadster that was the result of eight years, and thousands of man hours. The Bugatti created such a wave of excitement, that we at Motorsports Center needed to create a special, and intimate article that illuminates the beauty that is hiding under that amazing handcrafted coachwork. Our goal is to provide our worldwide readers in 35 countries with an exclusive expereince.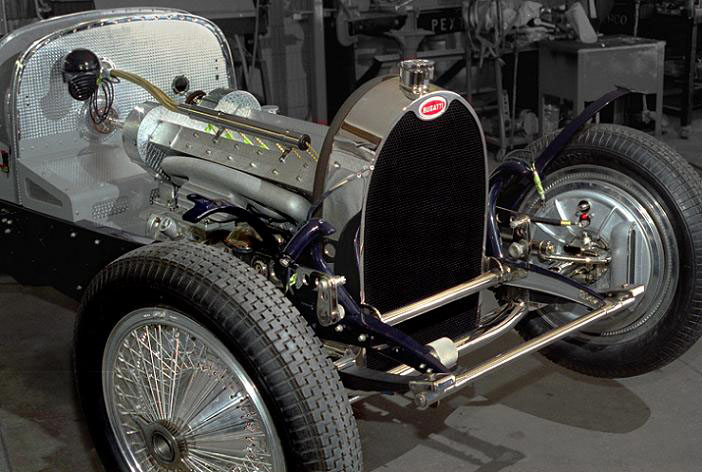 The last day before body panels go back into place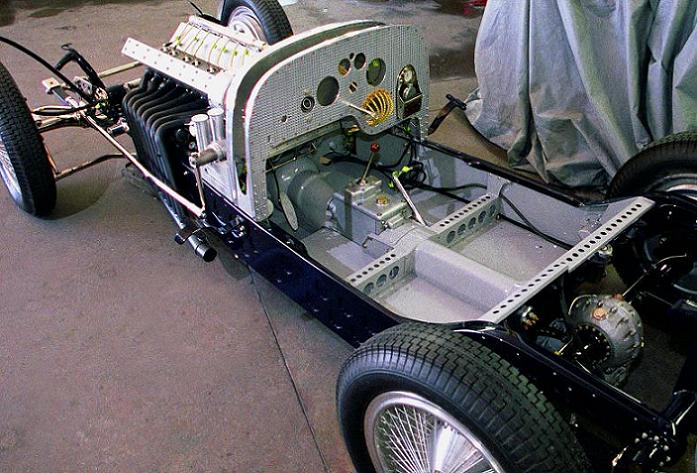 Full Chassis, minus seating
Some weeks before the Kellogg's Bugatti departed for Monterey, Calif. and the Quail Lodge. Mr. Kellogg was kind enough to offer me the opportunity to come see his Bugatti before the coachwork was mounted on the chassis.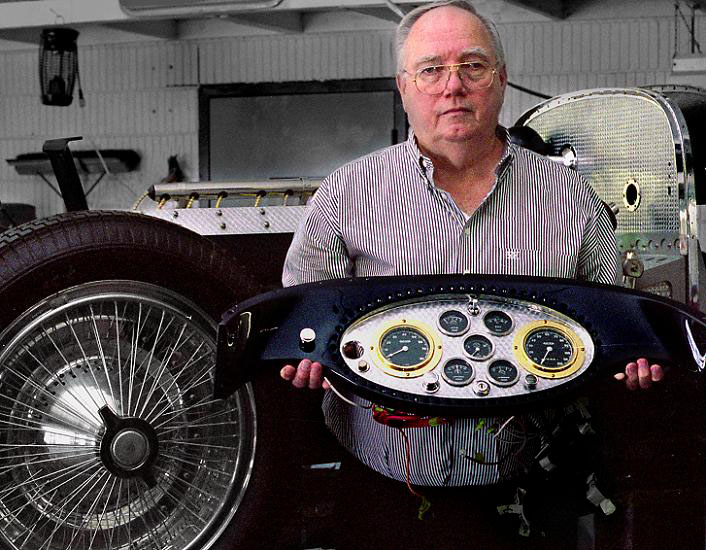 Mr.Kellogg holding the entire dash instrument cluster
Having seen the car about a year before, with raw unpainted body panels mated to the chassis, I was overpowered by the elegance and visual power of it's presence. So on our return visit I offered to shoot a few photos to help create a historical record of the car as it reached it's transition to finished automotive creation. The photos you see hear are only a select few from our 2 hour session, so a photographic record could be created.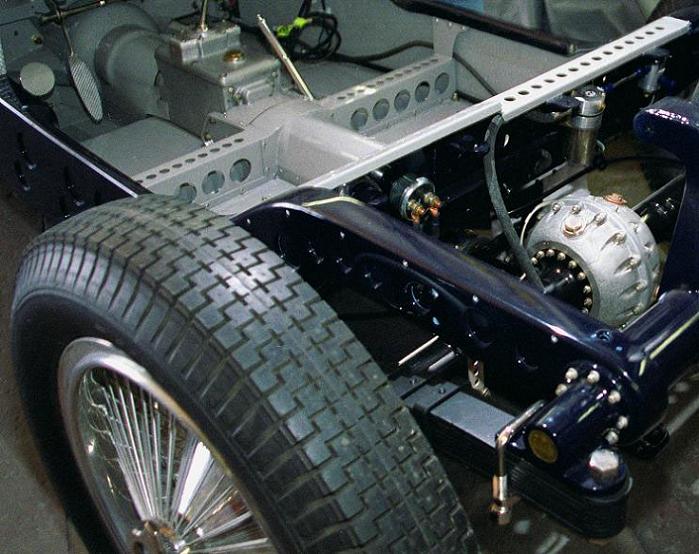 Above view of rear assembly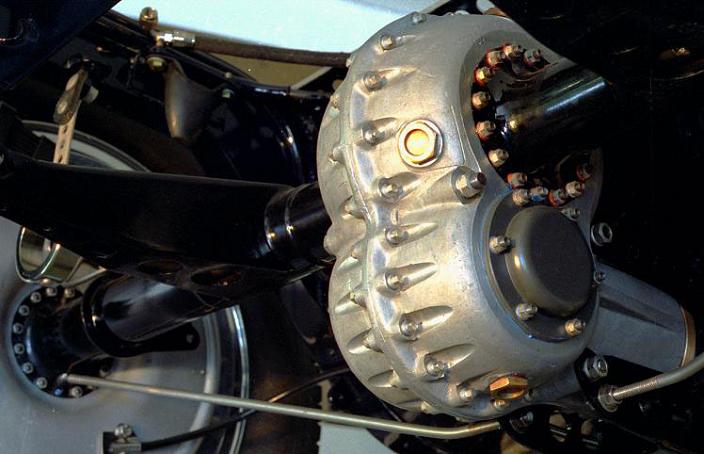 A double reduction differental lowers the center of gravity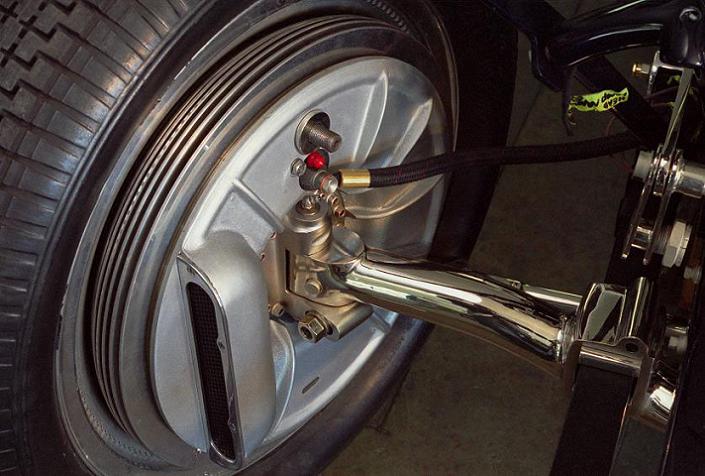 Massive alloy drum brakes
A Bugatti is a daunting undertaking. In days when Bugatti was in production, it was often the case that many owners wanted coachwork that was different from Bugatti's original offered design. So often custom coachwork was created to meet the whims of it's exclusive wealthy clientel.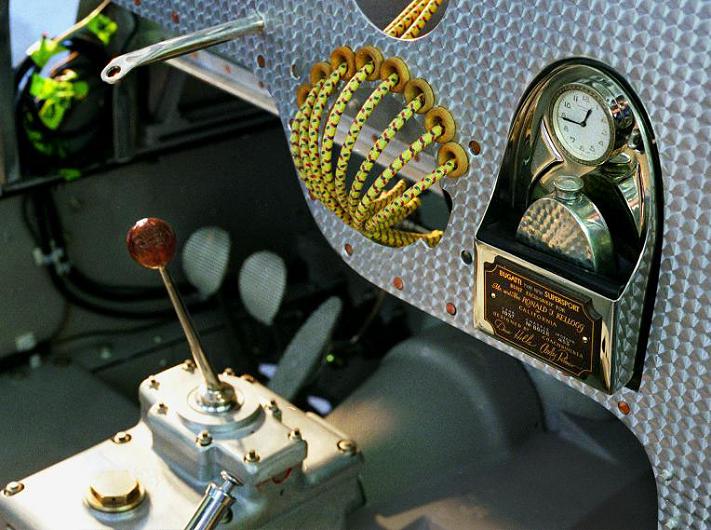 The cockpit relfects glamor of the Bugatti's concept of life
The Kellogg project required climbing special challenges. Not the least of which was getting the approval of the Bugatti Trust for permission to go ahead with the program. So the Kellogg Bugatti has a legitmate historical production chassis number. This is no small accomplishment. Assigned the number #128 , Year 1937
The Type 57 motor ( No.453 ) was rebuilt by internationally respected Phil Reilly & Company. The motor is a dry sump type and supercharged with a roots type blower able to produce up to 5.25 pounds of boost. This combination creates a whopping 232 lbs. of torque at 3500 rpm. What this means, is that the Bugatti will have very dramatic pulling power. Never having to get wound up in to the higher end of the RPM range.
The heart of the Bugatti
The Bugatti 57 / 59 Special Roadster is a true performance machine. The Type 57 supercharged engine delivers a Dyno proven 217.8 hp at 6000 Rpm. So far there has not been a speed run to prove the actual top speed. But we would expect the roadster to have a clear shot at 150 Mph.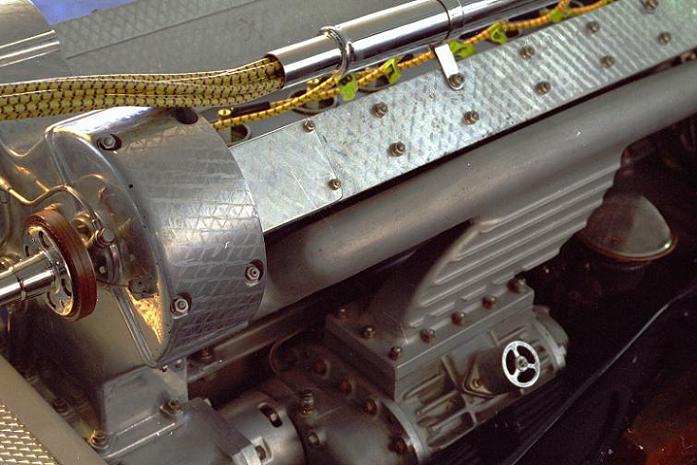 We see the classic Bugatti in the "scraping" style finishing
Now with most resoration projects there is always some existing coachwork. However in this situation a new challenge created also a new opportunity. Several years ago famous designer, Dave Holls, (the #2 of GM's Design Dept). had created a concept sketch of a ultimate supersport Bugatti roadster.
Dave's concept was based on a style progression, if... Jean Bugatti's life had not been tragicly cut short. The concept sketch was given to Gary Counts, another Senior Automotive Designer of GM, to produce a finished rendering of the Bugatti concept by Dave Holls. Mr.Kellogg siezed this opportunity to again follow another Bugatti tradition. To wrap his 57 / 59 project in both fresh and inspired coachwork.
So now began the process of building scale models and then the final bucks for production of the body panels. The finished Special Roadster, shows the clearest traditions of the early Bugatti GP "open" body style and also the lines often seen in the 57 & 59 models.
What I found most striking about the Dave Holls coachwork treatment , is that the car is so true to not just the general style of Bugatti. But more importantly the porportional balance of scale, in it's compound curves. When seeing the car in person, you are struck with the powerful precision of perspective. No matter where you chose to view the Holls design, it appears to be leaping out from a single point perspective.
So that the shape of the body and fenders all merge at the same vanisihing point. To car designers this is a goal few ever accomplish. The legendary Giugiaro designs have this as a signature. The natural light of open sky is able to flush out all of the details of the complex visual relationships of curves and volume. This Bugatti is so focused, and pin point perfect, that if someone had evertold you Bugatti had not done this in house, you would never to believe otherwise.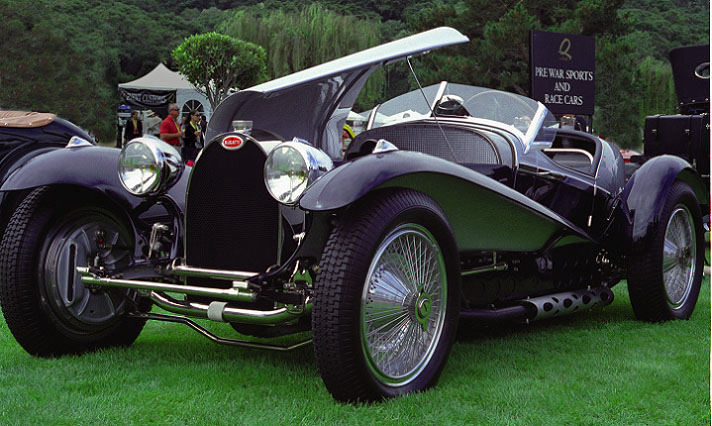 The Kellogg's Bugatti is by modern standards, tiny in physical size. So to see this car in it's finished form requires time. The cars detailing is needless to say flawless and edge perfect. The Kellogg's Bugatti has been invited to Amelia Island Concours de Elegance this spring 2006. To those who worship the Bugatti's, this 57 / 59 roadster will appreciated for the flawless final results. When the EB16 (Veyron) shows up, the EB16 looked akward when sitting next to this elegant statement of style. The EB16 was moved quickly away to avoid comparison.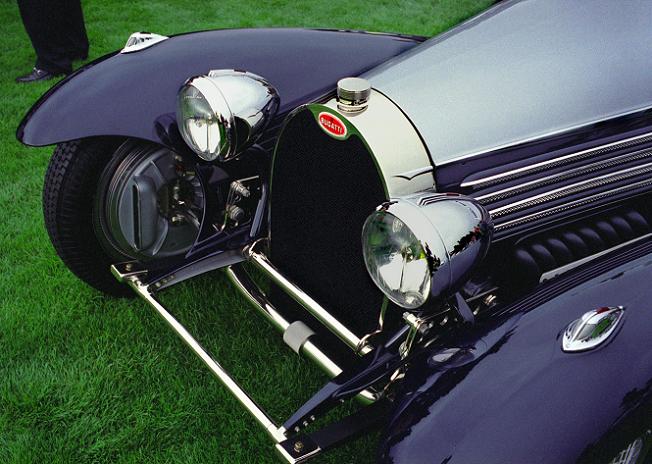 All body panels were fabricated on Andy's english wheel
This construction of the Bugatti was the responsibility of Andy Palmer from Wellington, New Zeland. The total duration of the Bugatti project has taken 8 years. The final finished results are both a throphy, and evidence to Andy's skills in sheet metal as well as restoration abilities. Not many people get to eat, and sleep Bugatti everyday. The legacy of the Bugatti will always keep Mr.Palmer in demand by serious automotive clients.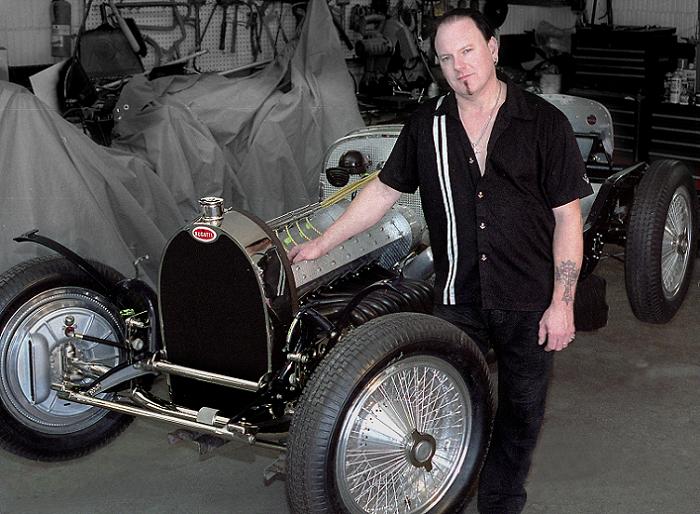 Andy's skills are responsible each hour of hand labor in the Bugatti
Ron & Sonya Kellogg have owned and restored numerous important historic automotive gems. Many people best remember his very rare 1953 Bosley that wowed Monterey a few years ago. Mr.Kellogg has owned over 200 automotive icons. This includes 13 Ferraris, Gullwing Mer-Benz's, Miura's and not to mention several very important race cars.
Such as the 1975 Indy winning, Jorgensen Eagle, Talbot-Lago LeMans 1950, that finished 2nd. Currently another custom coachwork gem is the Jaguar XK 140 Aerodyne , that will also be on display as part of Jaguars historical display at Amelia Island 2006. Ron & Sonya Kellogg's passion for great cars and coachwork seems to know no bounds.
From MotorSportsCenter.com
---
Back to the Bugatti revue
---
Vive La Marque !!