A virtual magazine for a true passion!

Editor: Jaap Horst
---
Volume 9, Issue 3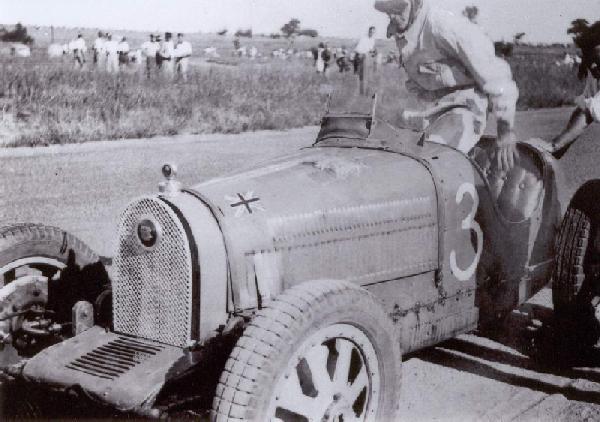 A short history of Bugatti in South Africa
By Wayne M. Kennerley
Click on pictures for an enlargement.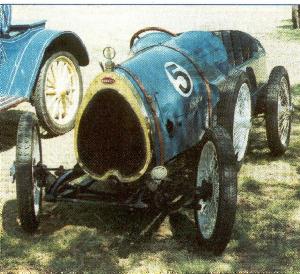 T13 Brescia, chassis 1398

The first known Bugatti in South Africa, to my knowledge, was a T13 Brescia, chassis 1398, that was imported into the country in the 1920s by Frosty Lancaster. This car was No. 1 of the three factory cars entered in the 1922 TT race. The car was later acquired by a Mr. Mills, a garage owner, who raced the car quite successfully, another owner, Greierson Beall rolled the car during a race. In later years the car was acquired by a collector in Bloemfontein, who still owns the car.

During the 1930s, a number of Bugattiís were imported into South Africa by Mario Massacuratti, an Italian living in South Africa, who headed the Eagle Racing Stable. These cars included a T35B, two T35Cís and a T37.
All were raced in South Africa, the most successful being the T35B, chassis 37340, in which Mario won the 2nd South African Grand Prix in 1936. One of the T35Cís, chassis 4915, was a single seat racer, fitted with a large radiator and was one of the few Monoposto Bugatti chassis of its era.
Research by Bugatti expert Eoin Young, revealed that two T35C chassis (4892 and 4915) were sold to Tazio Nuvolari. 4915 was driven in the 1st South African Grand Prix by Taruffi but did not finish. The car was then sold to Prosser Roberts and/or Jack Lawrence. Placed 4th in the 1937 Silver Springbok Trophy No 2, driven by Prosser Roberts, who also attained a 2nd place in the Silver Springbok Trophy No 3, race B, at 61.17mph. Jack Lawrence managed a 7th place in the Silver Springbok trophy No 3, race A. After this the car was either a non finisher or non starter in other events through 1937/38. Rescued by Pierre Kelfkens from a scrap heap, in the late 1940s, with a rod through the side.
It is believed that the remains of this car were sold to someone in England, basically as a chassis only.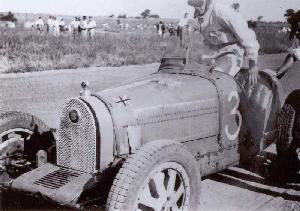 Bugatti T35C - 4893 fitted with Graham engine

A number of other cars were also shipped to South Africa in the 1930s by overseas competitors racing in the South African Grand Prix, some of which were sold to South African owners. Amongst these was the ex Lord Howe T59, chassis 59123. It was in this 3.3-litre car, that Lord Howe attained 2nd place in the Donington Grand Prix in 1935. After racing the car in South Africa, Lord Howe sold it to Mickey Hooper, who raced the car briefly before it was sidelined due to a broken crankshaft. After its return to England, I believe that this car was owned by Sir Ralph Millais.

During and after the Second World War, a number of the Massacuratti cars were discovered by a group of collectors in South Africa, amongst whom was Pierre Kelfkens. Over the years parts of various cars were used to rebuild one or two. Another interesting car that appeared around this time was the ex Achille Varzi T51, chassis 51122. This car is believed to have been raced in North Africa as well as in the Targa Florio. It was raced for a short time in South Africa by John Willsworth.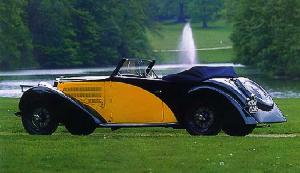 T57C, chassis 57696

On to the 1950s, in the latter part of this decade, the Late Gordon Strauss, imported a T57C, chassis 57696, fitted with a Gangloff drophead coupe body. This car was driven extensively in Southern Africa by Gordon and was only sold on around 1980. The car was originally delivered to a Wealthy Dutch businessman and is said to have been hidden within a large haystack during the war to prevent it from being commandeered by the Germans.

In the 1960s and 70s a number of delectable Bugattiís were imported into South Africa, the majority of them by one man. These cars include a T40, T46, T49, and a T51. The T46, chassis 46184 was acquired by its South African owner from a Sothebyís auction in 1969 and is still in the country. The T49 was imported from Yugoslavia and again is still in the country.

In the 1980s a T55 with an interesting history was imported into South Africa. This car was originally owned by King Leopold of Belgium. After going to the United States in 1953, it was used until around 1960 when it was dismantled for a rebuild. Some work was done on the car but had not been completed by 1984 when the car was taken to South Africa.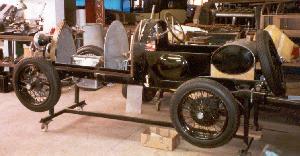 Bugatti T13 - 1780

One of the newest imports is a T13, chassis 1780, UK registration KU 3064. This car was imported in the mid 1990s and is currently undergoing a complete rebuild. This car is said to have had some racing history but I have yet to find any evidence of this (Can anyone help?).

In the mid 1990s a T55 replica was constructed in South Africa, this car had as its basis a number of original parts, fitted to a new chassis together with modern replacement parts built to the same design and standard as the original cars. This car was auctioned in England in 2003 for around £160 000, and is said to drive as well as any original T55. I believe that another similar car is currently being constructed in South Africa.

Whilst this article does not cover all the cars that have been owned in South Africa, it does give the reader a look into some of them. If anyone has any additional history on any of these cars, or any others that have been owned in South Africa (or any where else in Africa) or any photographs, I would be glad to hear from them via the Bugatti Revue or directly at wkennerley@yahoo.com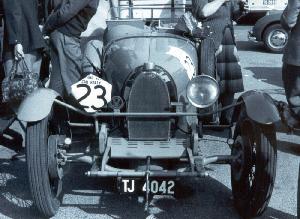 Bugatti T37 - 37255

Photograph credits
1. Bugatti Brescia - 1398 - Photo Classic Car Africa Vol 8-1
2. Bugatti T35C - 4893 fitted with Graham engine Earl Howe Circuit 010140 - Photo Frank Hoal
3. Bugatti T13 - 1780 - Photo Wayne M Kennerley
4. Bugatti T37 - 37255 - Photo Ken Stewart
5. Bugatti T57C - 57696 - Photo from BugattiPage
---
Back to the Bugatti revue
---
Vive La Marque !!