The five phases of the T57 C No. 57728 "Berline" (Series 3)
The Bugatti, which had not been restored since 1938, now has a "new look"
By Christoph Seiler, museum Autovision, Altlussheim
Altlussheim (D).
For ten years now, in the Bugatti exhibition at the Autovision Museum, you have been able to marvel at a limousine (French: Berline) alongside many other Bugatti vehicles from the Type 57 series, which has an astonishing CV. The Bugatti T57 C No. 57728 created in 1938, and commissioned by by P.L. Weiller, was bodied by the Gangloff company in Colmar. They decided on a "Berline Pillarless design", which was only implemented three times in this design.


Picture above: Original excerpt from the Bugatti delivery book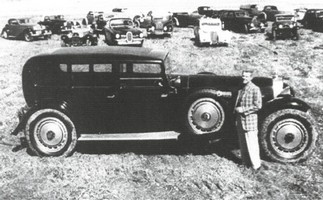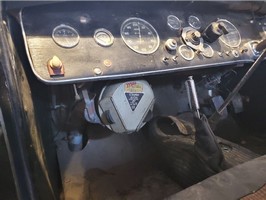 A Bugatti travels half the world
The second owner of the vehicle was John Shakespeare in Illinois / USA (images above). It is not known exactly when the automobile collector got the vehicle from Europe. During this time in the USA, the Bugatti underwent some technical improvements that made it more comfortable. For example, thin aluminum rain gutters were attached to the roof so that you don't get wet from dripping water from the vehicle roof when you get out or get in. In addition, a hot water interior heater was installed at the time, which probably makes this Bugatti the only vehicle in the series with this equipment.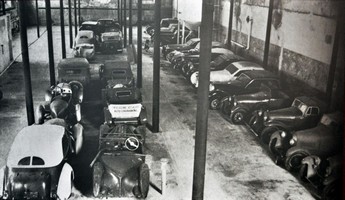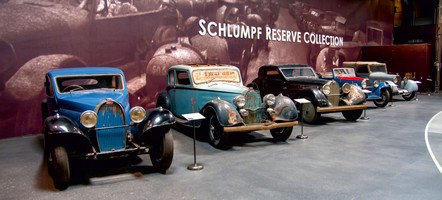 Once "back to the roots" at a bargain price – and back!
But the T57C was to find its way back to France, as John Shakespeare sold his entire collection to Fritz Schlumpf in Malmerspach in 1963. Since the Bugatti T57 C was in poor condition when it was purchased but had not been restored, the Schlumpf brothers stored the vehicle in their legendary reserve warehouse in Malmerspach (image above left). After Schlumpf's death, his widow Alliete sold the unrestored Bugatti to Peter Mullin, which meant the vehicle was shipped to the USA again. There it was part of the special exhibition "The Schlumpf Reserve Collection" (image above right). After this exhibition ended, the car was for sale again and was finally acquired by the AUTOVISION Museum, as a large exhibition was set up there, which is still there exclusively dedicated to the Jean Bugatti design series.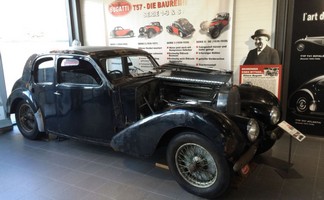 Exhibited in its original condition for 10 years.
In contrast to the other vehicles in the collection, this T57 Berline was initially not restored and presented to visitors as an "untouched beauty". But now, after almost ten years, there was an urgent need for action on a partial restoration, as the T57C was already threatening to rust through in some places. This Bugatti T57C Berline, which has traveled far in its 85-year existence, can now be admired in new splendor as an important part of the exhibition "The Last French Bugattis" in the AUTOVISION Museum.