For the duration of the Festival only, a special art exhibit was organized, of Carlo Bugatti furniture and Rembrandt Bugatti bronzes. Most of these were on on loan from, and the exhibition organized by, the Perridon Experience. Most of the actual work being done by Sjoerd Schepman, whom you could call Curator of the Perridon Bugatti collection.

1. COBRA CHAIR
The Cobra chair, probably Carlo Bugatti's most iconic design, was part of the Snail Shell room at the International exhibition of modern decorative arts in Turin, in 1902. Each chair is unique and entirely covered with parchment and decorated with Indian ink designs of stylized flowers and insects.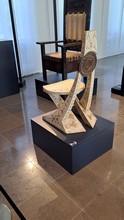 2. FAUTEUIL CHAIR
This chair was part of the 'Sala Studio', and was part of Carlo Bugatti's entry to the 'Prima Esposizione Internazionale d'Arte Decorativa Moderna'. It turned out to be especially important for the spread of art nouveau in ltaly. Entirely wrapped in parchment, with partly gilded decoration of stylized insects and flowers arranged in a frieze, the rear is decorated with a round medallion in relief copper, typical Carlo Bugatti signature
3. LARGE SECRETARY
A secretary from the Italian liberty period with the dark and light tones, in walnut, tin, copper, vellum, and mirror glass. Another example is held in the collection of the Metropolitan Museum of Modern Art in New York.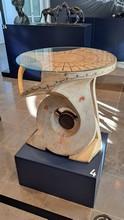 4. SNAIL TABLE
This center table with a body of a snail is another part of the Sala della Chiocciola. Completely encased in natural parchment with polychrome decoration of flowers and stylized dragonflies, reinforced with gilding. Built-in top with round cut-out bottom with small overhanging pads in cut-out sides. Center of the snail in stamped copper plate underlined with a gold cord.
5. STILO DI OPERA
As for this piece of furniture, it is a very original cabinet, made in 1899 by Carlo Bugatti in walnut with inlays in various woods and metals, embossed copper and parchment. A very rare piece. A second version is part of the 'Wolfsonian Museum' in Genova, Italy.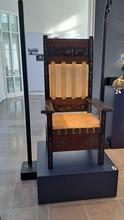 6. THRONE CHAIR
This special chair from around 1898 is manufactured from walnut, ebonized wood, leather straps, copper and has pewter, ivory and graphite inlays.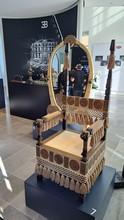 7. ART DECO THRONE CHAIR
This is an ltalian Art Deco mahogany throne chair with decorative pewter and brass inlay, applied and embossed copper rondels, calfskin vellum chair with a brown upholstered seat cushion and beige fabric detail with woven tassels
8. PEDESTAL ITALIAN LIBERTY
This pedestal was manufactured around 1902 and equipped with parchment, Italian walnut with ivory, copper and brass inlays.
9. STANDING PSYCHE
This mirror with hand painted parchment over a walnut wooden frame, hammered and pierced bronze, mirror glass. This version is equipped with a heavy bronze key of an insect in bronze
10. SMALL FRAME LUISA CASATI
Special set of wall panels by Carlo Bugatti with an architectural relief by Enrique Linares and by Riccardo Pellegrini (Milan 1870-1943). Black and walnut wood, with inlays and ornate copper foil applications. Asymmetrical panel with columns and architectural elements, Stucco element with yellowish patina. In the middle a relief painted with an open colonnade and a Moorish structure carved in relief and richly designed ornamental friezes.
11. PAINTING OF L'ÉBÉ BUGATTI
L'Ébé Maria Térésa BUGATT (1905-1980) is the first daughter of Ettore Bugatti. L'Ébé is a given name formed from her father's initials (or of the father and mother's: Ettore - Barbara, Ed.). This painting in the Perridon collection is a beautiful and important work by her grandfather Carlo Bugatti. Oil on canvas.
13. PAINTING OF BICE BUGATTI BY CARLO
This painting of a young Luigia Perina (nickname Bice) Bugatti was done by her brother Carlo Bugatti. Well connected to the Segantini family, it shows a new connection in the artist root of the Bugatti family.
12. PICTURE FRAME BY CARLO BUGATTI
1902: 'Un vecchio che legge' (Old reading man), painted by the ltalian master, Riccardo Pellegrini. The picture frame is a particularly beautiful work by Carlo Bugatti and is made of walnut wood, dark leather, hammered copper and tin. In ebonized walnut with gong in copper, floral motif in tin decorations and brushes of silk.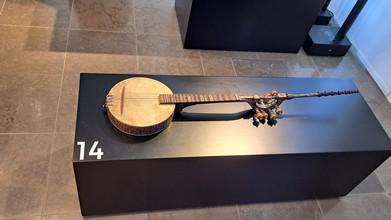 14. CARLO BUGATTI BANJO
Small six-stringed Banjo raised copper plated shaft, with orientalist-inspired motifs. Also this confirms the age of the pieces. The ltalian Liberty (ltalian Art Nouveau) and French Art Nouveau were coming up and here we see the first 'new' influences. Ebony fingerboard encrusted with tin, typical of Carlo Bugatti.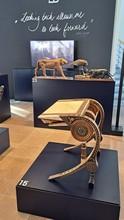 15. CROCODILE DESK
This very special table in Italian Liberty style from around the year 1900, consists of walnut, copper, tin and parchment. The name 'Crocodile' refers to the crocodile's mouth, which is depicted on the side of the table. This is again a non-European characteristic and a form of Orientalism.
16. GONG CHAIR
A variation of the 'Small Gong' chair in very dark walnut, bone, silk, graphite and silk. The dark color characterizes the beginning of Carlo Bugatti's career, As we can see on the study material, different inlays were possible depending on the wish of the client.
17. CARLO BUGATTI BENCH
A bench made of Italian walnut, copper, vellum, inlaid pewter, cotton tassels, ink details. The heron and the bamboo leaves are typical for the exotism out of the far East and not the middle East. That became a big influence in a later stage.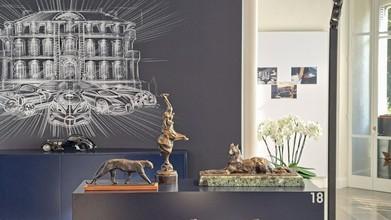 18. RECLINING EGYPTIAN WOLF
Created in 1904-1905 by the young Rembrandt Bugatti, a bronze of contrasting brown patina signed 'R Bugatti'. The great talent of Rembrandt is highly valuable and Lalique had reproduced this exact sculpture in crystal.
19. THE COW
Sculpture by Rembrandt Bugatti in 1901. This sculpture was exhibited at the retrospective of his work in Berlin in 2014 during an iconic Rembrandt artwork exhibition.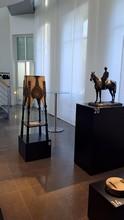 20. ETTORE BUGATTI ON HORSEBACK
Bronze sculpture by Prince Paolo Petrovich Troubetzkoy, who was the son of Russian diplomat Prince Peter Petrovich Troubetzkoy. He worked in Russia, America, England and Italy and was self- taught, although he learned some sculpting skills from Giuseppe Grandi. He was an artist and well connected to the Bugatti and Segantini families.
21. WALKING BROWN BEAR
A rare, fine quality, early twentieth century bronze model of a 'Walking Brown Bear' by Rembrandt Bugatti. This sculpture was cast in bronze by the lost wax process at the Hébrard Foundry. Before casting it was signed, stamped and numbered in the wax. It has a dark brown patina with lighter brown highlights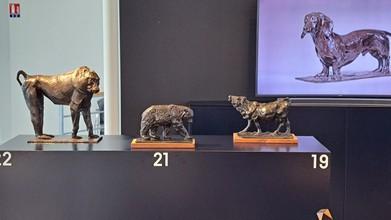 22. THE HAMADRYAS BABOON
The 'Babouin Sacré Hamadryas' is one of Bugatti's most celebrated sculptures and was one of the last major works the artist made before his death in 1916. The shape of the animal, characteristically positioned on all fours, is surprisingly modern given the artist's faithful attention to the nuances of the monkey shape.
23. THE ROYAL TIGER
Cast in 1914, several years before his untimely death at the age of 31, the 'Grand Tigre Royal' is one of his last and most compelling sculptures, embodying his late and most expressionistic technique. The piece is infused with a powerful sense of movement and dynamics, the considered and often impressionistic planes of many of his earlier works give way here to rich stripes and lines that intertwine irregularly.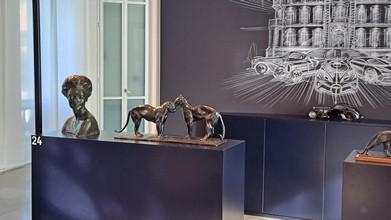 24. BUST OF DENISE FERRERO
Rembrandt was 20 years old when he produced this work. Bronze proof with nuanced brown-green patina, lost wax casting, old edition from the 20s/30s by the founder Pannini. Rembrandt Bugatti made his first exhibition at the Hébrard Gallery in 1904, mostly known for these animal bronzes, he also produced works of male and female characters.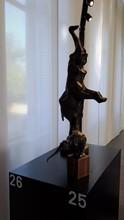 25. ELEPHANT BLANC D'ASIE MENDIANT
A beautiful, early twentieth-century bronze model of an elephant with the title 'Elephant Blanc d'Asie Mendiant' by Rembrandt Bugatti, This bronze was cast using the lost waxing process in Hébrard's Foundry. Before it was cast in bronze, it was signed and stamped in the wax. It has a dark patina with golden undertones
26. DANCING ELEPHANT
Created by Bugatti Automobiles S.A.S. to celebrate Rembrandt BUGATTI as important family member, the Veyron Grand Sport Vitesse 'Rembrandt Bugatti' is the only car with bronze and platinum insert to homage Rembrandt's art and craftsmanship. This edition was presented in 2014 and produced in only three units.