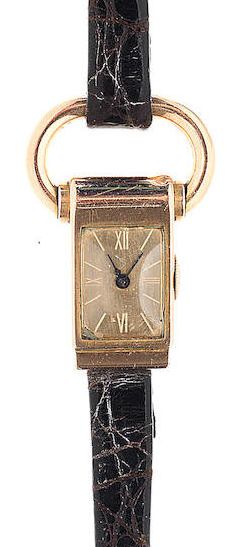 After all the commotion around Ettore Bugatti's Mido watch, which fetched quite a high price last year, this Lidia Bugatti watch passed through the news items virtually unnoticed.

It was auctioned February 6, 2020 in Paris, and sold for the modest sum of 3750 euro including premium.

The watch, according to the auction house, is early 1930's French, with 18 carat gold case, and universal 17 jewel Swiss movement. It is believed to be a unique commission from Hermes, Paris. It has an engraved rectangular dial, blued steel hands, and the reverse of the case is engraved Lidia Bugatti. The interior of the case back is stamped with the number 15061.

According to information supplied by the vendor, this watch was presented by Lidia Bugatti (The Countess de Boigne) to Robert Cornier, the noted Bugatti and Voisin collector, when he arranged with Serge Pozzoli to sell her Bugatti Aeroplane that was being stored in the garages of Chateau d'ermenonville next to her Bugatti Ropyale Coupe Napoleon.

Cornier kept the watch until the 1970's, when he sold it to a collector in the South of France. The watch then passed through several collections including Michel Courtonne before it was purchased from him by the current owner in 2011.