The 2021 Festival was a nice intermezzo between all the Covid-troubles, and one of few events that actually could take place in their full organized state. Only difference being the Covid-checks, and some places where the mouth protection was required.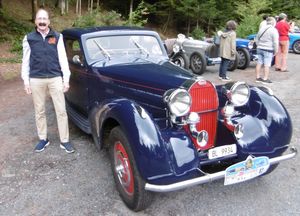 Some specialties were of course the Brescia's (some of which would go on to Italy afterwards, for some of the 100 years' at Brescia festivities) and of course the presentation of the reconstructed Weymann Royale.

My son Tomás and I arrived on the Friday evening in Molsheim, and didn't take part in any activities. From the Saturday morning we participated in most activities, and rode all Saturday with Robert Braunschweig in his Type 57 Coach by Gangloff (on the right).

All the photographs are a bit much, thus I organised all info on this page in the different events within the Festival. You can use the following navigation list to go to a specific event, or just browse through this page. Have fun!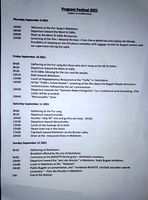 On the right: the Festival programme.