Dick Ruzzin
General Motors Design Staff Retired
Two happy people with big smiles on their faces, Ellie and Hank Haga are seen here finally driving their French Blue Bugatti Type 35 twenty-four years after starting the restoration project.... It had to be wonderful!
This is a story about two talented people, Ellie Pietruska from the Ford Motor Company and Henry Haga from General Motors who met at a party in Detroit, the auto capital of the world. They would soon marry, start a family and embark on a journey that resulted in restoration efforts on three significant and iconic sports racing cars. Both were educated to be creative designers. The two young artists were ingrained from childhood with the American work ethic and as children they both learned to work with their hands. Ellie with a hammer that her upholsterer father Albert gave her as a child was in love with creativity and Hank acquired many skills while working with his father and growing up in California where he became involved in the hot rod and sports car scene. His early interests would serve him very well in his chosen career and after experiencing design assignments in all five General Motors car division studios it would take him away from Detroit to design GM cars in Germany and in California. The highlight of his design work was to be the 1968 Chevrolet Corvette, one of the most beautiful production sports cars in GM history.
Henry rose through the ranks at Styling to become the Chief Designer of the Chevrolet 2 and 3 Studios and many Corvettes and Camaros were born under his design direction. Bill Mitchell, the Vice President of GM Design who Hank worked for would say to him:
"I would pay good money to have your job Kid". To which Hank would always reply, "I'm ready to pay"!
Bill Mitchell had trusted Henry Haga with one of his most precious and valued responsibilities as head of GM Design Staff, that was designing the Chevrolet Corvette. He often declared, "I am the designer of the Corvette"! Who could argue with the Stingray racer on Mitchell's list of achievements? Henry happily and successfully worked within that framework and added great value to the creation of the Corvette design projects within his responsibility. To be a successful Chief Designer at Styling Hank had to be greatly trusted and admired by the management as well as by those working for him.
Hank was passionate about car design, very intelligent he had a confident and steady hand and no matter the urgency or frantic need there was always a sense of humor just under the surface of his demeanor. With a mischievous smile on his face and a suggestion for a solution to the problem he drew you into his confidence. Hank had an engaging way that made you want to help him solve his problems even if you had to give a little to do it. Working for him I found that the more you knew him the more you wanted to help him and I know that endearing quality must have been of great value in all of his ventures, designing Corvettes or restoring iconic automobiles.
Ellie, artistic and creative, won an art scholarship and went to design school at Pratt Institute in New York. It was one of the two most prestigous design schools in the country. The other was Art Center College of Design in Pasadena, California where Hank, her soon to be husband had graduated from. Ellie was the first woman designer to be hired by Ford. Hank was recruited earlier by Harley Earl from General Motors to join his growing Styling Staff. (Later to be named Design Staff). The GM Motorama cars were designed there after World War 2 and GM Styling's evolving design processes would soon be embraced by auto designers around the world.
In Detroit before they met Ellie and Hank entered a world that was unique and at the same time representative of the evolving American work force.
College educated designers were new to the car design business and they brought artistic techniques and presentation skills that the early designers did not have. Those first hired loved cars but they often had to learn to be artists and designers while working on the job and inventing a new profession. They created car designs at the same time. GM Styling was complete with everything necessary to do the work under one roof as was the Bauhaus in Germany and the Cecil B. Demille movie studios in Hollywood. The designers would effectively have complete control over their creative process and they were provided everything to do the work from beginning to end, all in one place. The creative environment provided by Harley Earl at the General Motors Technical Center was breathtaking and an icon in itself.
The work force at GM Styling was diverse to the extreme, men, women, artists, engineers and soon sculptors were brought into the design studios. But most importantly to Hank Haga who might be 'inspired' to consider restoring a car in the future were the people working in the shops. GM Styling had a complete complement of the required shops as organized and required by Harley Earl. Large special shops, fully equipped were created for plaster, metal, wood, mechanical, interior trim and when it came along in the early fifties, fiber glass. The shops could build anything that the designers would create from wood templates to full-size interior and exterior models that looked in every way like real cars.
It was a special achievement to develop such a massive industrial design system but the outstanding part of it was not the place.... It was the collection of people.
Well staffed by many young Americans and immigrant artisans the shops had people from Italy, Poland, England, Germany, Lithuania and many other countries. Most with hands on mechanical and artistic skills that made them special and perfect for helping to visualize in three dimension the dreams of the inhouse Harley Earl designers.
Like every designer in the building Hank Haga must have been thrilled when he walked into the shops for the first time. The huge rooms with high ceilings and the cranes high above, the smells and sounds of things being made by hand was different than the design studios that had the odor of sulfur, an ingredient in modeling clay used to create the car design proposals. The design development of scale and full size models in clay was a process created by Harley Earl years earlier as a very young man in California. Most of the designers and many others working at Styling were car crazy and Hank quickly became part of that group. Hank and Ellie, two intelligent and motivated professionals would work as a team on all three of their private restoration projects simultaneously throughout the years. Their design expertise and learned skills would prove to be a great and unique combination of assets as applied to automobile restoration. Weekends at the shop in the Haga home was very busy as people with very special skills were recruited to work on the three different projects. Their choice of three iconic and historic race cars, a Bugatti and two Ferraris, would be as special as their efforts to bring them back to proper cosmetic and running condition. That effort and the result of it would effect their entire lifetime together.
The Styling shops had to be the basis for the confidence that Hank would muster to start with Ellie what would become a twenty four year project, the restoration of an iconic Type 35 Bugatti. Add to that task two Ferraris, a Barchetta and a 250LM must have made their lives very complicated as both also worked as high pressure creative professionals. In the shops Hank could get technical advice and help if needed but most importantly it would be the well of knowledge that was available to him. The Styling shops were staffed by the artisans as well as very technically astute engineers who were focused on the use and development of modern fabrication techniques so that they could deliver the best for General Motors. Ellie, a trained upholsterer as well as a very competant and educated designer would design and create her own clothing and some of Hank's also with her trusty Singer Sewing Machine. She designed and sewed period clothing to be used when showing and racing the Bugatti as well as the seats in a rich dark brown leather. She learned to weld so that she could craft metal sculpture and often assisted in repairs when necessary on the various restoration projects. Her strong will and full support for Henry in his work and in his restoration efforts was widely known as she had an appreciation for mechanics and the music of a Ferrari twelve cylinder engine at speed.
Ellie and Hank would meet Enzo Ferrari twice and they would own three Ferraris besides the two that they preserved and restored. The Ferraris would be inspirational to Hank in his work designing Corvettes. The "Designing Couple" as they were called in Germamy would be known to many associated with Ferrari, Bugatti and of course Corvette. One of Hank's closest friends was Zora Arkus Duntov known as "The father of the Corvette", he worked with Zora who also had a great love and respect for Bugatti. The spare and ultra lightweight Type 35 was beautifully conceived inside and out by Ettore Bugatti in 1924 and although he was not an engineer himself he was admired by many as it was a very successful race car. The Bugatti was one of the three cars that Hank and Ellie chose to bring back to life. It had come to Michigan from Wisconsin where Hank was born and they were shocked to discover after the purchase that it was the Number 1 Prototype...
It was the very first Bugatti Type 35 ever built.
Haga birthday party
Sometime in the late seventies Henry Haga had a birthday party. His wife Ellie, a terrific artist, planned a party for him on a Sunday afternoon, it was warm out, early Fall as I recall. At that time Hank was Chief Designer in Chevrolet Three Studio at GM Design with the responsibility for designing Chevrolet Camaros and Corvettes, he worked for Dave Holls. He was in the process of restoring a beautiful Ferrari Barchetta and was well into the restoration of a Bugatti Type 35 that he had found in Northern Michigan. He would also later restore a Ferrari LM, or I should say Hank and Ellie did as she was involved wherever she could contribute.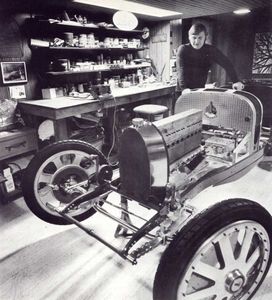 Info on the car from BugattiRegister:
The first type 35 was chassis # 4323, factory designation "type 30A, 11CV, 650 kg"
This chassis number was registered first by the works at prefecture du Bas-Rhin on July 12, 1924 as 6963-J1 at Automobiles Ettore Bugatti.
The first T35 Bugatti ever built. Spare car at 1924 Lyon GP.
A. Baron fitted a Brescia engine no. 708 ex-2302, discarding the original engine.
H. Haga fitted a MG engine with 16" wheels.
Now with replica engine, built up from spares and a BOC sump

The Bugatti had come from Wisconsin, Hank's home state and it had raced on the ice there and in Michigan. As dedicated as Ellie and Hank Haga were It would take twenty-four years to finish the Bugatti project. The car had an MG engine and wheels when purchased. Hank researched the car and found, much to his surprise, that it was Prototype Number 1, according to authorities at the Bugatti Archives in Paris. On the day of the party the car was finished and painted, the interior was also finished. Elli had sewn beautiful leather seats for it with two matching helmets and jackets, all in the same dark brown heavy leather. The engine was installed and runable but Hank was waiting for some rare magneto parts that would allow him to start it. Sitting there on the grass outside Hank's house it looked as though you could get into it, put on the helmet that was sitting on the passenger seat and drive off. About thirty people had been invited to the party, car friends and some from Hank's studio at Design Staff. Hank had worked on the first Corvair design and was close to my previous boss Ned Nickols and we had several of Ned's three Martini lunches together. Hank was very deep into the restoration culture in the Detroit area and one of a large group of car enthusiasts, collectors and restorers at Design. I was delighted to be invited, it was years later that I found out that Hank tried to have me transferred into his studio in the early seventies when he had asked me to sketch a mid-engine Italian looking Corvette.(Sketch to be included, the only Corvette sketch that I ever made).

When we arrived Ellie gave my wife a small red apron that she had made, silk screened with a black Ferrari prancing horse. She had made one for every woman at the party. We were a little early and Ellie needed help in the kitchen as we were having Italian food. To our surprise and delight she was making Gnocchi, small potato dumplings that are fantastic. When she found out that we made them often at home she sat us down in the kitchen and we were on our way, rolling the potato dough, slicing it into small dumplings and creasing them with a fork so that more sauce would stick to them. Other women soon pitched in and we made hundreds of Gnocchi. I will never forget Ellie's kitchen, she was in charge of the Christmas events at the Hudson's Department Store in Detroit for years, she also was from Pratt Institute, a top notch design school. The cupboards of light honey colored wood were all hand painted with colorful happy images of food of all kinds..... Fantastic.

As more women arrived Eli told me that I should join the men and I went out into the yard where the French Blue Bugatti sat in the sun with a small crowd around it. One side of the hood was up and Hank was leaning over the engine with Zora Arkus Duntov. He worked with Zora as he was Chief Engineer for the Corvette. Hank was staring intently at the engine and was listening very carefully as Zora explained the purpose of a short rod on the left side of the engine block that was linked to the frame. He was giving a long and detailed description of the little part called a torque rod and how important it was to limiting the engine in its transverse travel as the RPMs rose and fell under acceleration. All of this in his thick accent. Hank just looked at him and never let on that he knew everything about the function of the torque rod as well as the rest of the Bugatti. He listened with great respect, nodding from time to time as Zora went on and on. Finally Zora finished, he glanced around at the small assembled crowd and gave everyone a big smile.

He was teaching all of us, not just Hank and the lesson was over. From there we went on to celebrate Hanks birthday, the Gnocchi were fantastic and we had great wine. We thanked Ellie for the great food and the apron, took it home and put it away.

Last year while going through a collection of linens I found the little red apron. It had been carefully wrapped and stored in a flat box by my wife Merrie Lynn a long time ago, almost fifty years....... Those were great days.

It was in perfect shape, not faded or wrinkled. I did not want to put it away again as it was so special, created by a wonderful artist who loved cars as much as her husband. She supported him 110%, I did not want to put it away again to be trashed some day, to not be understood. I tried to think about someone who would appreciate it.

I know several people with Ferraris but just could not decide who to give it to.
Then I thought of Kip.

Perfect.

Written 2-10-2021