Abimelec Design's own comment:
I'd like to show you this traditionally styled Hot-Rod that is everything but traditional. $2.5 million dollars worth of rare Bugatti Type 35 (the winning-est race car in history with ~1,000 races won) dressed up in Southern California roadster clothing. A '59 392 HEMI sits up front, where the old straight eight used to be. The interior is wrapped in saddle coloured leather, and the belly of the whole thing scrapes the ground. Hubcaps with the page logo too! Something like this will most likely just stay as a rendering and never see the light of day, but its fun to imagine the reaction of Sirs and Ma'ms when pulling in this thing to the Pebble Beach lawn.
I know this design may be shocking for some, but as a Hot Rod it really does appeal to me! Possibly even preferable above an Argentinian Pur Sang pretending to be an original Molsheim Bugatti.
By the way, does anybody know what happened to the Hot Rod project based on a real T57 Galibier, 14 years ago? (more about this at the bottom of this page)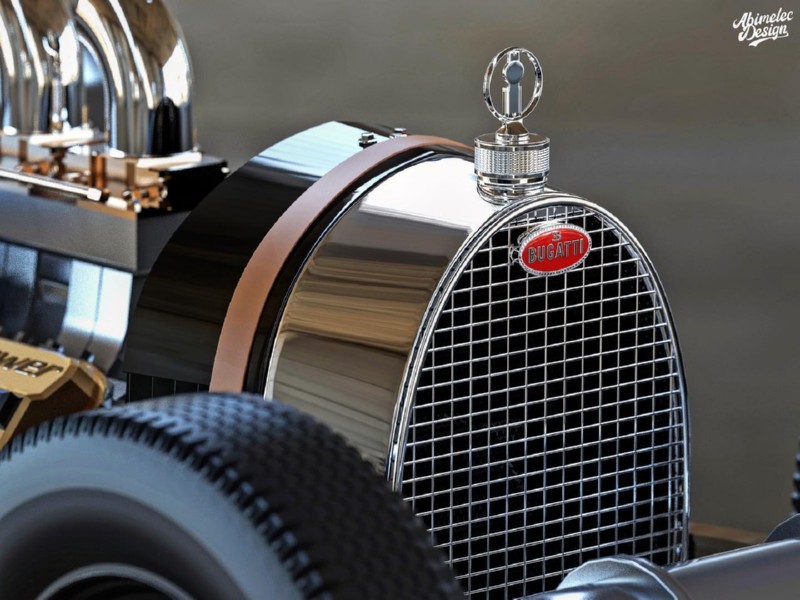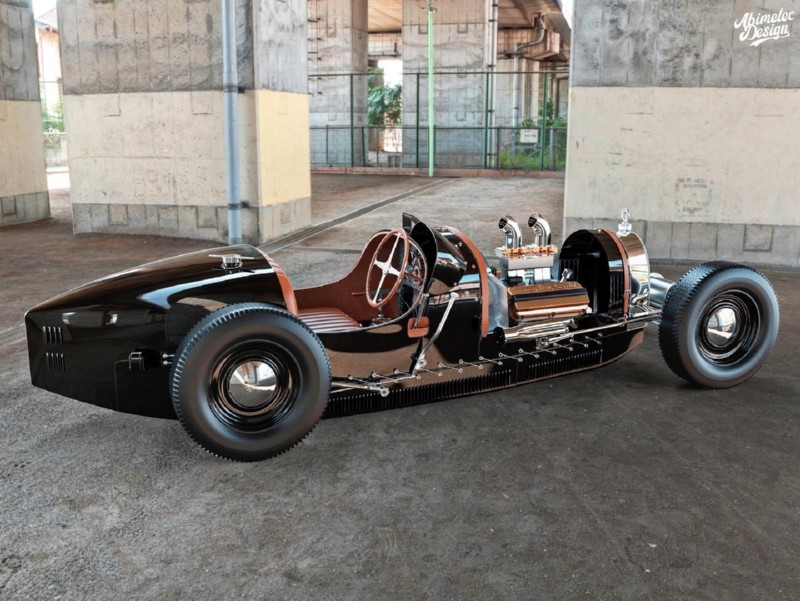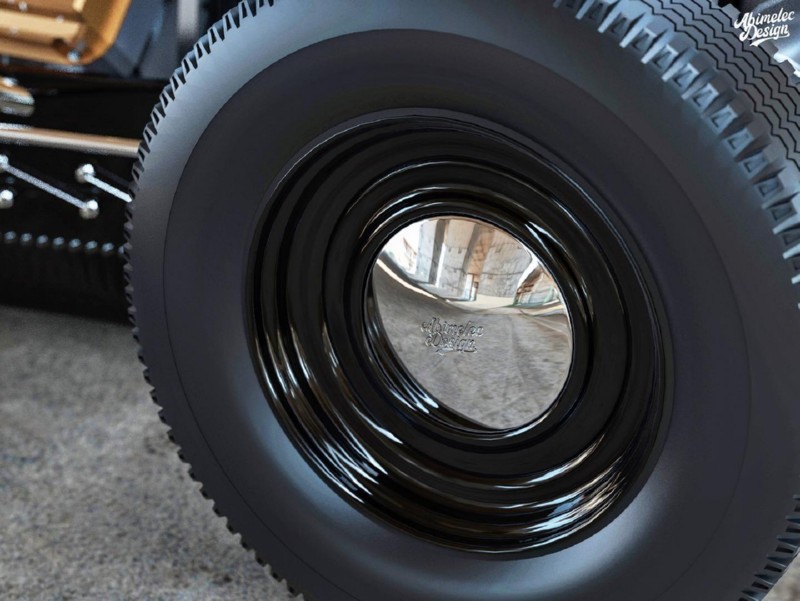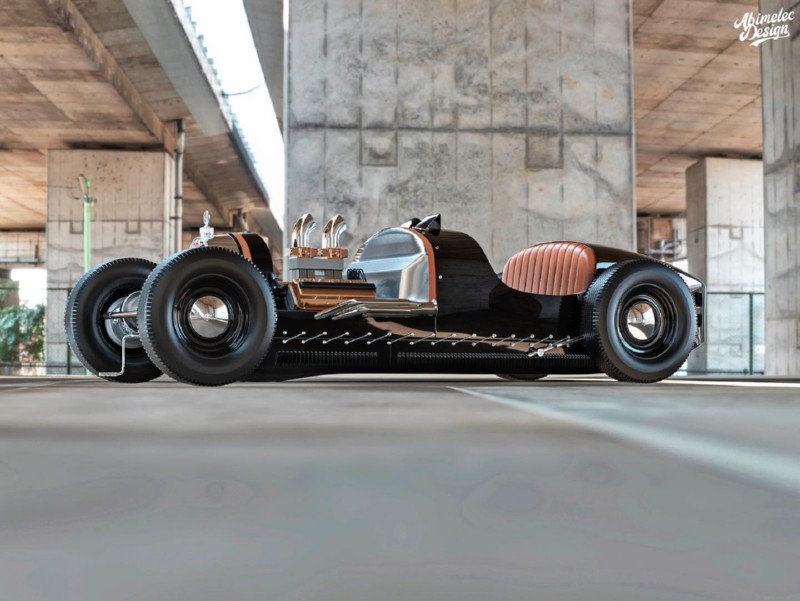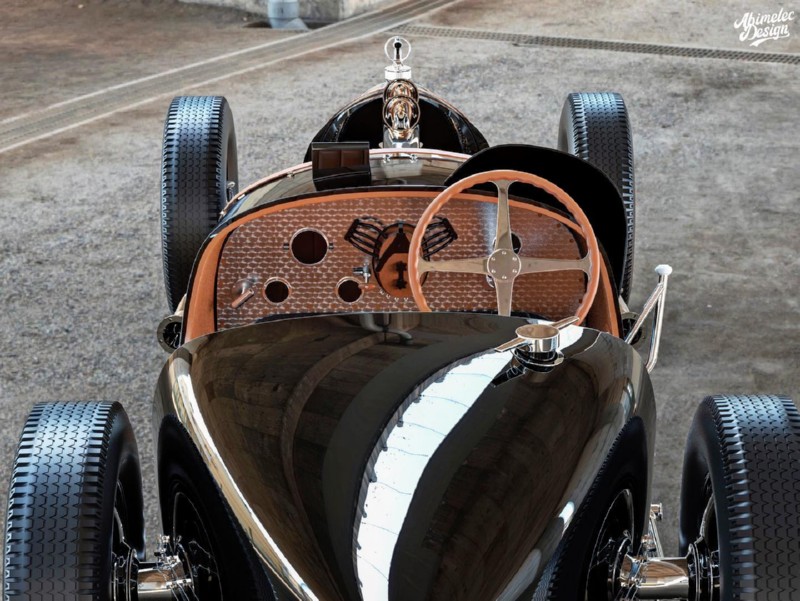 T57 Galibier Hot Rod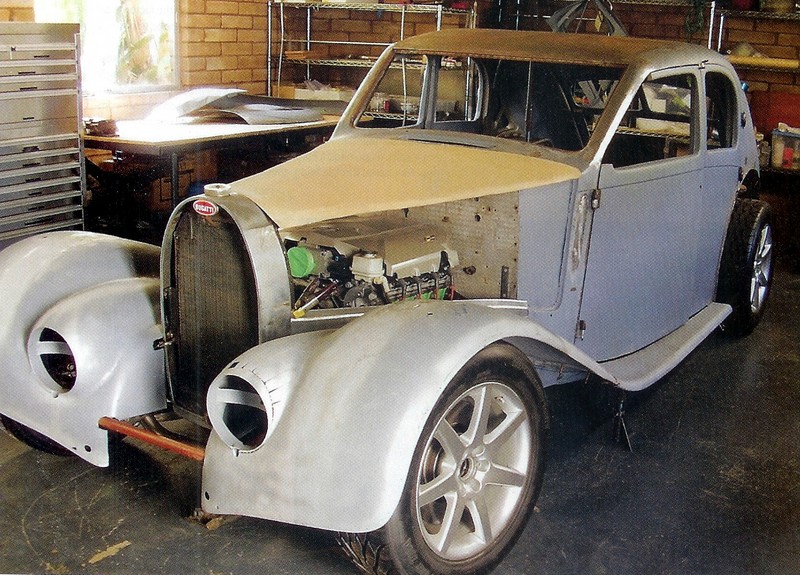 This is the Hot Rod as featured in BugattiBuider.com back in 2006. The photo was posted in a Japanese Hot Rod Magazine.
Reactions on the BugattiBuilder website give more info:
The Bugatti hot rod is chassis no. 57595, with a Galibier 2nd series body.
Info from the January '07 issue of Hot Rod Magazine:
"One of Mark Delong's latest is a rare '37 Bugatti four-door. The rough shell has had all the original internal wood support structure removed and replaced with stainless tubing and sheetmetal, the A-pillar has been laid back 12 degrees, and a metal roof has been welded in. For a better full-fendered effect, the original fenders have been widened and running boards have been grafted in. Of course, the style will still be very flamboyant '30s European, but the heart will be hot rod, since the original drivetrain has given way to one pirated from an '04 Cadillac CTS-V. The owner is eager to get the high-class hot rod on the road, so the car is expected to be done for next year's Goodguys at Del Mar show."
Does anybody know where this Hot Rod is now?