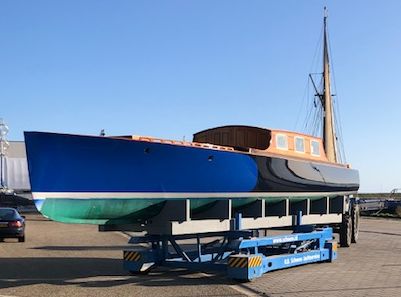 Jos Fruytier from the Netherlands has been in the process of restoring a rather beautiful launch, and has decided to provide it with a Bugatti engine. A 6-cylinder Bugatti diesel that is. Futhermore, the paint scheme is taken From the Bugatti Royale coupe Napoleon. The Royale and the Gelyce shared the same class of clients, and were built in the same era.

The Launch is a 50-feet 1933 Gelyce, build by Camper & Nicholsons, the oldest leisure marine company in the world.

The engine is a 1963 Bugatti - Hispano Suiza 102V60, of which we know the history: In 2008 I featured an article in the Bugatti Revue about the boat this engine was originally mounted in. That boat belonged to the French navy vessel "Ouragan", and was used to transport crew to the harbor when the ship was anchored out at sea. The engine has been used only 170 hours since new, and is equipped with Jaeger instruments.

The Gelyce was a kind of very luxurious taxi, amongst others it ferried the rich and famous during the America's Cup in 1930. Other Gelyce's, nine of which were built by the English firm Camper & Nicholsons around 1930, were used as a tender to a large (motor)yacht.

Two other surviving Gelyce's are known, one given to legendary yachtsman Sir Thomas Lipton, the other was originally built for Lieutenant-Commander Sir Warden Chilcott, as a tender to his 120' motoryacht "Dolphin".

Enjoy the quality of the build in the photographs below, also showing the restored engine and gearbox.