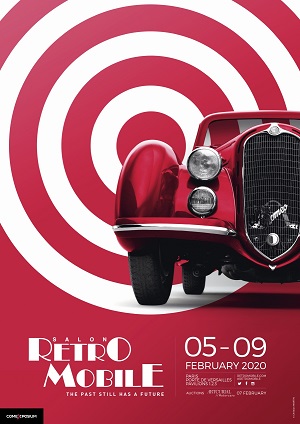 A virtual magazine for a true passion!

Editor: Jaap Horst
---
Volume 24, Issue 1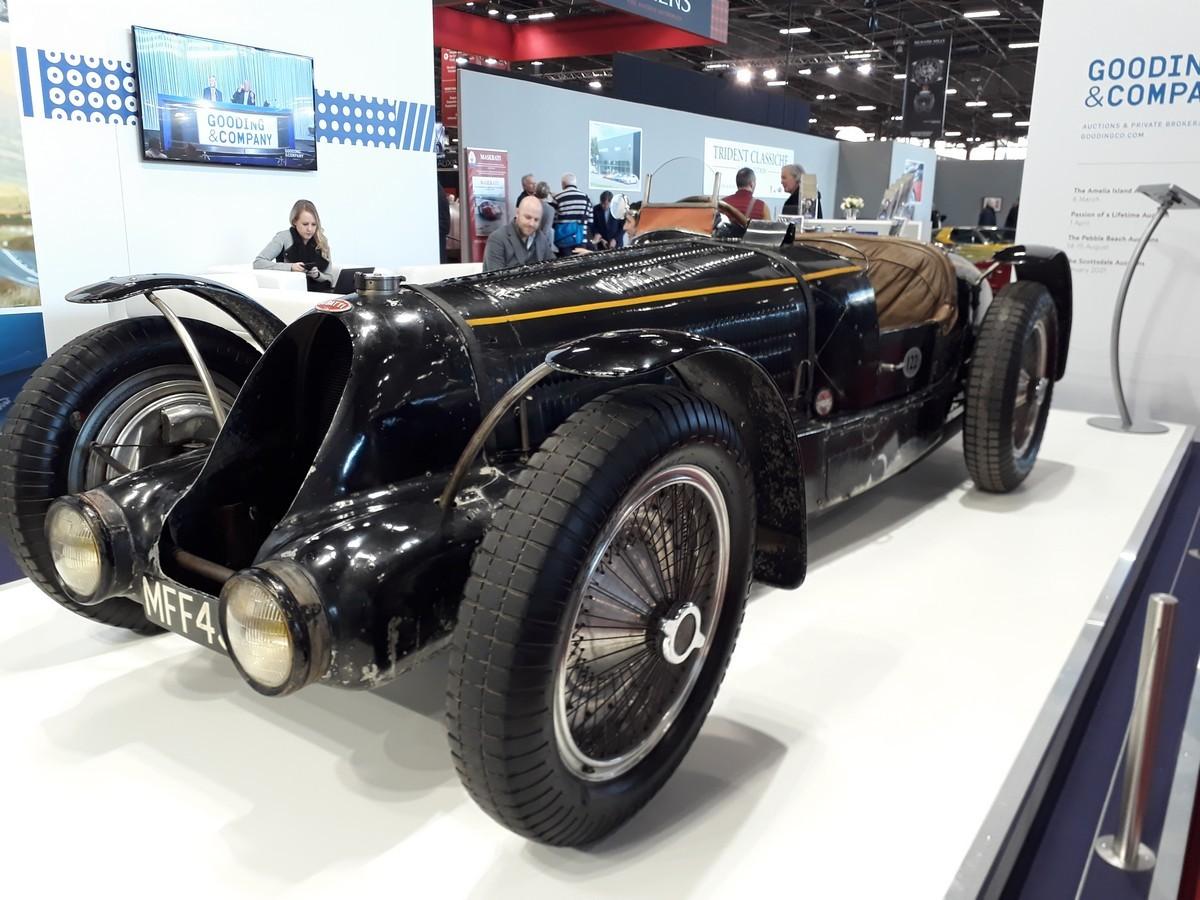 Retromobile 2020
Jaap Horst
Some of the photographs I took them from other websites, but forgot which. If you see any of your photo's here, please let me know, and I'll add your name!
Click on a picture for an enlargement. Big pictures open in a separate window.
This year we went again to Paris on the Friday, in my faithful old Peugeot..
The trip provided no problems at all, and parking at the (rear) entrance avoids long walks, and having to wait to be able to get in.
And there were surprises; The only thing at Retro that you should not be surprised about, is that there will always be Bugatti surprises. This time there were... Ok, you will find them if you scroll down!
And then of course there was the Artcurial auction, including three Bugattis, which on the Friday were not to be seen anymore, I'm afraid.
The next day, we didn't go in again, but just did some getting to know Paris. When we drove home afterwards, we had no idea that Retromobile would be one of the last events of the year (of the first half of 2020, at least).
Quick links to a specific section:
Bugatti automobiles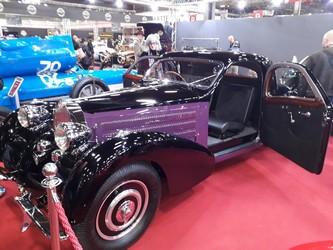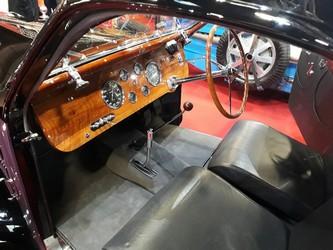 The first Bugatti I saw was this Type 57 Atalante. It looks rather purple in the photograph, in reality it was a bit less shocking.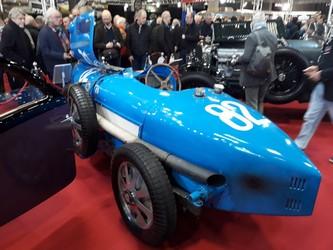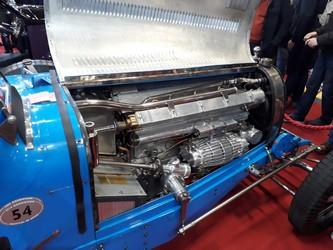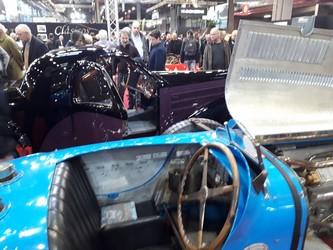 Alongside the Atalante this very well known Type 54, chassis 54201. A huge car, big in comparison with all other racing Bugattis.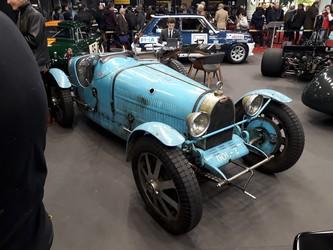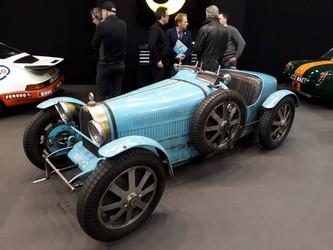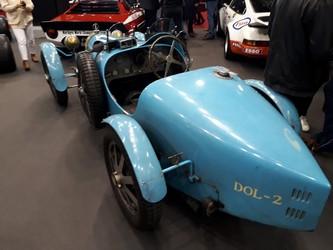 Always beautiful, a Type 35B. Especially in this shape, not appearing much restored!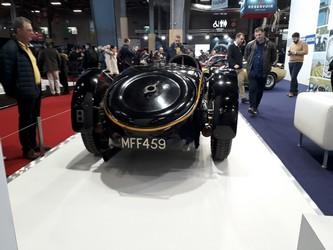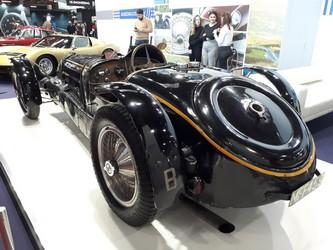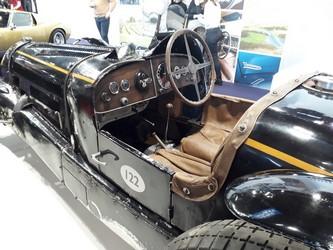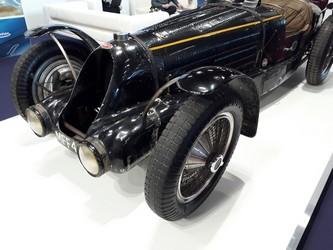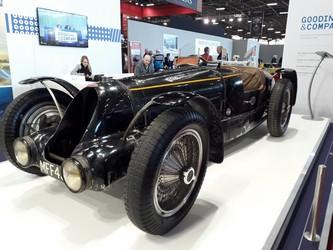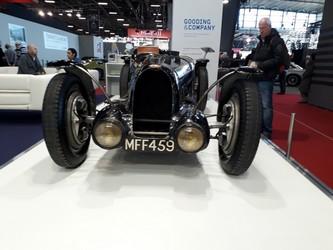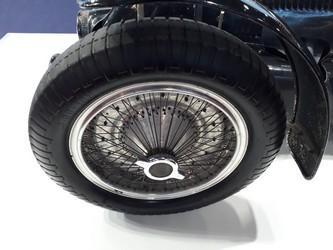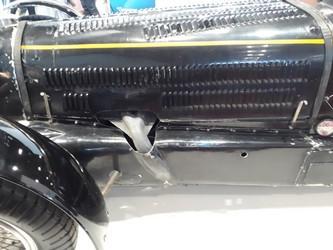 The very well known Type 59 "King Leopold", luckily still unrestored. However, one doesn't always see it from up close. The Gooding auction in which it would be sold, did not take place eventually.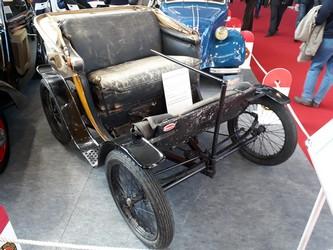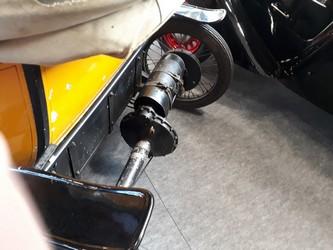 Only 3 digits less, but very much slower: The electric Type 56. Bugatti made about 10 of these, which is more or less a golf-cart, before golf-carts were even invented!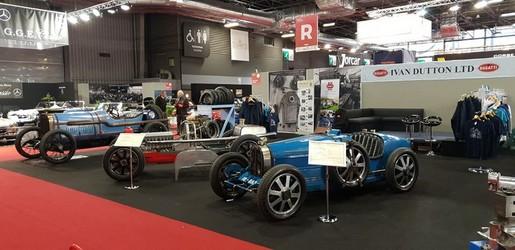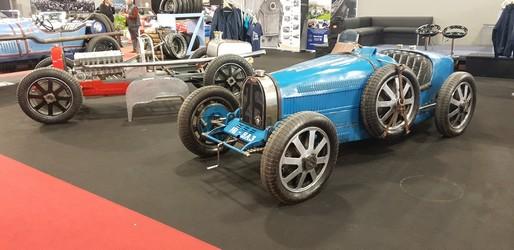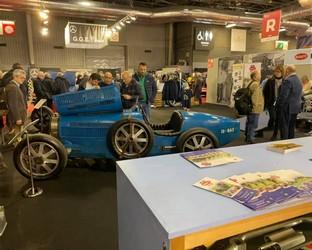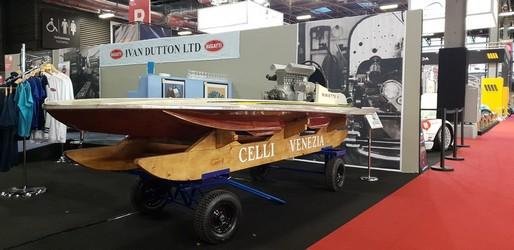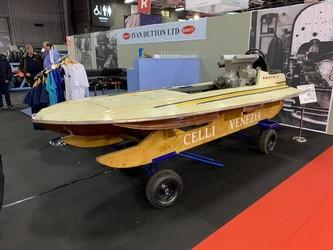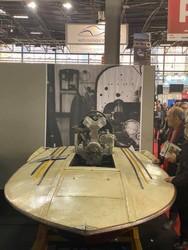 Ivan Dutton's stand always has something special, beautiful Bugattis, and in this case even one of the Niniette Race boats, in this case fitted with T51 engine, not the T50B with which a sister vessel hit record speeds.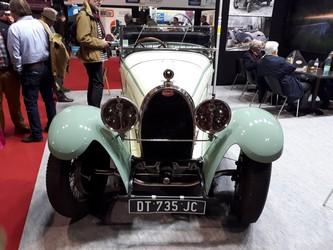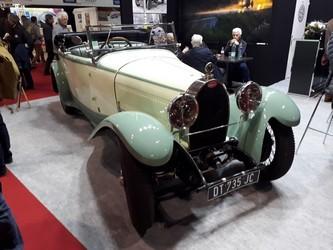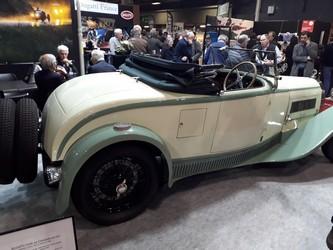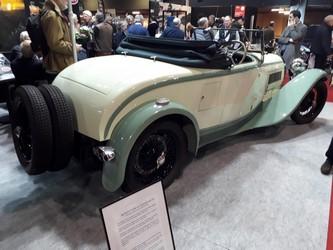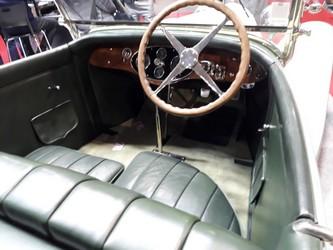 A very nice Type 44 Cabriolet, I believe this was on the stand of the French Bugatti Club.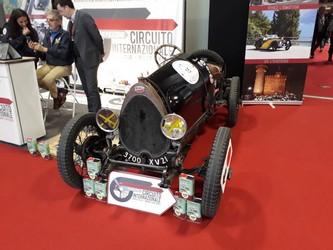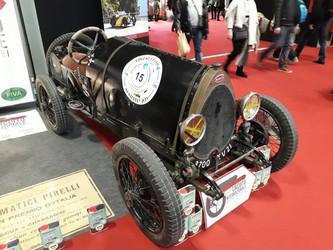 Often, the stands promoting a specific rally or event show a car to attract people. In this case A Brescia.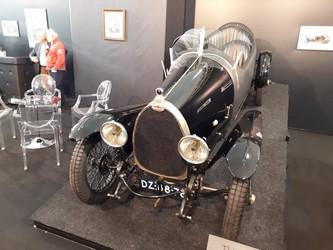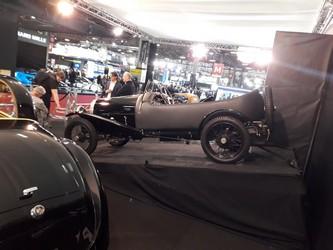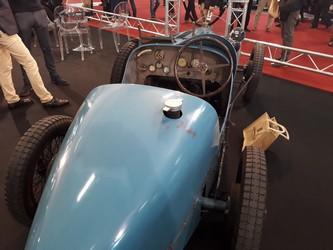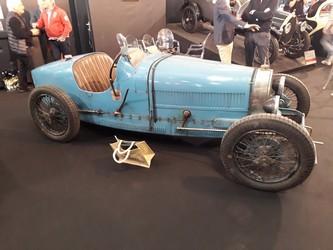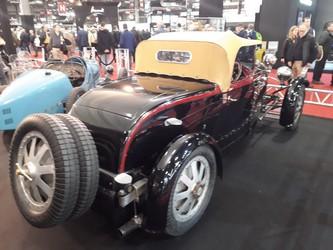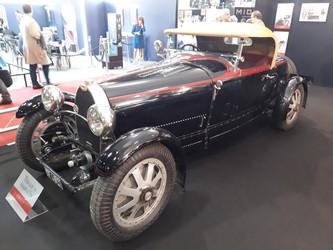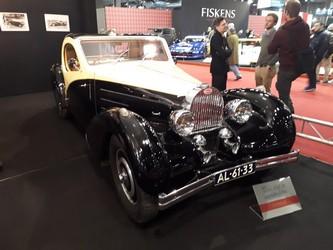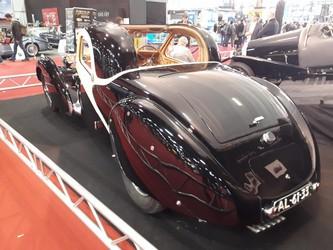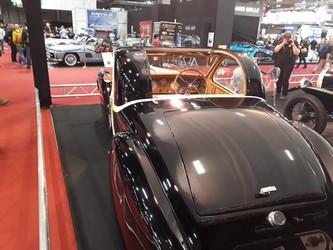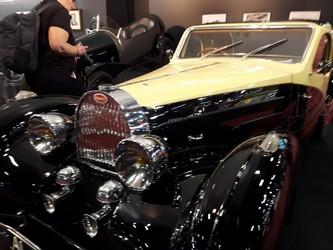 Jaap Braam Ruben and Bruno Vandiesse always have a stand together, with an arrray of interesting Bugattis, from a Brescia with a rather weird body, to a very impressive Atalante Decouvrable.
Inbetween a nice Type 37 and a Type 43A.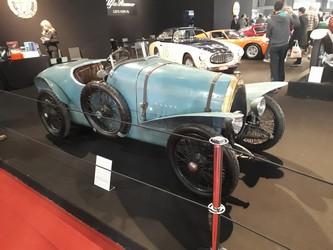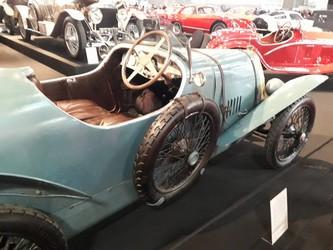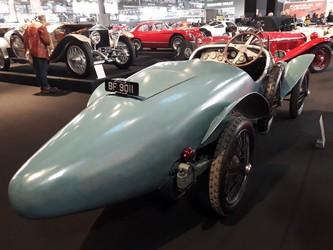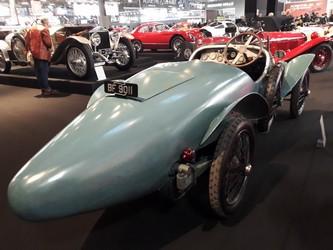 On the stand of Lukas Huni this 1920 Brescia Torpedo Sport.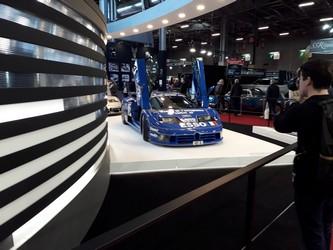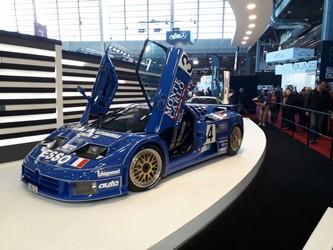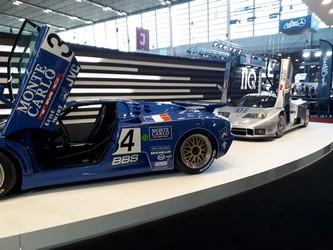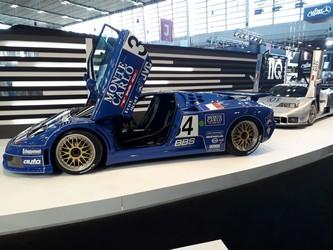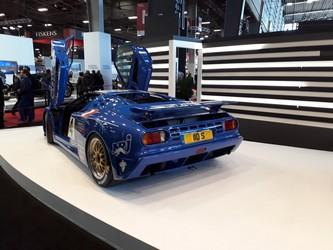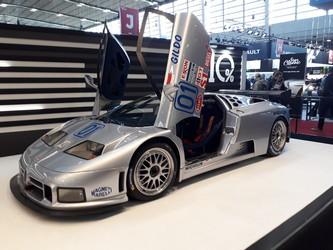 The Bugatti EB110, made until 1995 when the Campogalliano factory went bankrupt, also is a classic nowadays (and as it seems to me, a lot more useable automobile than the VW-Bugattis).
These two, famous for long distance racing were shown on this stand as a promotion for the new book "The last Bugatti racing cars" by Johann Petit & Pascal van Mele.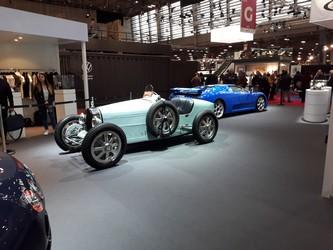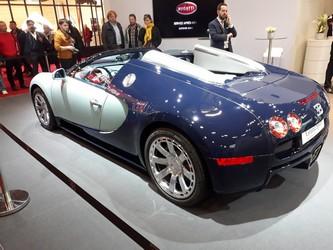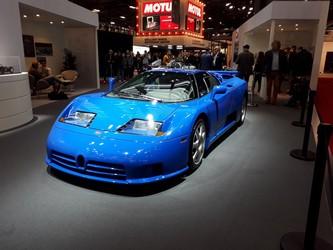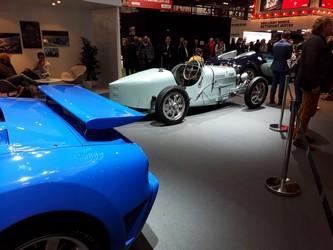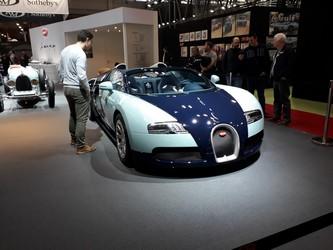 And: what did the Bugatti SAS stand show this time? New, older and oldest;
An open-top Veyron, an EB110SS and a Type 35B.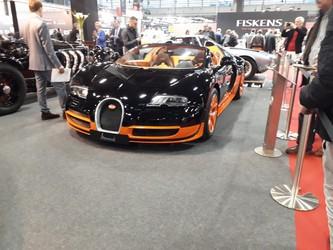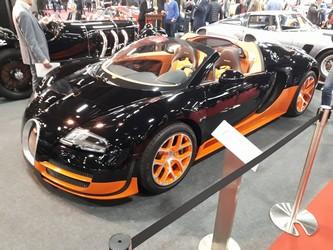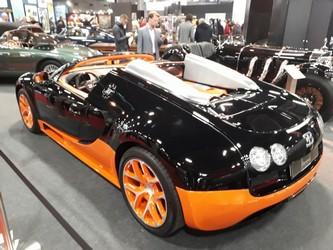 Not really "Retro" this "Mobile", but Movendi want to sell it, and surely the modern supercars do attract attention.
In this case a 2013 Veyron 16.4 Grand Sport Vitesse.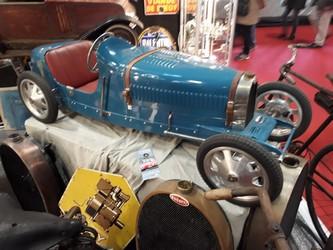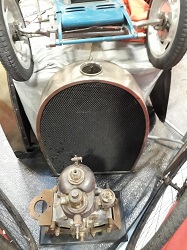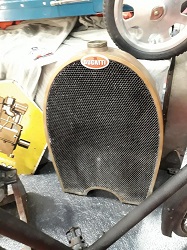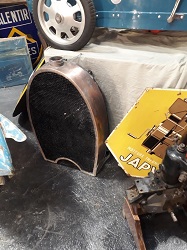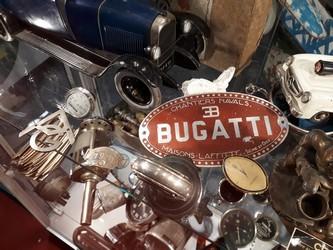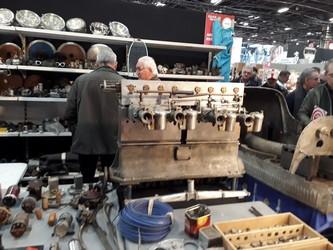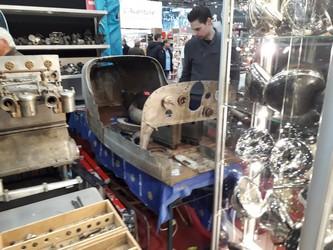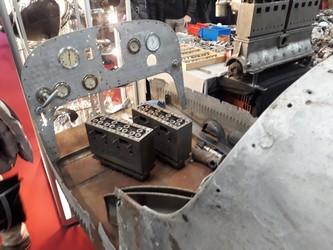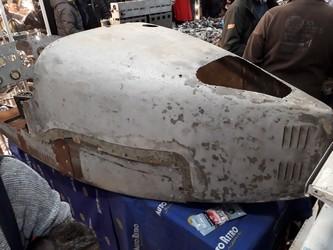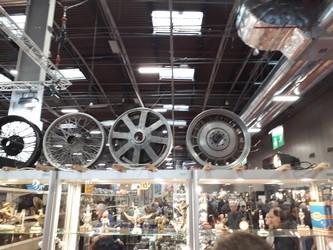 There is always a load of parts, radiators and wheels, In this case even a (replica it seems) Bugatti Baby. There is also a kit to start a Bugatti GP project, with some engine blocks and a body. You need to bring the money, though!
Bugatti art and miniatures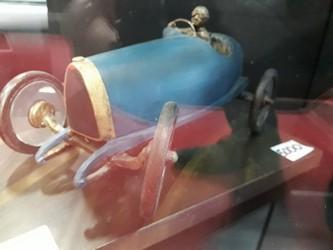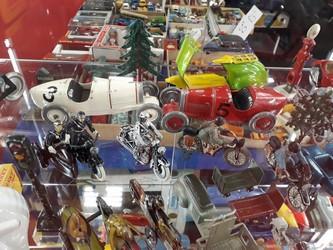 Left: An artistic miniature of a Bugatti Brescia? Or a T30? Or just a very stylized T35? Photographed behind glass, hence the reflections.
Right: a couple of ancient looking GP Bugattis in approximate 1:24 scale. I never saw these before?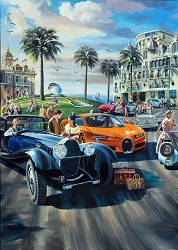 Benjamin Freudenthal made the above artwork as poster for the event in Essen, which would not take place.
As always he puts himself in the painting, in this case at the wheel of the Royale!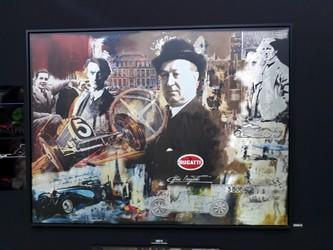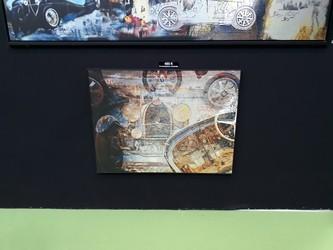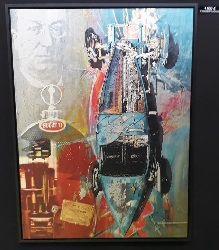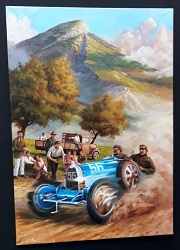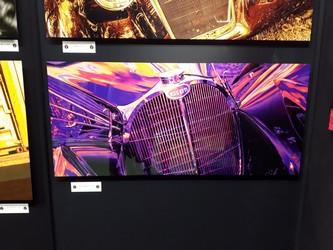 Various artworks, this time without the names of the artists, as I can't seem to find them, though I should.
Just the last one, that's a photo by Johan Vandenberghe
Other automobiles etc.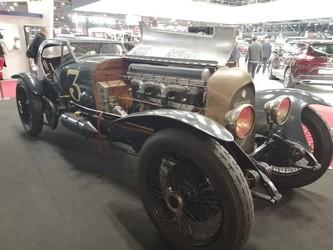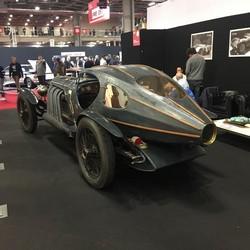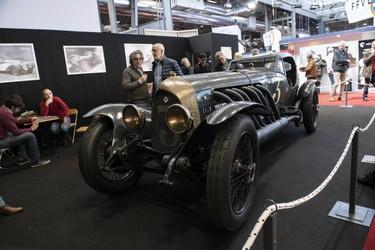 You can think of Pur Sang Argentina what you like, but they do every couple of years produce an Automobile
like the one above. You know it is not a period automobile, but it might have been...
They do deserve applause for being so bold as to really make this, and not another replica.
"El Nandu", as this automobile is nicknamed, is a kind of South-American Ostrich. The history starts with
an authentic aero-engine, a 1910 Isotta Fraschini straight-6 of 14.7 litres created by Nicola Romeo, who would later buy
Alfa, and add his name to it. El Nandu was finished in 2017, after 3 years of work.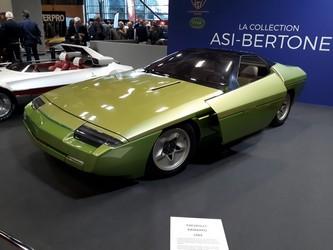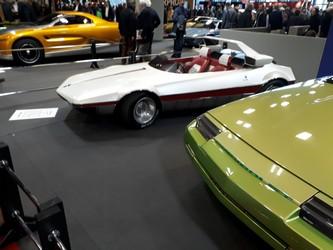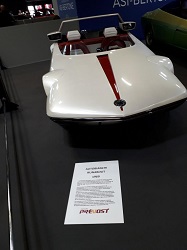 There was a special section with many Bertone prototypes and concept cars, these are the 1984 Chevrolet Ramarro,
and the very extreme 1969 Autobianchi Runabout.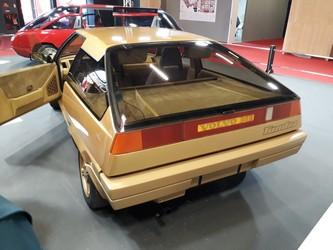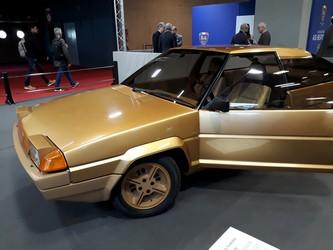 Obviously Volvo didn't accept the Bertone design for the 343 Tundra, Citroën later produced the car in huge quantities
with almost no changes to the basic design. The BX was a reasonably big car, but extremely light, together with the Citroën hydropneumatic supension, this made a car which handled very well!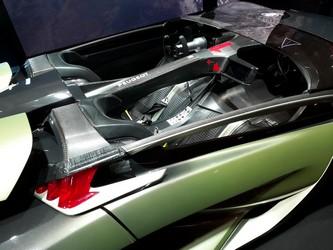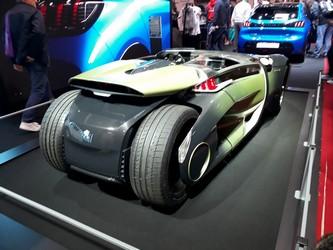 Not Bertone this one, a very modern and extreme Peugeot. Maybe they can consider a trade with mine?
Chassis numbers
For those of you who want to know the chassis numbers of the Bugattis, Christian Anicet put them all together, they are the following (no chassis numbers for the Campogalliano and the Volkswagen-Bugattis):
Type 13 R Brescia Sport '1922' 1990, chassis BC 072, 3700 XV 21 (F)
Type 22/27 Torpedo 2-seater 1920, chassis '1070', BF 9011 (GB)
Type 23 Brescia with Coachwork La Carrosserie Profilée replica by John Porter, 1924, chassis 2064, DZ-88-78 (NL)
Type 35B Grand Prix 1926/1964, chassis 4696, DOL 2 (GB)
Type 35C Grand Prix 1929, chassis 4940, 1653-W5 (F)
Type 37 Sport 1927, chassis 37291, 325 KB 41 (F)
Type 43A Roadster 1930, chassis 43280, BF 4621 (GB)
Type 44 Cabriolet by A. Thietart 1930, chassis '441231', DT-735-JC (F)
Type 51 Grand Prix 1931, chassis 51127, 18-BA3 (F)
Type 51 R Grand Prix by Dutton
Type 54 Grand Prix 1931, chassis 54201, 4311-NV1 (F)
Type 56 Phaeton 1931, chassis 56101
Type 57C Atalante Découvrable 1936, chassis 57432, AL-61-33 (NL)
Type 59 Grand Prix 1934/1937, chassis 57248, MFF 459 (GB)
EB110SS Le Mans
EB110SS Daytona
EB110SS
2013 Veyron 16.4 Grand Sport Vitesse
Veyron

Artcurial auction by Hervé Poulain, Rétromobile, Paris, February 7, 2020, with results:

1927/28 Bugatti 37/44 monoplace, Châssis n° 37334 , Estimate € 380,000 - € 460,000: Not sold
1934 Bugatti Type 57 Cabriolet par Vanvooren, Chassis no. 57162, Estimate € 450,000 - € 650,000: Sold for €500,640 inc. premium
1935 Bugatti 57 torpédo "Paris-Nice", Chassis n° 57300 , Estimate € 420,000 - € 560,000: Not sold
---
Back to the Bugatti revue
---
Vive La Marque !!