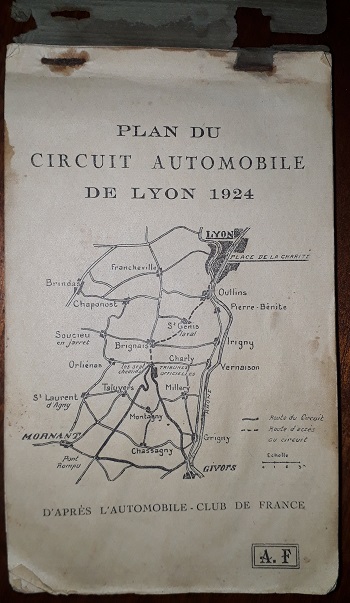 Some while ago I acquired a small booklet, with 25 drivers, all photographed in their automobiles. Each photograph is in fact a postcard, which can be sent to friends and relatives. On the other hand, the booklet could also be used during the race, to see what each driver actually looked like. It was published on the occasion of the XVIII Grand Prix de l'Automobile Club de France, held on August 3, 1924, in Lyon. It was also designated European Grand Prix of the 1924 season.
The booklets were probably sold at the race track itself, and maybe also in the city of Lyon in the weeks before the race.
Obviously, the drivers have been photographed correctly, and as such it was printed quite a while before the race. Therefore, all Bugatti drivers were photographed in a Type 30, or even a T29/30, but not in the iconic Type 35, which would debut at this very race!
So, even if there is only a very limited number of Bugattis and Bugatti drivers in this booklet, it still is an incredible historic piece, and in quite good condition, after almost 100 years!
The below table is the list (from Wikipedia) of participants, and the order they finished in the race, with Campari on Alfa Romeo being the winner. Added to the list are the three last columns. The first is, which drivers are represented in the booklet, the second is in what make of car they are photographed. This turns out to be different from the actual race in only one case, Henry Segrave was depicted in a Schmid in the booklet, but obviously participated in a Sunbeam. In the last row any additional remarks are given, names that are given wrong in the booklet, and drivers who were featured twice; in fact three of them!
There are quite a few drivers missing though, amongst whom the winner Campari, and also Ascari, who was doing very well until close to the end of the race.
On the other hand, drivers Salamano on Fiat, Lee Guiness on Sunbeam and Maselti on Alfa Romeo are in the booklet, but never took place in the race!
| | | | | | | | | | |
| --- | --- | --- | --- | --- | --- | --- | --- | --- | --- |
| Position | Race No | Driver | Country | Car | Laps | Time/Retired | Booklet? | Car | Remark |
| 1 | 10 | Giuseppe Campari | Italy | Alfa Romeo P2 8C/2000 | 35 | 7h05m34.8 | | | |
| 2 | 2 | Albert Divo | France | Delage 2LCV | 35 | 7h06m40.2 | Yes | Delage | Two times! |
| 3 | 9 | Robert Benoist | France | Delage 2LCV | 35 | 7h17m00.8 | Yes | Delage | Called Benoit, two times! |
| 4 | 16 | Louis Wagner | France | Alfa Romeo P2 8C/2000 | 35 | 7h25m10.8 | Yes | Alfa Romeo | |
| 5 | 1 | Henry Segrave | United Kingdom | Sunbeam | 35 | 7h28m56.0 | Yes | Schmid | Called Seagraves |
| 6 | 15 | René Thomas | France | Delage 2LCV | 35 | 7h37m27.4 | Yes | Delage | Two times! |
| 7 | 7 | Jean Chassagne | France | Bugatti T35 | 35 | 7h46m26.6 | Yes | Bugatti | |
| 8 | 13 | Ernest Friderich | France | Bugatti T35 | 35 | 7h51m45.6 | Yes | Bugatti | Called Friederichs |
| 9 | 3 | Antonio Ascari | Italy | Alfa Romeo P2 8C/2000 | 34 | Engine | | | |
| 10 | 14 | Dario Resta | United Kingdom | Sunbeam | 33 | Flagged off | Yes | Sunbeam | Called Restu |
| 11 | 21 | Leonico Garnier | France | Bugatti T35 | 33 | Flagged off | | | |
| Ret | 5 | Felice Nazzaro | Italy | Fiat 805 | 22 | Brakes | Yes | Fiat | |
| Ret | 8 | Kenelm Lee Guinness | United Kingdom | Sunbeam | 20 | Engine | | | |
| Ret | 11 | Jules Goux | France | Rolland-Pilain-Schmid | 19 | Radiator | Yes | Schmid | |
| Ret | 17 | Onesimo Marchisio | Italy | Fiat 805 | 17 | Engine | | | |
| Ret | 12 | Pietro Bordino | Italy | Fiat 805 | 17 | Brakes | Yes | Fiat | |
| Ret | 6 | Louis Zborowski | Poland | Miller 122 | 16 | Front axle | | | |
| Ret | 22 | Meo Costantini | Italy | Bugatti T35 | 16 | Steering | Yes | Bugatti | Called Constantini |
| Ret | 18 | Pierre De Vizcaya | Spain | Bugatti T35 | 11 | Crash | Yes | Bugatti | Called Viscaya |
| Ret | 20 | Cesare Pastore | Italy | Fiat 805 | 11 | Crash | | | |
| DNS | 4 | Giulio Foresti | Italy | Rolland-Pilain-Schmid | | Crash | Yes | Schmid | |
| DNS | 19 | Enzo Ferrari | Italy | Alfa Romeo P2 8C/2000 | | Driver ill | | | |
| | | | | | | | Salamano | Fiat | |
| | | | | | | | Lee Guiness | Sunbeam | |
| | | | | | | | Maselti | Alfa Romeo | |