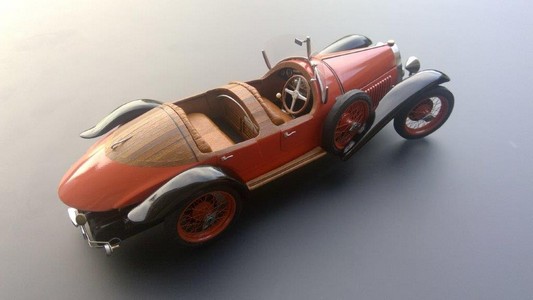 We presented the building skills of Nik Levecque from Belgium before in The Bugatti Revue. At the start his modelling skills were mainly about modifying and improving kit or ready-made miniatures. The last years he is more and more shifting towards scratch building, as his Bugatti Type 37A with special roadster body and King Leopold Type 59 show. At the start of this year, he presented a miniature Type 43 as part of a story he wrote for the writing contest.

Nik comments as follows about how the minature came to be:
The Corona-pandemic brought, apart from disaster and distress, also postive things, like an unexpected amount of free time to work on one's hobby's.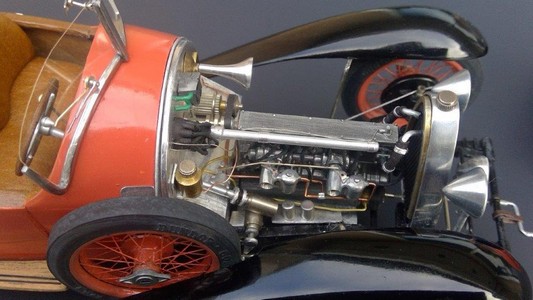 The last addition to my collection is this Bugatti type 30 in 1/20 scale. Of this type some 600 chassis were built between 1922 and 1926, that mostly were bodied by a coachbuilder chosen by the customer.
This model is a four-seater roadster, which is an own interpretation of the boattail-bodies which were popular at the time, completely designed in a period-correct style.
The wheels and engine were taken from a Revival T35 kit, the fenders and part of the chassis came from a Bandai T55 kit. The rest is scratch-built polystyrene, leather, metal and wood. The shape of the rear of the body is part of an empty bottle of laundry-softener.
The two liter eight-cilinder would give the bugatti a topspeed of around 125 km/h, which was really quick at the time. The roads were not at all what ther are today, and the tires wouldn't offer that much grip...
Take a look at the photographs to see all the attention to detail which Nik put into this miniature, the dashboard, the beautiful wood-deck, and even including a newspaper which the passenger left in the car!
Why the car has a Dutch license? Just because Nik didn't have a Dutch Bugatti in his collection yet... That's also the reason for the orange colour!