We know that every Bugattiste lives his hobby his own way; some like to drive their Bugattis, others like more to be busy restoring them, then there are a few that are busy with history and writing about it on the Interweb. However, probably the largest number are those who collect miniatures, many of them building kits to get hold of the types of which no (affordable) miniature exist.

One of those, with whom I am in contact already for a long time, is Nik Levecque from Belgium. See above his collection of miniatures, mostly scale 1:24 or bigger, at a miniature car show in Belgium last year. You can see the entire collection in this PDF-file, a list of all his miniatures, ready made miniatures, built kits (many of which were improved in detail, with for example leather upholstery and wooden dashboards added), modified kits and of course a few scratch-built models.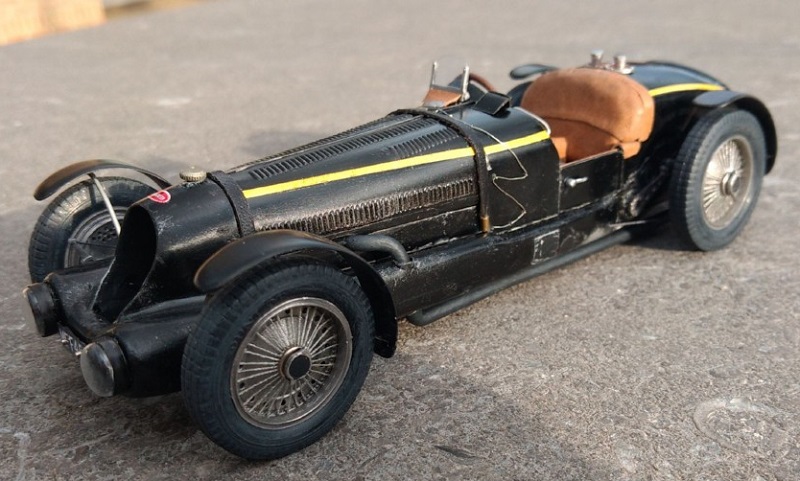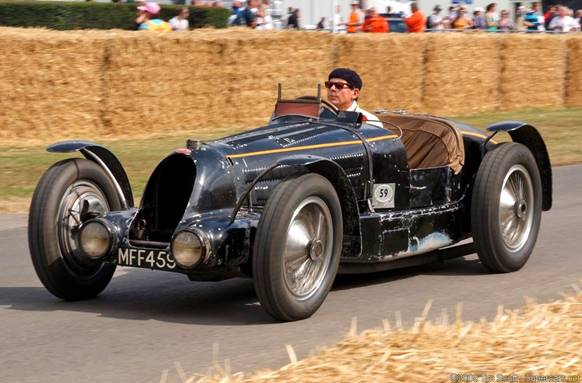 One of the later ones he made quite recently, is this Type 59, which in 1937 after a racing carreer was converted into this beautiful roadster. King Leopold III of Belgium being the lucky owner, that's why this Bugatti is known as the King Leopold Bugatti. The car was sold to a Belgian enthusiast as late as 1967 by the Royal Family, and is now again in Belgian hands.
The car is still in the original condition of 1937, wearing the traces of many years of history.
Nik's scale model is in 1:24 scale, and is based on a metal Finecast model. It was modified and improved, receiving modified wheels, leather upholstery, wood steering wheel and gear lever knob, different front and rear, exhaust, headlights, battery and much more.
See the photographs below, you can only admit that Nik did a very good job, with all the details added, even the original car's patina!
And the next project: It will be a Type 51, Scale 1:20. It will be based on the Revival Type 35 Tecla kit, with parts from the Bandai T55 kit. Quite a challenge, with wider radiator, different wheels, change of engine, different instrument panel and much more.