By Elizabeth Werth, first published in Jalopnik.com
The woman's path to motorsport is paved with forgotten heroes and groundbreaking drivers who changed the landscape of racing only to be lost in the depths of history soon after. Eliška Junková, perhaps the most successful Czech Grand Prix driver you've never heard of, is one of those women.
Born in Olomouc, Radio Praha reports that she was the sixth of eight children born to a blacksmith in the then-AustroHungarian empire at the start of the 20th century. While only four of her siblings lived to see adulthood, Alžbeta Pospíšilová (although she preferred being called Eliška) had a dream of seeing the world. She dedicated herself to studying the languages that she felt would help her navigate her travels: English and German.
She started work at the local branch of a bank immediately after high school, and that's when her fortunes changed. The manager, Vincenc "Cenek" Junek, was a former soldier who had found his niche in mortgage banking after being shot in the hand in WWI. The two apparently didn't like each other at first; both were stubborn and independent and clashed quite often. But once their tensions died down, the two fell for each other; so much so that Cenek took Eliška along when he opened a new branch of his bank in Brno, then to Prague.
That didn't mean that Eliška was so easily won over. Instead, she put off plenty of marriage proposals and used the opportunity to immerse herself even further in her study of language. Wanderlust swept her up, so she moved to France. And then tried to head to Gibraltar, where Spanish officials wouldn't let her leave Europe. And so she joined the kitchen staff of a British ship headed in that direction, but couldn't get a visa in London. And back she went to Paris, where Cenek came to meet her.
They reunited in a mechanic's shop in 1921. Cenek had done well for himself in the banking business, enough so that he could fund his fascination with automobiles. It didn't take much persuading to convince Eliška that cars could be her passion, too: they offered the speed and exhilaration of travel, but without all the pesky laws and visas.
Her heart was set on driving a Bugatti, and she wasted no time in getting her license. Meanwhile, Cenek had started his racing career. After long last, the two finally married in Prague in 1922.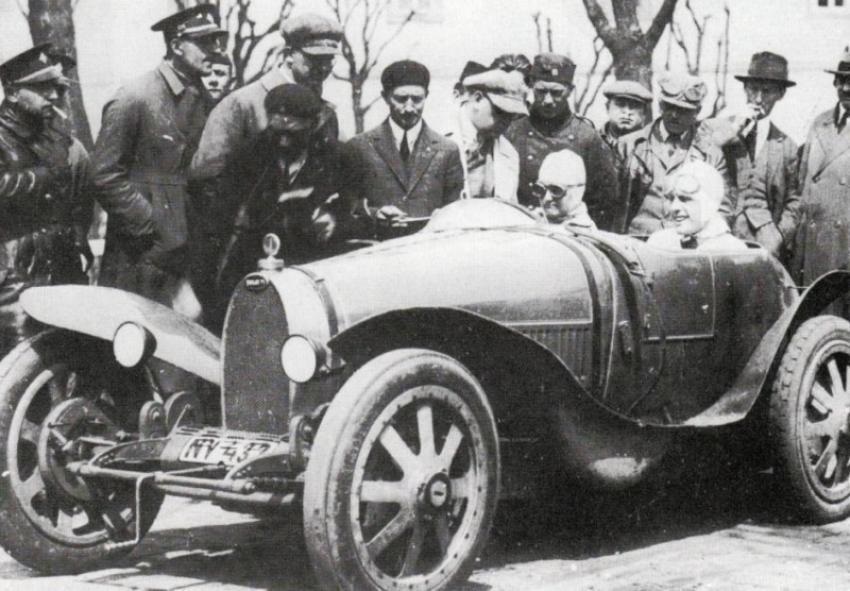 It wasn't long after that the two started racing together. In those days, it was common for a driver to have a riding mechanic to take care of the mechanical things while he focused on racing, so for a while, Eliška took on that role for her husband. According to Radio Praha, Cenek's war injury meant that he had trouble shifting; so, Eliška started changing gears for him, too. The two started off in a Mercedes, but after they championed a difficult win in 1923, Cenek gave Eliška her dream car: the Bugatti Type 30 that was to become her car of choice throughout her career.
Eliška's first race behind the wheel took place in 1924. At Lachotin-Tremosna in Czechoslovakia, she placed first in the touring cars category. Suddenly, people were paying attention to the smiling woman in the Bugatti, curious to see what she was capable of. In 1925, the Juneks bought a second Bugatti; bans on riding mechanics had been placed in Europe and America, meaning that the couple would have to drive separately from then on.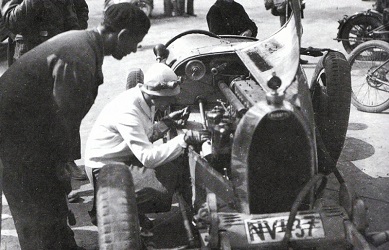 Attention to detail...
Same car as above, but without wings.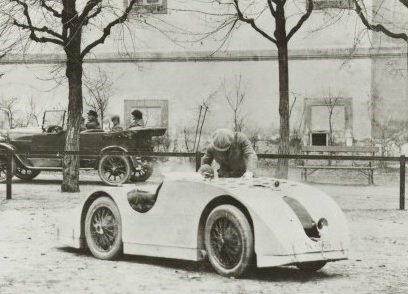 Above and below: The type 32 Tank which the Junek's bought