Whatever Bugatti has to prove, it proves with its road-going supercars. But there was a time when it competed in professional motorsports. And looking at this design, we can't help but wonder if it shouldn't return.

Though the Alsatian marque never competed in the modern Formula One World Championship (aside from a single entry at Reims in 1956), it was a fixture in pre-war grand prix racing. In fact the legendary Type 35 was the most successful car of the 1920s, winning some 1,000 races in its time, cementing Bugatti's place in the record books.

That kind of legend naturally leads to imagining its revival, especially with the marque itself producing such immensely fast road cars. Leave it to budding livery designer Sean Bull to put that idea to pixels with the concept you see here.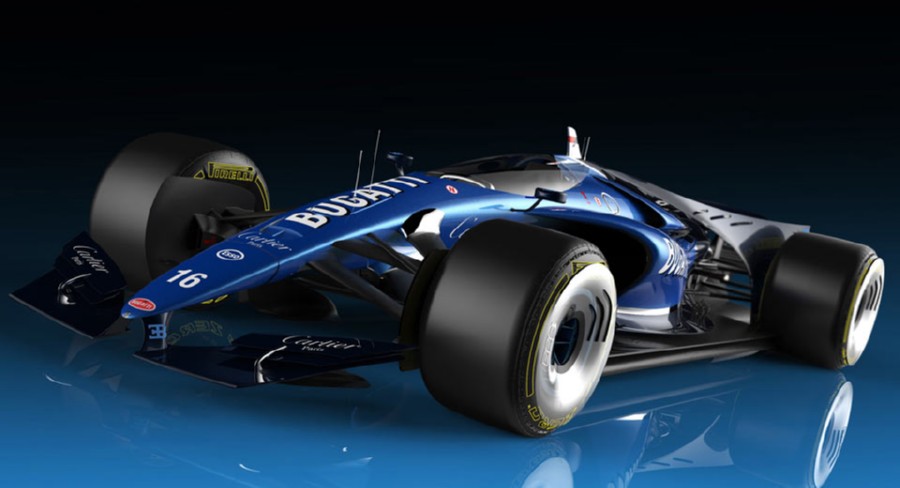 The story behind the design has it that, by the year 2020, F1 has gotten so boring and processional that a radical rethink is required. So the rule book is thrown out, with only the tires, ground effects, and overall budget cap stipulated by the FIA, and the rest left up to the participating manufacturers.
Enticed by the possibilities, Bugatti designs a competitor that is at least as much a successor to the 100P experimental aircraft as it is to its grand prix racers of the 1920s and '30s. It calls the chassis the 101P, giving it a canopy cockpit, smart-composite brakes, and a turbine engine based on a Nikola Tesla design from 1913. Bean even goes as far as suggesting that the team would recruit Mick Schumacher and Daniel Ricciardo to drive the machine.
The idea is captivating, even if it's a bit unrealistic. After all, Bugatti is part of the Volkswagen Group, and if Wolfsburg were to ever finally approve an F1 program, it has half a dozen other brands it would likely choose to promote before giving it to Bugatti. But it sure would be awesome if this idea became a reality.