By Pete Vack, originally pubished in Velocetoday.com
Top photo: Legendary mechanic Jim McGee works on the Bugatti while Charles Addams looks on. Watermill, NY., 1978. Photo by H.R.Krause.
From the Tee and Charles Addams Foundation
In 1960, Charles Addams was about to embark upon the most lucrative years of his career as a cartoonist. By 1964 his income had almost tripled and the Addams Family was just making its debut on nation-wide TV. Like never before, Addams, an otherwise "normal boy" from New Jersey, would be able to enjoy both his cars and his freedom.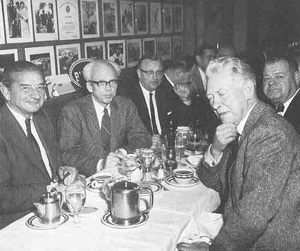 Addams, left with Ken Purdy (glasses and white hair) at the annual meeting of the American Bugatti Club at Le Chanteclair, circa 1960.
Photo from the collection of Ralph Gross and first published in My Two Lives.

After two years of racing the Alfa 8C2300 (see Driving the 8C2300) around eastern Long Island, Addams began looking for a Bugatti. Already well known by Vintage Sports Car Club of America (VSCCA) members, Addams was an active member in the nascent club, and even though he rarely sallied forth to events at Lime Rock or Thompson, Connecticut, he seldom missed a vintage meet at Bridgehampton, Long Island. But he was at the right bar at the right time when "Kings of the Road" author Ken Purdy decided to part with his well-known T35C. Ed Bond got involved with a complex brokered deal between Derry Mallalieu, Addams and Purdy. "When the four way transaction was complete the results were as follows: Addams owned Ken's T35C, (s/n 4813) Ken was Bugless, Mallalieu had the Alfa, and I purchased the Alfa from Mallalieu." The Alfa was purchased by Fred Simeone a few years later and can be seen today at the Simeone Foundation.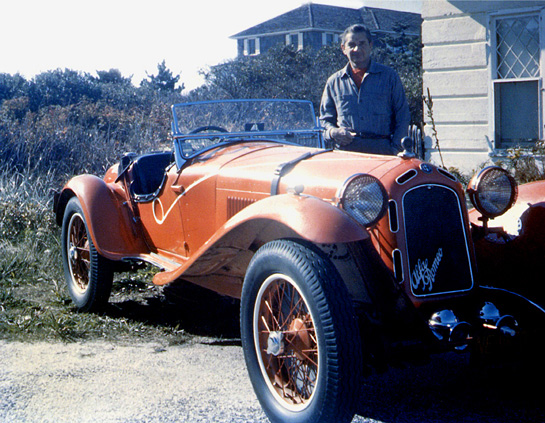 Addams and the 8C 2300 Alfa Romeo Castagna in front of his Westhampton Beach home in shortly before trading it for Ken Purdy's Bugatti.
Photo from the Tee and Charles Addams Foundation.

Divorced from his second wife in 1956, Addams found that he enjoyed the bachelor life and didn't marry again until 1980. Instead, he dated some of the world's most beautiful women, and tested their devotion and patience by giving them rides in the Bugatti. According to Addams' biographer Linda Davis, Addams' long time friend and beautiful New York socialite Odette Benjamin did not let "the burn she sustained on a Bugatti ride" keep her from the passenger seat. Another complained that the noise from the car "worse than a jackhammer." On Sunday mornings, Addams would warm up the Bugatti and the fragrant castor oil fumes would drift next door. After several unanswered phone calls the neighbor would run outside and yell, "You Bastard, Addams!"

The women came and went but the Bugatti stayed for forty-six years.

He dated Jackie Kennedy, and he claimed he drove her down Washington's Pennsylvania Avenue at 110 mph, but in his 1960 black Bentley, not the Bugatti. "It was pretty clear to all that Jackie and Addams were dating as a convenience–she would never get really serious about Addams (or the Bugatti) as he wasn't rich enough", recalled VSCCA Secretary Tony Carroll, who first met Addams in the early 60s. By 1966 Addams was facing a declining income due to the cancellation of the first TV series and Jackie found harbor with Aristotle Onassis whose income was considerably greater. Greta Garbo was another very good friend, and Addams always respected her right to privacy. Another friend was Alexandra "Axie" Whitney, who married F3 and Cad-Allard driver Harry Payne Whitney and is a famous sculptor in her own right.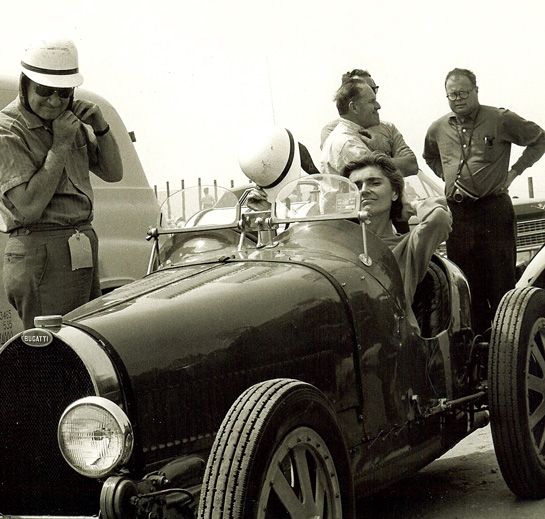 Addams at Bridgehampton in the mid 1960s with New York socialite and good friend Odette Benjamin in the passenger seat.
Photo from the Guasti collection.

But of his harem of the sixties, Joan Fontaine was a special case. "Remarkably well preserved" at forty-four, she had won the Best Actress Oscar™ for her role in Hitchcock's "Suspicion". Addams was admittedly smitten, Fontaine appropriately fussy, and it was reported that the two fought around the world. She was often seen (and photographed) sitting next to Addams in the Bugatti. "Fontaine looked both bored and beautiful when she appeared at Bridgehampton events with Addams", remembers Carroll, "but she was definitely the 'Star'."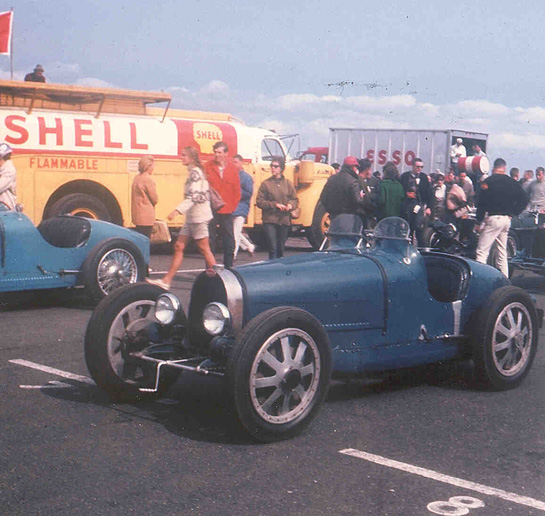 May 1964. Addams Bugatti on the grid at Bridgehampton, still in blue.
Photo by Tony Carroll.

The Bugatti stayed and the stars went. In an unpublished story ("Bugatti Lover") written for "Playboy" magazine in 1967 Addams wrote "Almost never do I have the urge to take an automobile to bed with me, but the exception is my 35C Bugatti. So rather than give in to autoeroticism I have settled for keeping it in my living room during the winter months; and it is by far the most splendid furniture in the room." Out on the open Montauk highway, Addams wrote that "…one is deaf to all comments good or bad," and often said that eastern Long Island was "Bugatti heaven."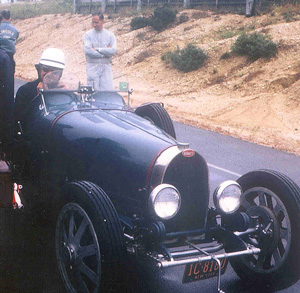 Three years later in 1967 Addams is again on the grid at Bridgehampton. Behind the car is Karl Ludvigsen, who was also racing his Maserati A6GCS.
Photo by Tony Carroll.

The Bugatti, maintained by Roosevelt Team mechanic and legend Jim McGee, was still making happy noises when Addams brought it to Bridgehampton in September of 1967 for the Vintage race which also featured Karl Ludvisgen and his Maserati A6GCS.

Bugatti historian Sandy Leith traced the history of the Purdy-Addams Bugatti, chassis 4813: "Its early history (pre-1939) is unknown, but it was delivered to the Paris Showroom in August of 1926. When new chassis s/n 4813 was an unblown 2 liter, roller-bearing T35. Eventually it made its way to the U.S. and owned by Bill Fleischmann. The car was the only "Pur Sang" Bugatti to successfully climb Mt. Washington in 1939…it was not supercharged yet. Fleischmann added the blower in 1939/1940. Purdy acquired it in the 1950s before passing it to Addams."

Bugattis were not unknown to Addams. He bought his first Bugatti, a Type 35A in July of 1947. He would take writer John O'Hara ("Butterfield 8", "Appointment in Samarra") out for a ride, and while pretending to be brave, Wylie O'Hara later admitted to Linda Davis that the famous writer, who was also a classic car enthusiast, was instead "really terrified'. He sold it to Charles Moran who raced it at Watkins Glen in 1949, probably regretting the sale.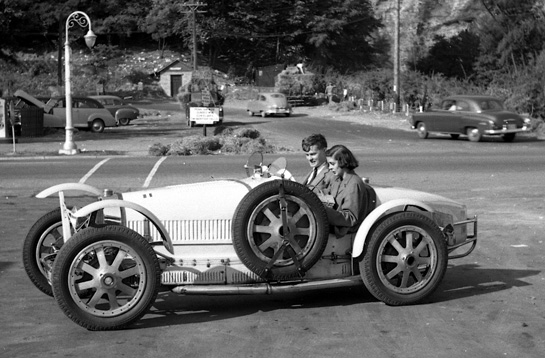 This Bugatti T35A, s/n 4606 was owned by Addams from 1947 to 1949, when he sold it to Charles Moran. Moran sold it to John and Betty King, seen here after arriving in Waktins Glen, 1951, having driven from their home in Arlington, Massachusetts.
Photo from the Waktins Glen IMRRC.

Sandy Leith shared with us new information about Addams' yellow T35A. "When new, it was a 1.5 litre straight eight unblown GP, designated a T39, chassis s/n 4606 and raced in the 1925 French Grand Prix at Monza. It was bought from the Paris Showroom by Charles Schwab in January of 1926 and raced at Amatol (a board track built near Atlantic City N.J.) without success. The T35A was called as such because it was later equipped with (and still has) a 2-litre plain bearing T38 engine, no.117 ex-38214…making it, by definition, a T35A. The car turned up after WWII with New Jersey enthusiast, Hudson Mills sold it to Addams. From Addams it went to Charles Moran, John King (see photo), Jack Harvey to Ray Jones. From Jones it went to a J.R. Hall, then to the UK with Alain de Cadenet who sold it to the present owner, a collector Northern Ireland in 1973.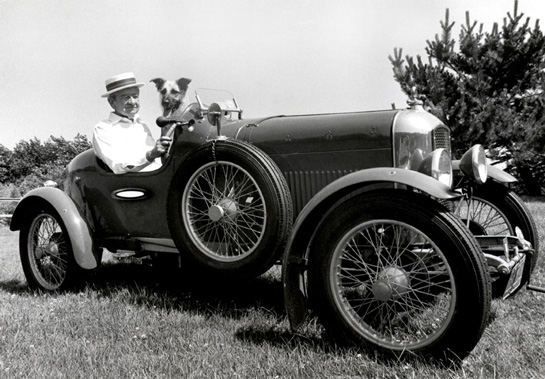 Posing with Shirley Batty's dog Nathan in the Amilcar, sometime in the 1980s. Photo by Jay Hoops.
From the Tee and Charles Addams Foundation.
Along the way Addams had purchased an Amilcar, often using the excuse that it was a "poor man's Bugatti". Apparently it was a two seater, but according to Amilcar expert Ed Godshalk, when he found the ex-Addams car in 1998 residing with George Davidson in Kentucky, it had a motor identification tag stamped: "31, Route de la Revolte, St. Denis, Serie 3CGS, No. 364? which tells us that the car was originally a three seater CGS model produced in the St. Denis factory circa 1925. It was sold several times since then. Another car of serious interest owned by Addams was a second series 1933 Aston Martin 1.5 liter Bertelli Le Mans, purchased in 1961 from Dereck Edwards. Addams changed the color from white to red. Like the Bugatti, it was a keeper.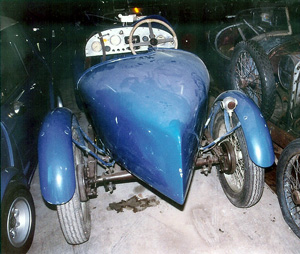 Addams Amilcar ended up in this collection, photographed by Ed Godshalk in 1998.
Photo courtesy Ed Godshalk.
After years of service as a bachelor, Addams married another longtime friend, "Tee" Davie in 1980. But he didn't give up the Bentley or the Bugatti or the Amilcar, and added an Alfa GTV in the 1970s and bought a new Audi in 1986. Jeff Vogel, another VSCCA member and Italian car enthusiast, got to know Addams in his later years, when living near Addams on Sagg Road in Bridgehampton. "I met him at a charity event in 1982 and soon he was visiting to see and drive my various cars. Even in his seventies Addams was a very enthusiastic driver and I remember him with a big lit stogie clenched in his mouth wheeling my Maserati 300S around the old Bridgehampton road course. For all his passion he wasn't mechanically inclined and would set out in the Aston with out a spanner or screw driver and in those days before cell phone, he'd wander into the nearest home and call me for a tow or road call." Addams' mechanic Jim McGee was in his 80s by then and his work at the shop piled up waiting Jim's ministrations. "I was able to get the Aston going for him," emailed Vogel, "but Jim had the Amilcar engine in a million pieces and the Bugatti was sitting with a worn out engine. It was a sad point in Addams' life as driving the cars, not owning them, brought him so much pleasure."
In the meantime Tee had bought Addams a Model A pickup and they went on vacations in a big Dodge Van, called the "Heap"… his term for most American cars. Around 1986, the T35 was sold to an Italian collector, the Amilcar sat in McGee's garage, and the Aston Martin went to collector Richard Stafferton.
On September 29th, 1988, Addams had driven his Audi from Long Island to his apartment in New York City, and was found dead of a heart attack behind the wheel of his car. "Thoughtfully as ever, he was parked in front of his apartment at the time, a true gentleman to the end," recalled Vogel. "He is dearly missed." Devastated, his wife Tee nonetheless acknowledged his passion for cars right to the end. "He's always been a car buff, so it was a nice way to go," she told the New York Times.
The author expresses his thanks to the Tee and Charles Addams Foundation, Michael Argetsinger and the International Motor Racing Research Center, the Simeone Foundation and Tony Carroll of the VSCCA for their help with this article.