Etienne Salomé, and then especially his art, was featured already in the Retromobile articles of this year, 2018, as well as last year 2017. About time for an article about this designer and artist, who works for Bugatti in both jobs!

Berlin based artist Etienne Salomé was born in Paris, on 20 September, 1980, where he also grew up. Since completing his Master's Degree at the Royal College of Art in London in 2005, he has received international acclaim for his designs and art works. He is without question one of the most exciting French designers and artists of his generation.

Following a career at Kia, Mazda and Renault, he is currently the Director of Interior Design and Assistant Chief Designer at Bugatti Automobiles. He has contributed to Bugatti Design for more than 10 years. In 2007 Salomé was project manager for the collaboration of Bugatti and Hermès that gave birth to the limited edition Bugatti Veyron FBG. Moving on, Salomé designed an exterior and interior concept of the Bugatti Veyron Super Sport, still the fastest production car in the world with 431,072 km/h, as well as the interior of the Bugatti 16C Galibier showcar and its numerous accessories, thus defining a true Bugatti experience for future customers and celebrating the 100 years anniversary of the Brand.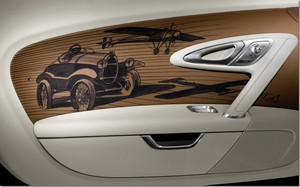 In the past decade the French designer not only contributed as a stylist, but also as an artist with his art works featured on the door panels of the Bugatti Vitesse Constantini as well as original hand sketched paintings on the leather applications of the Bugatti Vitesse Black Bess – elevating those cars to true rolling canvases.
Salomé' s background in art also led to the collaboration with world renowned French artist Bernar Venet, instantly upgrading an engineering marvel to an authentic and unique piece of art.
The interior embroidery and the exterior paint job are more about "Haute Couture" than Automotive Design. In 2015 Salomé also took on the responsibility for the product department of Bugatti: Including collaborations with Parmigiani Fleurier for their latest Aerolithe Performance and Type 390 watches, with Luxury Living designing the complete furniture collection in 2016 including the famous new Cobra chair, with PG Bikes for the design of their latest light weight bicycle, with Palmer Johnson yacht for the design of the Supersport Niniette 66 feet yacht, while having been appointed Assistant Head of Design. Etienne Salomé's recent work includes the interior of the Bugatti Vision Gran Turismo and the Bugatti Chiron, presented at the 2015 Frankfurt and the 2016 Geneva motor shows respectively. Salomé's oeuvre has expanded to include sculpture and painting. For sculptural works, using materials such as milled solid blocs of aluminum or metal 3D printing. His work is exhibited worldwide in all Bugatti Automobiles dealerships, such as London, Milan, Munich, Taipei, Tokyo and New York, representing the art side of the brand. In his latest 2D artwork, Salomé has developed unique layered photographic images. The meaning of the work emerges slowly and experientially with the passage of time. Salomé's "Atlantic" sculptures have been exhibited in Paris, Milan, Antwerp and Geneva.
Every year Salomé exhibits in Paris in February, taking part in a collective art exhibition during Salon Retromobile, Porte de Versailles. Etienne is the father of one daughter and lives and works in Berlin, Germany.
Below: enjoy some samples of his art!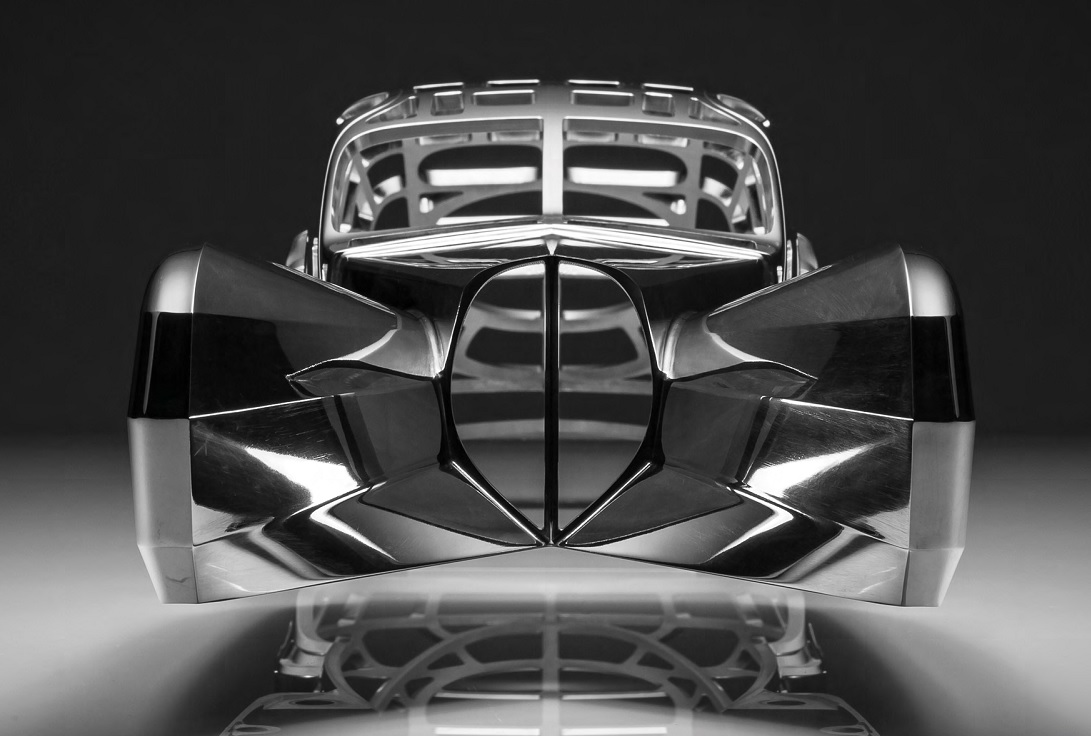 The creation of this exceptional sculpture draws its inspiration from the Bugatti Type 57SC Atlantic, providing an endless source of fascination, named in 1936 as an homage to Jean Mermoz' death in an attempt flying over the Atlantic ocean. This was the starting point of an amazing adventure which gave birth to the Atlantic sculpture created by the talented hands of Etienne Salomé. The shapes are inspired by the wooden internal structure of the real car. This sculpture results of no less than 100 hours of machining in order to carve the pure shapes out of a solid bloc, each sculpture is personally approved and checked by the artist.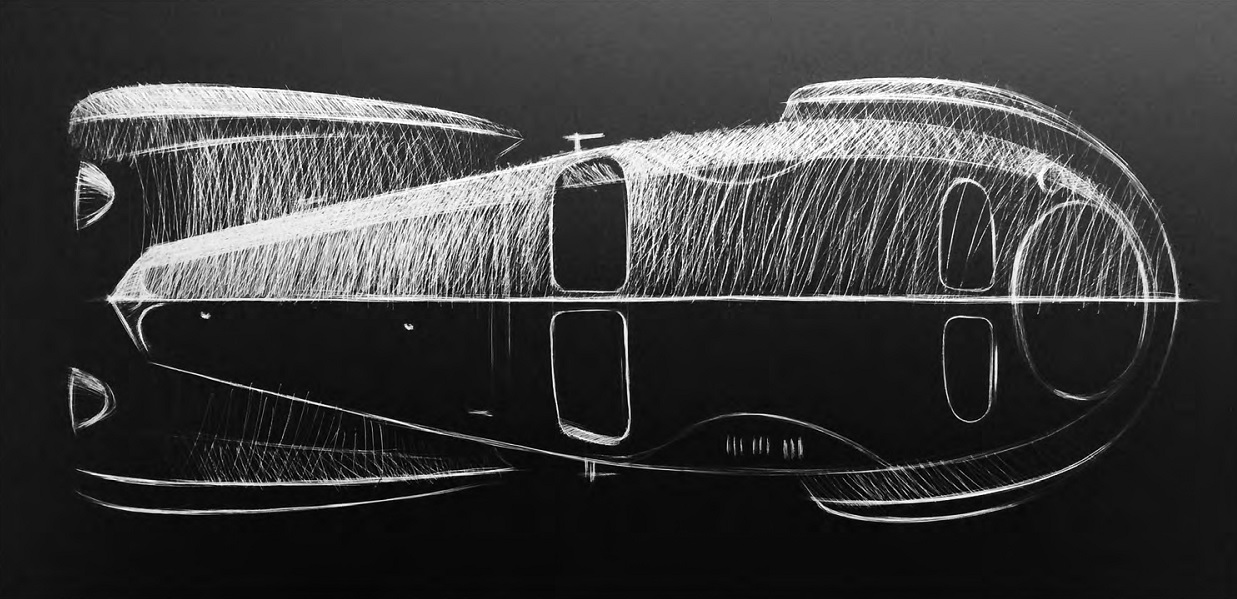 T35 and Atlantic (2x), Hand-etched Aluminium.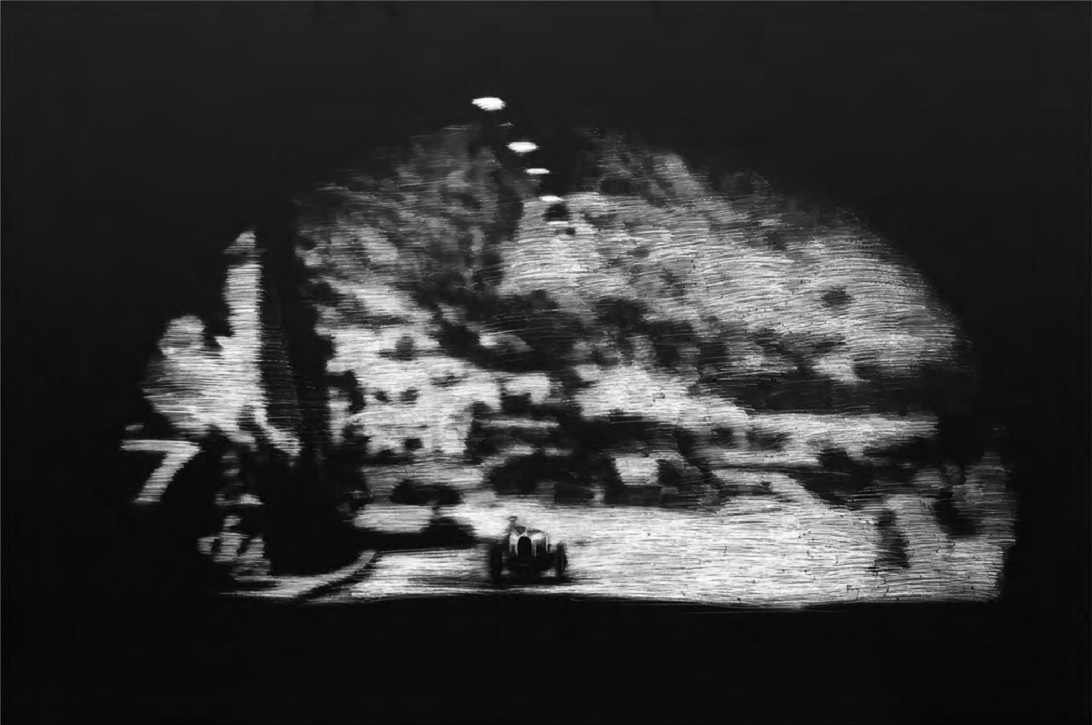 Monaco Tunnel 1929, Hand-etched Aluminium.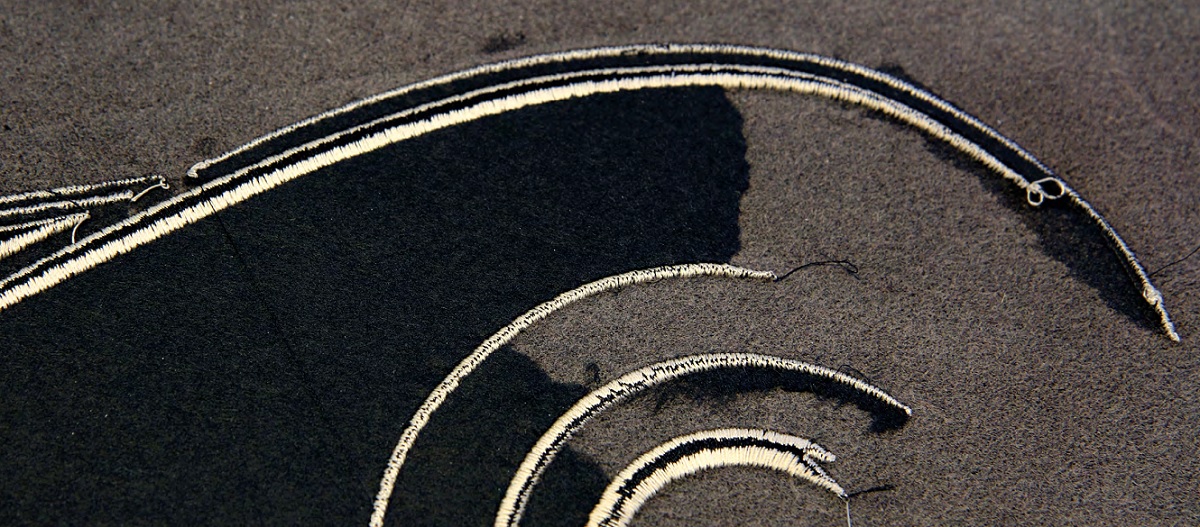 Atlantic detail, Leather & Felt Embroidery.