By Wallace Wyss
Summary
When German physician Joseph Fuchs took delivery of his Bugatti Royale in 1932, the car was painted black with yellow trim. Fuchs's daughter, Lola, and family friend Horst Lattke pose below in Frankfurt, Germany, September 1932 with the Royale in its original color scheme. Subsequent owner Charles Chayne had the Bugatti restored and repainted in oyster white with dark green trim.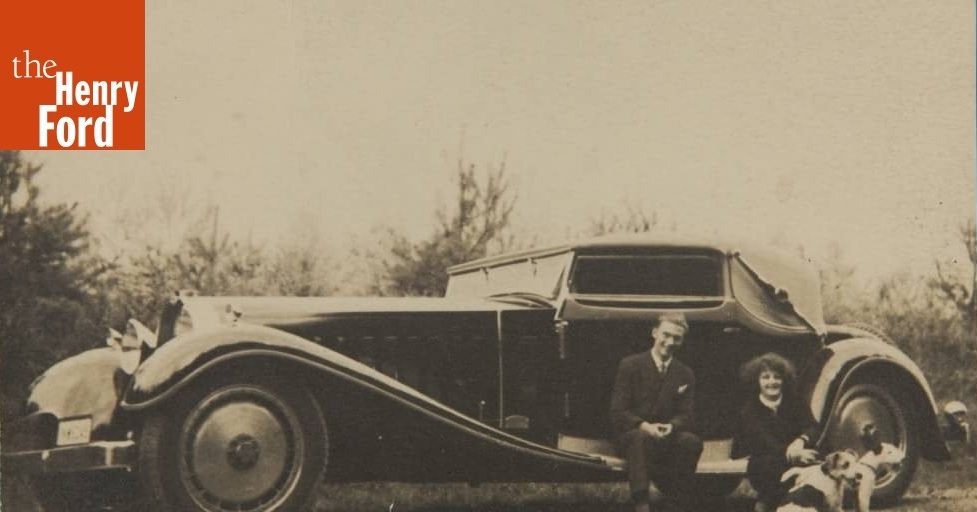 Thereís favorite Bugattis in every area. Say you want style, art deco influences, you go Type 57SC Atlantic. You want race car: Type 35. But if you want ultimate grandeur you have to go for the Royale. This was a car calculated to push Rolls-Royces, Bentleys, Hispano-Suizas and Delahaye aside. But the timing was off, and the car was a failure. The hope was to sell it to royalty but not one Royal was able to buy one.
. The Royale was made to dwarf all other luxury cars by any standard of measure. The biggest car. The biggest engine. And the price, adjusted for inflation mind you, was around $700,000.
The wheelbase was 169 inches. And it weighed 7,500 lbs. It had its own wheel design called "Roue Royale" that were 24 inches. The mind blower was the engine size, though, at 12,763cc in a straight-8.
Due, as I say, to bad timing (The depression of the thirties killed the market) only six Royales were ever built and amazingly all six survive. Some are worth more than others, due to the designs by different coachbuilders. Some have been rebodied several times.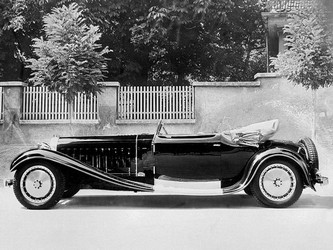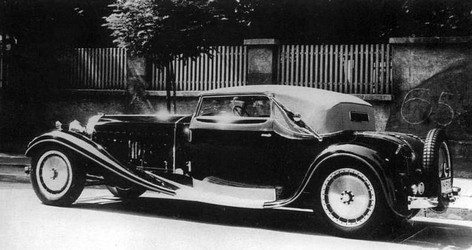 The Bugatti T41 Royale Weinberger cabriolet in it's glory days
The car I remember the most was the one in the Henry Ford Museum in Dearborn, an off white convertible with a body by Weinberger done in Germany. This is known by its first owner, Dr. Josef Fuchs of Munich. Chassis # 41 121 was bought new in 1931 by Dr. Josef Fuchs for $41,000, but the Doctor hadnít reckoned with the growth of the Nazi party and his family was forced to flee Germany. He first moved his family and the Royale to Italy, then picked an odd choice--Shanghai Ė
before finally making it to New York in 1937 with his family and the car. Before the war, he hadnít used anti- freeze and the engine froze and the block cracked. Somehow avoiding the prewar scrap drives, he kept the car in his backyard under a tarp.
During the war there were scrap drive zealots aiming to find every old car possible so it could be melted down to make guns and tanks.