By Wallace Wyss
Bugattis, much like Ferraris in the '50s, suffered from hybridization which means "put a Chevy in it."
Several V12 Ferraris were separated from their engine during the '50s and '60s when the engines broke and now it costs restorers an arm and a leg to reunite a car with its original engine.
Sad to say some Bugattis suffered this fate as well before they became so sought after. Charles Chayne was one of the most famous early Bugatti collectors. He had a true advantage over other car collectors and that wa that he was a former chief engineer and VP at GM in the 50's and 60's, and so could wave his magic wand and get new blocks cast, etc.
He owned several Bugattis, one after the other, the most famous being the Royale.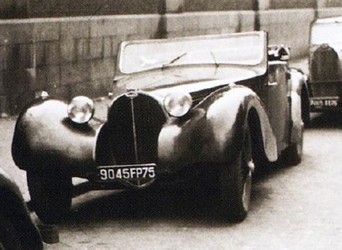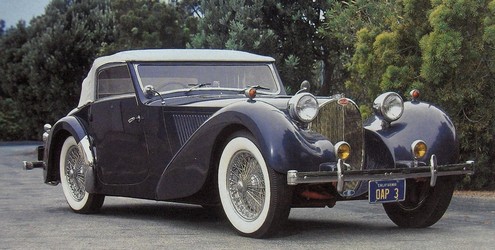 Left: the Bugatti while with de Dobbeleer in 1957, right: at the auction in 1999
The model he had that suffered in indignity of an American engine was his 1937 Type 57S.
He also at one time owned a Type 23, #1253 (which also received a V8!). The car that became a project was 57482, a Vanvooren bodied DHC that he bought in the late 50's, but which had originally been built for a Mr Halphen. This 57S had been owned at some point by a Frenchman. The car went from Paris to a dealer named Jean de DeDobbeleer from Brussels, who re-sold it to a US car collector, Edward Gilmour, with Chayne the owner after Gilmour.
A 57S bodied by Vanvooren as a drophead coupé was rare so it's a good thing the car was saved even after its "butchering."
When Chayne was Buick engineer in chief he devised a wonderful aluminum block V6 engine and decided that there was no better test bed than his Bugatti which had come with a 13S 8 cylinder.
This engine was so promising but instead of going in all GM cars, it went on the shelf and was sold to Rover which made good use of it for decades.
Chayne, ever the tinkerer, couldn't help making other mods, to his 57S, including adding power steering, novel single-leaf front springs and hydraulic brakes. Considering his rank at GM he could order all this done to his exacting standards. The finished car could cruise at 120 mph.
The late Bugatti historian Hugh Conway praised the car, saying: " A beautiful, almost perfectly done job, if not exactly a Bugatti, but interesting in its own right; the performance is to match, well over 120mph, and startling acceleration. Very appropriate for California!"
BUNNY'S BUG
The car went from Chayne to a more famous name in Bugatti circles, Bunny Phillips , a Bugatti restorer.
In 1975 there was a mechanic named Overton Axton "Bunny" Phillips. He had bought his first Bugatti, a Type 30, in 1927. He believed in Bugatti so much that he entered his T35B for Indianapolis in 1936 (but did not qualify) and opened a Bugatti repair shop in Rosemead, CA in 1951. Out in California, he became co-founder and first President of the American Bugatti Club, had been looking for a special Christmas present for his wife Lucille, and thought with its modern improvements it was just the ticket for his wife, Lucille. Unfortunately she only lived two more years after receiving it.
Passing away in 1999.
You kind of wonder why he didn't just put in a Bugatti engine since he had several in his shop, but he must have liked how it ran with the Buick.
He was held in his hands until 1999 when it went to an estate auction where it sold for USD 1,250,000.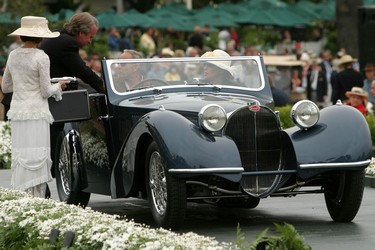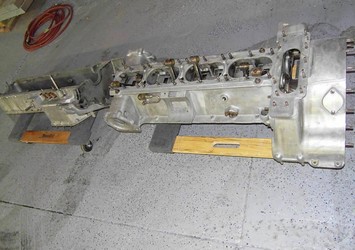 Left: at Pebble Beach 2003, right: the lower block of engine #13S
It went to a super connoisseur, Sam Mann, who restored it with a Bugatti engine and won awards at Pebble Beach with it.
To restore it he had to buy a T57C with crank case 32 SC from 57561 –which he found, amazingly, on the internet! Though it was costly, restoring the car back to its original engine after 40 years of separation greatly improved the value of the car.
Later, the original engine, 13S, was acquired, and this will now be put into 57482!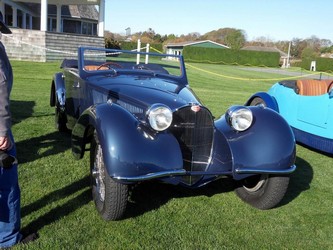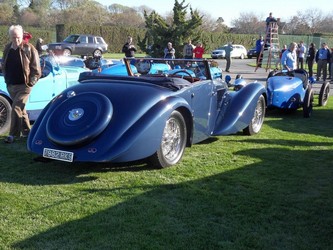 At the American Bugatti Club Hamptons Rallye in 2011, see Bugatti Revue Volume 17, issue 1, photographs by Noah Vale.
THE AUTHOR: Wallace Wyss is a fine artist who occasionally does portraits of Bugattis. For a list of prints available, you can write him at Photojournalistpro2@gmail.com
Sources: Bugattibuilder.com / Netherlands Bugatti Register II, Kees Jansen et al.