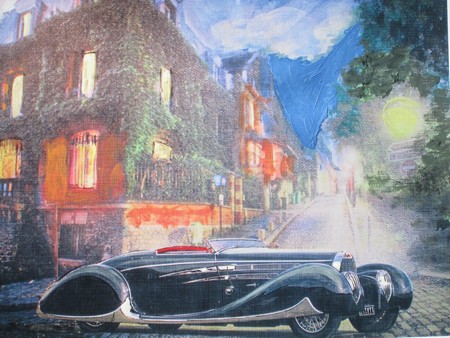 "Once I saw my first prewar art deco streamline moderne car, I was hooked," explains Wallace Wyss, a historian who, back in 2009, first picked up a paintbrush and began painting portraits of his favorite cars.

Up to 2016 he had only done postwar cars, cars he was familiar with, Ferraris for the most part, but then , after seeing a dual-spatted Delahaye by Figoni et Falaschi at Pebble Beach, he decided to do some paintings of prewar cars, coachbuilt ones by the great coachbuilders like Figoni et Falaschi, Saoutchik and the like.

He also counts Bugattis as a marque that intrigues him, more because of the total approach of the Bugatti family toward design (including furniture, fine art, etc.) "I've even taken to reading books on industrial design, and taking note of things like Charles Eames chairs and the Electrolux vacuum cleaner," he says, though he assures us he won't be doing paintings of those.

Wyss has a degree in journalism, and is the author of 18 car books, including the Incredible Barn Find series from Enthusiast Books, turned to art without formal training. "I believe in France they call such a person a 'primitif' and I like that spelling of the word—it sounds so cave man-ish."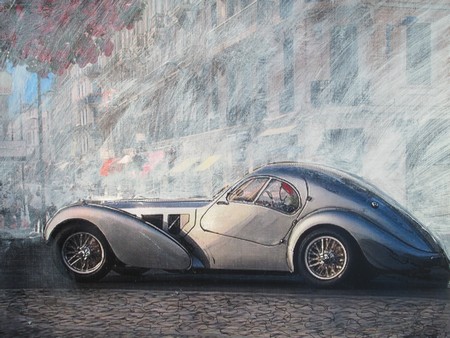 His first painting was sold by accident—a portrait of LeMans winner and race driver Carroll Shelby. "I did it to promote a book signing of my Shelby biography, to put on the table. Someone insisted on buying the painting instead of the book so I had to learn to make prints," he recalls.
Wyss says he has no recognizable style from painting to painting. "I admire Ken Dallison, the British artist," he says, "but don't have his control of the brush. So my style varies from work to work though sometimes I am in the ultra-realism school."
Right now, for his French coachwork series, he prefers to set the cars in a background that reminds him of places he has toured in France—Paris, the Cote d'Azur and the Loire Valley. "You could call me a romantic," he admits, and can't imagine anything better than touring any of those locales in a prewar open car with streamline moderne coachwork.
Those who wish to inquire by post what fine art prints are in stock now or about commissioning a painting of their favorite or their own car can reach him directly at Photojournalistpro2@gmail.com.