A virtual magazine for a true passion!

Editor: Jaap Horst
---
Volume 22, Issue 3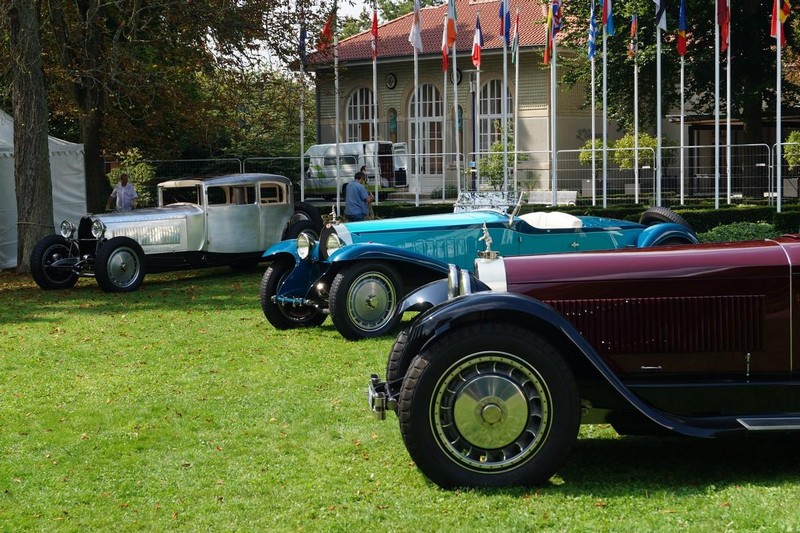 Bugattis at Mondorf Classic Days & Concours d'Elegance 2017
On August 26 / 27 at the Mondorf les Bains (Luxemburg) Classic Days & Concours d'Elegance 2017 THREE Bugatti Type 41 Royale's were presented. These were all put together in an expert classic-car garage in the Netherlands, for an (also Dutch) collector. The Packard Phaeton was already shown extensively, the Esders Roadster was only shown on one earlier location, but was not 100% completed at that time. I was explained by builder Frank Slopsma how the original Esders Roadster was designed and built for Armand Esders in a mutual effort between him and Jean Bugatti, to reflect Esder's enthousiasm for boating. The wings actually are sculpted to the waves springing from the bow of a yacht. On top of each front wing are a green and red light on the starboard and port-side respectively. (Not the usual wing lights as seen on the Esders Roadster Replica built by the Schlumpf brothers and finished by the Mulhouse museum) The small white cross on a blue background on the door is not the flag of Scotland, but the banner of Esder's yachting club.

Totally new was the Weymann coach, replica of the car that was Ettore's personal car for quite a while until he crashed it. As is obvious from the photographs, this car is not yet ready, though the chassis is ready and could be driven under it's own 12.7 litre power

Each Royale has a differently sourced engine: there is an AutoRail (PLM) engine, an engine built for Tom Wheatcroft, and a replica engine put together with as many original parts possible.

However, apart from the Royale's there was also an array of other impressive Bugattis, with probably the most impressive being the Bugatti Type 57 Atalante, with factory bodywork.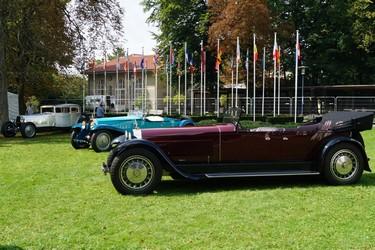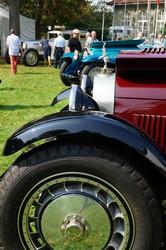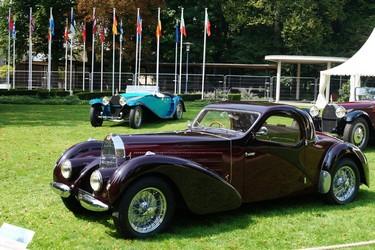 The Royale's, and also the Atalante

Three Royale radiators, the first two are really identical, as on the original cars they were of course the same radiator.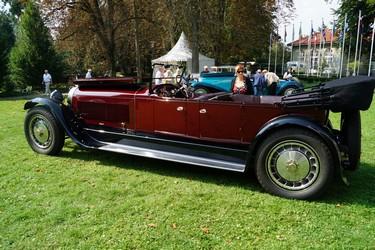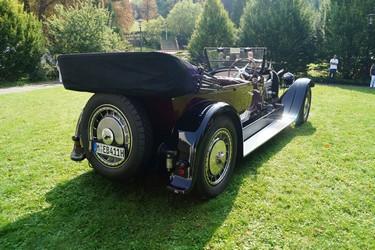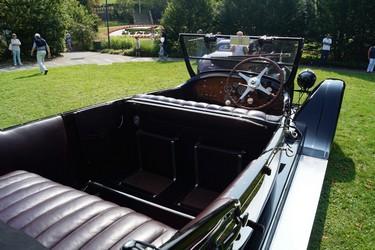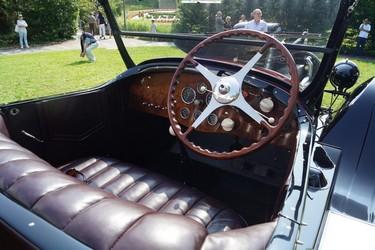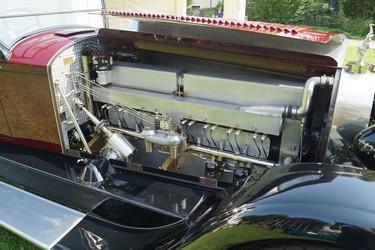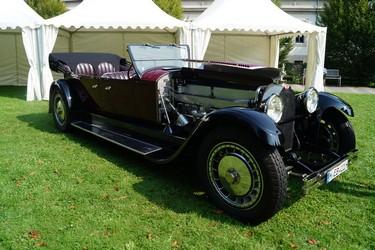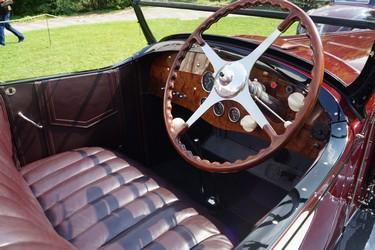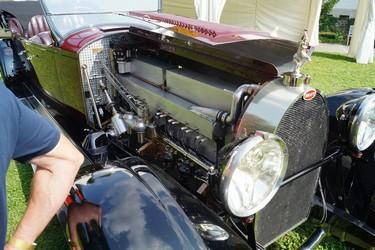 Rebuild of the Packard bodied prototype Royale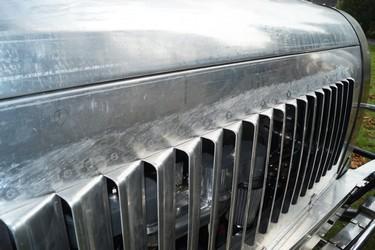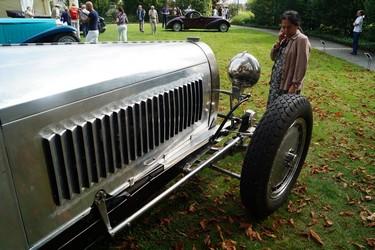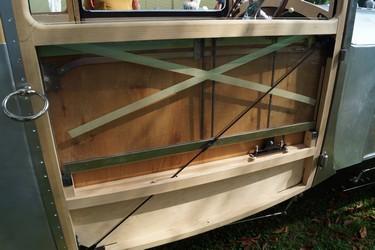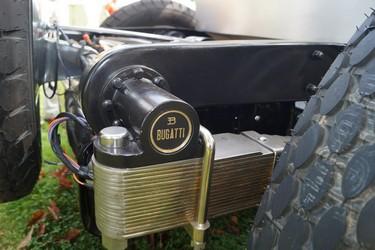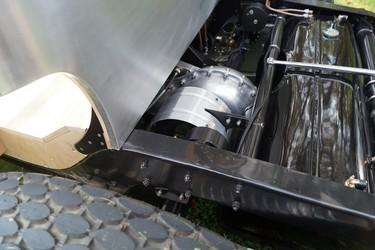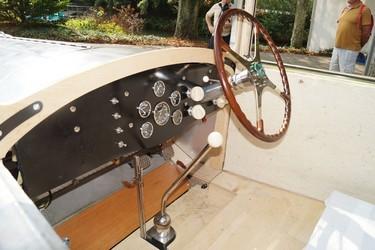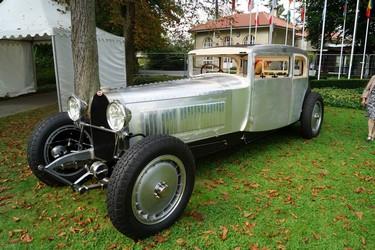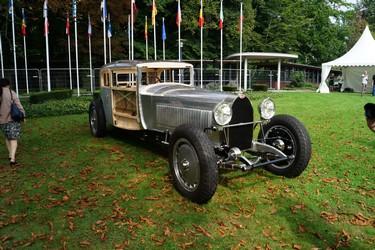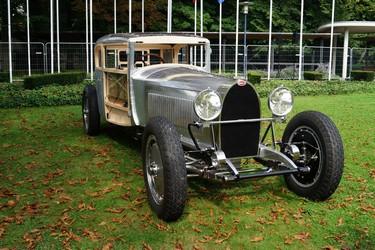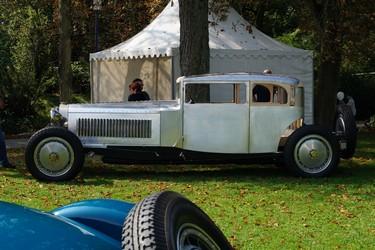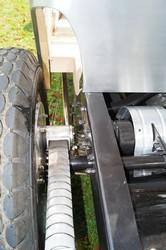 The Weymann coach body as on the prototype Royale chassis
The Type 57 Atalante
Below: Various Bugattis; GP's, Brescia's and T40's.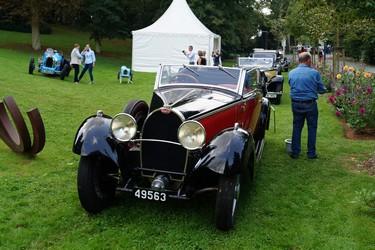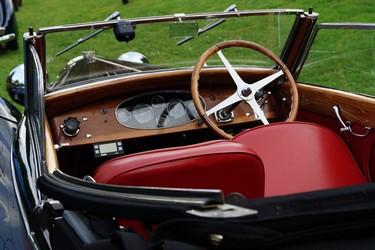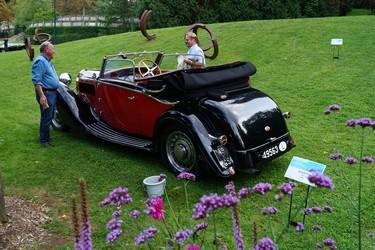 Looking almost like an early Type 57, but no, 1933 Type 49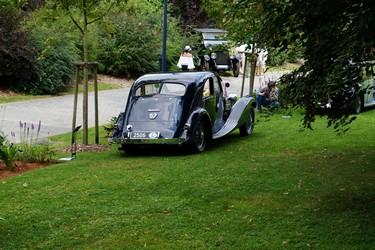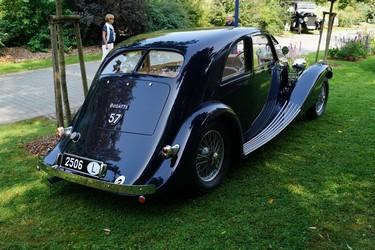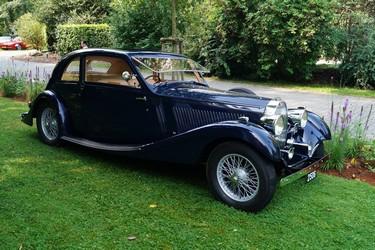 One of my favourites, this James Young Type 57 coupé!
Below: Various type 57 Bugattis.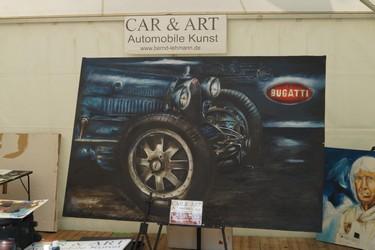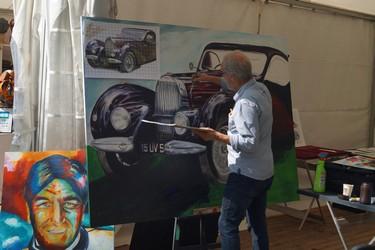 Automotive art by Bernd Lehmann, painting "live" the Bugatti T57 Atalante.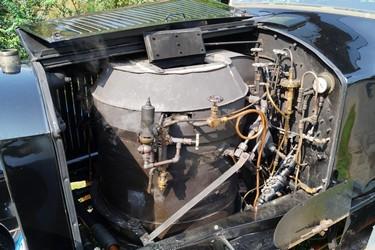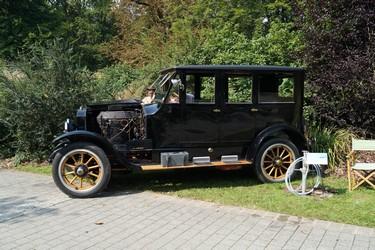 Were there any other cars? Yes of course there were, many of them. I'll be giving one example here only, of a steam car. I don't remember the marque...
List of all Bugattis
For those of you who want to know the chassis numbers of the Bugattis, Christian Anicet put them all together, they are the following:
T13 Brescia sport 1924 (2275) EB 1924 (L)
T30 Brescia tourer 1925 (4637) YP 5680 (GB)
T35 R Grand Prix '1924 1980 ('4421'-R) EB 1925 (L)
T37 Sport 1927 (37310) HD-EB 661H (D)
T38 Grand Sport 1927 (38333) EB 1927 (L)
T40 Grand Sport 1929 (40793) EB 1929 (L)
T41 R Royale Torpedo « Packard » recreation 2009 ('41100'-R) M EB 411H
T41 R Royale Roadster Jean Bugatti '1930' recreation ('41111')
T41 R Royale « Weymann » recreation ('41100'-R)
T51 R Grand Prix 2007 (PS) EB 1936 (L)
T57 Coupé by James Young 1934 (57158) 2506 (L)
T57 Cabriolet Stelvio 1934 (57202) BL-9934 (CH)
T57 Cabriolet. by Graber 1936 (57394) VD-555 544 (CH)
T57 Berline By Gangloff 1937 (57490)
T57 Atalante 1938 (57598) 15 UV 57 (F)
T57 Galibier 1937 (57603) 57603 (L)
---
Back to the Bugatti revue
---
Vive La Marque !!