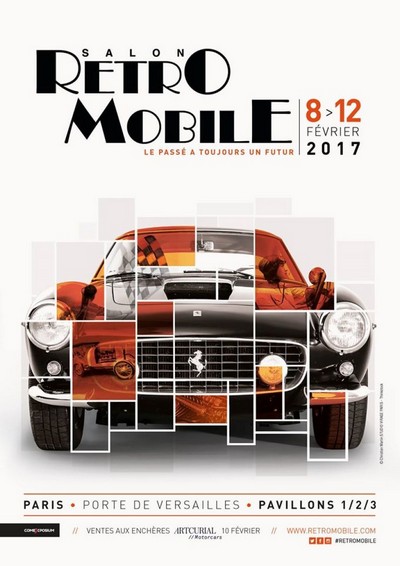 A virtual magazine for a true passion!

Editor: Jaap Horst
---
Volume 22, Issue 2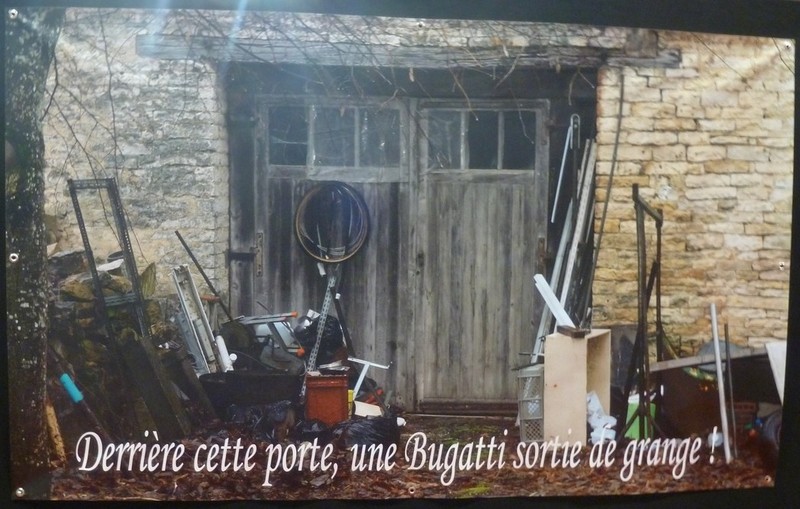 Retromobile 2017
Jaap Horst
Click on a picture for an enlargement. Big pictures open in a separate window.
This year we went again to Paris on the Friday, my friend Frans and I in my faithful old Peugeot.(Sorry, the picture is from when I bought it, a few more scrathes etc. now).
We arrived quite early, at around 11, almost no congestion on the Périférique.
This year, there were again a lot of Bugattis, apparently more than ever. There were so many, that in fact I cut this article in three. There was a huge Bugatti (and Bentley, but somehow I forgot to photograph those) exhibition organised by Lukas Hüni which I present on a separate page, also the different Bugattis in artwork have their separate page. There were of course also several friends whom we met, though not as many people from the Netherlands as compared with earlier editions.
Of course, there were also a lot of other cars, a few of them which have my special interest I represent here, the rest you will have to find on other websites.
Around 8 o'clock we drove home again, filled with impressions and quite tired. And still we will go again next year...
Top Photo: At the rear of the stand of the Bugatti Club France, was this huge poster (3 x 2 meters), which says translated: From behind these doors a Bugatti was Barnfound.
The famous Brescia by Maron Pot et Cie at the French Bugatti club stand, also a small childrens Bugatti, a new one, not a replica of the Bugatti "Baby".
Bugatti T51 - 51150 for sale at Thiesen. It was also at the MECC in Maastricht a few weeks before.
A nice Type 40 Grand Sport.
A rather accidented GP Bugatti. Anybody knows when or where?? The photographs were for sale...
Of course the new Bugattis are also presented, here a Veyron Grand Sport at Kienle.
At the Spanish Pueche, this T57 Stelvio.
Also at Pueche this nice Type 30 Torpedo. You might recognise one of the (famous) people alongside the car.
A whole load of (mostly early) Bugattis (and a Crosley) at William i'Anson.
The replica of the T57C Van Vooren "Shah of Persia" car, which was here at Retromobile last year as an unfinished bare body at Auto Classique Touraine, without engine, seems to be quite complete now. The body colour is a bit too purple for my taste, but then, I did not order this car to be made...
Fisker presented this beautiful Type 55 Billeter & Cartier, currently for sale, and therefore it was featured recently in the magazine Classic & Sportscar. It seems that the twin spare wheels do not improve the handling.
On the (as always) joint stand of Jaap Braam Ruben and Bruno Vendiesse, these 3 Bugattis. The Type 44 was also at Retromobile last year, but then owned by somebody else...
The stand of Ivan Dutton, with of course a nice large photo, and a beautiful Type 38 and a Type 35, chassis 35712, I never knew there were 35xxx numbers for the T35?.
Nice Brescia on the stand of Movendi, I also have this car featured in the for sale section of my BugattiPage.com website.
Also at Movendi this EB110 GT, at only 725,000 euro a steal compared with the Veyrons
At Bugatti SAS two cars from their Bugatti Certified programme.
Various other Bugatti items, parts, pedal cars, drawings....
Some interesting cars from other marques:
Panhard "Dolomite" by carrosserie Pichon-Parat, and a small post-war car: the Chausson prototype, looking very much like the Bugatti T68 roadster in the Schlumpf museum in Mulhouse.
Two interesting cars, replica's of cars that do not exist anymore, a Peugeot 402CD and a Voisin Roadster at "Mebero S.R.L.
A rebuilt car of the famous cartoon caracter Gaston Lagaffe by André Franquin (First photo on the left; Guust Flater in Dutch and Vakse Viggo in Danish). If you have never read any of his pictorial jokes, you have a very serious lack in your cultural education. You can do something about that on this website. However, as far as I know, the car he drove was a Ford, not a Fiat.
And the last one is not even an automobile, but a motorcycle. In fact the first motorcycle, steam driven, from 1871.
List of all Bugattis
For those of you who want to know the chassis numbers of the Bugattis, Christian Anicet put them all together, they are the following:
T13 Brescia by Maron Pot et Cie '1925' (2628)
T13 R Brescia Sport (BC 154) BF-5309 (GB)
T22 Brescia Crossley 1923 (CM 1614) PD 8180 (GB)
T22-27 Torpedo 2-seater 1920 ('1070')
T23 Brescia Sport 1924/2011 (2180)
T23/27 Brescia modifié by Lavocat & Marsaud 1923 (1693)
T30 Torpedo 1924 (4224) B-14687 (E)
T35 Grand Prix (unknown), Dutton
T37/35B Grand Prix by Ivan Dutton (BC 180) BF 7717 (GB)
T37 Sport 1927 (37291)
T38 Torpedo by Compton 1926 (38195) BF-73-37
T38 Torpedo Lavocat & Marsaud by Oscar Davis 1926 (38221)
T40 Grand Sport 1928 (40588) 7375 DH 75 (F)
T43 Grand Sport 1927 (43181) VD-41
T44 Berline by Vanvooren 1930 (441252) 44 VT 75 (F)
T44 Torpédo ('441224')BX-633-VD (F)
T49 Cabriolet 1932 (49469)
T51 Grand Prix 1984 ('51150') ESV 980 (GB)
T51/35C Grand Prix 1931 (51128) 9775-ZA1 (F)
"T52" Baby (288A)
T54 R Grand Prix ('54208'-R) 8264-NV1 (F)
T55 Cabriolet Billeter & Cartier 1932 (55206)
T55 Super Sport Jean Bugatti 1933 (55234) WSJ 388 (GB)
T57 Stelvio Cabriolet by Gangloff 1936 (57429) SS-12743
T57 Atalante 1936 (57371) HYY 509 (GB)
T57S(C) Atalante1937 (57511) 2432-RK8 (F)
T57C Stelvio 1938 (57597) 4090-PF9 (F)
T57C Cabriolet Travis by Gangloff 1938 (57710) 700-DU4 (F)
T57C Cabriolet by Gangloff 1938 (57715) AL-53-54 (NL)
T57C R Cabriolet by Vanvooren '1939' by Auto Classique Touraine ('57808'-R)
T57SC R Atlantic 1965-1974 ('57473'-R) 943 YUB
T59 Grand Prix 1933 (59124) LPG 211 (GB)

There were also Bugattis at the Artcurial auction by Hervé Poulain, Rétromobile, Paris, February 10, 2017. However, these could not be seen on the Frriday when we went.

T57 Atalante découvrable 1935 (57330) DF-573-CV (F)
T57 Ventoux by Gangloff 1934 (57106) BW 399 QG (F)
"T52" Baby 1930 (388A)
All parts of this article:
---
Back to the Bugatti revue
---
Vive La Marque !!