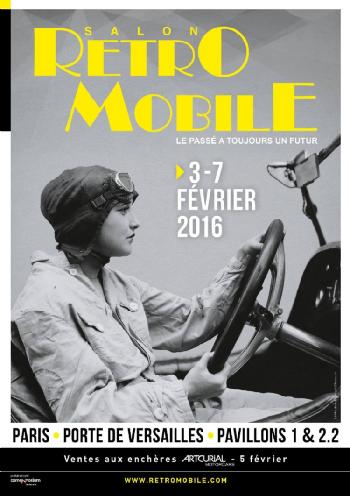 A virtual magazine for a true passion!

Editor: Jaap Horst
---
Volume 21, Issue 1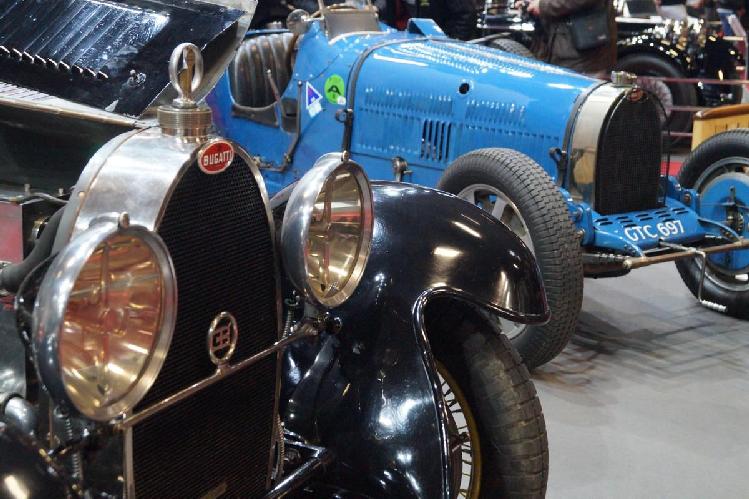 Retromobile 2016
Jaap Horst
Click on a picture for an enlargement. Big pictures open in a separate window.
This year we went again on the Friday, my friend Frans (which actually translates as "French") and I in my faithful old Peugeot. We arrived quite early, almost no traffic on the Périférique. I had arranged to meet my American Friend and HotRod builder Terry Cook there.
This year, again a lot of Bugattis, and quite a few very special ones.
Of course, there were also a lot of other cars, which you will have to find on other websites.
Two Julia de Baldanza Bugattis, a Type 35B, and the Lidia Bugatti Type 40 (supercharged) Fiacre. Built for his sister by Jean Bugatti.
A Brescia that was to be auctioned.
A Type 57 Ventoux and an open Type 49 on the stand of Jaap Braam Ruben and Bruno Vandiesse.
Lukas Hüni showed some very special cars!
Thiessen showed a nice Type 43 Grand Sport.
Marc Nicolosi showed this very nice Type 44.
A Type 49 Saloon and a Type 35B with Ivan Dutton.
Auto Classique Touraine were showing how they are recreating the Shah of Iran car.
The Kellogg car; controversial Type 57 / 59 Roadster, and the only left-hand drive Bugatti. Most dislike it because it is not original. I think it's brilliant. Cut that originality crap, which is driven by value only! In the 50's and 60's enthusiasts also extensively modified their Bugatti's, just because they liked to! High value has taken a lot of this kind of pleasure out of the hobby, and we should thank the builder and designer for just making something they liked.
In the end, far better than a Pur Sang replica!
Type 35B replica
Nice Type 55 Roadster by Vanvooren, one of few not converted to Jean Bugatti Roadster.
Probably the craziest auction result for 2015, almost one million for this Type 13 with hidious body by Pot & Cie. Quite an original car though, check out the photographs!
Finally a nice Atalante, the one from the 1935 Salon de l'Automobile. Nice detail at the bottom of the door!
Various parts, two Type 57 engines, radiator core, vice
And the Bugatti stand: a Veyron Supersport, and the Bugatti Vision Gran Turismo, looking surpsisingly like a Chiron, which had not been presented yet at the time. Maybe even an actual car, and not a mock-up? The Veyron is one of those rare plug-in hybrid versions, which is in the process of being charged!
A Pur Sang Type 51, being surprisingly honest about what it is!
Various miniature models and sculptures.
Painting by Janou Yahn (left), and a special "photograph" of Eliska Junek at a pit stop (right).
Nice to see your own name in a bookstore; This "Art, Forme et Technique" book has a copy from my BugattiPage in it (the 2003 newspage), to show when it was presented, and how expensive it was at the time...
For those of you who want to know the chassis numbers of the Bugattis, Christian Anicet put them all together, they are the following:
#981, Type 13 Brescia Course
#2628, Type 13 Brescia by Maron Pot et Cie, Sold for an incredible €834,400 in 2015
#4965, Type 35B Grand Prix
BC 180, Type 37/35B Grand Prix
#40623, Type 40 Cabriolet Fiacre
#43175, Type 43 Grand Sport
T44 unknown-BX 633 VD
#49291, Type 49 Berline by Gangloff
#49469, Type 49 Cabriolet by Gangloff
#'51151'-R
T51 Replica Pur Sang
#55204, Type 55 Cabriolet by Vanvooren 2-seater, re-built to its original configuration by Rondoni
#55234, Type 55 Super Sport Jean Bugatti
#57239, Type 57 Ventoux
#57330, Type 57 Atalante
#57511, Type 57S(C) Atalante
#'57808'-R, Type 57C Cabriolet by Vanvooren '1939' replica by Auto Classique Touraine
#59124, Type 59 Grand Prix (ex-54213)
#BC 128, Type 57/59 R Special Roadster, the Kellogg car
Baby (T52) (unknown)
---
Back to the Bugatti revue
---
Vive La Marque !!