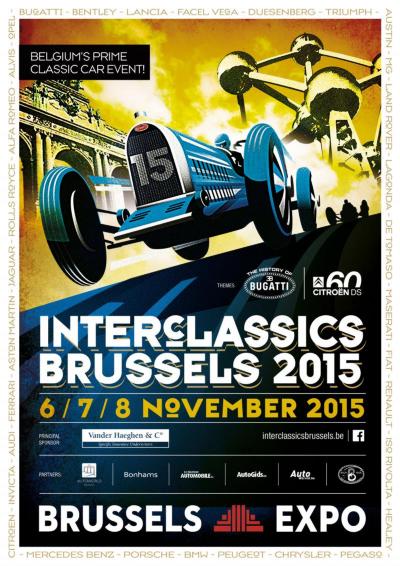 A virtual magazine for a true passion!

Editor: Jaap Horst
---
Volume 21, Issue 1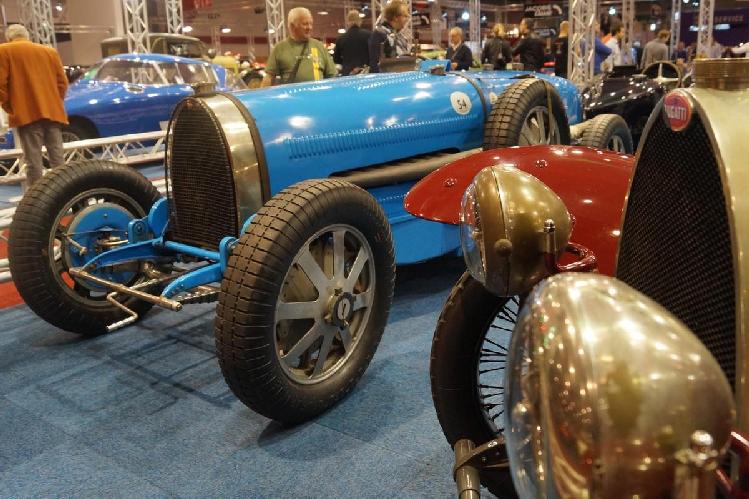 Brussels Interclassics 2015
Jaap Horst
Click on a picture for an enlargement
After the success of the many Interclassics (& Topmobiel) a smilar event was organized in Brussels! And, the first one was with a special Bugatti exhibit!
This time, I could convince my wife Erika to accompany me.
The first Bugatti was already at the entrance to the show! A very original Type 35.
The main exhibit showed an impressive line-up of Bugattis!!
I will show an impression only, and not comment with every Bugatti at the exhibition. The full list of Bugattis can be found at the bottom of this page.
The first car you see: the beautiful Type 101 Antem.
How often can you get this close to an AutoRail engine ?
1929 Bugatti Type 44 Liège - Rome - Liège.
Ettore's private car, a one-off coach.
Not part of the Bugatti exhibition: very nice Bugatti Brescia!
A Bugatti Type 49 roadster being built.
Marreyt Classics was showing a Type 57 project with a lot of work to be done. The Bugatti badge is like one I never saw mounted on a radiator.. Probably mounted later? Who knows!
For those of you who want to know the chassis numbers of the Bugattis, Christian Anicet (Thanks!) put them on BugattiRegister.com:
T23 Torpedo 3 pl. 1921 (1254) OAL-555 (B)
T23 Brescia Modifiée 1926 (2898) ZD-46-11 (NL), Tjerk Stapel (NL)
T30 Torpedo Sport 1924 (4180), Philippe Brebant
T35 Grand Prix 1925 (4449) 35 AAA 59 (F), Luc Slijpen (NL)
T35B R Grand Prix ('4924'-R) JEF-047 (B), Jozef Leyssens (B)
T35C Grand Prix 1929 (4920) 6397 AM 69 (F), Bart Rosman (NL)
T37 Sport 1927 (37246) OAR-771 (B), Guy Mahy (B)
T37 Sport 1927 (37291), Jaap Braam Ruben (NL)
T38 Torpedo 1926 (38248) 038-OBU (B), Stephan Orban (B)
T38 Cabriolet by Figoni 1927 (38345) 3547 NM 41 (F), Luc Slijpen (NL)
T40 Roadster Jean Bugatti 1930 (40848) OAK-334 (B), Stephan Ghys (B)
T41 AutoRail engine, Francois D'Huart
T43 Grand Sport 1929 (43303) PX-51-RG (NL), Bart Rosman (NL)
T44 Faux Cabriolet by D'Ieteren 1928 (44637), Roland D'ieteren (B)
T44 Torpedo 1928 (44746) OBH-055 (B), Luc Hanegreefs (B)
T44 Grand Sport 1929 (44994) 285921 (B) and I-OAA-688 (B), Stephan Ghys (B)
T46 Cabriolet by Vanvooren 1930 (46355) 1-OAG-577 (B), Maco Laqueur (B)
T49 Roadster by Uhlik 1931 (49274) 1-OZB-213 (B), Philippe Hardy (B)
T49 Roadster by Janssens (unknown [[1]] )
T50T Coach Profilé '1932' by Auto Classique Touraine 2004 ('50157'), Roland D'ieteren (B)
T51 Grand Prix 1933 (51145), Michel Oprey (NL)
(T52) Baby 1928 (327A), Olav Glasius (NL)
T54 Grand Prix 1932 (54201), Olav Glasius (NL)
T57 Stelvio 1934 (57219) OAJ-259 (B), André Plasch (B)
T57 Coach "Aerodynamique" 1938 (57335-2), Erwin Beerens (B)
T57 Chassis 1938 (57618)
T57 Coupé by D'Ieteren 1938 (57655), Roland D'ieteren (B)
T57C Cabriolet Aravis by Letourneur & Marchand (57826) WH.230 (B), Albert Lemaire (B)
T101C Antem 1951 (101504) BUGATTI (B), Erwin Beerens (B), Erwin Beerens (B)
James Brown Streamline (unknown [[2]]) ex-57645 body, Autoworld (B)
---
Back to the Bugatti revue
---
Vive La Marque !!