A virtual magazine for a true passion!

Editor: Jaap Horst
---
Volume 20, Issue 1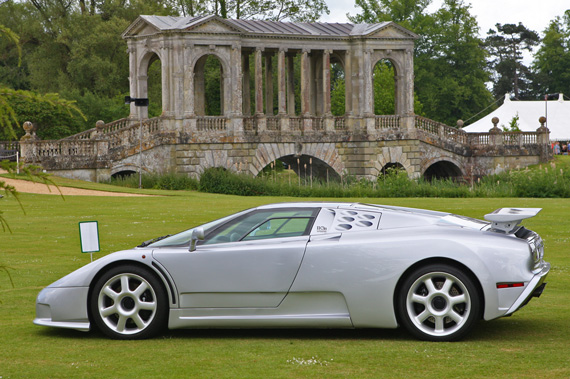 Bugattis at Wilton Concours 2015
Story and photos by Jonathan Sharp (extract on the Bugattis only)
Top photo: Bugatti EB110 by the Palladian bridge.
Another weekend and yet again the grass has not been cut! Events keep getting in the way.
Not such a long journey this weekend, (June 6-7) just a two-hour jaunt to Wilton House near Salisbury in Wiltshire, the home of the Earls of Pembroke since 1540. The reason for the visit was not to view the recently restored, Inigo Jones designed South Front of the house, or indeed the glorious state rooms; no it was to attend Lord Pembroke's Classic and Super car weekend.
This is an event that I have never attended before and judging by what I saw laid out on his Lordship's lawns I can safely say it will not be my last visit. In front of the house, two rows of prize Bugatti's with three Veyrons (to Celebrate its 10th anniversary) lined up between them. To the left of the house an enviable line up of classics whether you classic of choice be a Ferrari or a VW Camper. The right of the house, a further selection of Classics from a Mini to a Muira.
In addition to the two displays on side lawns Lord Pembroke also displayed cars from his own collection along one side of the house. These include among others a Lamborghini Muira S, Mercedes 300SL, Jaguar E Type, a new Alfa 8C and even a Honda S2000s and two Porsche 956's. I am told that over the weekend 15,000 people attended but due to the sheer size of the lawns on which the cars were displayed it never felt crowded. The star has to be the car that Corrado Lopresto displayed for the first time ever; seen here first and be sure to read the accompanying article on the subject.
Information below from the placards placed with the cars unless otherwise noted.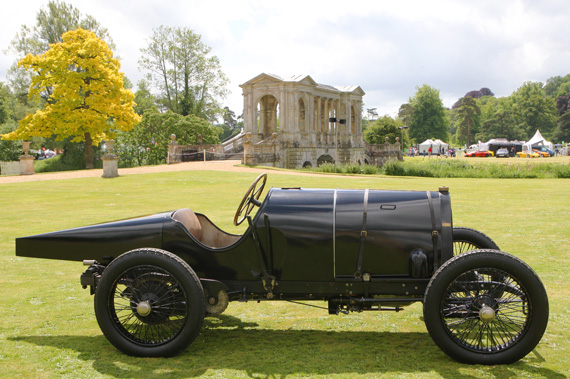 Garros type 5 Liter Bugatti. Garros type 5 Liter Bugatti. One of only 3 remaining of the 6 or 7 originally produced this 5 Liter chain drive Bugatti Type 18 was Ettore Bugatti's own car, which he also raced. The car has a top speed of around 80 mph.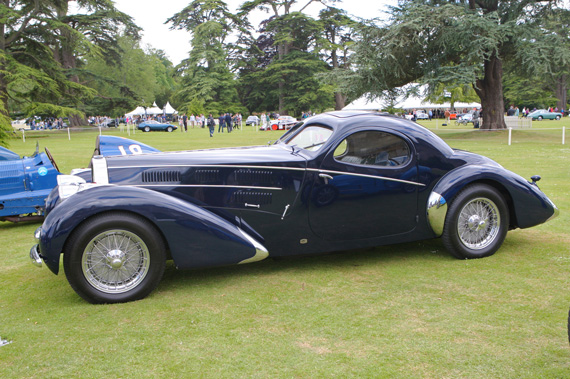 Bugatti 57 S Coupe, coachwork by Swiss/French coachbuilder Gangloff. This car is considered to be a one off. Bugatti T57, Coachwork by Swiss/French coachbuilder Gangloff. This car is considered to be a one off. Actually this is one of at least two rebuilds, after an original Gangloff drawing, of a car which apparently was never built. Ed.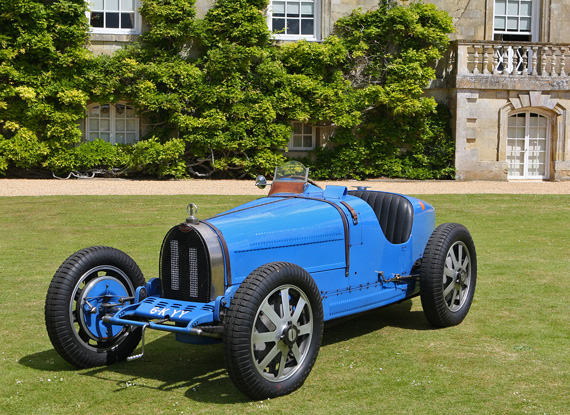 Bugatti T35 with the Wilton house in the background. Bugatti T35, Frame number 369, little is known about the early history of this Type 35B. Bugatti records would indicate a construction date of 1927. The rolling chassis was brought to England during the 1950s. Rebuilding continued on and off until 1978 when Tula Engineering finished the work ready for the 1978 racing season. The car has competed every since and is considered one of the fastest T35Bs. The car has been allocated the chassis number BOC 007.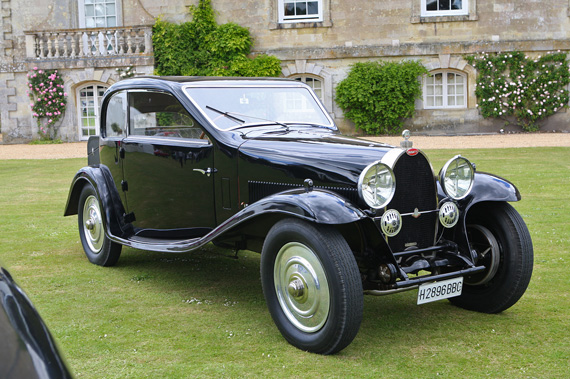 1928 Bugatti Type 44. Approximately 1095 examples where built of which only about 10% remain. Power came from the a straight eight 2.0 Litre straight engine.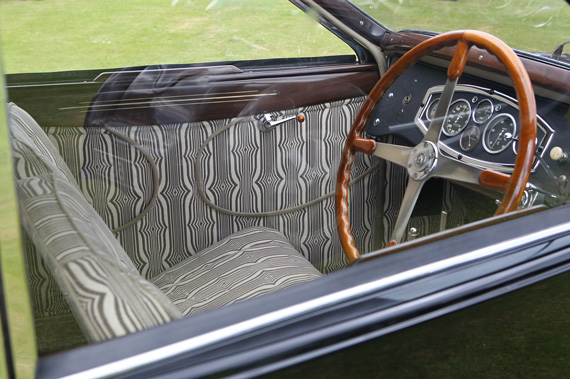 Bugatti T44 interior.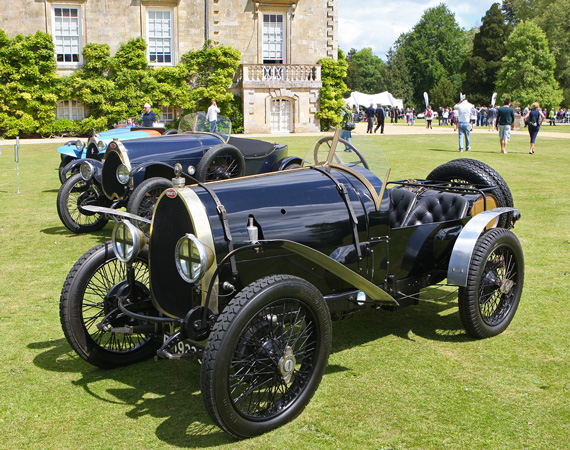 Brescia line up.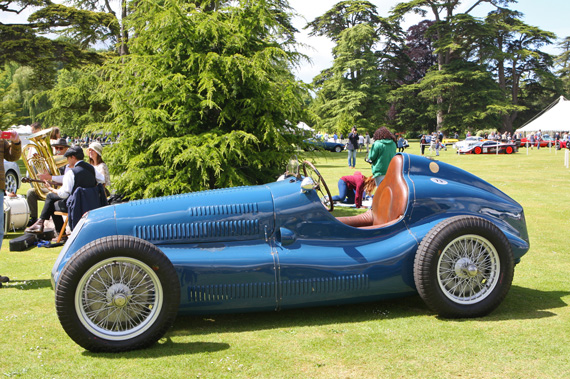 T 73 Bugatti, a post war four cylinder in monoposto form.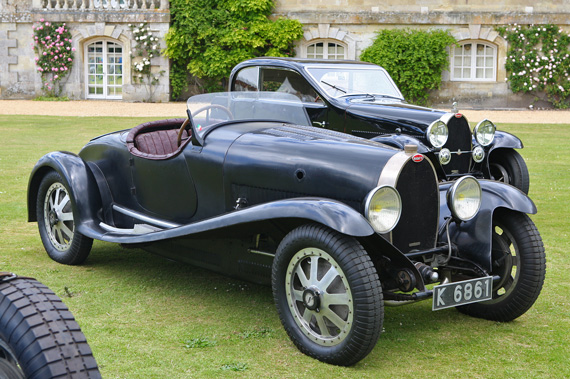 I found a picture of the car on the Internet, which lists it as a Type 38 with coach work by Matthys of Brussels. That is all I know as it had no placard. I have to say I really liked it.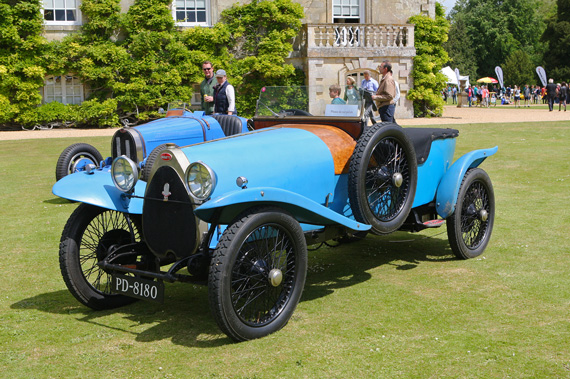 Moffett Bresica This is the ex Hamish Moffet, DB Madeley Type 23 Crossley Brescia. Chassis CM1614, engine number 16. This is believed to be the only surviving complete example of the 25 Crossley assembled Brescias.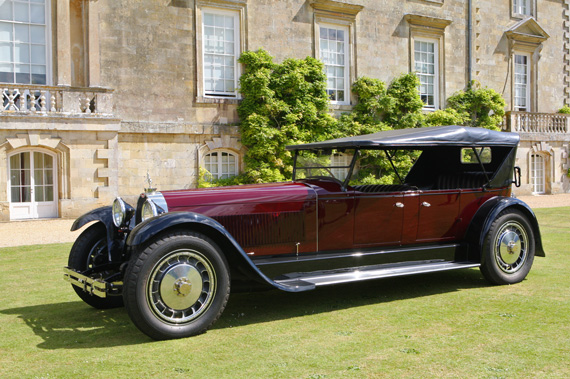 1926 Type 41 Royale Torpedo.Royale recreation. 1926 Type 41 Royale Torpedo Bodied by Packard recreation. Info taken from the placard. "Purely by chance a car collector came upon the chassis frame of the original Royale prototype which had been damaged in a road accident and lost for decades. Starting with just the frame and a few original scrap parts many European Bugatti experts came together and decided to recreate it. They spent the next 7 years finding original parts and manufacturing new parts as required. This was the first time that the car had been displayed in public." This is of course not the first time that this car was displayed to the public, and amongst experts there has been a lot of discussion if the chassis used was indeed original or not. Ed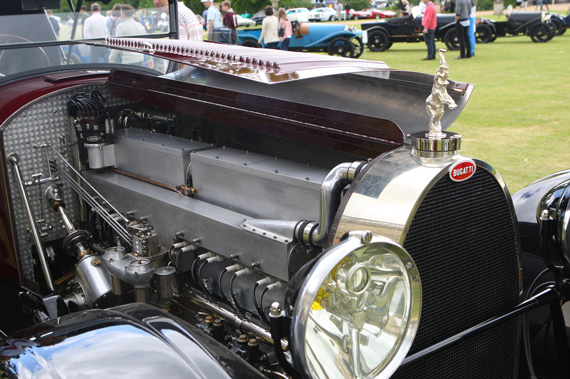 Royale enigne. Royale Recreation engine.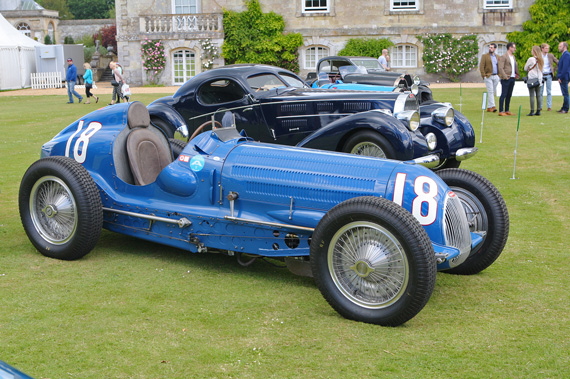 T5950-and-T57 Tom Dark Woodstock Bugatti T59/50B, known as the Cork car as it first appeared as a type 59/50 at the Cork Grand Prix of 1938.
The article originally appeared in VeloceToday, June 9, 2015
---
Back to the Bugatti revue
---
Vive La Marque !!