A virtual magazine for a true passion!

Editor: Jaap Horst
---
Volume 20, Issue 1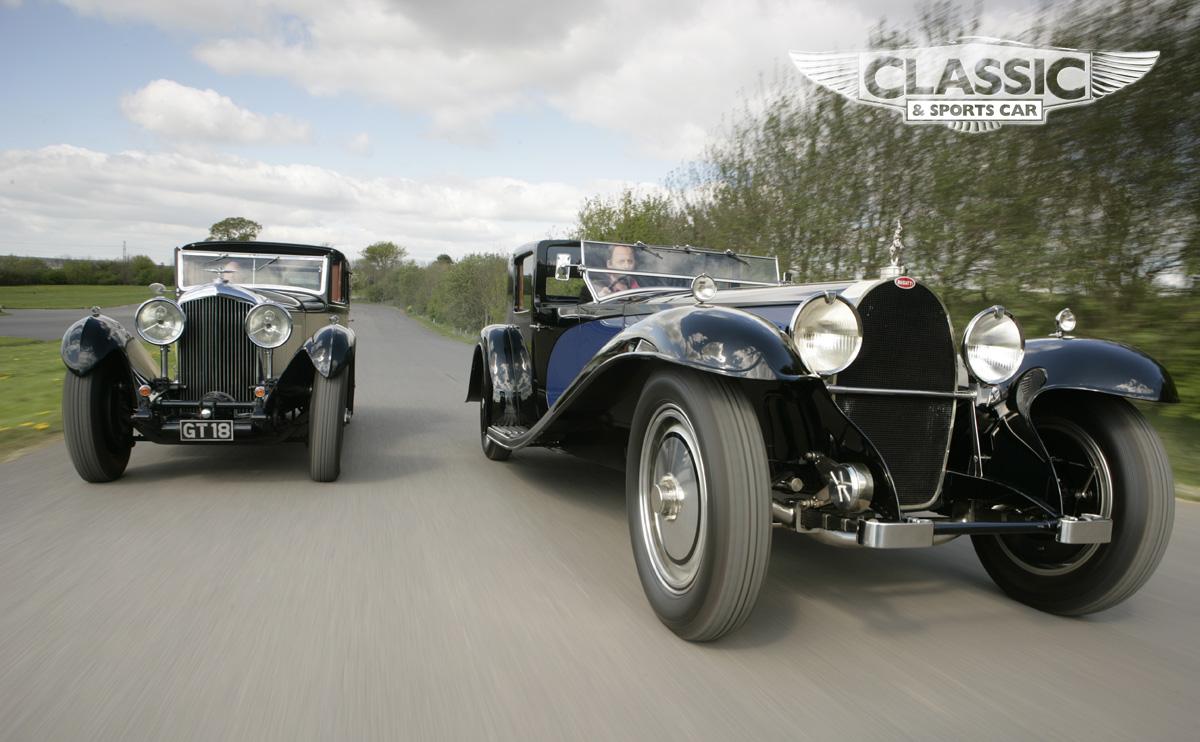 By Royale appointment: Bentley vs Bugatti
Words: Andrew Frankel; pictures: Tony Baker
Andrew Frankel pits Bentley 8 Litre against Bugatti Royale to find out who built the greatest ever luxury car.
The first time your eyes focus on a Bugatti Royale in the metal, their lids will blink. And blink again. Your brain will request further information before drawing any conclusions. So you look again and this time it's clear that this is no trompe d'oeil, no trick of the light. Can someone really have decided to build a car that big for private sale and for use on the public roads? It seems, after all, that they did.
That someone was Ettore Bugatti. Eighty-one years ago, Bugatti decided to build a car that in size, stature and sheer beauty would eclipse anything else ever offered to the public. Except it wasn't exactly the seething multitudes that he had in mind. An expression of interest from Spain's King Alfonso gave him the perfect name not just to sum up the majesty of the proposed car, but also the job description of its intended purchasers. Technically it was called the Type 41, but to the outside world it would be known by one name alone: Royale. It was unrivalled.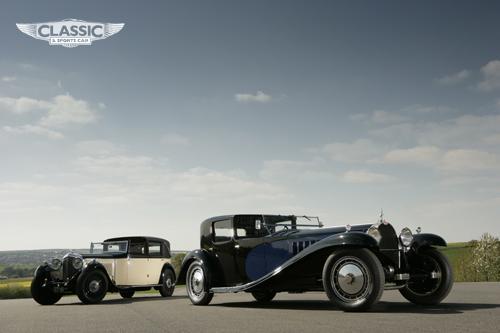 Or was it? As the years rolled by and the Royale failed to sell to anyone, let alone those with blue blood, another engineer – whose cars Bugatti had referred to not entirely kindly as "the fastest lorries in the world" – was working on a luxury car of his own. His name was Walter Owen Bentley and by 1930 he needed a successor to the ageing 6½ Litre. Like Bugatti, Bentley had an impeccable racing heritage and 'WO' reckoned that, so long as the engineering was pure and correctly conceived, there was no reason why you couldn't construct anything from a limo to a Le Mans winner on the same chassis – and history would prove him emphatically right.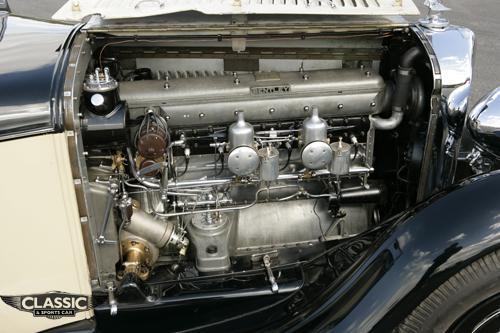 However his masterpiece never raced, not in period at least, and was swallowed up along with the company as recession bit hard in 1931. But not before 100 8 Litres had been built. Its lack of suitability to the times in which it was born is often cited as a contributing factor to the firm's downfall, but compared to the Royale – of which just six were made – it was a runaway success. Besides, the view of WO, albeit not the most astute of businessmen, was that the 8 Litre could have carried Bentley through the recession had it not had to sell alongside the underpowered 4 Litre, with its non-indigenous Ricardo engine.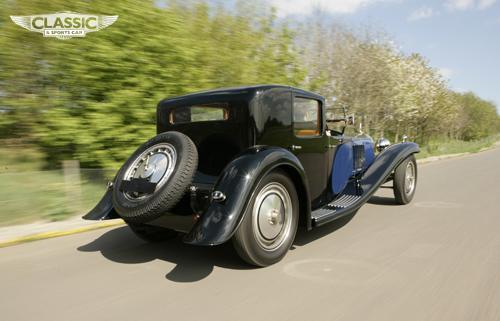 Even at a basic mechanical level, there are interesting comparisons to be drawn between Bentley and Bugatti's most ambitious creations. Both engines had fixed heads, single overhead cams and multi-valve layouts, with both staying faithful to their respective trademark three- and four-valve configurations. Both came with twin ignition systems too, by magneto and coil. Even their internal dimensions (the Bentley's pistons swept a 110x140mm bore, Bugatti's 125x130mm) were similar, the 12,763cc Royale's extra capacity over the 7983cc 8 Litre coming mainly from the presence of eight rather than six cylinders. And, with 220bhp from its eight litres compared to the Royale's 300bhp from 12.7, it was the British car that boasted the higher specific output.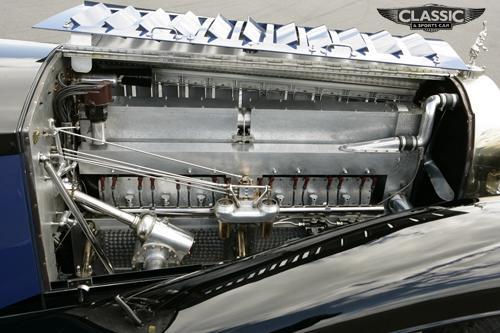 While the Royale is clearly bigger, it is not by so much as you might expect. The 8 Litre sits on a 13ft chassis, the Royale's measures 14ft 1in. Nor is the Bentley's 4ft 8in track dwarfed by the Bugatti's 5ft 3in. Clearly the Bentley was less grandiose but its combination of size, mechanical purity and racing heritage makes it the closest thing to a rival the Royale had in its short life.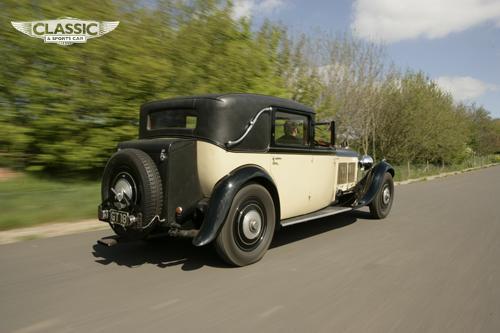 And of all the 8 Litres and Royales, you'd struggle to find two more closely matched in concept than these. Before we go further, there is something about this 'Royale' you need to know. It is, in fact, a replica of the Coupé Napoleon and not the real thing. It belongs to Tom Wheatcroft who, upon deciding he wanted one and finding supply limited to a round number, had one built. It took 10 years to make, guided by the original drawings, and was completed in 1999 for a cost then of around £1.6m. Technically it's not a Royale at all, but so accurate is it in every detail, it deserves to be thought of as the seventh car. The body alone took 11,300 hours to assemble and then cost £70,000 just to paint.
It's here because not only are the originals inaccessible, but the body style also makes it a perfect match for the HJ Mulliner-bodied Bentley. This particular car, the only Sedanca 8 Litre still wearing its original coachwork, is believed to have been the most expensive Bentley ever sold by the works when it was delivered to Lord Brougham & Vaux in August 1931 (approximately one month after a receiver had been appointed). If ever a car could possibly stand as a worthy adversary to the Royale, surely this is it.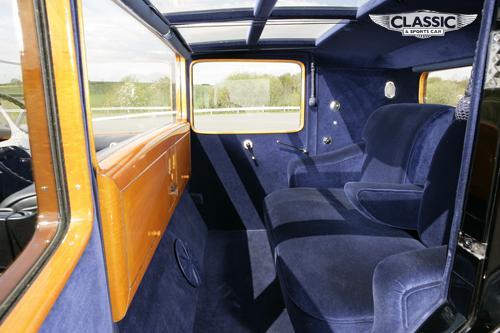 Even so, park the two side-by-side and, all size issues aside, it's not difficult to see that their concepts are somewhat different. The Bugatti is a flight of fancy made real in aluminium, leather, velvet and, yes, ivory. It's the sort of car that might be conjured from a particularly creative artist's imagination as he illustrated an escapist fantasy from the 1930s while smoking a pipe containing something distinctly dodgy. The bonnet seems endless, the wings impossibly long and flowing. There's nowhere to put your luggage but who cares when the result is a car of such extraordinary proportion and quite possibly unrivalled impact? From the colossal horseshoe radiator with its stampeding elephant mascot to that archly sloping spare tyre, it is every inch the ultimate expression of '20s automotive art.
Next to it, the Bentley seems almost sober, certainly very much the working tool rather than the weekend recreation. The Mulliner bodywork is elegant but seems quite formal and upright after the outrageously louche curves and swerves of the Bugatti. And space is more equally apportioned, too: on its own the Bentley engine looks big enough to power a locomotive, but it seems really quite small compared to that of the Royale which, after the Royales sold no more, really did end up powering a locomotive. So while the bonnet is long, there's much more room for cabin space within the wheelbase than that afforded by the Royale and there's even a spacious luggage box hung off the back.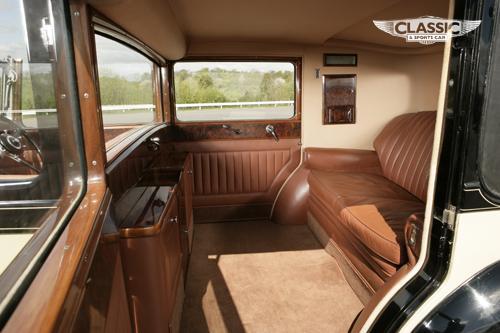 Inside, their characters continue in different directions. The Bugatti is all smoking-jacket-blue velvet offering the perfect hideaway for multi-millionaire lounge lizards. There's a speedo in the back to let you monitor how fast your man is pedalling and, of course, an intercom to tell him to step on it when you realise there's an irate husband on your tail. With a reputed top speed of 125mph – though it would be an unusually brave owner who realised it in a car of that weight on period tyres – nothing, repeat nothing, was going to keep up.
In contrast, the 8 Litre's interior offers the feel of a stately home on wheels. You sit in what could be the settee from your drawing room and look out over a world of leather and walnut. In front of you and against the back of the divider are little stowed jump seats, beautifully packaged away, between which sits the obligatory cocktail cabinet complete with cut crystal. There's more room in here than the Royale, but what's noticeable about both is how far back you sit, making it necessary to lean forward and crane your head to see out. It seems strange that the owners of cars such as these should be made to make an effort just to watch the world go by, until you realise that the bodies were designed not to stop you seeing out, but to prevent the great unwashed seeing in. Then it makes perfect sense.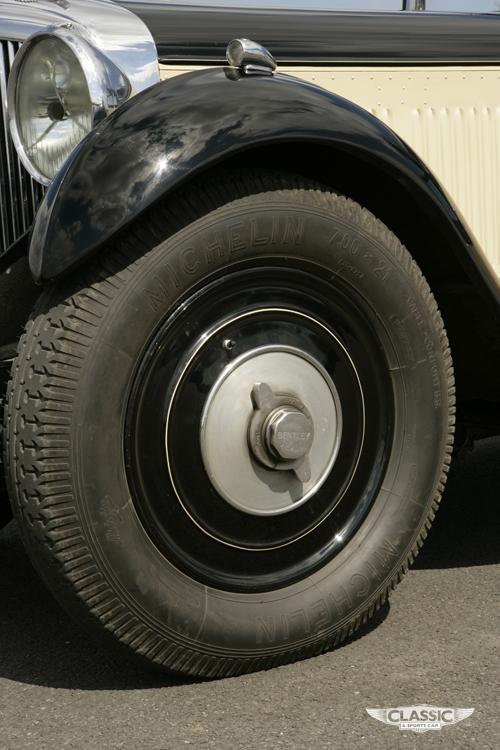 They're starkly different in the front, too. The Royale seems to have been conceived around the notion that its owner would rarely, if ever, take the helm. It's quite cramped and the windscreen is raked and shallow, offering minimal weather protection to the driver. Interestingly, the seat is leather, presumably because it is more weather resistant. Besides, I am told that the really posh always sit on cloth, leather being a working-class material of expedience whose greatest asset is that it can be wiped clean. Just look in the back of the cars the Queen uses to this day.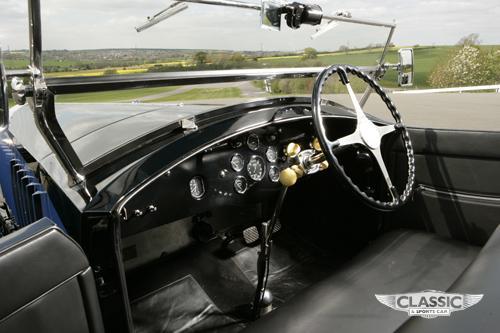 Even so, driving the Coupé Napoleon was likely one of the better jobs for a chauffeur in the early '30s. It certainly came with the best view in the business and I can't think of a thing that's been made since to top it. If you think the bonnet looks long in pictures, that's nothing compared to the view from behind the elegant, alloy-spoked wheel. It appears to extend somewhere into the next county. Around you are clustered tiny instruments that are difficult to read if you're tall, but your attention is drawn to the ivory-topped switches and gearlever. Politically correct it ain't, but it all looks fabulous.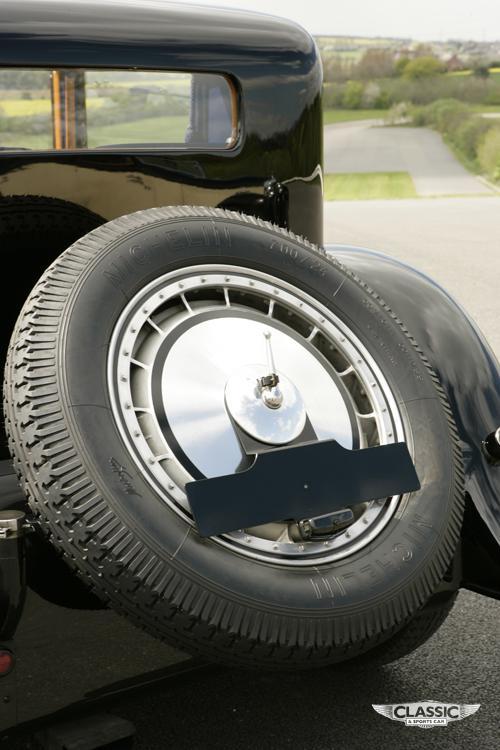 The Bentley's driver may not have quite the same majestic view, but he's unlikely to feel short-changed by the sight of the bonnet neatly tapering towards the famed Bentley wings. He'll be a lot more comfortable in here if he's tall thanks to greater legroom and a more sensibly arranged driving position. Again there are none of the Bugatti's extrovert touches, just wonderful, understated British craftsmanship. There are more planks of walnut, beautiful Bentley-branded dials and a simple, Bakelite wheel. It is a less ostentatious working environment than that offered by the Bugatti, but no less captivating.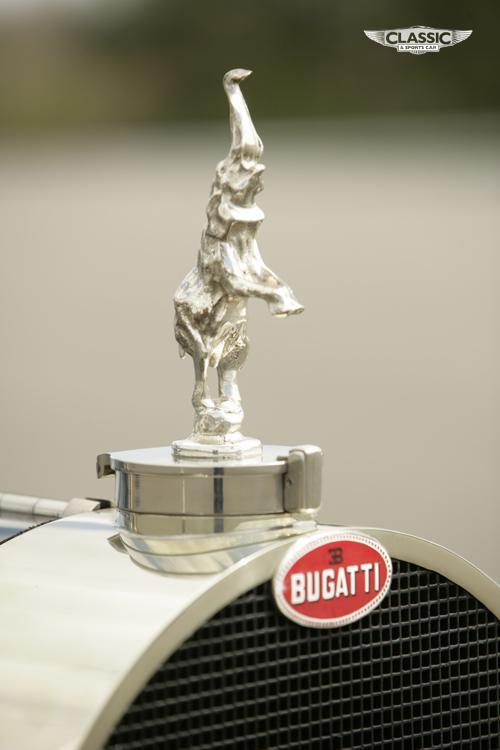 And finally, we get behind the wheel. The venue is Wheatcroft's Donington Park and the Bentley has dispatched the 100 miles that separate it from its home at the same speed as a modern car but with considerably more style. Saloon 8 Litres have been timed at close to 110mph and this one will cruise all day at any two-figure speed you choose. The 'F' gearbox is reputed to be Bentley's most piggish, but once you've learned your way around it and familiarised yourself with its long, striding ratios, it's more than manageable. Besides, all you have to do is get it into top and, unless you actually come to a halt, the torque – present in a solid wall from a lot less than 1000rpm – does the rest.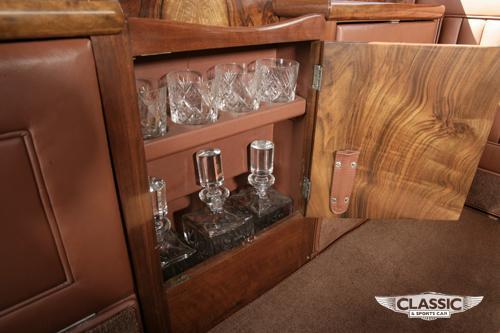 It's not silent, as its makers would have had you believe in 1931, even with the roof panel in place, but no one will quibble about the far-off rumble of the straight-six or the delightful whirr of the instrument drives. It even handles, after a fashion. This isn't a car for sliding out of hairpins, but it settles beautifully into fast, open curves. A chauffeur-driven carriage it might be, but it is also – and emphatically – a driver's car too.
Does it have the sense of occasion afforded by slipping behind the wheel of the Royale and hearing a 12.7-litre straight-eight start? Of course not, but name another that could. I've never heard another engine like it: thanks to its gargantuan proportions and extravagantly slow running – peak power is believed to be developed at little more than 2000rpm – the ripping shriek of Bugatti's smaller, racing 'eights' is nowhere to be heard.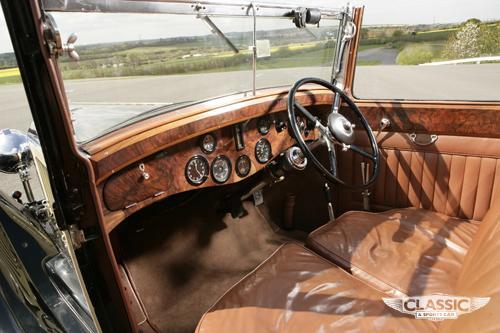 Instead you get thunder, overlaid by gentle, highly complex mechanical threshings. It has just three gears to the Bentley's four, but with enough torque to make the 8 Litre feel peaky, there's little need for a gearbox at all. Imagine the simplicity and elegance of direct drive straight to the rear axle – though I'm not sure even Ettore would have had the nerve to pull that off.
Even in first gear it takes few revs for considerable speed to accrue, but it is only when you've managed the slow, stiff and difficult cross-gate shift to second that it really takes off. With an absence of perceivable mechanical effort, the Royale inexorably gathers speed and only the thought of the car's terrifying value, the limited space available and its inimitable position in the motoring world that stops you from dipping your toes ever deeper into the apparently bottomless pool of this extraordinary car's performance. And, while it feels a million miles from nimble, the lightness of the steering and the accuracy with which the car can be placed come as a surprise given that it must weigh north of three tons. You wouldn't want to park it in a tight space, but nor would any owner need to – they'd have staff for that sort of thing.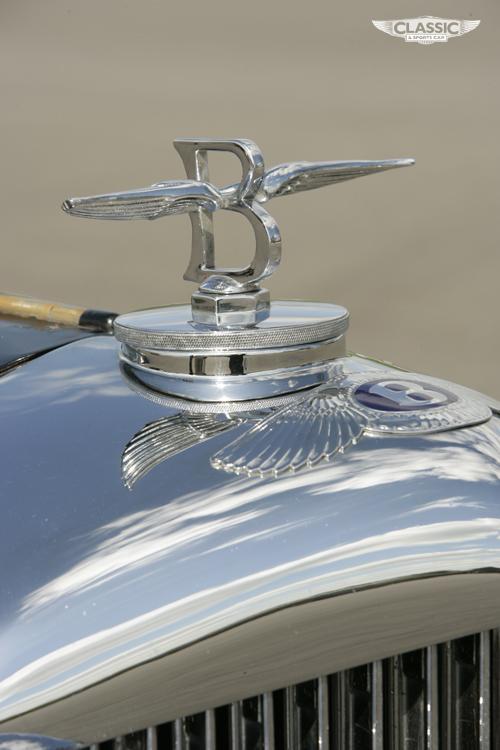 The only remaining question is whether the 8 Litre can truly be thought of as Britain's answer to the Royale. And the honest answer is that there is no answer to the Royale. If ever a car deserves to be thought of as unique, this is it. It was, of course, a work of pure arrogance and folly but you can say the same about many of man's most outstanding achievements. Truth is there wasn't, isn't, and never will be anything like it.
Does that make the 8 Litre a poor pretender? In no way at all. At the time you could have bought a Rolls-Royce, which might have been as luxurious, or an Alfa, which would have been faster, but if you wanted a car that combined both disciplines it's hard to think of anything this side of a Royale that approached it. Together they represent the twin peaks of luxury vintage motoring and, while one summit might be higher, the view from either is as good as it gets.
This article was originally published in the December 2007 issue of Classic & Sports Car magazine.
---
Back to the Bugatti revue
---
Vive La Marque !!