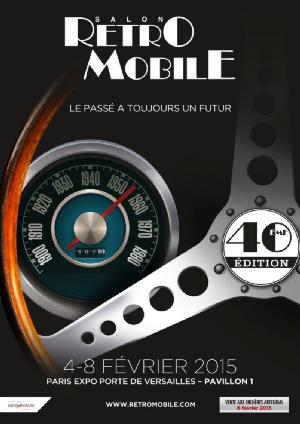 A virtual magazine for a true passion!

Editor: Jaap Horst
---
Volume 20, Issue 1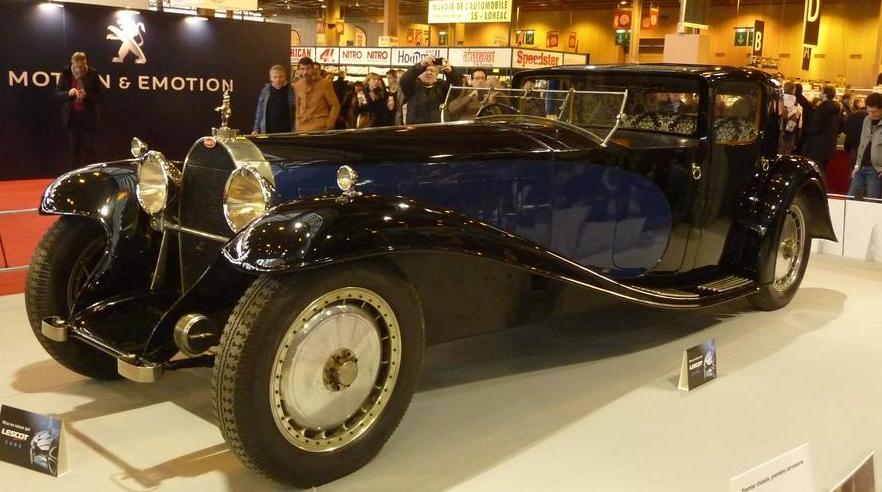 Retromobile 2015
Jaap Horst
Click on a picture for an enlargement. Big pictures open in a separate window.
This year we went again on the Friday, my friend Martijn and I. We arrived early, at the back entrance of the exhibition hall. Apart for the various friends and acquaintances who were there, there were MANY Bugattis. After almost each corner there was yet another Bugatti, or a whole row of them! This year I did not sell as many books on the Bugatti airplane as last year, I only had a few with me this time, so there was more time to see all the Bugattis!
Of course, there were also a lot of other cars, which you will have to find on other websites.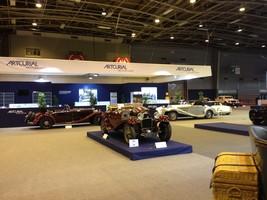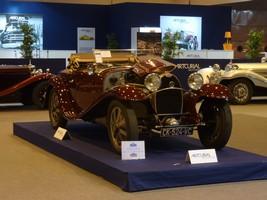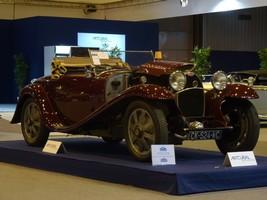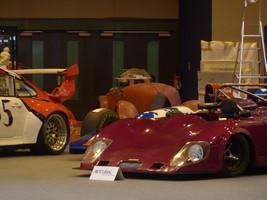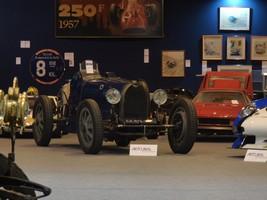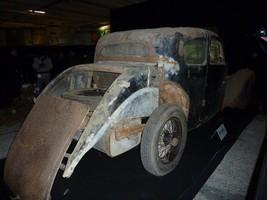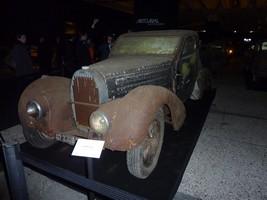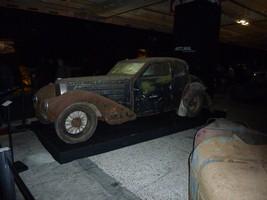 Various cars of the Artcurial auction, Type 55, Type 35, Type 30 body, Type 57 Ventoux from the Baillon collection.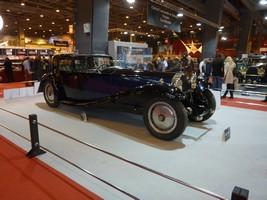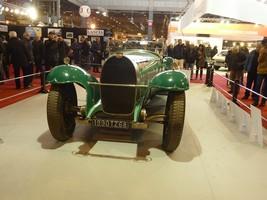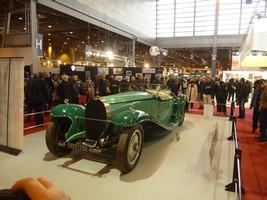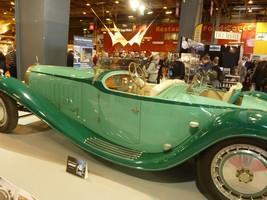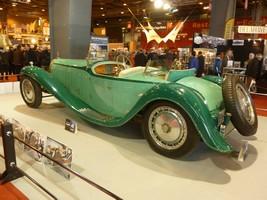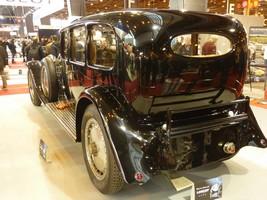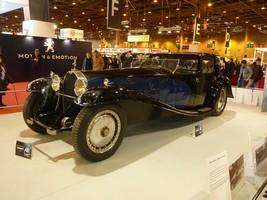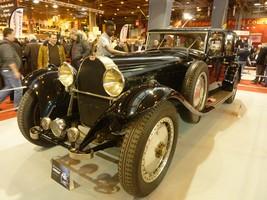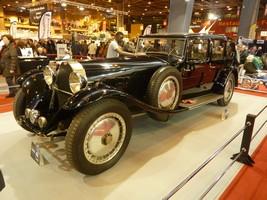 The 3 Bugatti Royales, all owned by the Musée National de l'Automobile, collection Schlumpf in Mulhouse. Of course the Roadster is a replica using original parts, the build of which was started by the Schlumpf brothers.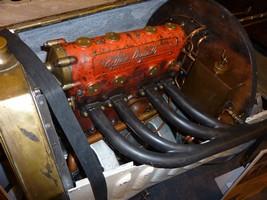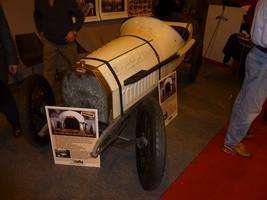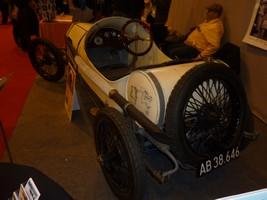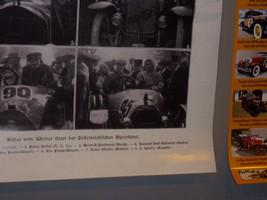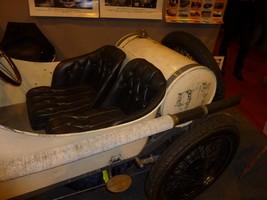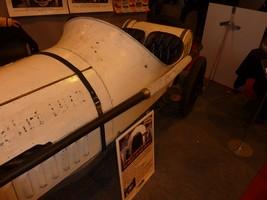 The oldest Bugatti at Retro, and one of the oldest in existance, the T15 ex - Hebsgard Bugatti. The B&W photo shows a reproduction of the original after which this caar was fashioned, and most probably even this very car. Driven by J. Weiler at the start in Vienna of the "Austrian Alpine Rally". Car on the stand of Prewarcar.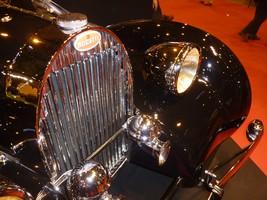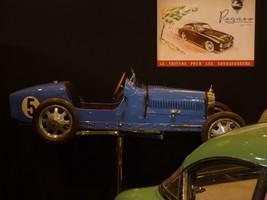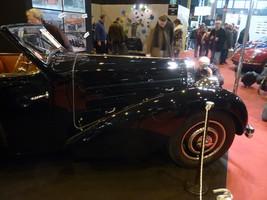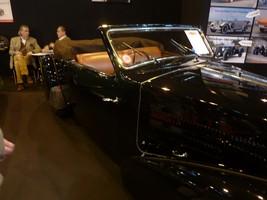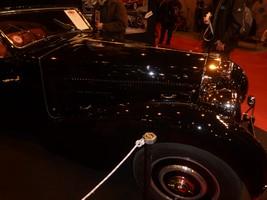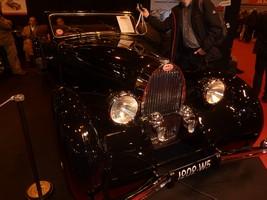 A T57 and a Baby on a Spanish stand. Apologies for the photographs, which are not very sharp to say the least...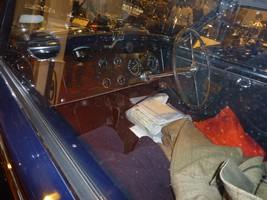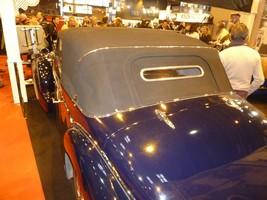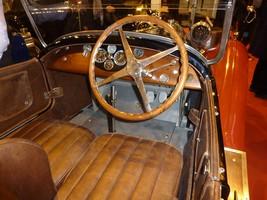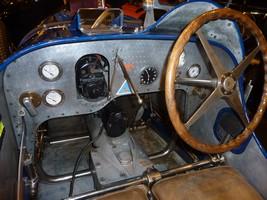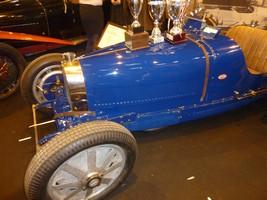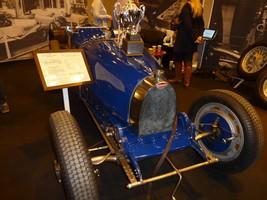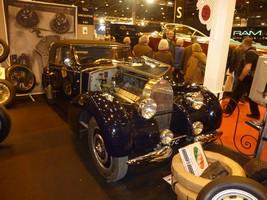 A couple of Bugattis on Ivan Dutton's stand.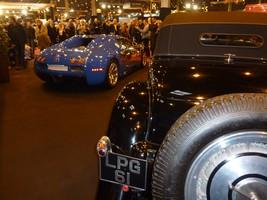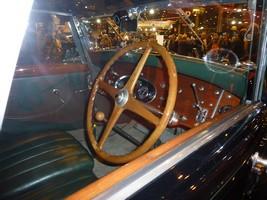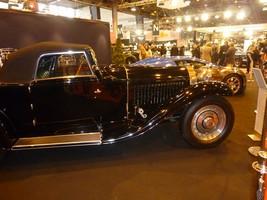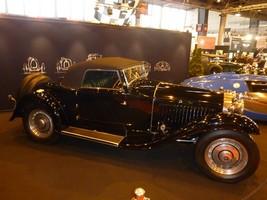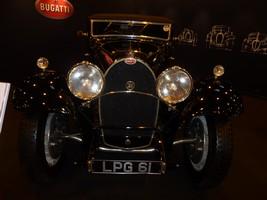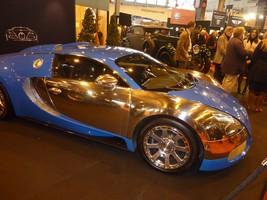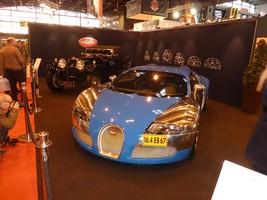 Bugatti SAS showed, apart from their current product the veyron, a very nice T50 Roaadster, seldom seen.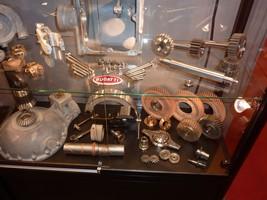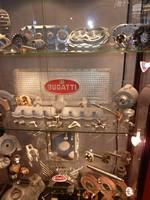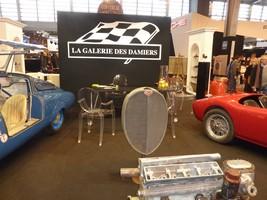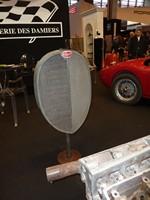 Couple of parts and a "S" Radiator grille.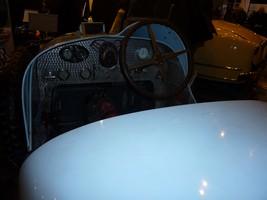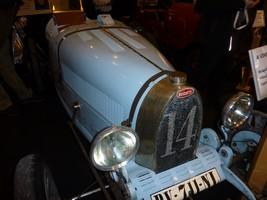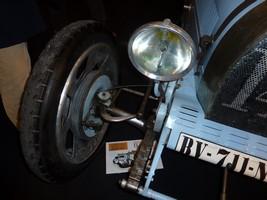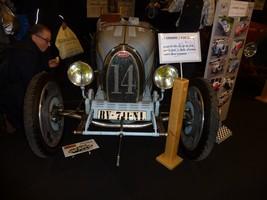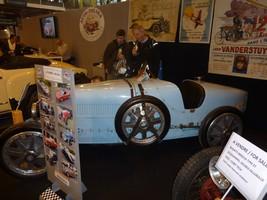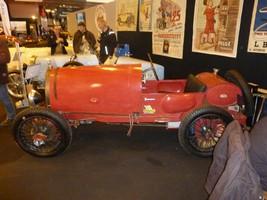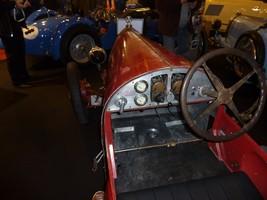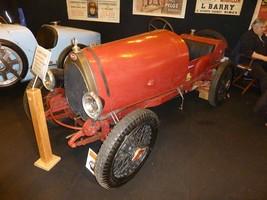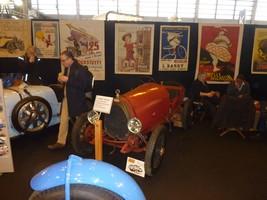 A replica T35 and Brescia on a sales stand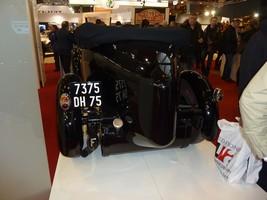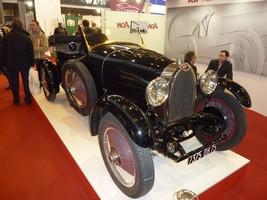 Random encounter on a stand: Nice T40 GS.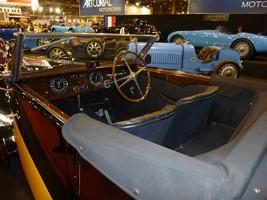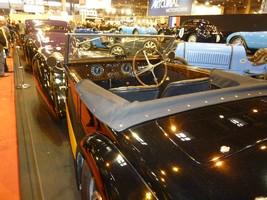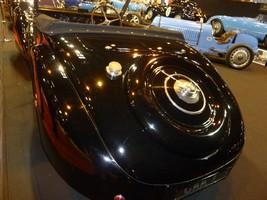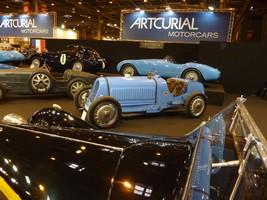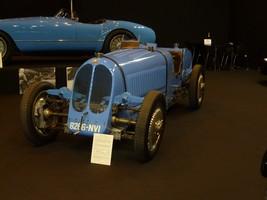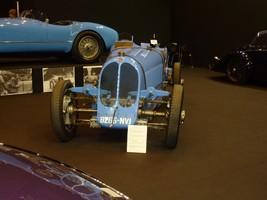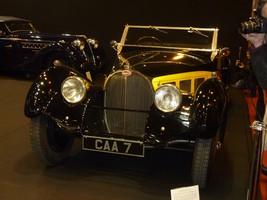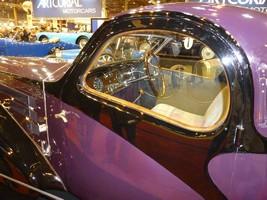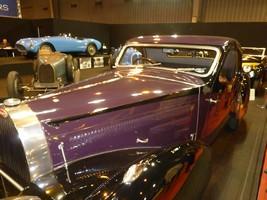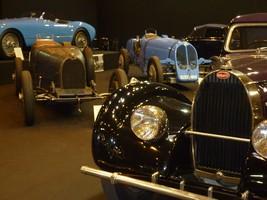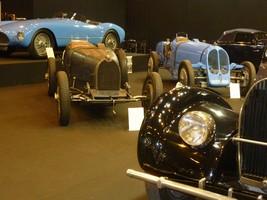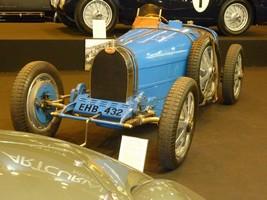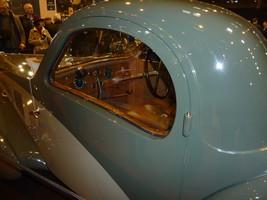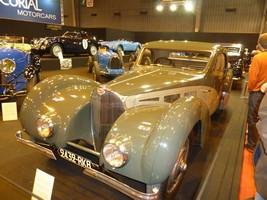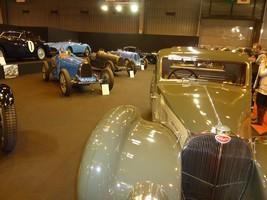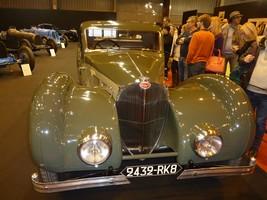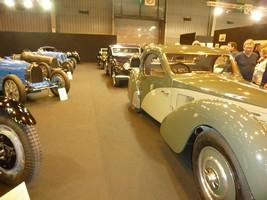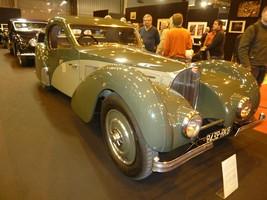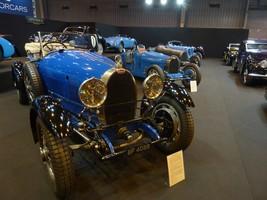 Probably the biggest surprise was this huge Bugatti line-up at Lukas Huni, very impressive, including T57S's and a T53. Only negative pint which one could find, wad that it was not allowed to walk inbetween the cars....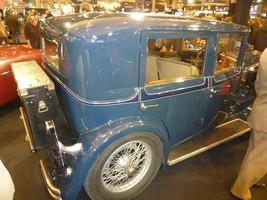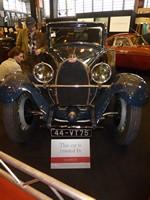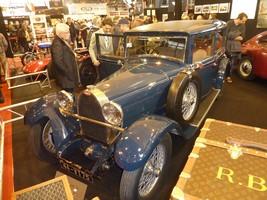 At MECC only a month earlier, now at Retromobile with Jaap Braam Ruben, this very nice T44 Saloon, in which I survived some exciting moments, more than a decade ago.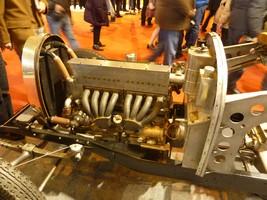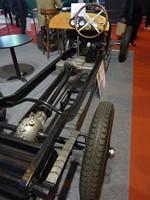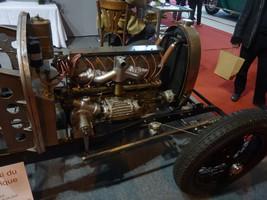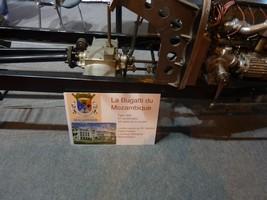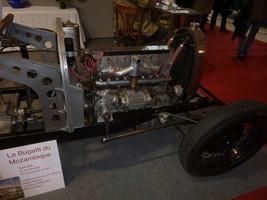 Type 38A chassis at the stand of the French Bugatti Club.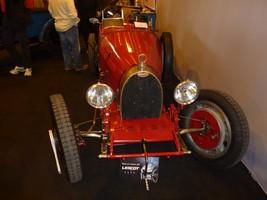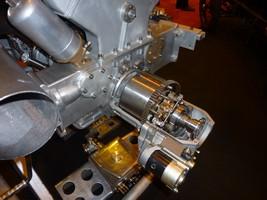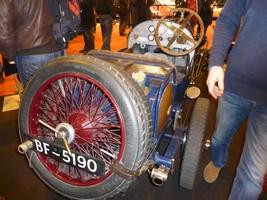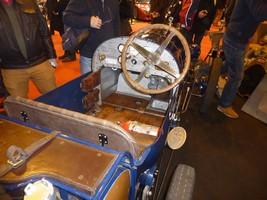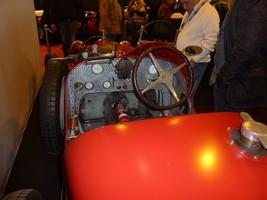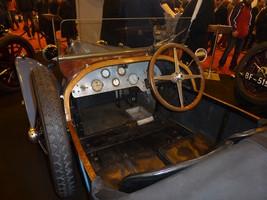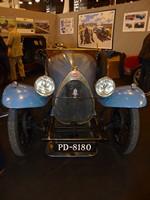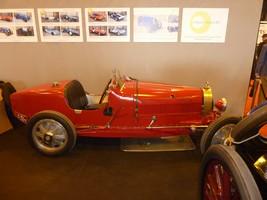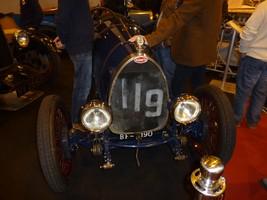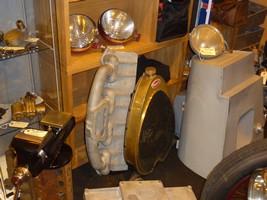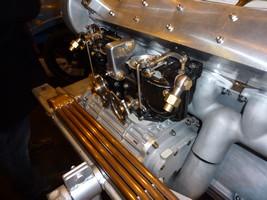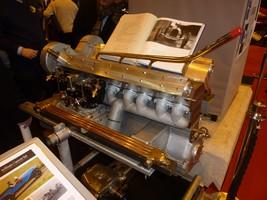 Cars and parts at the stand of William I'Anson.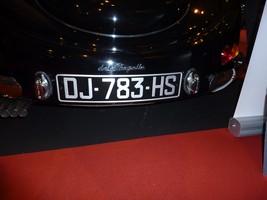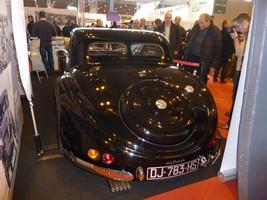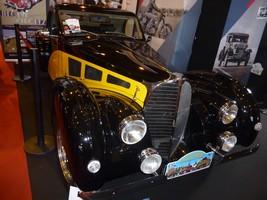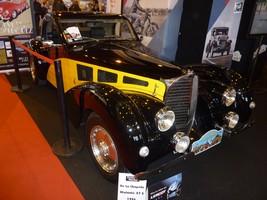 Looks quite convincing actually, and not cheap either: The de la Chapelle Atalante, powered by a 6-cylinder BMW.
Miniature models and artwork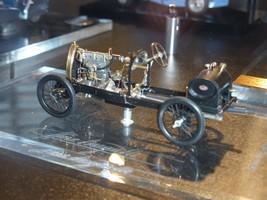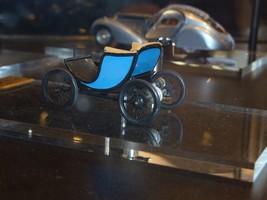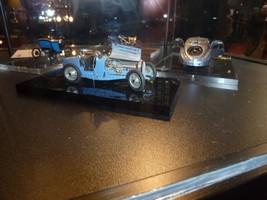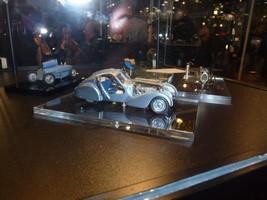 Alain Bouissou builds the best small (1:43) models, and he is always at Retromobile. A collection of very different Bugattis. His next project: wait and see!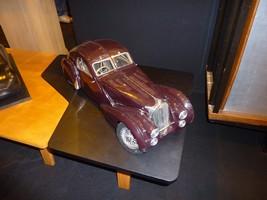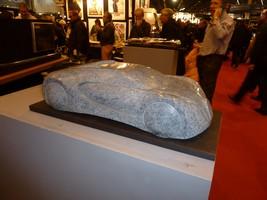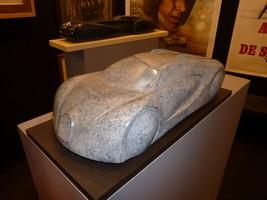 Less exact, but still nice this Atlantic, and a Veyron in stone, almost as heavy as the original. Nicely done, though!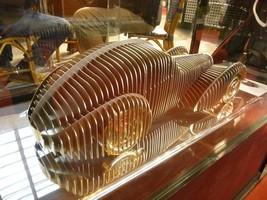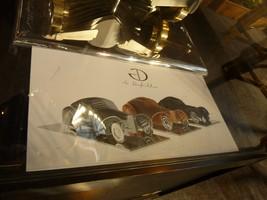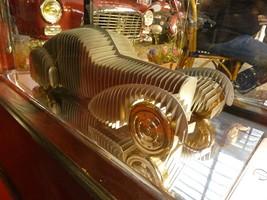 Interesting way to model the Atlantic, using straight plates only!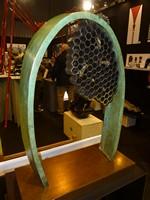 A small joke about the honeycomb Bugatti radiators.
A few non-Bugattis, just a small personal collection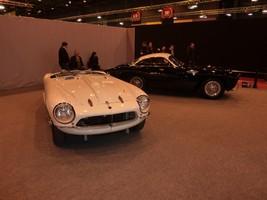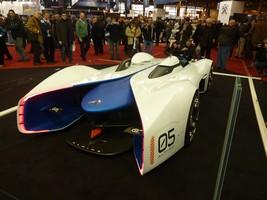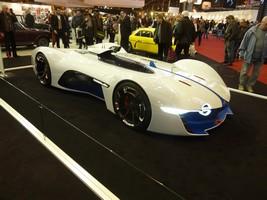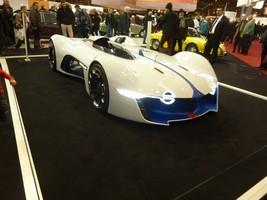 Almost the entire Pegaso car-production was at Retro, here an example of two of them.
And something entirely different, the Alpine Vision Gran Turismo.
For those of you who want to know the chassis numbers of the Bugattis, Christian Anicet put them all together, they are the following:
Type 13R Brescia '1925' 1989 (BC 145) NEZ 5265 (GB)
Type 13 R replica ('BC 1035') BF 5190 (GB)
Type 15 course 1912 (446)
Type 19 Bébé Peugeot 1913 (11134) BN-022-NV (F)
Type 13 or 27 Brescia '1923' [[1]]
Type 22 Brescia Crossley 1923 (CM 1614) PD 8180 (GB)
Type 35C/51A GP 1929 (4941) 9775-ZA1 (F)
Type 35B Grand Prix 1926 (4814) 5-514 (AUS),
Type 35 R Grand Prix '1926' ('4679'-R) BV-711-NL (F)
Type 38 Torpedo by Compton 1926 (38195)
Type 38A Grand Sport 1928 (38464)
Type 40 Grand Sport 1929 (40588) 7375 DH 75 (F)
Type 41 Royale Coupé Napoléon 1926/31 (41100)
Type 41 Royale Park Ward 1933 (41131)
Type 41 R Royale Roadster Jean Bugatti 1988 ('41111'-R Esders) 1990 TZ 68 (F)
Type 43 Grand Sport 1927 (43181) BF 4098 (GB)
Type 44 Berline by Van Vooren 1930 (441252) 44 VT 75 (F)
Type 50 Roadster Gangloff by Paul Née 1931 (50139) LPG 61 (GB)
Type 51 Grand Prix 1931 (51127) EHB 432 (GB)
Type 51 Grand prix 1932 (51138a) blue
"Type 52" - Baby Bugatti
Type 53 R 4WD 1960 ('53002') 8266-NV1 (F)
Type 54 Grand Prix 1931 (54201)
Type 57 Cabriolet Atalante 1937 (57428) 1202-W5 (F).
Type 57C Atalante 1938 (57718) 791 UXJ (GB)
Type 57C Stelvio Gangl. 1939 (57824) 57C (GB)
Type 57S cab. Corsica 1936 (57491) CAA 7 (GB)
Type 57SC Atalante 1937 (57511) 2432-RK8 (F)
At the same time an Artcurial auction was organized, with the following cars, many of which could be seen:
Artcurial Auctions, "Motorcars à Rétromobile", Paris, February 6, 2015 and Rétromobile, Paris (F), February 4-8, 2015
Type 35B R Grand Prix '1929' 1999 (BC 122) CZ-875-XW (F)
Type 40 Grand Sport by Wilkinson 1928 (40681) BT-738-QB (F)
Type 44 coach profilé by Gangloff 1929 (44784) H2896BBC (E)
Type 43 Grand Sport Tourist Trophy 1928 (43171) PJ 679 (GB)
Type 55 Cabriolet by Vanvooren 2-seater 1932 (55204) CK-524-WC (F)
Type 57 Ventoux 1938 (57579)
---
Back to the Bugatti revue
---
Vive La Marque !!