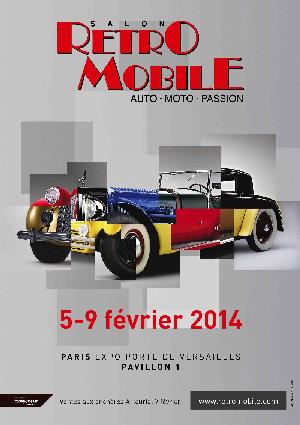 A virtual magazine for a true passion!

Editor: Jaap Horst
---
Volume 19, Issue 1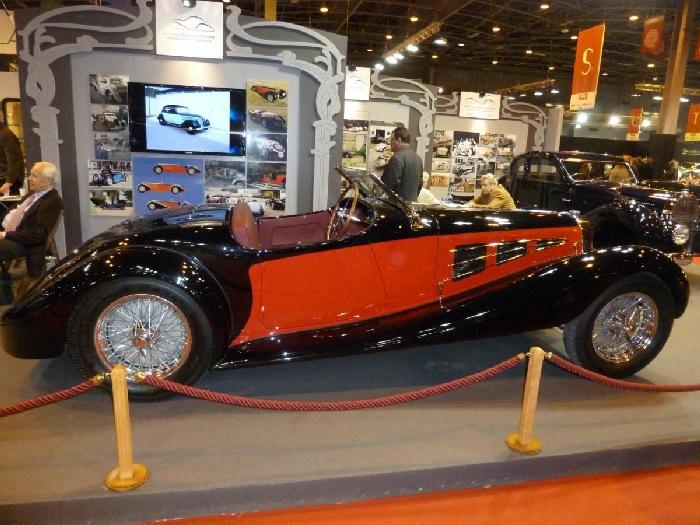 Retromobile 2014
Jaap Horst
Click on a picture for an enlargement. Big pictures open in a separate window.
This year we went on the Friday, my friends Martijn and Frans and I. After a bit of a traffic jam in Lille, and later of course in Paris, we arrived through the back roads at the entrance of the roof parking of the exhibition area, only to find it.... closed. So much for my intelligent way of reaching the exhibition with a minimum of delay.
This year was different, as I had taken a bunch of my books on the Bugatti 100P airplane with me, and had arranged to sell them at the stand of the French Bugatti Club.
For that reason, I saw a lot less of the show itself! It was very interesting though, with many people coming by, to talk to about all things Bugatti.
The Bugatti Club France had a nice original Bugatti T35B, chassis 4932m which as originally delivered to Poland in 1929. THere was also a cut-out 8-cylinder engine, which I somehow failed to photograph. The last photograph in the row is of my little corner on the stand, with a pile of books. Goy Feltes was alongside, selling his Luxemburg register.
Above, the known Type 35 single seater, which has been in Switzerland for a while, and was in a museum there. THe info alongside the car said T35C, but there is no compressor.
Henrik Schou-Nielsen standing proudly by his recently restored T51, belonging to Mrs. Itier. The large rev-counter was placed on het request. More about this car in a separate article on A Bugs life .
For sale was this T35 at an art stand
Very impressive this T59/50BIII, the 3 litre Cork car , on the stand of Peter Wiesner. Look at the details, a strange mixture of new technology and old Bugatti details like the cable brakes,
A very nice T46 - chassis 46525 - 4-door cabriolet by Reinboldt & Christie, on offer at Fiskens.
This rather different T57C Saloon by Gangloff was on display at Christop Grohe. It was at Reromobile before, quite a few years ago, and was since restored.
Nice blue-blue colour scheme for this Ventoux!
Another Ventoux, body only, at Auto Classique Touraine.
Auto Classique Touraine also presented their 2nd version of a Gangloff Roadster design; an original design which had not been executed before, famous to the public through Paul Kestler's drawings in his "Evolution of a Style" book.
Very original looking T35C, Chassis 4871, shared a stand with a full-size T35 statue!
Bugatti SAS had one of the first Veyron prototypes on show; apparently the 18-3 Veyron, though license plate said EB 16.4 ...
Classic Driver magazine saw something that both my friends and I had missed; an original Bugatti workbench, vise and a stock system for tires. It was all sold at Retromobile, especially the tire stock system was something I never saw before!
"Very nice, this Bugatti T57SC Atlantic, is this not the dr. Williamson car, now owned by Peter Mullin?"
"Are you mad! This is not the real car, this is one of those fancy models in 1:8 scale!"
"I think it is one of those CMC models in 1:18 scale!"
Of course, you and I know that this is the new Alain Bouissou model in 1:43 ! Incredible detail, especially in this tiny scale! The model is a good 100mm long! Impressive!
Of course, Retromobile is about much more than just Bugattis, a small choice is shown below.
On the left, a 1930 Derby K3 Supercruiser, from the collection of Serge Pozzoli, shown on the PreWarCar stand. In the middle a (replica) Buccialli, and on the right the Renault Espace F1; Renault Espace body on Formula 1 Chassis. Pity they did not make a series of this one!
One of the main attractions were two very similar record cars: The 350HP Sunbeam, and the equally aero engined BABS.
Fitting in with the Indian Royalty car theme, were the two Swan Cars, on display from the Louwman museum of the Hague. The larger one is more well known than the smaller Cygnet.
For those of you who want to know the chassis numbers of the Bugattis, Christian Anicet put them all together, they are the following:
T35C Grand Prix 1928 (4871) 2515-KJ2 (F)
T35 Monoplace 1927 (4894) with 4865 on chassis plate
T35 R Grand Prix 1925 ('4448'-R)
T35A Grand Prix (BC 027) CV-906-QB (F)
T35B Grand Prix 1929 (4932) 652 AES 92 (F)
T46S Cabriolet by Reinboldt & Christie 1931 (46525)
T59/50B III Monoplace 1938 ('441352'-engine 50B3 (3l.)) 4619-NV2 (F)
T51A Grand Prix biplace 1933 (51142) 1613-RG3 (F)
T57C Coach by Gangloff 1937 (57477)
T57 Vent. 1935 (57321) 431 TT 6P
T57 R Cabriolet Gangloff '1937' (Auto Classique Touraine)
T57 R Coach Ventoux body (Auto Classique Touraine)
---
Back to the Bugatti revue
---
Vive La Marque !!