A virtual magazine for a true passion!

Editor: Jaap Horst
---
Volume 19, Issue 1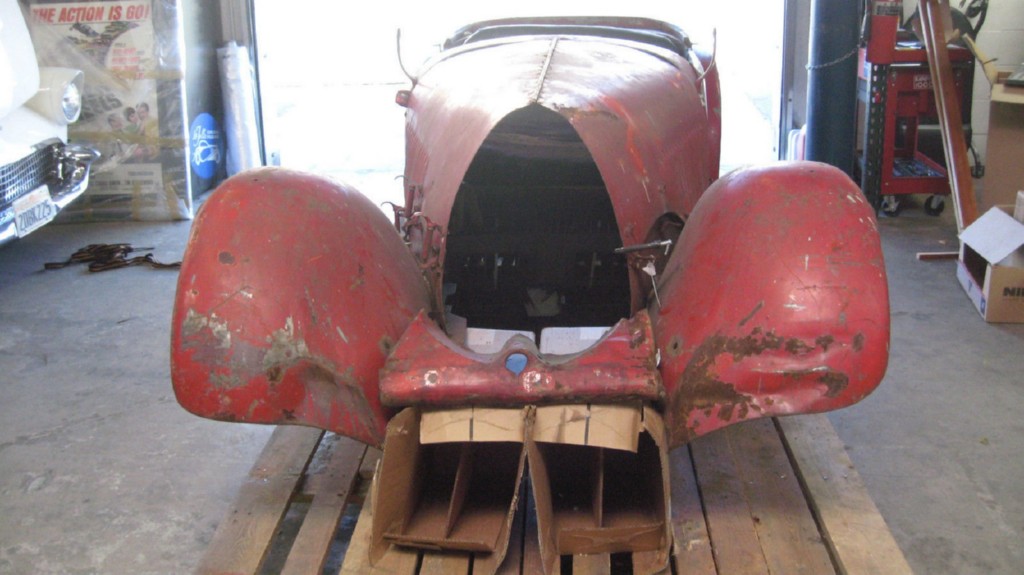 One Bugatti Brescia Body
Info provided by Kees Jansen
In november 2013 I put on my site a body of a Brescia Bugatti, Usually I do not repeat Ebay offers on my site, but I found this one too interesting. The advert as I posted it, was the following:
A mid 20's to early 30's Bugatti body.
The exact chassis is unknown, however, it is believed to be a type 23 or 30 chassis. There is a license plate number from France circa early 50's.
The sheet metal is intact with some collision damage. There is some surface rust. The wood seems to be intact, and for the most part, useable. The door is in working condition. There are no mechanical parts, whatsoever. The hood is there, but will require bodywork to fit better. Some of the latches are intact, but some are missing pieces. What is pictured in the photos is all that is included in the sale.
The car has been stored indoors for many years. It would make a great restoration project and future Pebble Beach Winner.
Body in Escondido, California, United States
And sold!
About two months later, at Retromobile, I spoke to a Swiss friend of mine. Turned out he had bought the body! And not through Ebay, but because of the advert on my site. Always nice to know, that my site has some effect!

Later, I received the full history of the car the body was originally on, plus the photographs of how the Brescia looked!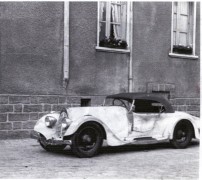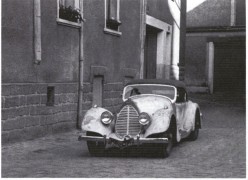 Julien Dubrulle identified the car (on basis of the registration) as Type 23, Chassis 1346. Here is the information from Kees' database:
Type 23, Chassis 1346 was produced as a type 23 with engine 923. It was delivered to the coachbuilder Lavocat on April 7, 1922. The car was registered as 4031 KA (F) on May 16, 1934 in Angers for an unknown owner.
It was bought 13 years later as a rolling chassis in 1935 by Lucien Cantin, the director of a factory in St Quentin. He had a sleek cabriolet body with an exceptional long tail made for it, between 1935 and 1939.
During the fuel shortage shortly after the war, which had led to fuel rationing he was awarded 20 litres of petrol five times between October 1946 and April 1947 by the Commissaire de Police 2nd Arrondissement Ville d'Angers, (Maine et Loire). After the war Cantin had it registered in Angers, where his address was 166Bis Blvrd de Strasbourg, Angers.
At some point in time the tail was shortened and the car was painted red. It came to julien Dubrulle's area on 17 December 1954 for Emond Messeant, by profession a farmer ('Cultivateur') in Houchin, with the plate 1390 EC 62. In 1956 it changed ownership to Mr Garnier, by profession a 'Chauffeur', living in Bethune. In 1957 it went to Mr M. Dourlens living in Labuissiere. On March 4, 1959 it was registered with its present plates 9395 BW 59 for Mr Duquesnoy, a trader by profession ('Negociant') living in Roubaix.
Originally the car itself was a type 23, now it is a shortened 2m wheelbase with a 16 valve engined 1275 ex 2828. It Was owned by Groenewegen in Rotterdam in 1962 when it was a 2 seater cabriolet. Plates ZZ-16-63 (NL) , it was later in the Louwman Collection; The car was for sale in August 2000 by the Automuseum Deventer and bought by Bruno Vendiesse, who showed it at the Rétromobile 2001. The present owner since 2002 is Julian S. Eckersley who had it restored at at Gentry restorations in December 2004.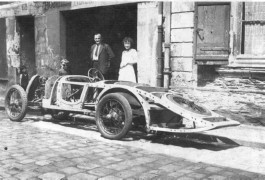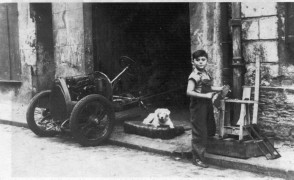 Notice how much nicer the tail of this body was originally, the extreme long slope gave something speedy to the design, which totally disappeared after the change of the rear, to a boxy ugly boot...
We wish the new owner a lot of luck in finding a nice chassis for this body!
---
Back to the Bugatti revue
---
Vive La Marque !!