A virtual magazine for a true passion!

Editor: Jaap Horst
---
Volume 18, Issue 2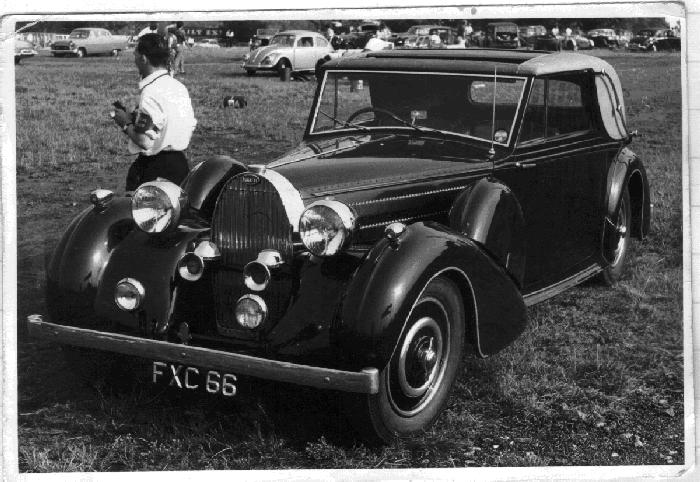 Bugatti Memories and Musings
John Warburton
What is it like to be interested in Bugatti cars but to abstain from owning one?
The following is an account first published in Bugazette, Newsletter of the Bugattisektionen of the Automobilhistoriska Klubben, it was written by the Editor's friend John Warburton of Manchester, England.
The Editor (Lannart Hajaanen) thinks many readers will recognize parts of their own youthful experiences.
Top picture: The first Bugatti I ever saw - type 57C chassis number 57787, seen here at Oulton Park in the car park at the VSCC Race meeting in the mid-1960s, but it was almost 10 years earlier than this when I, as a schoolboy, saw it in daily use, parked in the street. (John Warburton's collection.)
Bugatti Memories and Musings
I cannot remember a time in my childhood when I wasn't passionately interested in older cars, sports cars – and, most of all, older sports cars! Family transport in the post war years of austerity, the 1940s and early 1950s, was never anything other than mass-produced saloons from Austin or Vauxhall. My father did have a little interest in cars and motoring history. He took a weekly motoring magazine and carried out his own servicing and minor repairs. Meanwhile, I read everything that our local library could offer on motoring history – which wasn't much. I started a scrapbook in an old school exercise book and glued in anything at all that I found in newspapers and magazines that related to veteran and vintage cars or motorcycles. Although my father began his motoring with a second-hand Alvis 12/50 in 1932, which he had rated very highly, his interest always was focused on the coming season's model of his current car.
Occasionally, my father would humour me by telling me about exciting cars of bygone years, and the name, 'Bugatti' was spoken in hushed and reverent tones. I registered that the Bugatti was something special among sports and racing cars. My father had been a fellow-student at university with Charles Moore, a dental surgeon of Rochdale, who was a keen Bugatti enthusiast in his day, but they had lost touch.
One story that my father told was that when he was at university, another student promoted a raffle, for which the prize was a Bugatti. The raffle tickets were affordable, and sold rapidly to keen student enthusiasts. The day came when the winner was to be announced, and on being asked for the result, the young man who had organised the raffle said, "Well, I myself am the winner." Nothing could be done, the raffle was unofficial and all the people who bought tickets were left sadder but wiser. The youthful entrepreneur had his Bugatti – but no friends!
Living in a manufacturing town in Lancashire, northwest England, where the grime of industry lay everywhere and textiles and coal mining were the main activities, my sightings of the more exotic or specialised cars were rare indeed. For many years, even my first sight of any Bugatti remained a dream. Of course I knew quite a bit about Bugattis from my reading. Seeing The Bugatti Book by Eaglesfield and Hampton reviewed in The Autocar in 1954, I knew I had to have this book, and saved many weeks' pocket money in order to purchase my copy. I still have it. The thought never occurred to me to attempt to persuade my parents to take me to Prescott or to Silverstone race track where I knew that Bugattis were to be seen. It would have been completely unrealistic.
My parents and many of their friends were keen fell-walkers, and so family holidays almost always were taken in the hills. I enjoyed the walking and scenery, but for a long-forgotten reason, one day I did not accompany my father on that day's outing on the Lake District fells. Imagine my chagrin when on his return he told me that he had seen a Bugatti parked near the top of one of the passes, its crew doubtless doing some mountaineering. I was mortified! Eventually, I did see my first Bugatti, parked in Bolton's Town Hall Square, this when I was on my way home from school. I confess that I was a little disappointed. It was a Type 57C, the James Young fixed head coupe FXC66, the car once owned by Dorothy Paget, Colonel Giles and other well-known Bugatti enthusiasts. It was very smart, but at that time less than twenty years old. I was disappointed as there were no louvres and bonnet straps, aero screens or outside brake and gear levers, and so it did not conform to my mental picture of a proper Bugatti at all. Visually, this 57C was not unlike the larger MG and SS Jaguar drop head coupés which were to be seen quite commonly in the 1950s. I think that at the time the owner would have been another famous Bugatti connoisseur, Alan Howarth of Rochdale, a town only a dozen miles or so from Bolton.
One Saturday morning, we had a phone call at home. It was from my sister, who had gone to a Girl Guide meeting a few miles away. She was well aware of my interest in the magical word Bugatti, and her message was that there was a Bugatti by the side of a house close to where her meeting had been held, and sensibly she relied on me pressurising my mother to take me there, so that I could see this car and more importantly that she could get a lift back home! Her reasoning was sound, and shortly I was looking at the pointed tail of an old sports or racing car, very much down on its luck, alongside a suburban home with a very untidy garden. A blue plastic cover hung over the front of the car, and the rear number plate read FN5615. Aged I suppose either 15 or 16 at this time, I was diffident about doing anything more than peering at the car from the gate, but my mother never was one to hold back and she marched up the path, knocked on the side door of the house, and explained my interest to the lady who came to answer. We were told that the car had broken down with engine trouble of some kind on a trip to Prescott a few months previously, and her husband had yet to make a start on sorting out the necessary repairs, and I was welcome to have a look, and so I did. It looked to me like a type 35, an 8-cylinder definitely, but in much modified and neglected condition. Little of the bodywork appeared to be original, the tail having been crudely fabricated from strips of aluminium rivetted together. It was very dirty and presented a sad sight, and, once home again I wasted no time in searching for more details about this car in The Bugatti Book. It is listed there in the type 35 section, but the lengthy history given states that it was one of the five cars built for the 1923 Indiana-polis 500 mile race, where it was driven by Count Louis Zborowski. In later years, it was realised that the modifications largely disguised what basically was a type 30 chassis. The engine fitted at that time was from a type 38.
I was to meet this car again a few years later.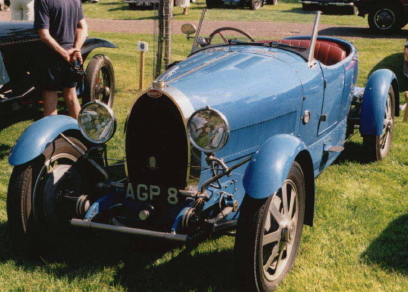 Not very long after this episode, we had a family holiday, touring in Scotland. We halted briefly at Kilcreggan, a small village on the River Clyde, by the harbour. I spotted an old sports car up the side of a nearby house, under an archway, and ran to have a closer look. At once I realised that it was a type 43; a little bit weary but otherwise seemingly in sound and original condition. The windscreen was not fitted, and the car painted a dull mid-green. There was time to have a close look, and I noted the registration number – AGP8. Back home my identification was confirmed and the car was believed to be chassis number 43179. Many years later, I was to see it again, when it emerged from a complete and thorough rebuild to become one of the best examples of this model. On the right, 43179 as it is now
I purchased other books on Bugattis, and my general motoring library grew. It was accepted wisdom in those days that the Bugatti was technically demanding and unreliable unless devotedly maintained by a highly competent engineer. I was all too aware of my limitations as far as skill and finances were concerned ever to contemplate ownership of any project that carried the magical name 'Bugatti', never mind a complete example.
Now a sixth-former at school, important exams loomed. My parents were very conscious of the distractions caused by my vintage car interest and associated activities, and the 1921 Douglas motorcycle that I had just succeeded in getting to run, had to go. But I failed my exams regardless. So I left school and signed up on a course to retake these same exams at a technical college – they were essential for university entrance. My father promised me a car if I passed, maybe feeling that his generosity was unlikely to be called upon. I did pass, and my first car was a 1953 Alvis TA21 drop head coupé that was well past its prime, and had an embarrassingly leaky hood. I enrolled at Manchester University's School of Dentistry, where my Alvis was fairly impressive student transport, and I was able to continue to live at home and travel daily the few miles into the city centre.
Living at home offered advantages that allowed me to pursue my hobby – and I kept passing the regular examinations. I now wrote reasonably frequently about early cars for a local daily newspaper, and occasionally for magazines, and so could look for a vintage car of my own as this activity paid surprisingly well. I was fortunate with my choice – very much a touring car, it was a side-valve 15.9hp 3-litre Star of 1920 – in character it was purely an Edwardian design that happened to have been made after the Great War. The Star was about as different from a Bugatti of the 1920s as was it possible to be. After standing for over 30 years, dry-stored, it was filthy and rusty, but complete. New tyres, attention to the wiring and paintwork and a new hood and I was on the road in my own vintage car whilst still a university student. I drove it for long distances and was lucky indeed to have a minimum of mechanical bothers. I went in it to spectate at vintage car race meetings and speed hill-climbs and competed in VSCC and other rallies. Now I saw Bugattis on a regular basis and in this manner the mystique and novelty of these still much-admired cars faded.
With the girl friend of the time, in 1962 I took the Star for a week's touring holiday in Wales and the English Midlands. Up near Ffestiniog in Snowdonia one evening during this trip, black clouds heralded a rainstorm, so we stopped at the roadside to erect the hood. Almost at once a car screeched to a halt on the other side of the road and the driver ran across to us. It was Hamish Moffatt, whom I knew of by sight and repute as the keenest of Bugatti enthusiasts, delighted to see a vintage car in use for pleasure motoring. He issued a pressing invitation for us to visit his farm, which was not too far away, and stay with him. Our hotel accommodation that night was booked, but the next morning I rang Hamish to take up his offer. The Moffatt farm was high up on the mountainside, reached by a seeming everlasting track, and when the buildings came into sight, one half of the roof clearly had been re-slated whilst the other half was in a bad state. Assuming that the domestic side was under the good roof, we went to that end, to find that the doorway opened into his garage containing three Bugattis. Arriving late in the morning, it was immediately very apparent either that his then-wife had not been consulted or informed about her visitors, as the welcome she offered was far from warm.
Hamish meanwhile busied himself on the phone, ringing numerous people whom he thought might have Bugatti spares for sale. Gradually, the icy atmosphere thawed, and with hindsight, I was socially naïve and ought to have realised that the invitation had not been intended to be taken seriously.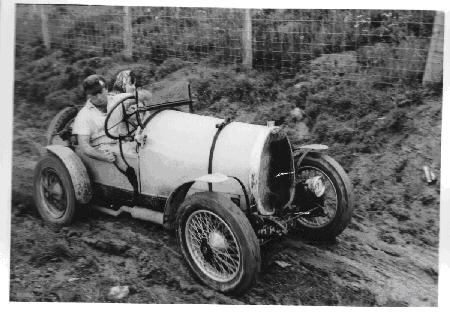 On the right:
A sight so familiar at VSCC Trials for 30 years – Hamish Moffatt in his copper-mudguarded type 13 was always a spectacular performer. This was the VSCC Welsh Trial of October 1968. He was a hard, hard man, and he struggled to find 'bouncers' of matching physical qualities.
Rare was it that anyone ever went twice as passenger! (John Warburton's collection.)
We did stay the rest of the day and night, and so I was able to have a close look at the Bugattis. These were the type 13 YP8506, chassis No. 2533 – the copper-mudguarded example that always will be associated with him, and the Crossley-built type 23 PD8180, chassis No. CM1614. I have always felt that the body that he built for this car could have been more successful had he not made the scuttle top of wood, but the mudguards were very successful. Below CM1614 as it is now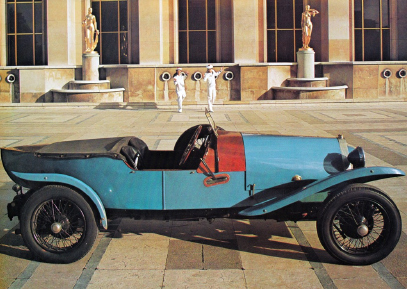 The third car was an old acquaintance – the ex-Zborowski Indianapolis type 30. Hamish had only recently bought his car, and had disposed of the horrible bodywork and was about to tackle a mechanical rebuild. In the fullness of time, it was to reappear with an accurate copy of its original racing body and cowled radiator, in the hands of Uwe Hucke. Hamish ran an OM tourer as his everyday car, and he sought my help with holding some of his sheep whilst he tied their feet together, the sheep then being driven to another farm locally in the back seat of the OM! Having had no experience whatso-ever with animals or farming, I found this task more than a little daunting.
On qualifying, I looked for a job, and, by chance, one dentist advertising for a young colleague to join his practice was – Charles Moore. My interview ended in his garage: there were two type 35s, chassis Nos. 4809 and 4610, neither of which had run for a long time, plus a fine Riley Sprite, a runner, and other Bugatti parts lay around, including some type 37 bits. Despite these great temptations, I did not take this job!
Apart from admiring Bugattis at VSCC and other events, I had no other involvement until a friend who I had introduced to vintage cars replaced his first purchase, a 'Bullnose' Morris Cowley tourer with a type 44, the car which had been fitted by Guy Huet with the Corsica sports tourer body built in the 1930s for A W F Smith's 1914 9.5-litre 37/90hp Mercedes. I did some navigating for my friend in this car, the most notable rally being the Irish Veteran & Vintage Car Club's Gordon Bennett Rally. I never did drive it, but remember being impressed with the turbine-like power delivery of the engine when acceleration came just like increasingly turning a tap. I doubt if I could have happily lived with the severe engine vibration period, which was exactly in the rev range most commonly used in main road motoring and the only cure seemed to be to drive above or below that engine speed.
The first of the only two Bugattis that I have ever driven was the late Barry Parkinson's type 40 Grand Sport. This was a beautifully restored car, as Barry was the ultimate perfectionist and a marvellous mechanic. I was later to benefit from his rebuild of the engine of one of my cars, a 1927 Gwynne, which previously had given endless major trouble. The type 40 I drove for a few miles only and the main things that I re-member were the precise feel of this well-assembled car and its very squeaky brakes! <
Some years later, I drove a type 23 up Prescott twice and wasn't comfortable in this example which, although it looked very beautiful with a good copy of a Letourneur et Marchand sports four-seater body, also seemed very noisy mechanically.
The changed circumstances of the vintage car scene in 2013 mean that I'll never own any Bugatti. I remain daunted by the special demands that come with Bugatti ownership, and I am happy enough with the three cars of the 1920s that await my pleasure in the garage. I'm always thrilled to see any Bugatti, and regularly take the many books I have on the make down from their library shelf. Musing further, I am unsure that there is any Bugatti model that would deliver all my ideal requirements. Roller bearing crankshafts are out due to cost and bother, I would prefer a right hand gate change to the centre change gearbox, and a 4-cylinder car to an 'eight'. In effect, that leaves the 16-valve 'Brescias' - and any of those I fear would hardly make a relaxed, unfussy and well-mannered touring car. Admiring from afar suits me very well!
John Warburton
---
Back to the Bugatti revue
---
Vive La Marque !!