A virtual magazine for a true passion!

Editor: Jaap Horst
---
Volume 18, Issue 1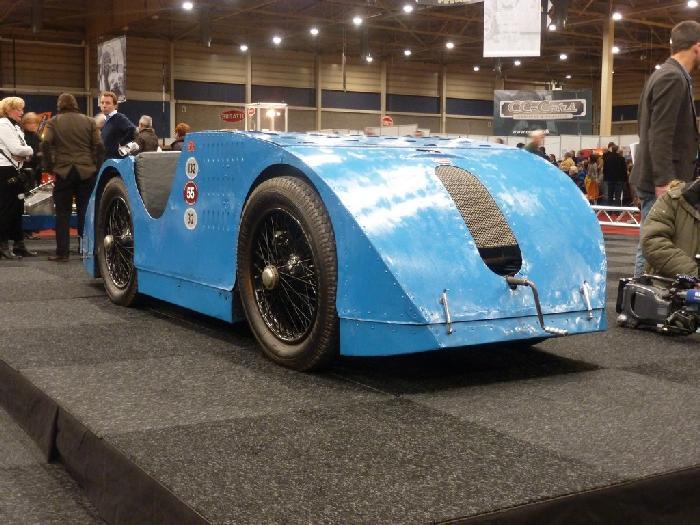 Bugattis at MECC 2013
Jaap Horst
Click on a picture for an enlargement. Big pictures open in a separate window.
Officially known as Interclassic & Topmobiel, this first classis car show of each year, is much better known as the MECC, after the convention centre in Maastricht were it is held. In fact, this is the best, and most prestigious car show in the Netherlands (getting better each year), where you will be able to find a wide array of classics, from the more down to earth affordable ones (usually in the Interclassics part), to the prestigous marques (in the Topmobiel part). This year the special theme was Aston Martin, for pictures of those, you will have to look somewhere else though!
In the Interclassics part, there was not just as usual Jean Prick, famous son of even more famous Guillaume Prick, who organises a Bugatti stand, but most impressive a Racing Bugattis display with one of the rare Type 32 Tank's (the only original one in existance, on loan from the Schlumpf museum in Mulhouse). The display was organised by Ton Stoffelen en Luc Slijpen, the dislay containing only original racing Bugattis, with only a few (Type 59 for example) missing in the display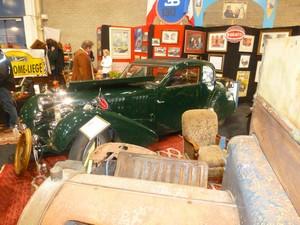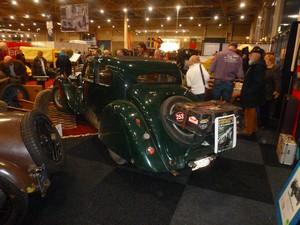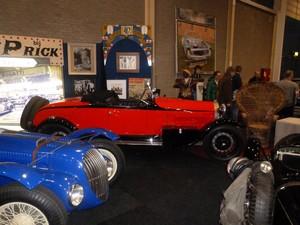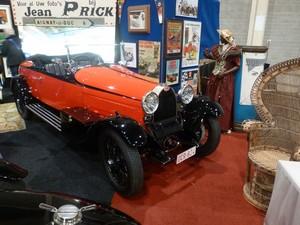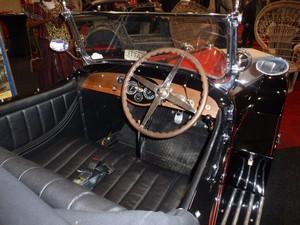 At Jean Prick's stand, as usual full of a load of photographs, Bugattiana, parts etc., many of which is for sale, his own T57 Ventoux, and a Type 44 Roadster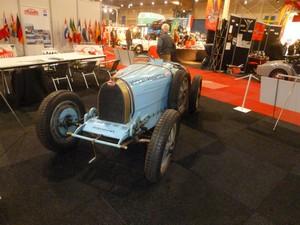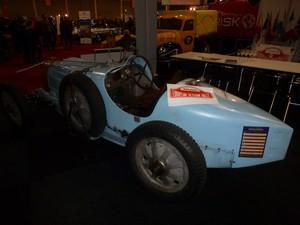 A type 35B, on offer by Retrolegend's Henny Kennis. Unknown how original this car is.
The huge racing Bugatti display including type 13 Brescia, T32, T35, T43, T51 and T54, starting with a few overview photo's.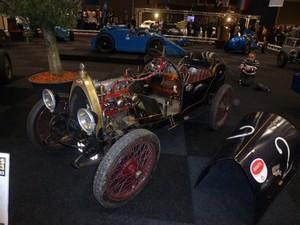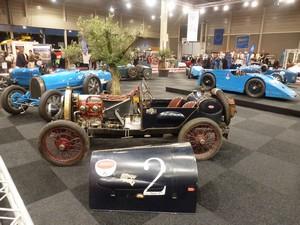 Kjeld Jessen's type 13 Brescia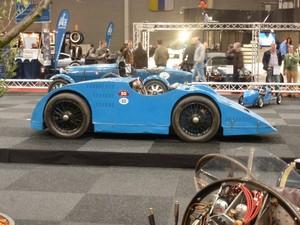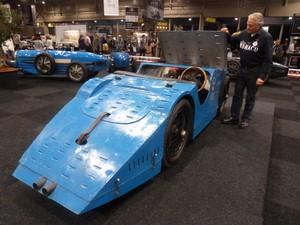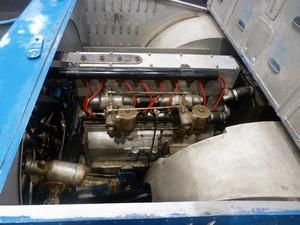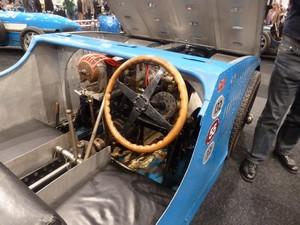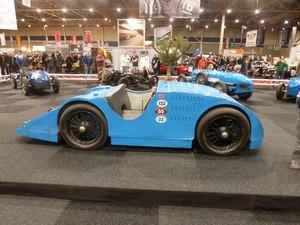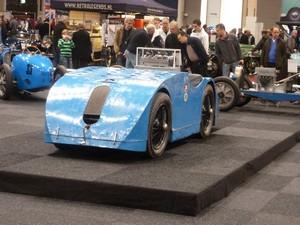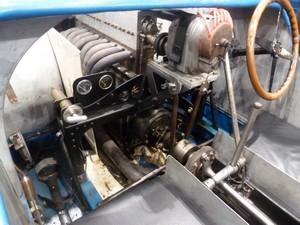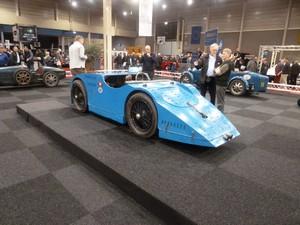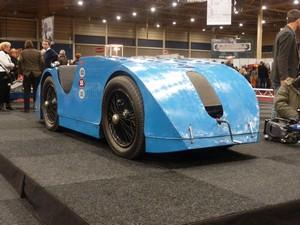 The Tank, incredibly small car, with the driver sitting alongside the engine, with no firewall! Still special from every angle, but beautiful?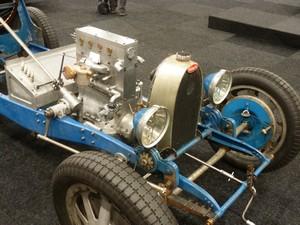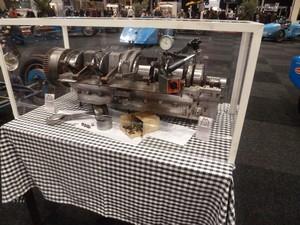 The Ex-Prick Type 37, being restored at the moment. Several parts being shown separately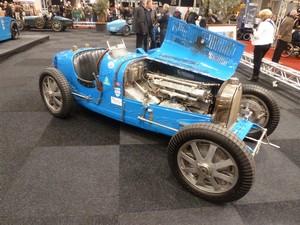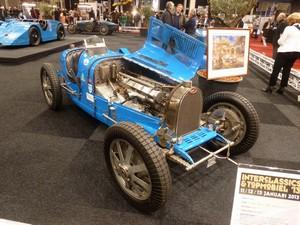 Michel Oprey's Type 51, recently restored. Just the painted inside of the hood is not correct.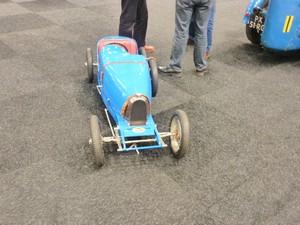 Bugatti Baby, probably the only one in the display which is not original, not particularly racing either (though races with Bugatti Baby's were organised)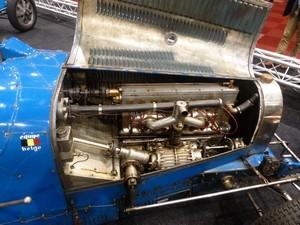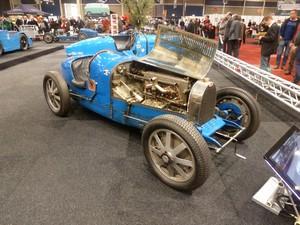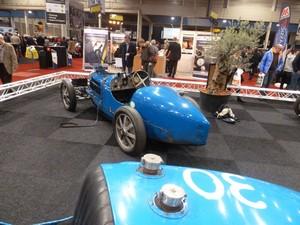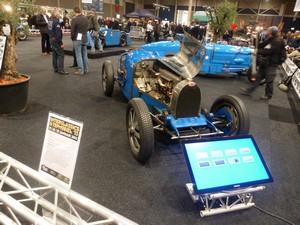 Another Type 35B, this one from a Belgian count, who has it displayed inside the hall of his castle. A Bugatti which does not come out in the open often, and therefore very original.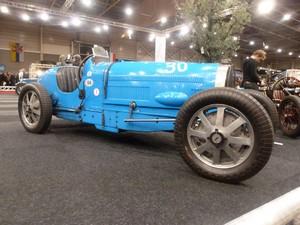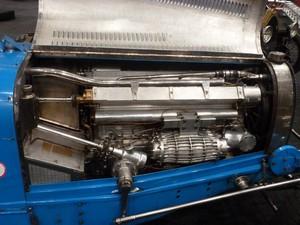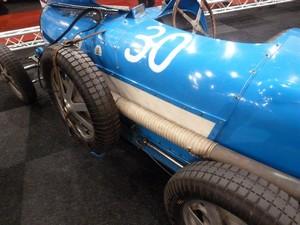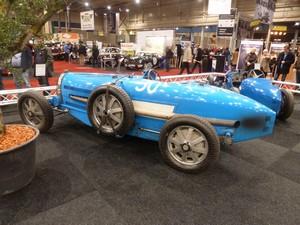 Olav Glasius's monstruous Type 54, which failed to sell at auction a few weeks later. Compared with the T51, the engine is very big, and so is the car, in fact.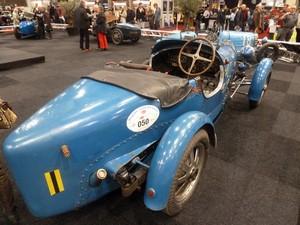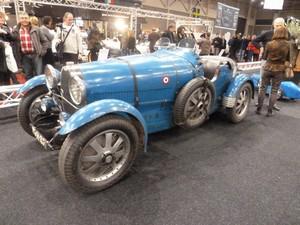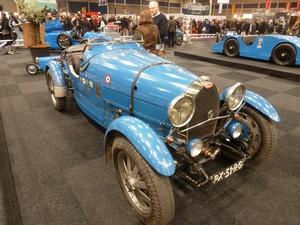 Bart Rosman's Ex-Prick type 43. Bart and Tubien stand alongside the car.
At the TopMobiel part of the exhibition, there were two of Jaap Braam Ruben's cars, a T55 Roadster and a T44 Double Phaeton. The T55 is accompanied by a more modern VW-Bugatti in matching colours, I believe it is one of the 1200HP versions of the Veyron, see below.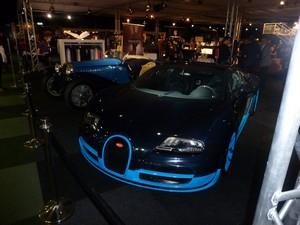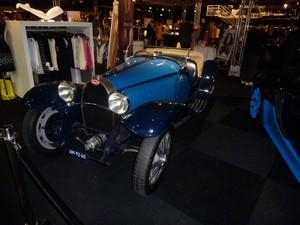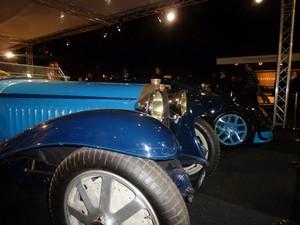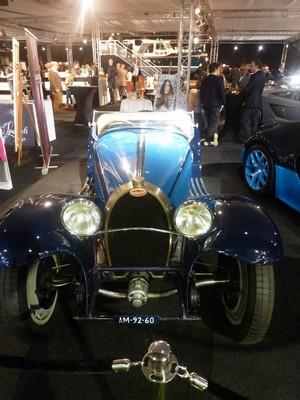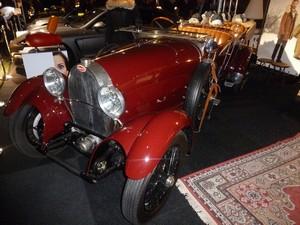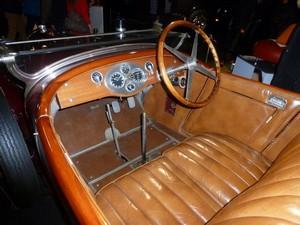 One of the most special cars in the exhibition, a barnfind recently taken from French Guyana; a Spyker. When you think Bugattis are scarce, of the Spykers there are only about 20 worldwide; the majority of which is in the Louwman museum in the Hague. This one needs some restoring though (or are the see-through mudguards a safety feature?), the owner however did not decide yet if he will leave it as it is now, maybe with only a mechanical restoration.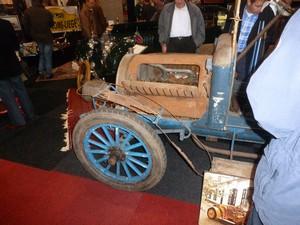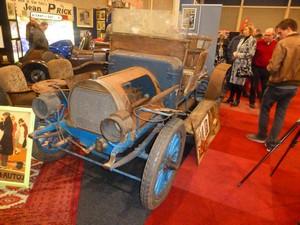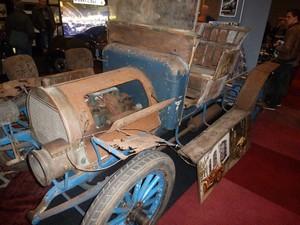 Above, some of the other cars and personal favourites: The Aston Martin Lagonda, Daimler Conquest Roadster and Amstrong Siddeley Star Sapphire.
For those who are always into chassis numbers, these were put together by Christian Anicet:
T13 Brescia sport 1925 (2442) TYP-013 (B),
T32 Tank 1923 (4061)
T35 Grand Prix 1925 (4449) 35 AAA 59 (F),
T35C Grand Prix 1929 (4920) 6397 AM 69 (F),
T37 Sport 1926 (37223) 71.V.25 (B)
T37A Sport 1927 (37286b) OAS 662 (B)
T43 Grand Sport 1929 (43303) PX-51-RG (NL),
T44 Torpedo 1928 (44311)
T44 Roadster (44333) OCR-824 (B),
T51 Grand Prix 1933 (51145)
T54 Grand Prix 1932 (54201) 4311-NV1 (F)
T55 SS 1932 (55208) AM-92-60 (NL)
Bugatti Baby (replica?)
---
Back to the Bugatti revue
---
Vive La Marque !!