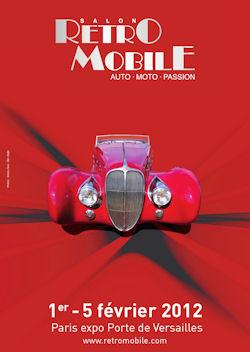 A virtual magazine for a true passion!

Editor: Jaap Horst
---
Volume 17, Issue 2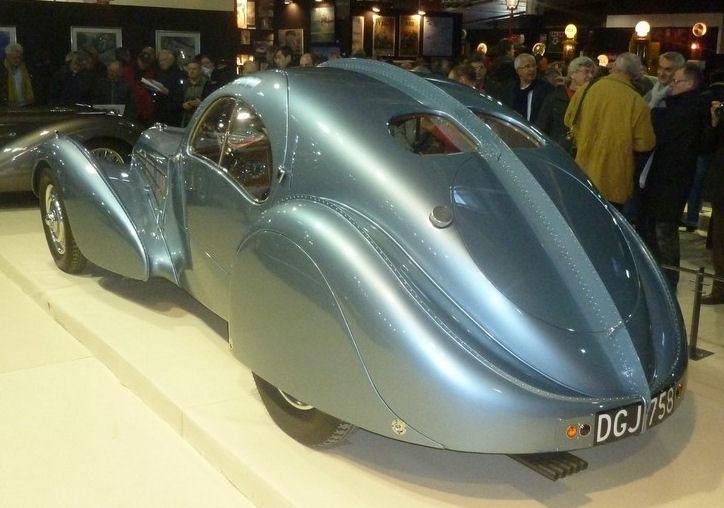 Retromobile 2012
Jaap Horst
Click on a picture for an enlargement. Big pictures open in a separate window.
As California is a bit far away, I did take the oportunity to see a selection of the cars From the Mullin museum at Retromobile in February. I may say that they were one of the main reasons to go to the Retromobile, as very bad weather was forcast, and 2 of my friends, who would ride with me, passed at the last minute. The last 3 hours back home went through snow, traffic jams near Lille at 23.00, past skidded and crashed cars, through fog with 20 m visibility and temperatures dropping, in the fog, to -20 (Celsius that is). Where I can usually average over 120kmh on such a trip, it now dropped to an average of 80.... And still it all was worthwhile!
Instead of just photographing the cars (which I did also), I spent quite some time admiring, especially the Atlantic. Surprising how perfect and beautiful that design is, from every angle you look at it (see above, the 3/4 rear view is one of my favourites)! A quality which it shares with the Bugatti 100P airplane, as well as with maybe a handful of other automobiles...
As usual, this is a mainly pictorial report (yes, I know, a little late, the next Retromobile is soon!) of the Retromobile show, focussing on all Bugattis and one other Molsheim product, as well as one or two other cars
I'll start with the Peter Mullin cars, as they were the most impressive lot there.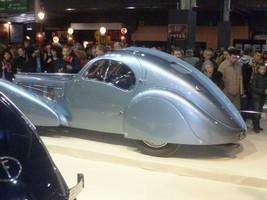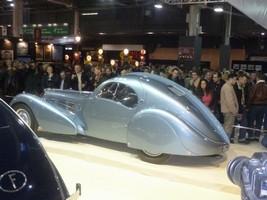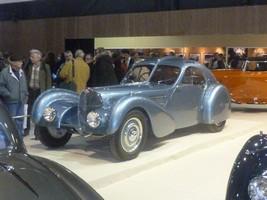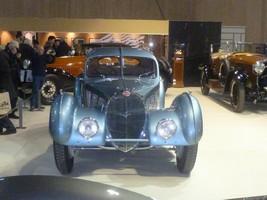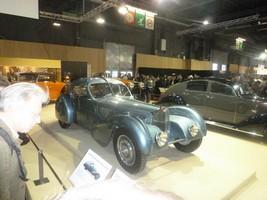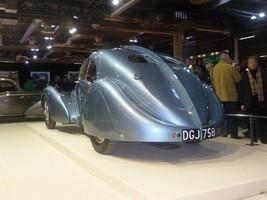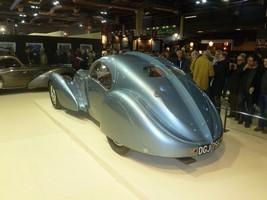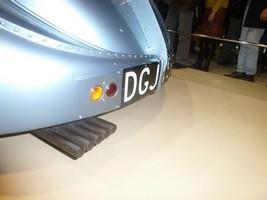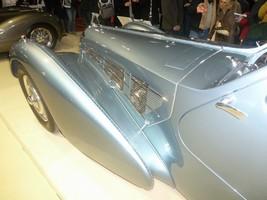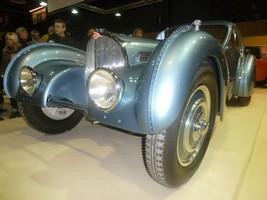 Many views of the ex Williamson Atlantic, did you ever see the Atlantic from any single side where it was not perfect?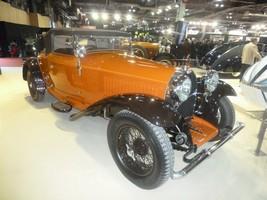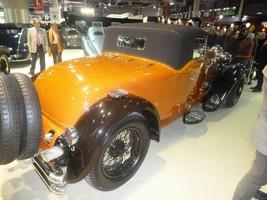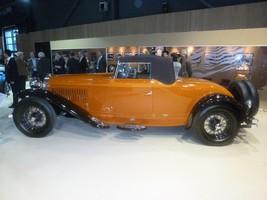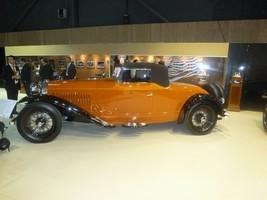 The other Bugatti which Mullin took to Paris is his famous Type 46 Cabriolet by de Villars. Compared with the Atlantic almost a mundane Bugatti!
Below: A selection of the other glorious cars from the Mullin collection:
1922 Hispano-Suiza H6B Skiff-Torpedo, 1935 Voisin C25 Aerodyne, 1937 Delahaye Type 145 V-12 Grand Prix, 1938 Dubonnet Hispano-Suiza H6C "Xenia", 1939 Delahaye Type 165 Cabriolet, 1948 Talbot-Lago T26 Grand Sport Coupe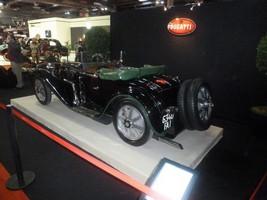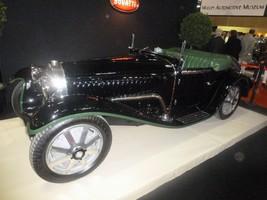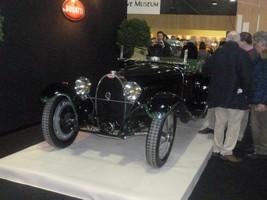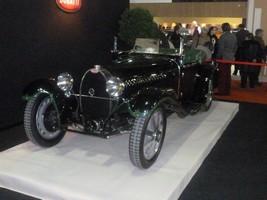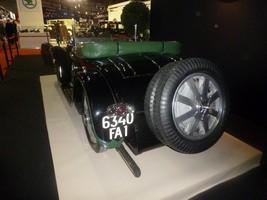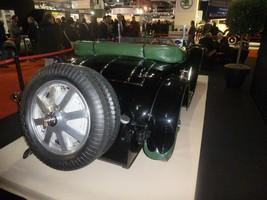 At the combined Bugatti SAS / Bentley stand (facing the Mullin collection) this impressive Billeter & Cartier Type 55.
This corner of Retromobile was packed with the finest Bugattis, as facing the Mullin collection from the other side (and logical, as they brought quite a few Bugattis to the Mullin museum in California) was the combined stand of Jaap Braam Ruben and Bruno Vendiesse, showing 3 Bugattis plus an original Baby Bugatti. The collection changed a bit from one day to another, shown here are, logically, only the cars that were there on the Friday that I visited.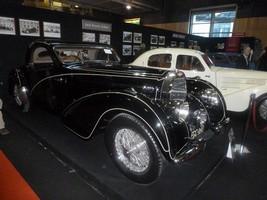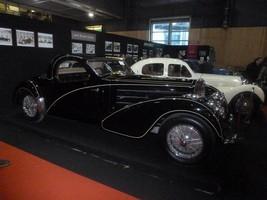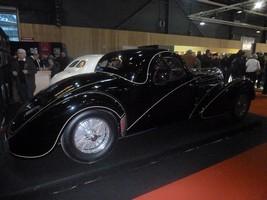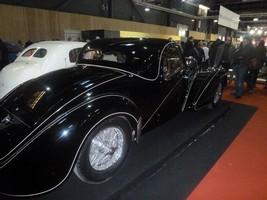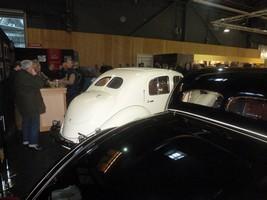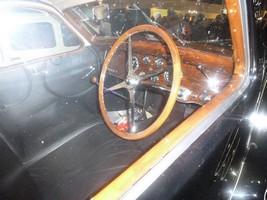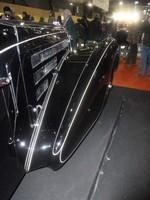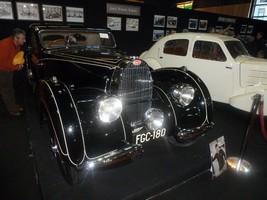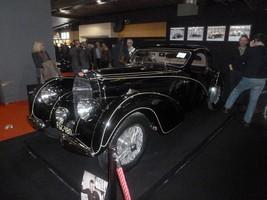 One of the nicest cars: this wonderful Atalante! I really was in Bugatti heaven that day!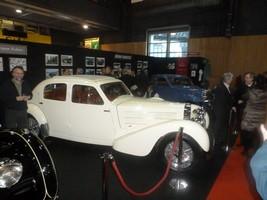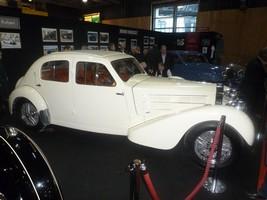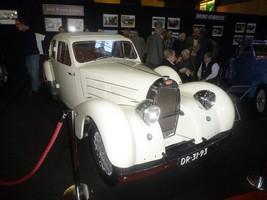 Another nice one, this white T57 Galibier.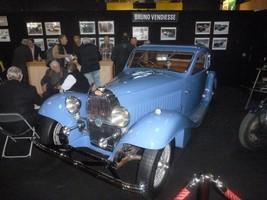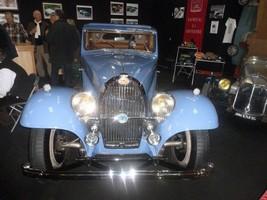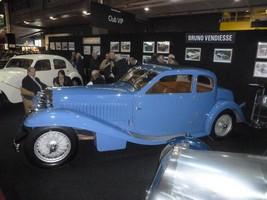 Another classic, this blue Ventoux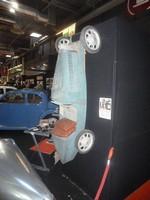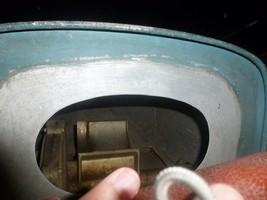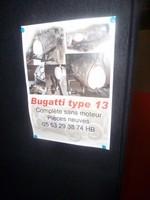 The Baby Bugatti, it's chassis number (391A), and another car on offer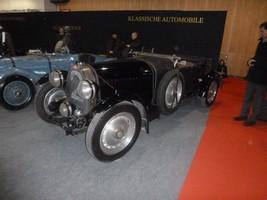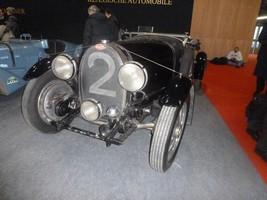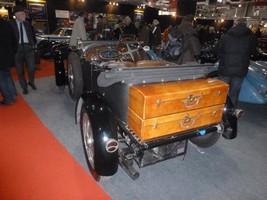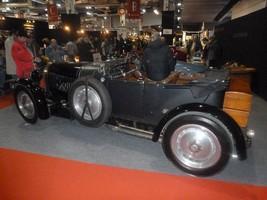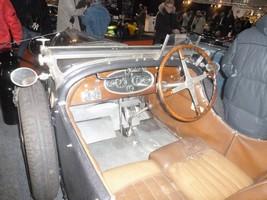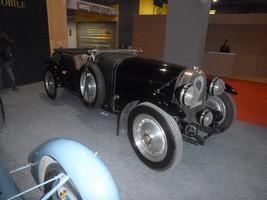 Just around the corner: a very original sight: This Type 50, in a body similar to what it must have been wearing at Le Mans!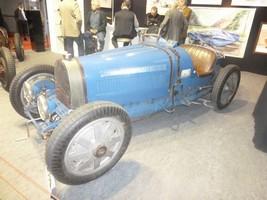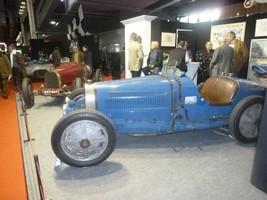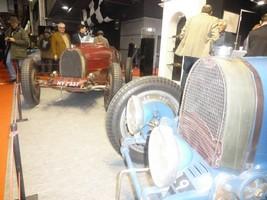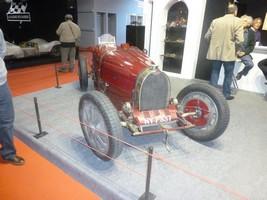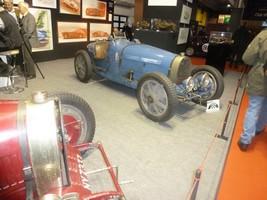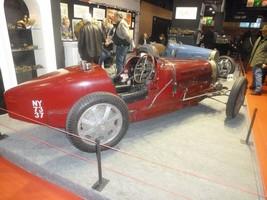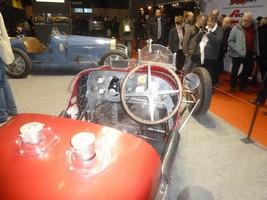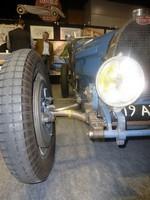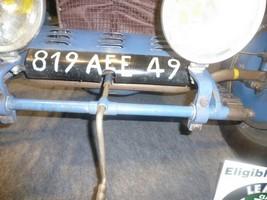 A pair of T51's! The purists will quarrel over their degree of originality, but always a beautiful sight!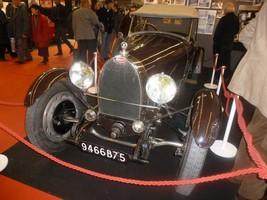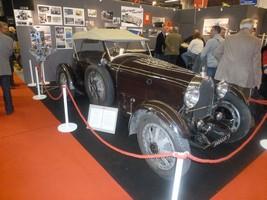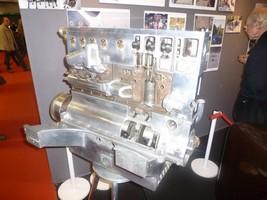 At the French Bugatti Club stand: A nice type 43, and a T35B engine. The club stand is always a gathering of international Bugatti people!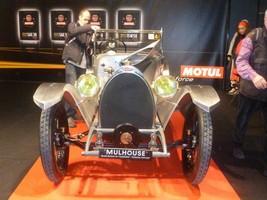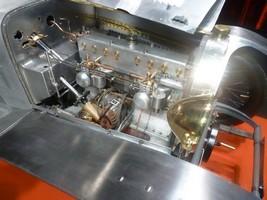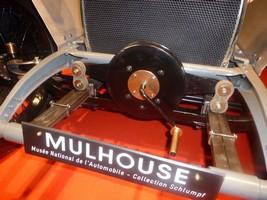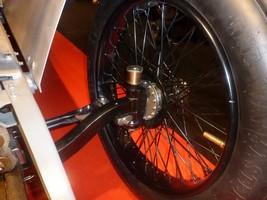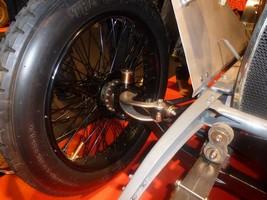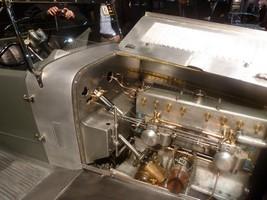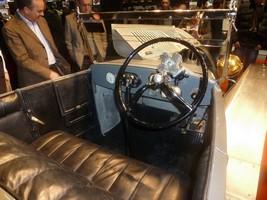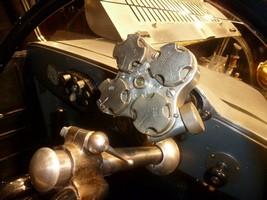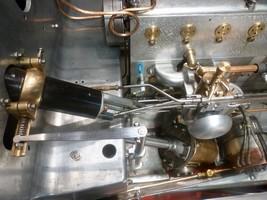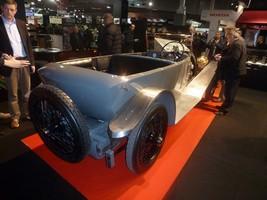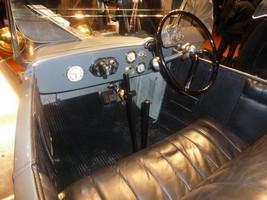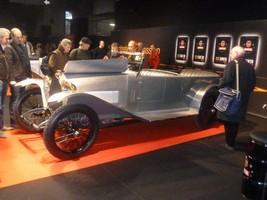 A very interesting sight presented by the musée National de l'Automobile, Collection Schlumpf, and the first time one could actually see the T28 from upclose!
Interesting, and not repeated after on an other Bugatti, is the quadrant with 4 knobs, to be reached through the steering wheel. These read "Essence, Avance, Air and Gaz", controlling carburettor and ignition settings. I tried them, and they work.
Other interesting (and patented) system is the friction shock absorber just below the radiator, with the starter handle running through it. All in all a very special Bugatti, very good to see it restored this way!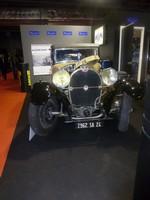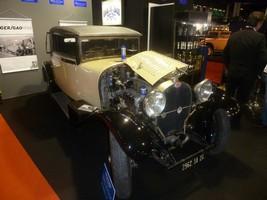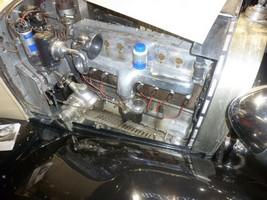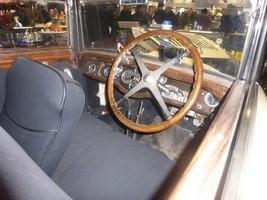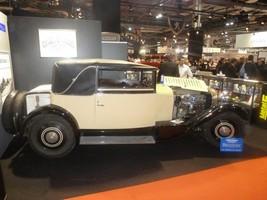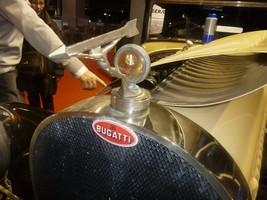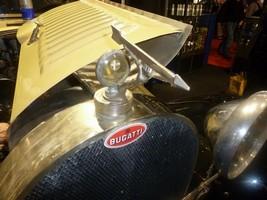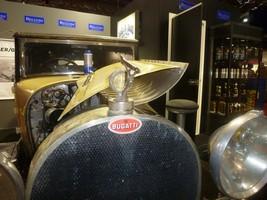 This type 44 with it's cabriolet Lavocat & Marsaud body, seems very normal from the side, but has the strangest radiator, ugly even. The car was ordered with this special radiator because the owner would use it in North-Africa, and thought he would be needing the extra cooling capacity. The car was never sold, thus remained in the same family from new!
I wonder if the radiator mascot complies to the modern pedestrian safety regulations.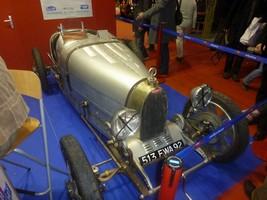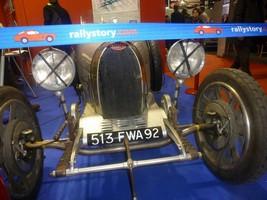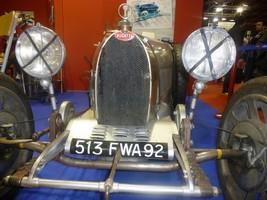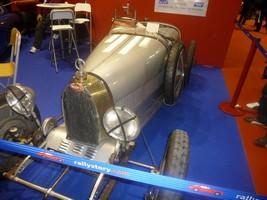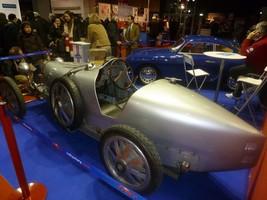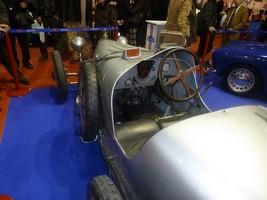 And then, almost hidden in a corner, a "regular" type 35! Amongst all the special Bugattis one would almost consider it "normal", though of course it isn't!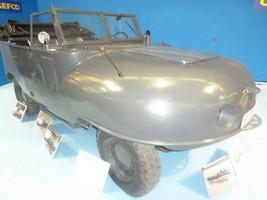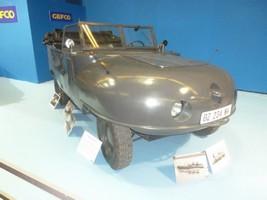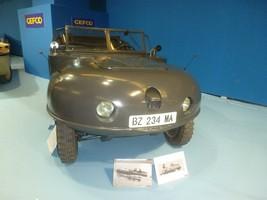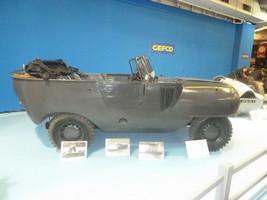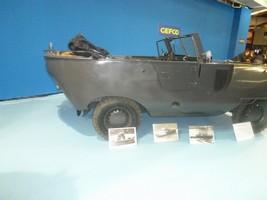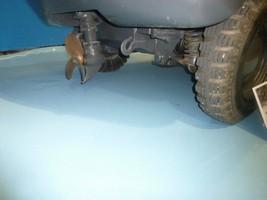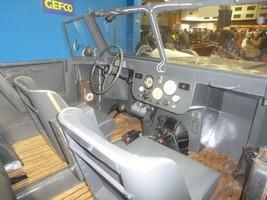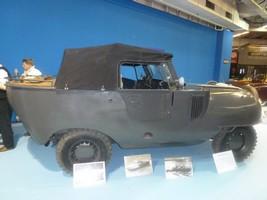 The first time that I actually saw one of the war-time products from Molsheim, a Trippel Type SG6/38 amphibic car! Some of the nuts on the gearbox were of the typical Bugatti type, with integral washer.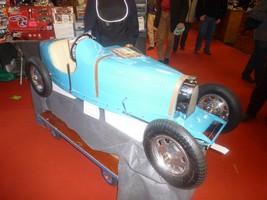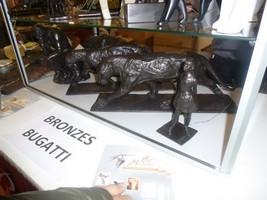 Two Bugatti side-shows: a Baby Bugatti (probably a replica) and a stand with Rembrandt Bugatti sculptures, certainly replica's!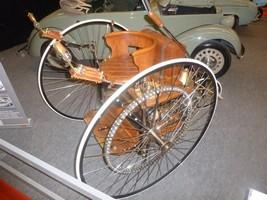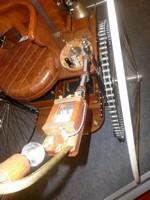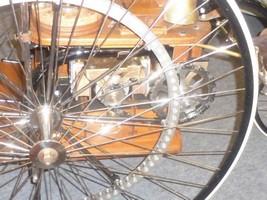 Electric cars are receiving more and more attention, to prove that electric cars are nothing new, a replica of a 1881 electric "automobile" (in fact an electrified tricycle) was shown. The original was designed and built by WE Ayrlon and J Perry. It was also fitted with the, at the time recently invented, electric lightbulb.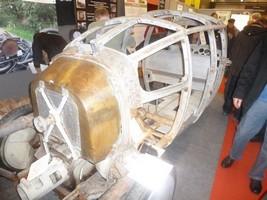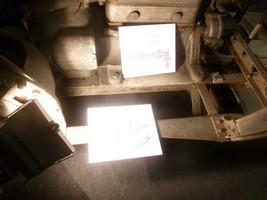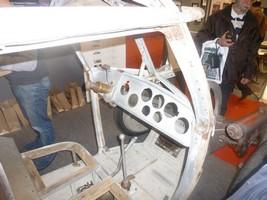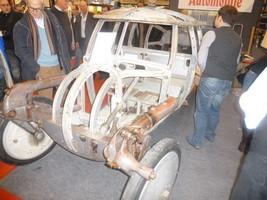 Another, and probably the strangest, automobile at Retro was this 1923 Gérin Aerodyne. The rearengined creature with its alloy spaceframe was a very early forerunner of the avantgarde that came up more than 10 years later. The car was considered lost for many decades untill it was found back in Ireland last year.
The aluminium structure is derived from aerospace, the car being packed with many other novelty systems. Gérin drove it around for quite some time to various automobile manufacturers, trying to sell licenses to these systems. He did not succeed...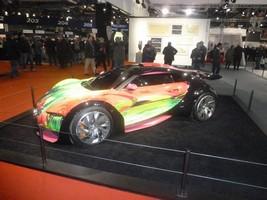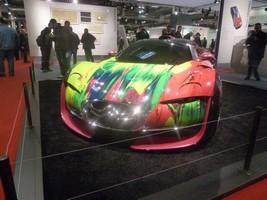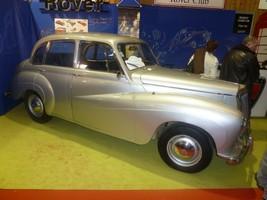 The most modern of the non-Bugattis, probably the most modern at Retromobile. The 2010 Electric Citroën Survolt, impressing probably more by it's color than shape! Alongside it, a car similar to my first car; a Daimler Conquest. Mine was black, though.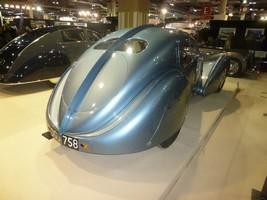 Sorry, just before leaving I had to take a last look!!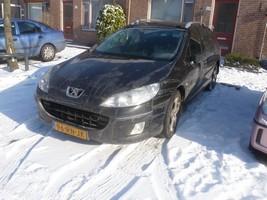 My faithful horse the day after the voyage, some traces of the "salty conditions" visible.
Not a scratch though, of course!

For those of you who want to know the chassis numbers:

Bugatti type 13 blue, chassis 2600
Bugatti type 28 Torpedo Prototype 1921 (5001)
Bugatti type 35A Course Imitation "Tecla" 1926 (4840) 513 FWA 92 (F) ce n'est pas le 4332
Bugatti type 43 chassis 43305
Bugatti type 44 cabriolet Lavocat & Marsaud 1928, chassis441261
Bugatti type 46 chassis 46360
Bugatti type 50 chassis 50138 black Le Mans
Bugatti type 51 red chassis 51153
Bugatti type 51 blue chassis 51137
Bugatti type 55 chassis 55206 carrosserie Billeter & Cartier
Bugatti type 57 Ventoux blue chassis 57119
Bugatti type 57SC Atlantic chassis 57374
Bugatti type 57 Atalante black chassis 57698
Bugatti type 57C Galibier white chassis 57806
Bugatti type Baby chassis 391

Trippel Amphibic Type SG6/38 , 1941, Chassis 1132

---
Back to the Bugatti revue
---
Vive La Marque !!