A virtual magazine for a true passion!

Editor: Jaap Horst
---
Volume 17, Issue 2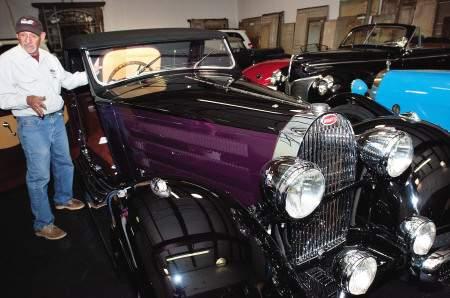 Donald Koleman
Elizabeth Dinan
A lawyer and auto enthusiast, Donald Koleman was regularly racing a 1927 Bugatti Grand Prix during his off-hours when he decided in 1984 to quit practicing law and work full time restoring vintage cars.
Twenty-eight years later, Koleman is owner of Competition Motors in Portsmouth — a 26,000-square-foot warehouse filled with automotive eye candy that's restored, stored and adored. While he's come to specialize in Bugattis, Koleman's collection includes head-turners from luxury car makers including Rolls Royce, Maserati, Bentley, Aston Martin, Jaguar and Ferrari.
Some of them belong to customers with the kind of wealth that buys dual addresses. Like the customer from Palm Beach and Philadelphia who keeps a 1948 Bentley at Competition Motors. Koleman described the mint-condition customer's car as "fast and heavy" and said it only "goes out once a year" to an annual Bentley rally.
For another customer, a Massachusetts physician, Koleman is working on a 1972 Maserati that the customer bought from a Swiss physician. While it shined on a lift in Koleman's warehouse, he said the car will go 165 mph and would sell for $125,000 to $140,000.
Koleman is also restoring a 1927 Bugatti, one of few delivered new to America and once owned by the 1930's-era singer "Ukulele Ike."
"It was known around the LA area for many years," Koleman said. "It got turned over once, it got in a crash. It comes and goes."
Featuring spun aluminum discs over wire wheels, that car and a second of Koleman's Bugattis were driven to Crane Castle in Ipswich, Mass., last spring and used as backdrops for a Ralph Lauren fall fashion shoot.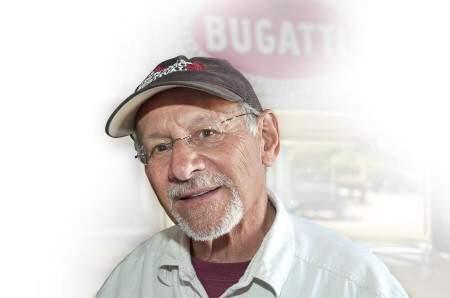 Koleman recently sold a 1924 Type 23 Bugatti once owned by the president of the Bugatti owner's club and features a wood-frame boat tail and an engine Koleman rebuilt himself a decade ago.
For a Swiss customer, he just completed restoration of a 1938 Bugatti type 57C, originally custom made for Prince Louis Napoleon, grandnephew of Napoleon Bonaparte. Koleman noted the "jewel-like finish" on the car that was recently reupholstered in ostrich and shown during a prestigious Pebble Beach, Calif., car show.
Under the hood, he said, is a twin-cam, straight-cylinder, 165-horsepower motor that pushes the car to speeds of 105 mph.
"This is a magnificent car," said Koleman, who has a photo of it parked in Prince Louis Napoleon's driveway. "But it's a little too nice for me."
One of Koleman's personal cars is a yellow 1929 Model A Ford Roadster with a pickup truck bed in back. He drove to Connecticut to first view it with his wife, Joanna Brode, asked if she liked it, and when she said yes, they loaded it on a trailer and brought it back to Portsmouth. "It's fabulous," Koleman said of the old Ford. "It's easy to drive and it goes with the traffic. It's an around-town car."
A customer saw it and told Koleman, "Get me one," so he did and restored that one, too.
With his nephew, Koleman is part owner of a 1914 Rolls Royce Silver Ghost Alpine Eagle, originally built as a staff car for the Duke of Westminster. The car measures 144 inches from the center of the rear wheels, to the center of the front wheels, and features a manual brass horn crafted in the likeness of a boa constrictor with opal eyes. A chrome spotlight is mounted on the massive left front fender of the car, which was once outfitted with armor and a machine gun, Koleman said. "I think this is the car that drove Lawrence of Arabia around the desert," he said. "I drive this all the time."
Many of the car's original service records remain in Koleman's possession, he said.
Other Rolls Royces in Koleman's warehouse include a 1928 Phantom I, a 1925 Pickadilly Roadster with a Lalique cat hood ornament and a 1924 Silver Ghost. He's also got a 1954 Jaguar SK 120S, a 1948 12-cylindar Lincoln Continental designed by Edsel Ford and a 1962 Triumph TR 3A with four speeds and overdrive for all of them.
Koleman started racing at age 19 and now owns a 1949 MG CT, identical to the car he first raced as a Wisconsin teenager. It has a supercharged 48-horsepower motor, a glossy red finish, right-hand steering and tops out at about 80 mph.
"It's not my favorite, but it's super nice," Koleman said.
As a young racer, he said, he "had a coterie of friends" who also raced Bugattis and admired the work he did on his own cars. "Everyone said your car goes well, will you do mine," Koleman recalled.
One restoration led to more, and when Koleman moved to Salem, Mass., where he had a general law practice, he worked on restoration projects in a carriage house behind his antique home. As the number of projects grew, he opened a commercial business in an old filling station up the street. Then, he said, "I made up my mind I was getting out of the law business and restoring vintage race cars full time."
Koleman said it took him three or four years to "clear the deck" and make the transition from barrister to car restorer. "I felt like I had died and gone to heaven," he said. "It was wonderful."
At his Longmeadow Road business, Koleman has employed 12 employees "at peak," but said he's now down to seven because "the economy has killed us." Employees include an upholsterer, mechanic, machinist for making parts and a body specialist.
There's also a woodworking shop for making car parts and wood molds used to form metal parts. "The body work takes as much time as the mechanicals," he said.
In his showroom, Koleman has vintage trade signs and racing trophies, mixed with antique furnishings and art. His conference room holds literature and photographs documenting the provenance of many of the rare cars.
Koleman's daily driver is a 1995 Mercedes wagon. His wife, he said, wants only "a car that goes."
Originally published on seacoastonline.com
---
Back to the Bugatti revue
---
Vive La Marque !!