A virtual magazine for a true passion!

Editor: Jaap Horst
---
Volume 17, Issue 2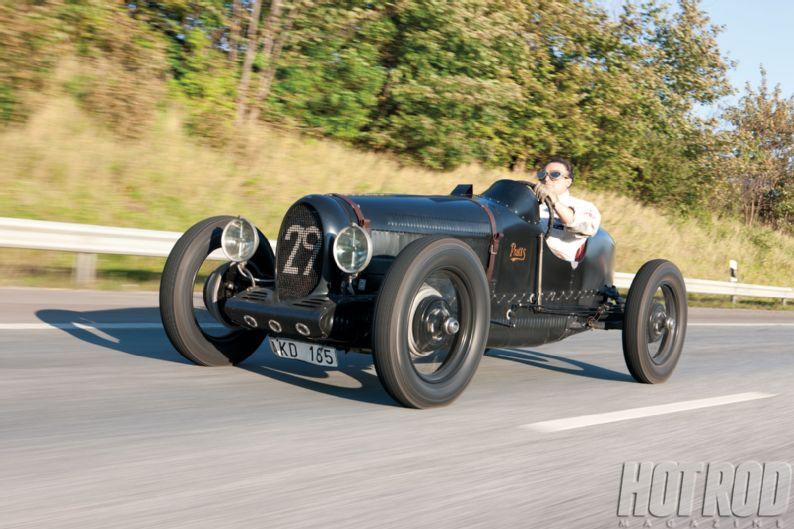 The Forgatti
Part Ford Model A and part Bugatti
Rob Kinnan
Photographer Anders Odeholm often presents us with really cool hot rods he finds in his native Sweden that are built unlike anything you'll find in the U.S. but are, nevertheless, totally bitchin'. An example is Glenn Billqvist's '29 Model A.
We know: You're looking at it and saying, "That's not a Model A!" But it is, sort of. The chassis is a remarkably stock '29 Model A, but that body is a reproduction Bugatti shell that was made in England in the mid-'80s by, as Glenn puts it, "a gentleman who knew how to gas-weld aluminum the old-fashioned way and with outstanding results." Glenn himself made the grille shell, belly pan, rearview mirror, and driver-side wind visor out of 2mm aluminum. The body is made up of 15 different pieces and is held together with original Bugatti bolts. Where Glenn got those we have no idea. Really, where can you buy Bugatti parts?
The inspiration for the car came from Glenn's voracious appetite for vintage, prewar race cars. He has several, including some you may have never heard of: a '35 Riley TT Sprite used a few times a year in vintage races; a '35 Auburn Speedster used to haul the Riley to races; a land-speed racer comprised of a '24 Delage chassis and a supercharged Isotta-Fraschini V12 aircraft engine (27L and 750hp); and a '28 Buick race car with a Lincoln V12. His tastes are eclectic, to say the least. Oh, and his first race car, which he no longer has, was a '26 French Amilcar. We don't know what that is, either.
As opposed to having deep pockets and buying complete cars, Glenn usually builds them himself in his fully equipped shop, located in a barn 10 minutes from his house. There, he's built several vintage race cars, hot rods, and even one radical custom out of a '61 Volvo Amazon (Google it). The '29 you're looking at here was preceded by another '29 Ford racer that Glenn bought back in 2007. He liked that car but wanted to build one for himself from the ground up with a more classic-style race body from the '20s, and with more power.
He knew from day one that his ideal car would have a Model A chassis and a boat tail like his Auburn (a look shared by many vintage racers) as well as an early Ford four-cylinder with an overhead-valve cylinder head. He found the chassis from a friend who's into early Fords and paid about two grand (U.S.) for it. The body came from another friend who has a few real Bugatti race cars and several of the reproduction bodies. The last piece of the puzzle was the banger, which he scored from early Ford restorer Harry Larsen in Denmark. He topped it with an Ardun head from Norm Frick in Colorado.
The '29 has accomplished most of Glenn's goals for it, regularly competing in a prewar vintage racing series and a few hillclimbs while also being driveable on the street (he's taken a few 100-plus-mile road trips with it). He wishes the car had more power, and even though he upgraded the brakes with Buick drums, they're a joke. Glenn says, "They disappear as fast as a paycheck on payday in the first attempt to brake."
His next project? That V12 aircraft-powered, land-speed car. Just as we were writing this, he'd fired up the uncompleted car and filled his garage with exhaust smoke in mere seconds. We hope to bring you that one when it's finished.
Some info on the details:
The aluminum body, a reproduction of a Bugatti Type 37 race car, fits the Model A chassis remarkably well. The body consists of the pointed tail, a floor pan, a seat area, and a hood, plus the piece under the radiator. Glenn made the rest himself. He also punched the hood louvers after he made the tool for the job, and then held the hood in place with vintage-style leather belts.
Glenn narrowed the framerails in the rear to follow the shape of the body. The color is 40 percent flat black.
The body pieces are bolted together and then safety wired, just as the Bugatti was originally done. The safety wire was necessary to prevent the car from shaking itself apart while driving over the often bumpy and generally horrible surfaces drivers raced on in the '20s and '30s. Notice the original Model A pieces.
The stance is set with a 4-inch-dropped '29 Ford axle and drag link with a steering shock absorber.
The rear suspension is Model A with a three-leaf spring for a softer ride. Tucked up tight to the body is one of the Andre Hartford friction shocks. Glenn also changed the rear gears to 3.54s for better top speed and a livable rpm at 65 mph.
As some '30s-era sports cars had aluminum brake drums, Glenn adapted the 13-inch aluminum drums from a '58 Buick to the Model A's mechanical brakes.
Glenn fabricated the firewall, dash, and floorboard in 2mm aluminum. The gauges were found at various swap meets and online and include a '30s Ford speedometer, an early '30s tach, an early '20s lap counter, a '20s Oakland fuel gauge, and a '30s Talbot oil-pressure gauge. The shifter is from a '29 Ford, as is the steering wheel, and the emergency brake is mounted on the left side of the body. The seat is covered with red antique leather by Bilinsidan Malmo. A vintage 10-liter Pratts gas can and a leather bag with extra spark plugs and tools sit on the floor
Two gas caps from a Volvo bus with era-correct Ford emblems lead to a 30L stainless tank.
Originally published on hotrod.com
---
Back to the Bugatti revue
---
Vive La Marque !!