A virtual magazine for a true passion!

Editor: Jaap Horst
---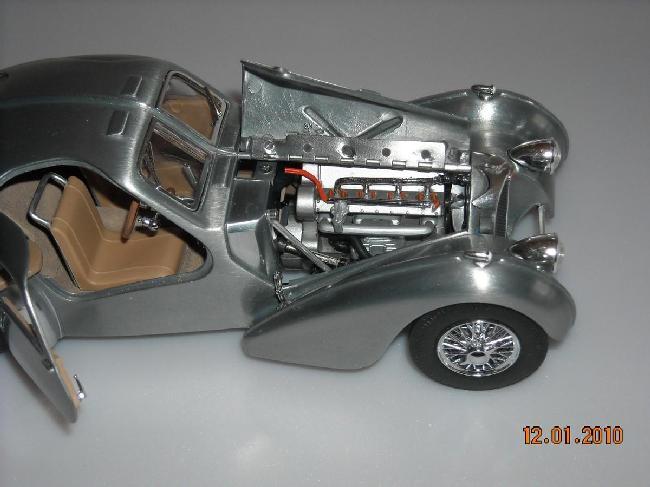 Volume 16, Issue 3
1:24 scale Bugatti T-57SC Atlantic
Built by John Mellberg
Here's a sample of images of my recently completed Bugatti Atlantic miniature. It's not scratch built, but rather, it's the disassembly of 2 different Bugatti T-57 models, made by 2 different manufacturers, and merging their elements to create an accurate scale model of one, that currently isn't available in 1:24th scale today. While on the surface, this sounds like a simple task, in reality, it was a trial-error process of fitting the full chassis, underpinnings/running gear, cockpit interior from one to the other, and it took 2 Atlantic model bodys to complete the task. 18 months of part-time modelwork produced this result. Rather than paint the model Bugatti's French Blue, I chose to create a 'faux' Electron/Magnesium finish to the model as was its 'prototype.' car, and 'clear coat' the body to preserve the fine brushed finish. The work while tedious, yielded satisfactory results producing a 'one of a kind' model of this Atlantic. There originally were 4 Atlantics, one prototype and 3 production variations there-of. One of the 3 production cars recently sold at 'auction' for $30 million dollars, the most expensive sale of a car to date. The 2, 1:24th scale models (both have identical wheelbase dimensions) used were:
Franklin Mint Bugatti T-57SC Atalante, a nicely detailed scale diecast model w/complete chassis, engine, drivetrain, interior components, exhaust system, brake drum plates, drive shaft, etc.....
Burago Bugatti T-57SC Atlantic, with beautifully executed diecast body, and toy quality chassis, engine, drivetrain, interior, all of which were minimalized regarding authenticity, detail, etc.....
Building the one model from 2 provided the means to do proper justice to the Burago Bugatti Atlantic's exquisite body shapes with beautiful underpinning components from the Franklin Mint Bugatti Atalante car. The challenge was the fitment of parts designed for one model type into the body of the other model which was a different model type, built initially to a much 'lesser standard' than the Franklin Mint Bugatti T-57SC Atalante. This marriage of models to create a higher quality Bugatti T-57SC Atlantic had never been done before. Accomplishing this was very satisfying, and now I have a unique model for my collection.

Editor's comment: since John built this, a load of new Atlantic models came out in 1:18 scale (still no 1:24), which are more or less affordable. However, this project of mating the chassis of one Bugatti with the body of another, is a very nice venture, and one that is done on the real thing often as well!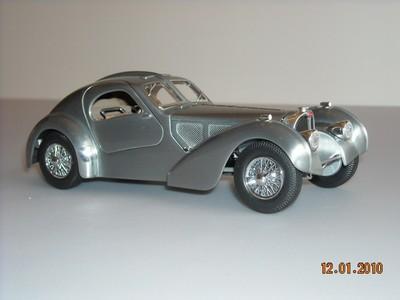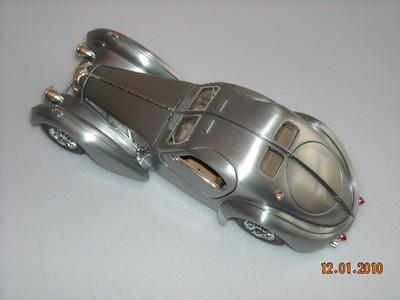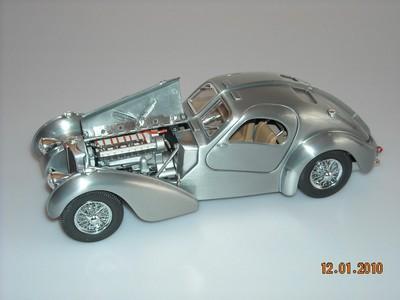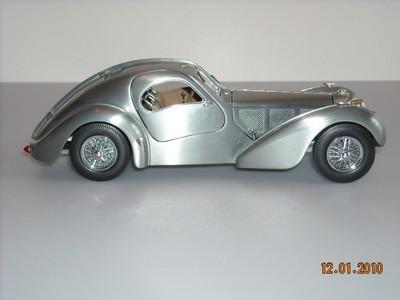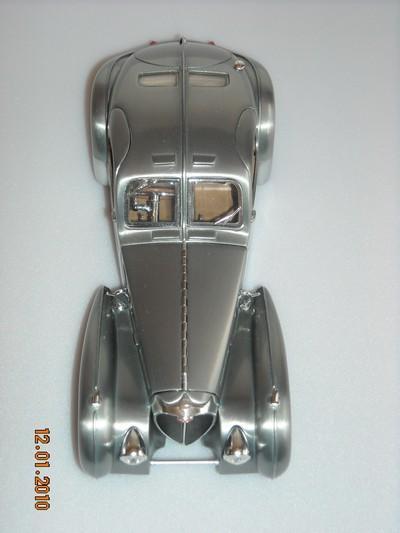 ---
Back to the Bugatti revue
---
Vive La Marque !!