A virtual magazine for a true passion!

Editor: Jaap Horst
---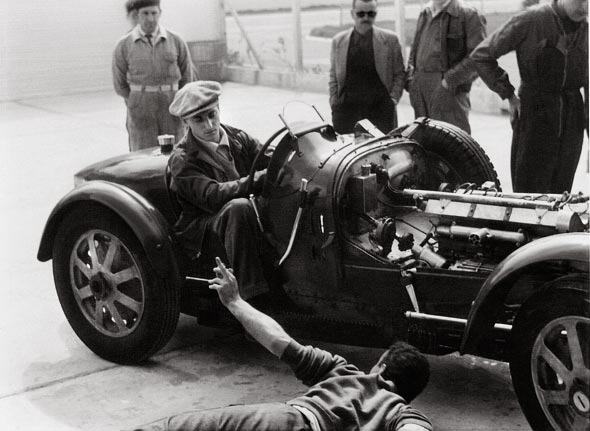 Volume 16, Issue 3
Bitito's Bugatti
By Lao Iacona
Nothing better than the word character to define this flower representing the turbulent fifties. Passionate of women, great dancer, often falling but always back on his feet again, founder of 17 clubs, including the sport automoble Club and the sports Boating Club of San Isidro, Formula One driver (official Maserati) and hardened Yachtman.
Bugattiste if any, Bitito had five cars of the brand. A Type 44, which according to his statements "was a very pretty convertible made in England by Mulliner. It had a hood, side windows, two front and one rear seat and room for carrying luggage. Red and black, it appeared splendid parked outside the gate of the corner (your local record store in Buenos Aires).
Una Type 40 comprada a un profesor de natación de CUBA, con cola en punta, que luego pasara a manos de Eduardo Irigaray, y una Type 35 de cinco bancadas y sin compresor, reformada, con la cola estilo MG TC, que le comprara a Chicho Speroni. A Type 40 was purchased from a swimming instructor from Cuba, with a pointy tail, which then passed into the hands of Edward Irigaray, and a Type 35 without compressor, renovated with a tail in the style of an MG TC, which was bought from Chicho Speroni.
He also had a Type 38, Phaeton style, four-door. To these obviously the Type 51 has to be added, which will be subject of the subsequent paragraphs.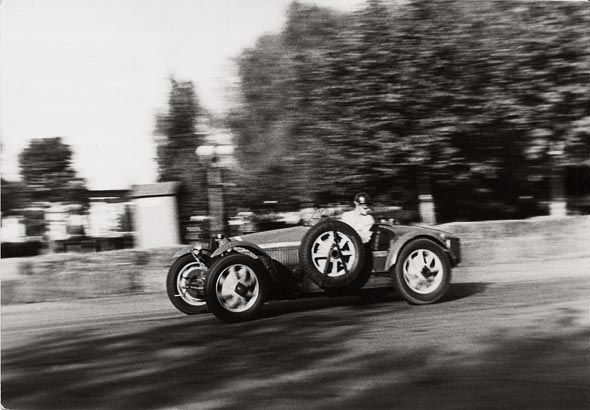 He raced in 1950 and our man was part of the ACA team which was sent to Europe to try their luck in what would become Formula One: Juan Manuel Fangio, José Froilan Gonzalez and Roberto Mieres, with Amadeo Bignami as chief mecanic. Bitito was at that time the Argentine Sport Champion. The group had settled in Galiatte (Milan, Italy), hometown of the late Achille Varzi, and it was exactly in the house of his family that they stayed. Menotti Varzi, Achille's father was a reserved man, his son's death which occurred during testing for the Grand Prix of Bern in Switzerland in 1948, had marked him. Nevertheless, knowing of the mutual sympathy between his son and Argentina, he housed the ACA team at his home. According to Bitito's own account, there was no "service" at the Varzi house and therefore they could only sleep there, but they had a sort of pension for three meals a day in a hotel called Albergo Due Colonne, near the Varzi home.
In July 1950, almost in passing, the engineer Varzi tells Bitito that the Bugatti of his son, the one with which he - allegedly - had won the Grand Prix of Monaco in 1933, was in a workshop in Milan, run by a relative, Don Giovanni Merossi, and that the car had ended there, because in the house there was no place to store it. Giovanni Merossi, former auto racer, also was the uncle of Alberto Ascari.
Bitito tells the story: "Neither dull nor lazy I went immediately to Ascari, who in turn contacted me with Merossi. His workshop was in Milan under the famous Vigorelli velodrome where important cycling competitions were held. I made an appointment with Merossi, took the bus and in half an hour arrived at his workshop. It was big and quite chaotic. He said the car had a problem: which was the reason why it stayed there since 1934! Since that time there had been no use at all, but for the stay, the debt was two thousand dollars. A lot of money back then. He said he would talk to the engineer Varzi to see if the Bugatti could be removed because he was bothered by the Bugatti in the workshop. After thinking for a while, Merossi said that if I came to an agreement with Varzi and brought him a paper stating that he did not have any claim on the car, for one thousand dollars he would consider the debt canceled. He also advised me to take into account that there might be some little extra spending because that car had never been road-registered and I thought to be dreaming, because it seemed impossible to get hold of this fantastic new Bugatti so easily.
Fearing to break the spell I went to Merossi softly and respectfully and said, "sir, I can see the car?". Avanzamos dificultosamente a través de los bultos y fierros del taller, y en el fondo, donde la altura del techo se iba reduciendo y había que entrar semi agachado por la inclinación de la pista que estaba encima, la vi. We moved with difficulty through the heaps of stuff and steel through the workshop, and at the end, where the ceiling height was low because of the inclination of the cycling track, we had to almost crouch to reach the car. It was painted French racing blue, covered n dust, but totally new, not used during the last fifteen years. Varzi had tried to transform the Bugatti into a sports car by adding cycle type wings and attach a small starting engine above the flywheel. Although the fashion for old cars did not exist yet in Buenos Aires in 1950, there were smart people with good taste who valued these things.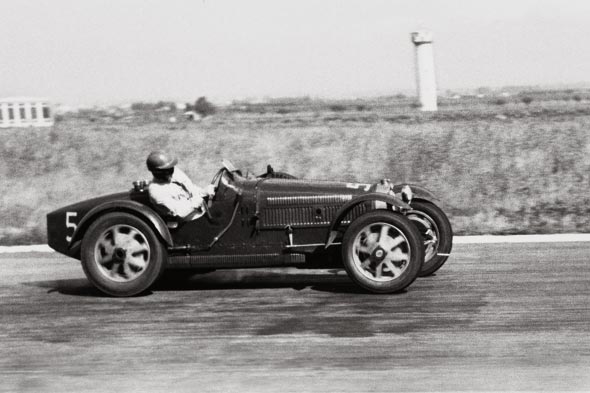 That Bugatti was the dream and the ideal of true car nuts in Buenos Aires, and my own ... To use a new Ford or Chevrolet in Buenos Aires one had to be rich, and cars in the style of this Grand Prix could be purchased with only a thousand dollars! I had to solve how to get the money immediately because for the 1950 season I only have six hundred dollars. However, Merossi told me that he accepted the proposal, but with the little requirement that I started the car and took it out on the street. Merossi asked me when and we agreed to do it the next day. I went immediately to Galliate and desperately started to raise funds from my friends and acquaintances. Luis Elías Sojit was a sports journalist who had lots of people dislike him, he lent me two hundred dollars. Luis Elías was a very generous and wonderful person, who was also very good to me three years later to help me to buy a ticket to Buenos Aires when my dad died. Pepe lent me a hundred dollars and Juan fifty. I managed to raise one thousand dollars and went to get the Bugatti. It was already shining on the workshop door, and with her I swiftly returned to Achille Varzi's hometown Galliate. Many neiighbours were waiting for me there and I had make a few tours so they could see and hear the Bugatti. I left it stored in our ACA workshop until we returned to Buenos Aires in November. Since it was not permitted to import cars or almost anything into Argentina, I had to get a special permission to enter it. The issue of permission to enter the Bugatti was very cumbersome. Sojít had important ties to the Peronist party and ensured that each member of the team was granted a special permission to import a car. I think Juan brought a Cadillac and Pepe a Buick . In 1950 also permission to import a car was granted to another Argentine, Adolfo Schwelm Cruz, who had bought in Italy a great Alfa Romeo Monza, an 8 cylinder with compressor ... "
"To ship the cars to Buenos Aires, one had to take them to the port of Genoa. Teddy came to Galliate and from there we went with the four cars, Bugatti, Alfa, Cadillac and Buick, over the autostrada which was for a large part mountainous road. Teddy and I were driving our racers extremely fast, with great enthusiasm, and we were left with an unforgetable memory of that trip, more fascinating and beautiful than the most impressive Monte Carlo Ballet. Después de embarcar los autos en Génova regresamos a Roma, y desde allí volamos a la Argentina. After boarding the cars in Genoa we returned to Rome, and from there flew to Argentina. When the car finally came to our country, and after lots of paperwork, we went with Jorge Malbrán in his father's car to fetch the car and be able to tow her. However, with just a push the car started and we went straight to La Biela. The regulars could not believe that this marvel had reached Buenos Aires. I enjoyed the Grand Prix for a long time, and raced and won many races with this beautiful machine. " "One day I had to sell the Bugatti (my economy was tiny). I sold it to Jose Maria Millet at the same price that it had cost me, but with the promise that I could buy it back. Millet no me la revendió como se había comprometido y yo esperaba, y pasó a manos de Rodolfo Pradère". Millet did not sell it back to me as promised and what I had been waiting for, and passed it on to Rodolfo Pradère. "
Bitito as said, ran a lot of races with the car, being a regular participant in the races organized by the Club de Automóviles Sport from 1950 to 1953.
Then the beautiful Type 51 passed into the hands of Rodolfo Pradère, a collector from Lobería, who had several Bugattis in Argentina, and finally (yes, you guessed it) the car was exported to Europe where the car remains to this day.
First published in Spanish on 21/04/2010, at www.retrovisiones.com /
Roberto Mieres is the offical name of "Bitito", his type 51 (Chassis 51125) is now owned by the Fondation Erika & Charles Renaud, Cortaillod, Neuchâtel (CH)
---
Back to the Bugatti revue
---
Vive La Marque !!