A virtual magazine for a true passion!

Editor: Jaap Horst
---
Volume 16, Issue 2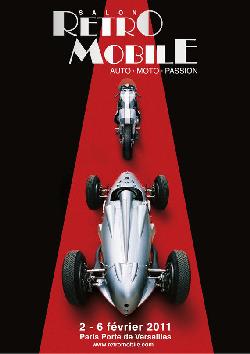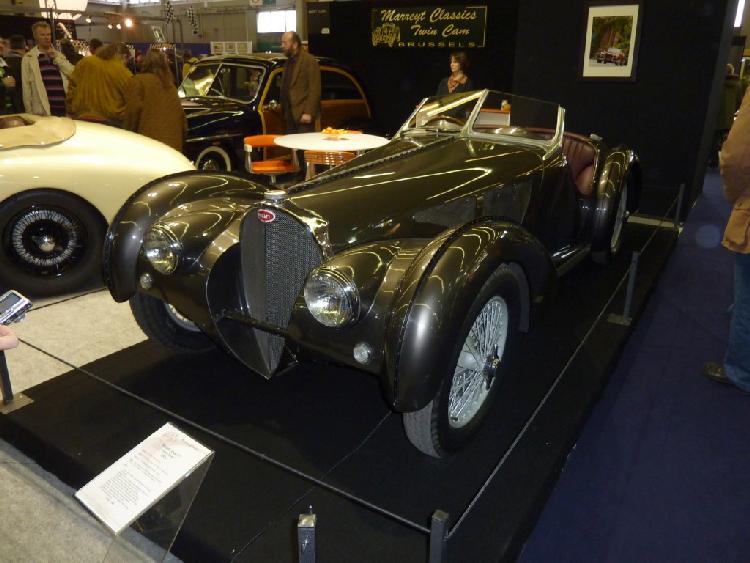 Retromobile 2011
Jaap Horst
Click on a picture for an enlargement. Big pictures open in a separate window.
This time, there were quite a few changes at Retromobile. Retromobile was shortened from 10 to 5 days (only one weekend, a change very well accepted by everyone!) and started not on Friday, but on Wednesday. However, with two friends we decided that the Friday was still the most practical day, especially in the light of the late arrival back home. Another mayor change was that the connection between Bonhams and Retromobile was broken, Bonhams held an auction elsewhere in Paris, the "Retromobile auction" now being organised by Artcurial.
Bonhams in their "The Grand Palais" auction had 4 Bugattis on sale, while Artcurial presented only 3 Bugattis at Retromobile, two of them being "Type Baby"'s. Apart from that, some other Bugatti items. The results were (prices include auction fee):

1937 T57C Atalante, chassis "57606" (In fact 57756 with engine from 57606), former owner: Jérôme Médrano: €579,966
BUGATTI BABY "TYPE 52" Voiture enfant produite par lusine de Molsheim vers 1926. original condition: €58,654
VOITURE ENFANT BUGATTI BABY "TYPE 52" (restored and details added): €33,152
ETTORE BUGATTI MOTEUR ET BOÎTE DE VITESSE DU TYPE 73 (Wood): €19,126
Carlo Bugatto: Portrait de Lidia Bugatti: €16,576
Mido Bugatti. Montre Radiateur n° 307218 vers 1930: €24,227
All items (except for the Mido watch) on auction are shown below (in the same order as in the results list above), the original condition Baby Bugatti was sold to the Netherlands: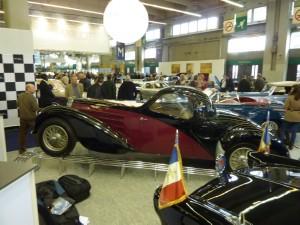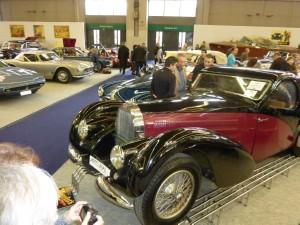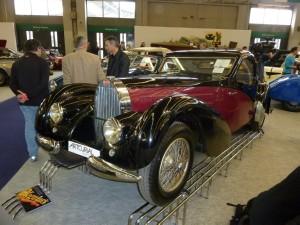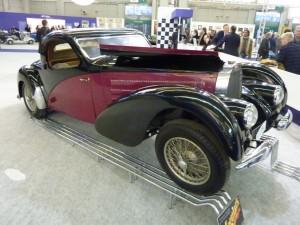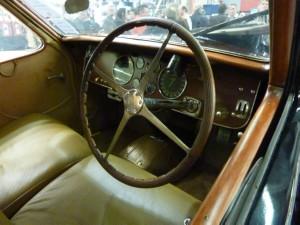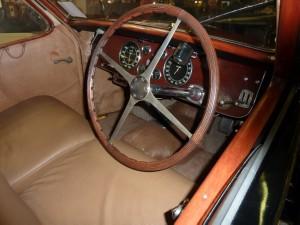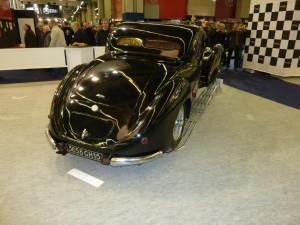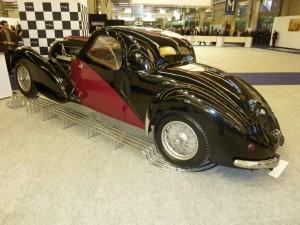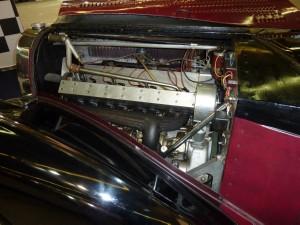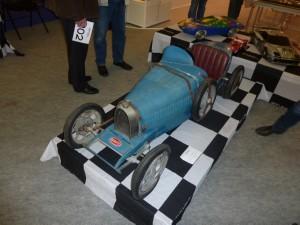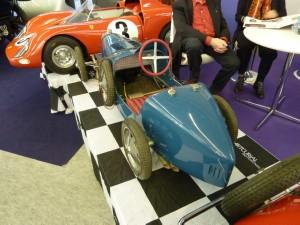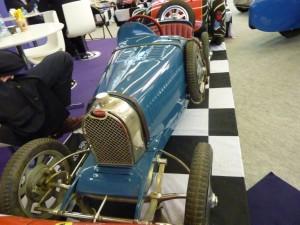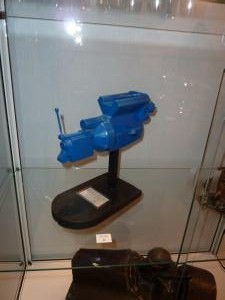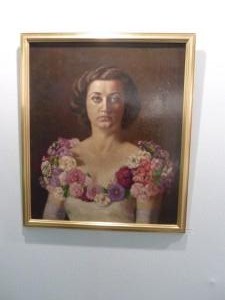 Actually the first Bugatti we saw was this stunning Type 57S roadster, called the "Atlantic Spider" based on châssis 57160 from 1934. This originally had a Galibier body and was converted by Rod Jolley into this Atlantic Spider between 1985 and 1992.
A small 8-valve (used to be grey!) on sale for a ridiculous price of €225,000. Chassis # 506
Side by side were these two Bugattis, a very beautiful Type 38 A Lavocat & Marsaud (replica) - châssis n° 38400, and Type 40 Grand Sport
On the French Bugatti Club stand was this very nice, well-known car, the Bugatti Type 40 Coupé Fiacre Bourak-de Costier - châssis n° 40452
The French Bugatti Club usually has more than just a car on show, nicest was this picture that they had (as well as some reproduced large-size Bugatti brochures not shown here), Dad's Type 40 Bugatti (1950)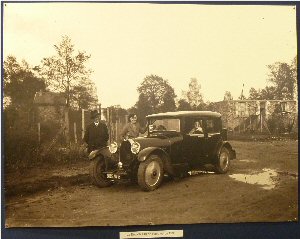 So here's a Bugatti engine presented in a way you do not see everyday! A cut-open type 35 engine, showing internals like the three valve-layout and the roller bearings!
Below, Marc Nicolosi's Type 40 Grand Sport - chassis # 40297
Bugatti Type 57S Atlantic - chassis # 57473
Retromobile is of course well known for all the automobilia as well, books, art and miniatures. The Type 57S Atalante is in the "sculpture" style. The type 35 is a novel approach, no details at all (except for the wheels and radiator), just the shape. One of my favourites!
Though some said that this year's Retromobile wasn't as interesting as former editions (and they are right in one sense, there were not as many Bugattis there as last year), there were a great many very interesting automobiles on show, starting of course with the first "Automobile" ever, Cugnot's steam mobile, shown below.
Of course I knew the Cugnot, but never studied the drive in detail; the drive is NOT by crankshaft, as common on almost all steam and indeed gasoline engines, but by a system of a toothed wheel, driven by a shoe pushing it downward. The replica in fact did run (outside), and opposite to the original, it did not crash! Other detail is that this is no automobile (nobody needed one in those days!) but a tractor, nicely demonstrated in the replica by the cannon hanging under the wooden-beam chassis.
I always have a special interest in antique bicycles, and not just because I once won the World Championship on one (in 1987). This single wheel device looks similar to some motorbikes, which are much better known. In fact, I doubted if this really would work at all, untill I did a short search on the Internet, and found the repliac also shown! The bicycle is probably from around 1900.
Below a series of very different Peugeot's, the yellow one is a one-off prototype, with an incredibly symmetrical body: apart from a few details like windscreen and lights, the front and rear of the car are the same! The modern one is the electrical EX1 electrical concept, that holds the world record on acceleration and braking. Two electrical motors bring 340HP to 4 driven wheels, with only 750 kilos empty weight, this really does accelerate your pants of!
Finally, there was of course the 402 Andreau
Very impressive this 1924 Delage DH, 10.7 litre V8.
Fellow Dutchmen Maus Gatsonides and van Noordwijk competed in the 1961 Monte Carlo rally in this Facel Vega Facellia, coming in 80th overall, and first in class (1601-2000cc Tourisme- Grand Tourisme)
Amilcar's usually are small, but I really would get claustrofobic in this closed body!
Impressive, beautiful, and also 100% new. This Hispano Suiza which was extremely lowered and fitted with a huge aero-V8. I'm not a Hispano expert, but I doubt that this car ever existed before! In the book "La carrosserie, Histoire de style" which I bought at the same Retromobile, a drawing of this same car is featured on one of the first pages. Without further info, however, it seems that the car was designed and built at Auto Classique Touraine.
Not really my personal favourite, though I guess that quite a few vistors went to Retromobile only to see this huge GULF car collection, by Duncan Hamilton.
---
Back to the Bugatti revue
---
Vive La Marque !!