A virtual magazine for a true passion!

Editor: Jaap Horst
---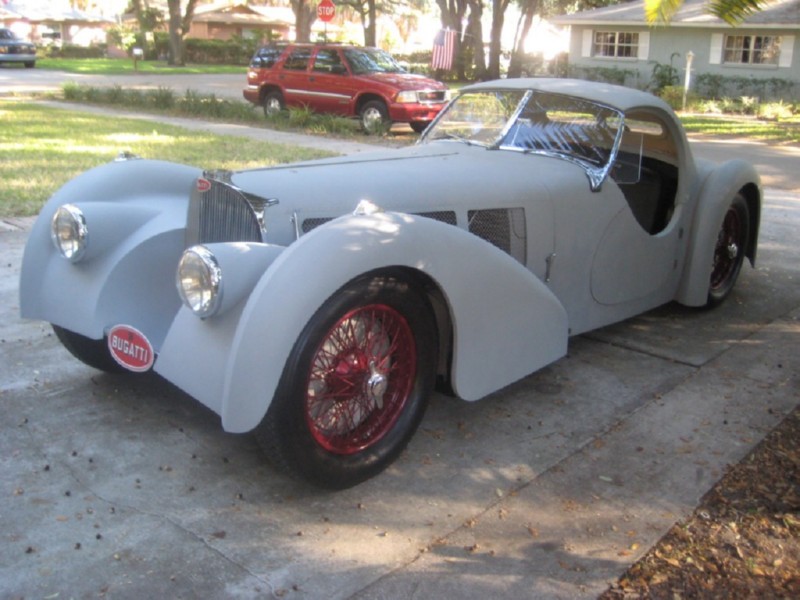 Volume 16, Issue 2
"Coventry Bugatti" 57S kit
By Dave Miltner
Dave Miltner sent me the pictures of this car he has been working on, as we can see, the car is still in the primer coat, also some other details have not been finished yet.
He built the car as he could not afford to purchase an original! Actually, the truth is Dave wishes to start a company, sell kits and recoup his investment.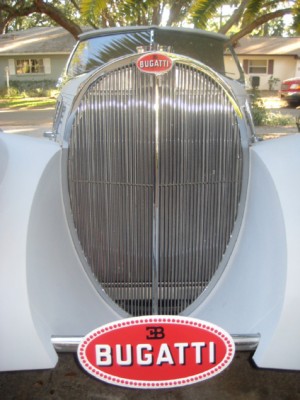 COVENTRY BUGATTI CHARACTERISTICS AND DIMENSIONS
Frame: Traditional ladder 4" x 2" (100mmx50mm) mig welded box stainless steel.
Engine: Jaguar XK 6 cyl. in-line d.o.h.c. 3.4, 3.8 or 4.2 litre with 2 S.U. carburetors.
Exhaust: stainless steel with XK mufflers
Trans: Borg Warner Model 65 or 66 automatic
Body: 2 place roadster with five piece engine hood, removable hardtop, suicide doors, luggage door, spare tire cover and full fender skirts.
Suspension: Jaguar XJ6 1969-1987 independent front and rear or other comparable
Steering: Manual rack and pinion.
Steering Wheel: 17" outside diameter, 432mm - per original design.
Brakes: 4 wheel disc with one front and one rear vacuum servo assist units.
Wheels: 18" Rudge Whitworth, 70 spoke, 42mm hub - per original design.
Wheel Discs: spun aluminum - per original design
Knock –offs: French Rudge two eared knock-off cap closed - per original design.
Tires Front 5:50"- 6:00" X 18" Dunlop Racing Tires R1 5 block pattern - per
and Rear: original design or…..5:50" x 18" Blockley 3 block pattern or …… 5:50" X 18" Excelsior Comp H steel belted radial 3 block pattern or ???
Wheelbase: 117.3" 2980mm - per original design.
Track F + R: 53.1" 1350mm - per original design.
Electrical: 12 volt, neg. ground, Marchal TP335 headlamps, J. Lucas, J. Smiths, et al.
Overall Length: 180" 4569mm approximate (no bumpers)
Overall Width: 65" 1650mm approximate.
Overall Height: 51" 1295mm approximate. (hard top installed)
Interior Seat Width: 50"
Curb Weight: 2,837lbs. 1289.5 kg approximate un laden
Speed: capable of 115 m.p.h.(plus) 185 km/h - per original design
Contact: Dave Miltner
---
Back to the Bugatti revue
---
Vive La Marque !!