A virtual magazine for a true passion!

Editor: Jaap Horst
---
Volume 15, Issue 2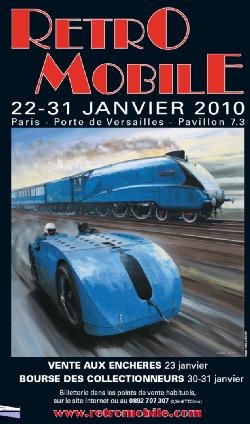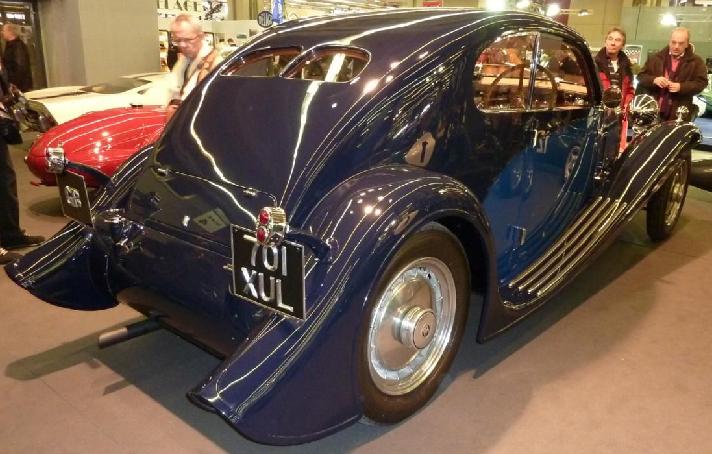 Retromobile 2010
Jaap Horst
Click on a picture for an enlargement. Big pictures open in a separate window.
As usual, I went to Retromobile in Paris, on the opening Friday, January 22. Retromobile was two weeks earlier than usual this year, to compensate for that, this report comes a few months later than expected (in fact, I had the first issue of the Bugatti Revue ready just a week before Retromobile!)
The voyage there went indeed very well, and I arrived before it was actually open! Already outside I met the first fellow-Bugattistes.
Of course Retromobile was high in the news, due to the "Submarine Brescia" that was to be auctioned the next day. There were more Bugattis to be auctioned by Bonhams, the results were:
1925 Bugatti Brescia Type 22 Roadster chassis no.2461 engine no.879, Estimate: €70,000 - 90,000, Sold for €260500 The sale was hotly contested by 6 bidders and finally won by an European collector on behalf of the California Collection of Peter Mullin, who will exhibit in the state it is in future museum near Los Angeles, while the under-bidder, U.S., too, wanted to restore it.
1937 Bugatti Type 57C Berline chassis no. 57477, Engine No. 347, Estimate: €120,000 - 150,000, Sold for €158700
1927 Bugatti Type 44 Roadster chassis No. 441139, Estimate: €120,000 - 160,000, Sold for €157550
1929 Bugatti Type 44 'Fiacre' Coupé Coachwork by Jean Bugatti, Registration no. UAS 803, Chassis no. 441193, Engine no. 398, Estimate: €220,000 - 260,000, Not Sold
The very attractive poster was drawn by Chris LUDLOW, showing the Type 32 Tank racing the Mallet locomotive, the streamlining of which was based on that of the Bugatti AutoRail. Of course, the Mallet was designed quite long after the Type 32 had ended it's active racing carreer.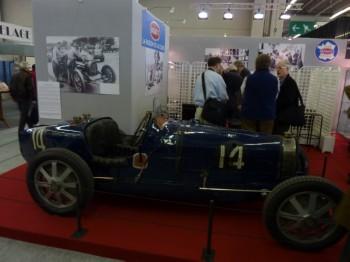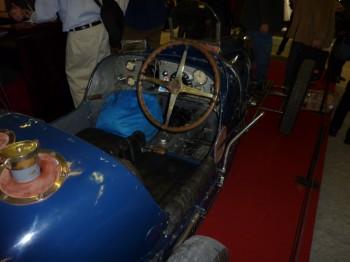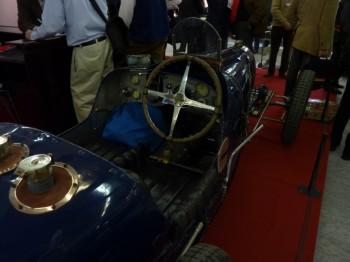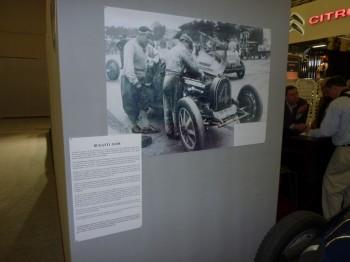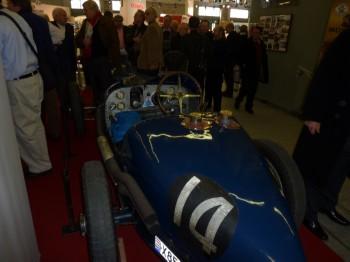 To start with, on the stand of the French Bugatti club, there was this very beautiful Bugatti T51, 51128.
You than wander through, (meanwhile I met somebody who looked a lot like Mr. Bean, though it probably was only Rowan Atkinson) and reach the Bonhams stand, where the famous submarine Brescia (chassis 2461) was on show, to be sold the next day for an incredible amount. The Bonhams stand can not be entered without buying a catalogue for 50 euro; ridiculous in my view, seen that you already pay an entrance fee for the Retromobile show itself. Last year I could sneak in through the rear entrance, now I was so lucky that I met Gerjan Blikker, who was buying the catalogue anyway, so I could enter with him. Thanks Gerjan!. Below I start showing the Brescia, than follow the other cars in the auction (see text above).
Stangely, the Brescia has some parts that seem absolutely restorable, while others are completely rotten away....
Below, the Type 44 Roadster chassis No. 441139:
Below, the Type 57C Berline chassis no. 57477, note the wing and tail lights, nice details:
Below, the Type 44 'Fiacre' Coupé Coachwork by Jean Bugatti, Chassis no. 441193
On the stand of dealer Patrick Porez, this very nice 1938 Type 57 Letourneur et Marchand, chassis 57650:
At Hall & Hall, this very impressive, original T46 surprofilée:
A baby Bugatti (formerly known as T52) on one of the stands:
Above: two T35B's on the CarClassic stand; they do not have the typical Pur Sang details, but the way they are shown; it does not seem to me they are 100% original either!
Below; at the rear, between the parts, a T46 engine, and a T44 chassis, which seems to have been shortened.
Some of the miniatures around; a series of Eligor T35B's, which they now make in the correct colors, with the correct race numbers, a wooden GP, Alain Bouissou's T59 Roi des Belges in 1:43 scale, and a BIG T43.
Always a lot of Bugatti related art, a few examples are shown here:
At Hall & Hall, almost as impressive as their original T46 surprofilée, the Tom Wheatcroft Royale Replica, a huge car indeed. According to the H&H people, it is so huge, that it has to be entered into the exhibit hall, before all stands and other cars. The car is not for sale, however, it will be sold if somebody offers the right amount (good idea, Peter?).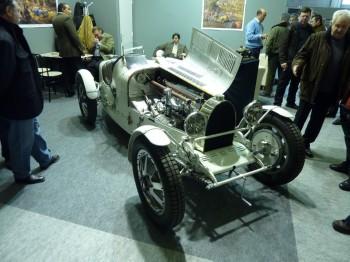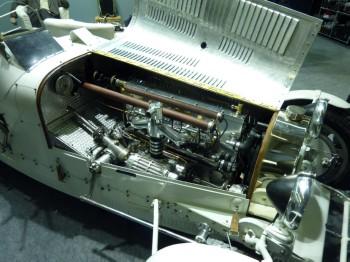 Above: The Pur Sang stand showed for the first time ever a replica Bugatti T35B; so much for their promise to not fabricate entire Bugattis anymore, but only parts. Note that there is no Bugatti emblem; I was told that you get that separately, and you have to screw it on yourself.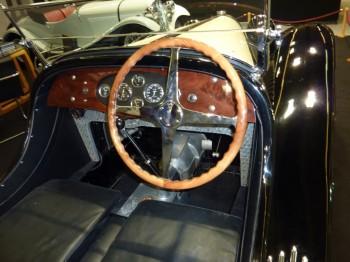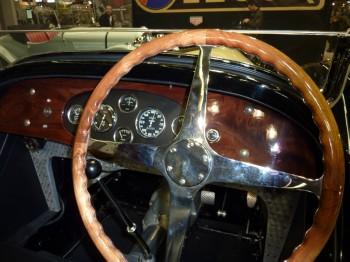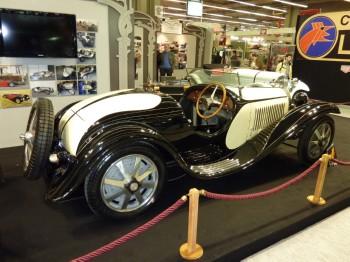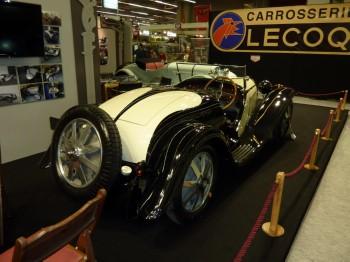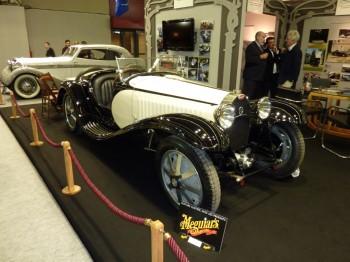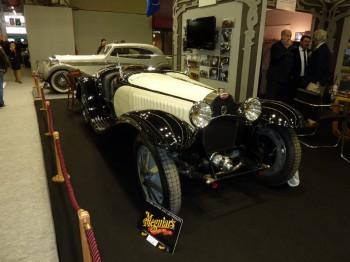 Above, yet another replica, a very nice design though! In fact the same T55 as was on show in Brussels, it still had the same extremely low standing on the odometer.
Below; even the Baby Bugattis aren't original anymore, or does this one just have the wrong tyres fitted?
One of the other impressive cars; the Monteverdi Hai on the Bonhams stand. A real boy's dream, this was the way that I used to draw sportscars when I was a kid (side view only, I could never manage to draw a 3D!)
Ok, you wouldn't expect any Voisin's on this page, but their design is nice, and there were many of them!
---
Back to the Bugatti revue
---
Vive La Marque !!