A virtual magazine for a true passion!

Editor: Jaap Horst
---
Volume 15, Issue 1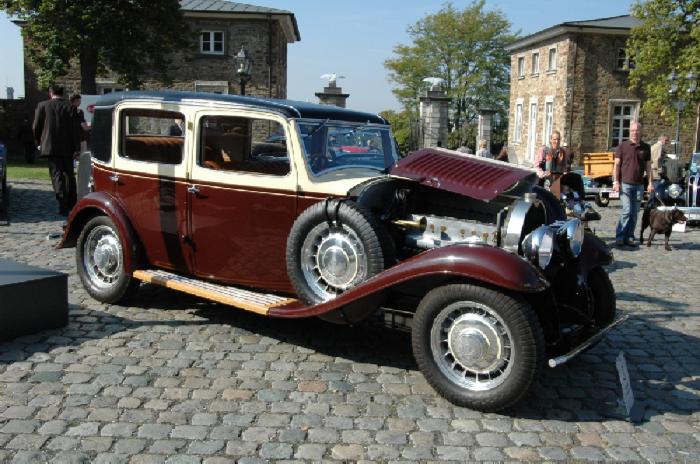 Schloss Bensberg Classics 2009
Michael J. Immecke
Click on a picture for an enlargement. Big pictures open in a separate window.
Quite a good start for an ambitious concours. A limited number of about 40 cars were selected for presentation on the lawns in front of the Bensberg Castle near Cologne. It was a three day event with a excursion through the beautiful countryside for a larger number of entrants on Saturday and a public Concours on Sunday. The jury was evenly well selected with Giorgietto Giugiaro, Walter da Silva and Jacky Ickx among them.
How did it come possible that an inaugural event is so well organized and with such a quality of cars and persons? It was because of the obvious help of the Volkswagen Group and their pronounced aim to place this event among the top three concourses of the world next to Pebble Beach and Villa d´Este. Future will deliver the promise given.
As Bugatti is one of the Volkswagen brands nowadays they have taken the chance to focus on the marque as well as they did put a light on Audi´s 100th anniversary. They brought to the hill a selection of touring and sports cars as well as berlines to miss out the racing cars. (Giving an oportunity for 2010.) Of course this was only possible due to assistance by willing collectors.
When entering the aree in front of the hotel there was an area reserved for the Bugattis present.
Presented for competition were:
Type 49 Berline (1932) from Mr. Helmut Pende
Type 57 SC Atalante (1937)
Type 57 Stelvio (1935) from Mr. Dr. Peter Borstel

And out of competition there were:
Type 41 Royale Coupe de Ville
Veyron 16.4 (Chassis 10M795041)
EB 110 SS (being parked a little away from the other next to a VW Tuareg)
On Saturday´s rally there was a single Type 35 "23AAW" which was also shown at Schloss Dyck this summer.
All of them being in a very good to exceptional shape. Being all beautiful examples of a car they all deserve a place in my garage but one standing out: The 57 SC Atalante being the first of ist kind. Being fitted with its Roots supercharger #13 and showing its originallity here and there but also being obviously well maintained. From any angle it was a pleasure to see this car being entered from a German collection (bringing also a Mercedes-Benz SSK). This car has finally earned a price for being the technically most innovative prewar car.
The Stelvio (Chassis 57.542 ?) was in even better shape being probably more recently restored. The catalogue gives some further information on the car for those who want to know: "...after being used for the showroom in 1935 it was sold to Mr. Herrisé who used it until 1957 when being sold to US major Harry Beresford from Virginia. After an extensive restauration ten years ago this rare cabriolet is frequently used by its owner having a lot of fun in the best sense of Ettore and Jean Bugatti." And close to perfection was the Type 49.
While waiting for the results and a presentation of all of the cars on the ramp there was enough time for everybody to stroll around. Between the cars there was always plenty of room for 1.000 visitors.
When looking deep inside the engine bay of a rare Abarth the man next to me said "A lot of nothing in there, isn´t there?". I replied: "I wish they would still build cars like this. If you look inside the bay you would feel like you could handle a malfunction and would not have to pray that a technician in the garage might help you. It looks so positively simple." – "We can´t do that though I wish we could." – "I would like to have that simplicity again.", and turned my head out of the car´s engine bay again to see that it was Dr. Hackenberg (Member of the board of Volkswagen with responsibility for Development). We both agreed that we would love to have this car in our garage. Let´s see if the future cars from the concern show some inspiration from this classic car event. If Volkswagen keeps up the support of the classic scene we can look forward to a high profile event with an almost familial atmosphere in a great surrounding.
You can see the complete entry list and the results on the homepage of the Schloss Bensberg Concours at sbc2009.de.
---
Back to the Bugatti revue
---
Vive La Marque !!