A virtual magazine for a true passion!

Editor: Jaap Horst
---
Volume 14, Issue 3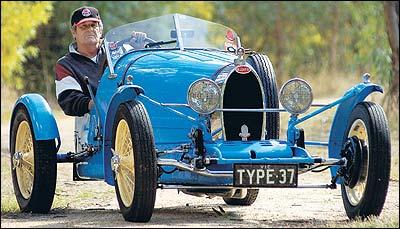 Little Bug a bolt from the blue
It's blue, noisy, rare and loves corners as much as its owner loves it, writes DAVID MORLEY.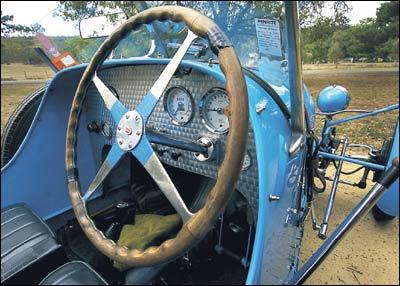 David Morley, Pictures: Dominic O'Brien. Geoff (Just call me Geoff, OK?) reckons his surname isn't important. As a former high-flyer with a heavy-equipment manufacturer, you get the feeling he enjoys the anonymity that goes with living in a small town in central Victoria.

Then again, anonymity must surely be relative, because there's no way Geoff can keep a truly low profile when he blasts past the locals in this very noisy, very blue, very rare little car.

No, your eyes do not deceive you, it really is a 1926 Type 37 Bugatti, and yes, it does live in the bush, miles from Melbourne and anybody you could remotely describe as a Bugatti specialist.

But like all good yarns, there's more to this car than meets the eye. Much more.

Geoff bought the car about 10 years ago from a friend who needed the money.

"My mate's wife was ill and they needed to buy some medical equipment," Geoff explains. "He told me how much he wanted for it and I insisted on paying double that.

"But it had been sitting out in the salt air at the coast for years and was one hell of a mess.

"So I took it home and stripped every nut and bolt and completely rebuilt it."

But before we go any further, let's get a couple of things straight: the car did start out as a Bugatti but these days it's been modified in the interests of usability and availability of parts.

"The engine block was cracked when I got the car and a new block, if you could find one, would cost you thousands," says Geoff. "So I put the cracked block and the rest of the Bugatti engine under the bench and fitted a BMC 1800cc engine, which was rebuilt to MG specifications, right down to the twin SU carbies. The engine mounts lined up exactly."

But hang on, isn't a Bugatti with a British engine some kind of sacrilege?

"Well, I don't reckon there'd be a single Type 37 in Australia that still has a matching engine and chassis number, so I don't really see the problem.

"Besides, it means I can get parts easily, the engine will last a lot longer than the Bugatti engine would have, and it goes like the clappers."

Other changes include the BMC four-speed gearbox (modified with straight-cut gears for that authentic whine) and a switch to hydraulic drum brakes in place of the original, feeble cable-operated brakes.

"Honestly, you wouldn't have driven it on the original cable brakes."

Original Bugatti bits and pieces include the front axle, chassis, pedal assembly, springs and dampers.

"But the body is a re-creation, which I had hand made from aircraft-grade aluminium using the original panels as patterns.

"The harsh suspension means a super hard ride, lots of vibration, and the body panels eventually suffer metal fatigue. Even these new panels are starting to crack thanks to the state of the roads around here."

A quick blast out of town in the Bugatti soon confirms that it prefers smooth roads to bumpy ones. Every little bitumen imperfection has the Type 37 jumping around like a dog on an ant's nest and every shock is transferred straight into the cabin.

It's cramped inside too, and with Geoff and my not insubstantial self on board, the car can truly be said to be full.

But the wind in your face, blowing over the top of the truncated little aero screen as Geoff accelerates hard up through the gears makes up for all the car's sins.

So does the exhaust noise, a rasp through a fish-tale muffler that barely deserves the tag.

It might not enjoy bumps but the Bugatti absolutely loves corners, which it devours in big, sweeping arcs despite its skinny tyres and sharp steering.

The dashboard is made from machined alloy and still has all its original Bugatti gauges, plus some extras. And believe it or not, even the eight-day clock mounted directly in front of the passenger still works perfectly.

It soon becomes obvious why these 1920s Bugattis gained their reputation for being some of the world's great cars.

Geoff uses the car every week or so and reckons its utter reliability stands as proof that the engine conversion was the right thing to do.

"It always starts first time and it's a real fun little car to drive. And I don't care what anybody thinks about it with the modifications; I just love driving it."

Not everyone, however, notably Bugatti aficionados, shares Geoff's enthusiasm for the end result.

"The Poms came out one year, saw it at the Phillip Island historics, and loved it. But the local (Australian) Bugatti club hates it; they reckon it's not a real Bugatti; that it's this and it's that . . ."

You can make up your own mind about the philosophical aspects but it pays to remember that Geoff's is almost certainly the most frequently used Type 37 of the six or so resident in Australia.

Nor does it get used simply for gently runs to the local picnic spot.

"About six years ago I cleaned up a roo in it," says Geoff. "Didn't hurt the car, but it wrecked the roo."
---
Autobiography
Ettore Bugatti was one of the most gifted engineers ever to pick up a spanner. Born into an artistic family in Milan in the late 19th century (his father, Carlo, was a famous sculptor), Ettore's first job was in a bicycle factory.
By 1901 he had built his first hand-made car, a vehicle that contained enough clever thinking and practicality to actually make it into production soon after.
The de Dietrich company bought the design from Bugatti and put it into production, but Carlo had to sign the contract because Ettore wasn't yet 21.
Ettore's employment with de Dietrich came to a sticky end soon after that with management dissatisfied with the pace of his design output.
After more unhappy stints in the service of other people's companies, Ettore eventually established his own factory in Germany in 1909 and by the next year his cars were winning races.
Perhaps Bugatti's greatest moment came in 1924 when the eight-cylinder Type 35 race-car was unveiled and immediately started winning just about every race in which it was entered.
The first car to use the trademark horseshoe-shaped radiator surround, the Type 35 went on to win more than 1000 races and, at its peak, was reckoned to be winning about 14 races every week.
Geoff's Type 37 is more or less a road-going version of the Type 35 and uses the race car's chassis and body layout but was designed with a four-cylinder engine with a three-valve-per-cylinder head and about 44 kW of power.
The engine went on to power the Type 40 touring model. Two hundred and ninety Type 37s were made.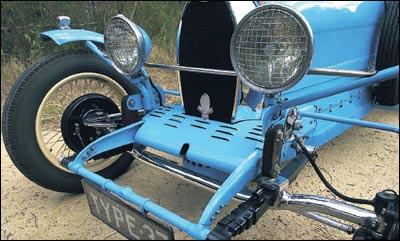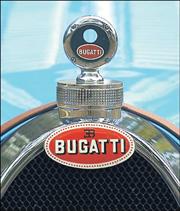 From www.drive.com.au
---
Back to the Bugatti revue
---
Vive La Marque !!