A virtual magazine for a true passion!

Editor: Jaap Horst
---
Volume 14, Issue 3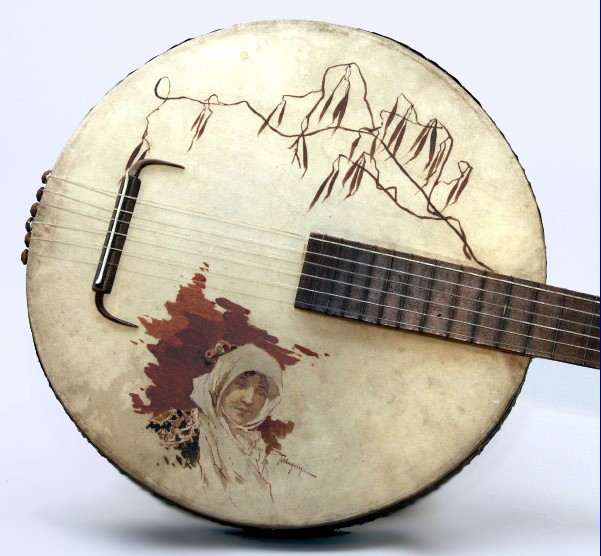 Carlo Bugatti Fantasy Stringed Instrument
Carlo Bugatti Fantasy Stringed Instrument, c. 1890, made in Italy, light brown oil stain, polychrome decorative design finish, European Walnut neck, finial and rim with copper banding and double velum heads.

Carlo Bugatti (1856 - 1940) was born in Milan and became an artist and designer of international renown and prominence. He trained at the Brera Academy of Fine Arts and was greatly influenced by the early exponents of the 'New Art' in their reaction against the heavy, ornate, classical, Renaissance, Baroque and Rococo styles fashionable in the mid 19th Century. Carlo Bugatti worked in architecture, interiors, ceramics, musical instruments, paintings, silverware and textiles as well as furniture for which he is best known. Although highly stylized and individualistic, he drew strongly upon Gothic, Moorish and Oriental motifs.

Nearly all his work demonstrates a most confident use of simple powerful form, sometimes geometric, but often organic. Many of the pieces were elaborately finished in a variety of colors and textures with intricate insect like decorative motifs. In the case of furniture this surface treatment may help to disguise the structure jointing and method of construction and contribute to the sculptural unity of the piece.

This unusual "Moorish Fantasy Instrument" is appointed with embossed copper bands identical to the decorative copper on an extant Bugatti writing table at the Cleveland Museum of Art and very similar to the illustration of Bugatti's furniture, in "The Queen" magazine published 7th July 1888. In this case, the decorative bands hide the edges of the double "banjo" tack heads as well as serving as a stretcher hoop and set for the tacks.

Additionally, this instrument's top head bears a signed original rendering of a female portrait by noted Italian painter/illustrator Riccardo Pellegrini (1863 -1934), a contemporary of Bugatti's in Milan. This striking image occupies much of the lower half of the head, with an exquisite overhanging branch decorating the upper half. Pellegrini's interest in Oriental art forms is evident, as is Bugatti's interest in Asian and Middle Eastern instrument design. It is noted that the two artists often collaborated and exchanged work, materials and services.

Bugatti and Pellegrini often summered together with their families. Apparently, the Bugatti household was an interesting and artistically stimulating environment. Many of the family friends and visitors were musicians, painters and sculptors. Freedom of individual expression and an open exchange of ideas were traits which were encouraged, expected and valued. Carlo married Therèse Lorioli and they had three children – Ettore, Deanice and Rembrandt.

The Cleveland Museum of Art's curator of Renaissance and Later Decorative Arts and Sculpture, Henry Hawley, describes Bugatti as "one of the most inspired and original designers who devoted his talents to the decorative arts." Bugatti retired to a town north of Paris, where he sank into obscurity and died on an unrecorded date in 1940. (His family remained prominent, however; one son, Ettore, gained fame as an automobile designer, and his other son Rembrandt making a name for himself as a sculptor.)

Overall length is 55 15/16 in. (142.1 cm.), 15 3/4 in. (40 cm.) diameter of rim, and 3 3/16 in. (8.1 cm.) in depth, measured at side of rim. The overall condition is excellent, with all components, fixtures and appointments remaining intact. Minor discoloration and pillowing to the velum heads. Superficial marks to surfaces do to normal handling and display. Tuning pegs are "friction" style and in fine operating condition. Neck joint and rim are structurally intact and unaltered. All finished surfaces have the original patina as do the copper bands and fixtures. The instrument was formally part of a major fine art and musical instrument museum's collection and thus still bears its accession number. These markings could easily be removed if desired.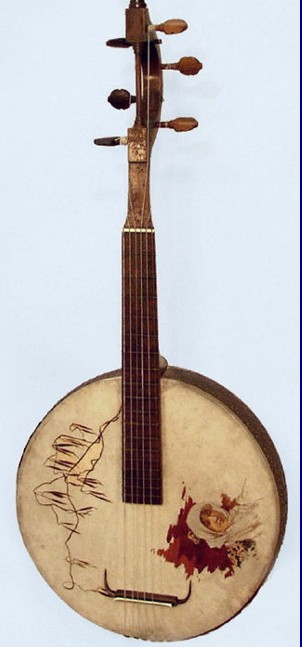 Bugatti musical instruments are perhaps the most unusual within his body of work.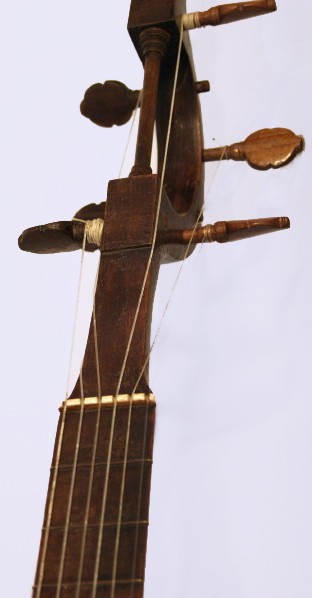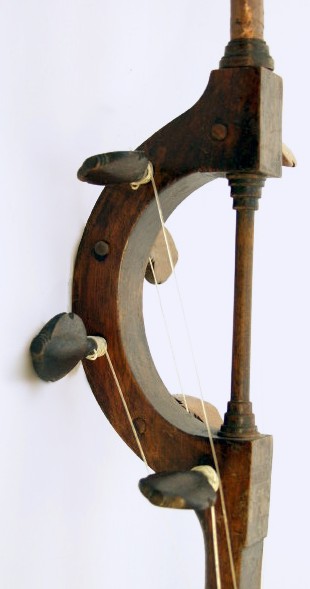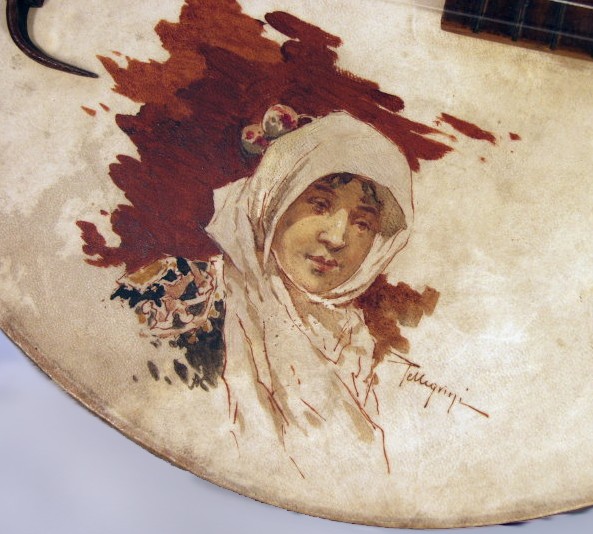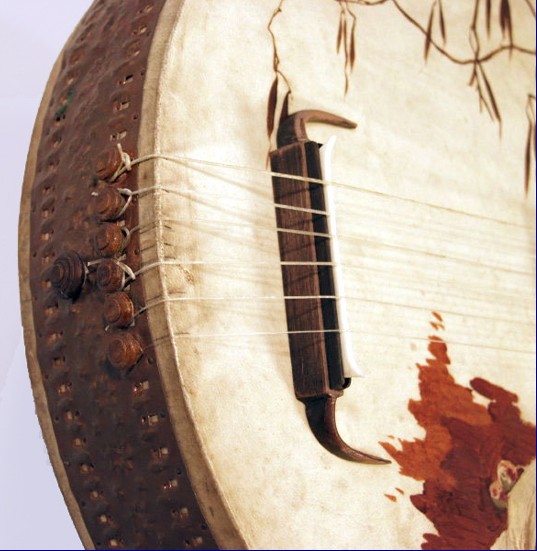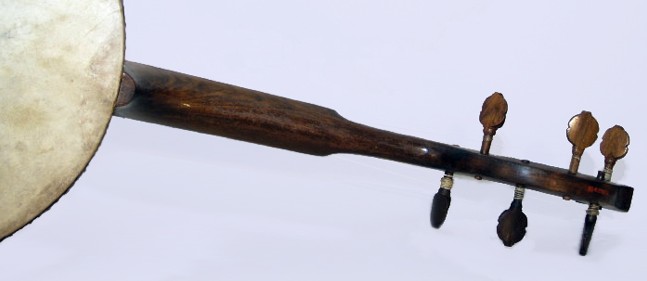 From Musurgia.com.
---
Back to the Bugatti revue
---
Vive La Marque !!