A virtual magazine for a true passion!

Editor: Jaap Horst
---
Volume 9, Issue 1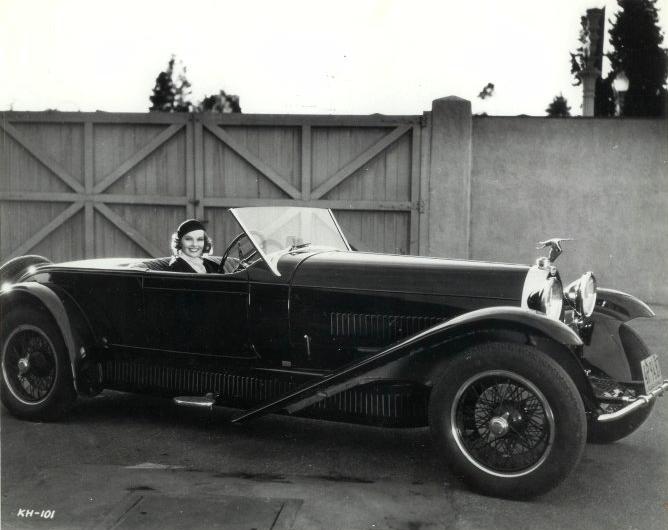 Katherine Hepburn´s Bugatti - also used in another movie!
Kees Jansen, text Sandy Leith, additions by Jaap Horst
4 years after the first article on this car, Tony Hubner points out to me that this same car has been used afterwards in another movie. His e-mail:
Have you ever seen a 1935 film called "Remember Last Night?"? It's a murder mystery directed by James Whale (I think I got the first name right) who did the Frankenstein films, and about whom the film "Gods and Monsters" was made. But that's not why I'm writing this.
A Bugatti has a major supporting role, being referred to by name several times. It's a touring model, I think a T40-something, but my expertise doesn't go that far. I'd love to know whose it was, and is it still around? The best line is a tough New York detective, whose boss says "They sent the Buhgahtti fer us", the detective replying "The Bu-what?" There follows a slow pan over the instrument panel, which completely baffles the detective. In addition to this, it's good fun.
In this 1935 movie the car wears a Rolls Royce mascot, where in the 1933 movie it wore a Hispano Suiza one!
USA/B&W/81 m./Dir: James Whale/Wr: Harry Clork, Doris Mallory, & Dan Totheroh/Cast: Robert Young (Tony Milburn), Constance Cummings (Carlotta Milburn), Edward Arnold (Danny Harrison) In an obvious attempt to capitalize on the success of MGM's The Thin Man (1934), Universal Studios released their own comic-murder mystery the following year, featuring another tipsy twosome, multiple murders, suspicious characters, and a luxury estate with cocktail bars in every room (including the bedrooms). Remember Last Night?, based upon Adam Hobhouse's novel, The Hangover Murders, concerns a couple of newlyweds (Robert Young and Constance Cummings) who wake up the morning after a wild party with a honey of a hangover and a dead man in one of the guest rooms. Unfortunately, all of the attendees of the previous night's binge were so bombed on bubbly that none of them can recall what happened. Police detective, Danny Harrison (Edward Arnold) has his work cut out for him, trying to keep all of the suspects in one place and sober enough to interrogate. Universal's knockoff lacks the witty banter of The Thin Man, and its plastered protagonists come across as manic and belligerent when stinko, rather than witty and urbane. However, that's not to say that Remember Last Night? is completely without charm. On the whole, it's a fast-moving romp, aided greatly by touches of dark humor provided by James Whale, who directed this throwaway between Bride of Frankenstein (1935) and Showboat (1936)--Perhaps he lost a bet. If you're looking for a frothy curio of a time when intemperance in excess was considered cute, this is just the film for you. However, I should warn easily offended viewers that the film is regrettably scarred by a racially distasteful blackface scene.
---
And A 3rd movie, from 1934:
The same Bugatti seems to have been used in between both other pictures in another movie from 1934:
GAY DIVORCEE with GINGER Rogers and FRED Astaire. See the picture below (Thanks Uwe Zummach!) , apparently the car appears towards the end of the movie.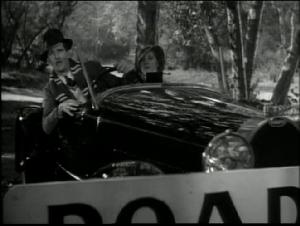 According to Jim Sitz in Oregon, the Murphy bodied T38A was owned in 1949 by Jim Hum and Phil Hill who were teen age neighbors.
---
The original article in the Bugatti Revue Vol.9, Issue 1 of 2004:
When I (Jaap Horst) posted the above picture on the Bugatti Page, I hadn´t thought I would have so many discussions about it. In fact there were even experts who thought that it wasn´t a Bugatti at all, that the lines and dimensions were all wrong, Miss Hepburn being presumably quite tall. I could personally prove that it is in fact a Bugatti, it is shown with Bunny Phillips at the wheel, on page 173 of Conway (I have the 5th edition, 1997), where Conway states that it is a T44 (see photo at the right).
Full story came a few days later from Kees Jansen, who sent me the following text and pictures: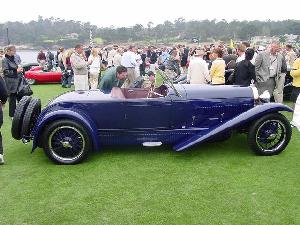 The well known 'Murphy Roadster', chassisnumber 38435, engine 338C, reg JNZ 191 (Ca). Delivered to Paris for the USA as a chassis on june 13, 1927. The body is by Murphy.
It is the first 38 fitted with a supercharger. It was used in a very early Katherine Hepburn movie, and later described in an issue of the 1956 Road and Track Magazine.
The publicity still of Katherine Hepburn in the Murphy T38 was taken for a 1933 film entitled "Christopher Strong." Starring Hepburn, Colin Clive and Billie Burke (better known as "Glinda" the Good Witch of the North in "The Wizard of Oz"), the film tells the story of ace aviatrix, Cynthia Darlington (Hepburn) who falls for (married) Christopher Strong, played by Clive...she must then choose between career or romance.
The T38 is featured in at least 3 scenes, including one in which it is thrown into a full four wheel spin to avoid another car while being driven (supposedly) by Hepburn.
The owners were Charles Howard, Jim Hill, Bunny Phillips, Robert Kountz and now Jay Leno. The wheels have been swapped with those of a 35B 4748 for a while as Bunny Phillips was not allowed by the officials to run the Indianapolis race in his 35B on alloy wheels, and as he also owned this car he swapped the entire wheel assemblies between the two cars which allowed him to race his 35 GP with wire wheels.
The T38 wore the alloy wheels until the middle of 2002, when they were once again replaced with wire wheels in the original configuration. The car has hibernated for a long time with Bob Kountz, but now it has been completely restored by Randy Ema, including the refitment of the original supercharger and installation of a five main bearing crank. Its present owner, Jay Leno, has presented the car twice at Pebble Beach (2002 and 2003).
The radiator mascot presumably is from a Hispano Suiza, and may have been fitted for the movie only.
Remains one question: We can see Jay Leno (who isn´t at all that tall either) sitting quite high above the car, while Katherine Hepburn with her 5´7" (170 cm) sits quite low inside the car, which makes the car, together with the angle of the photograph, look enormous, like a T46 almost. It must have been that Miss Hepburn was told to sit this low, for the picture only. And, be honest: Don´t you like Katherine Hepburn´s picture a lot better than Jay Leno´s?
And a lesson to learn: Conway can be wrong also!
Color Pictures are from Pebble Beach 2002, and can be clicked for an enlargement.
Update: parts of the movie are now on-line! 28-12-2004
---
Back to the Bugatti revue
---
Vive La Marque !!