A virtual magazine for a true passion!

Editor: Jaap Horst
---
Volume 13, Issue 3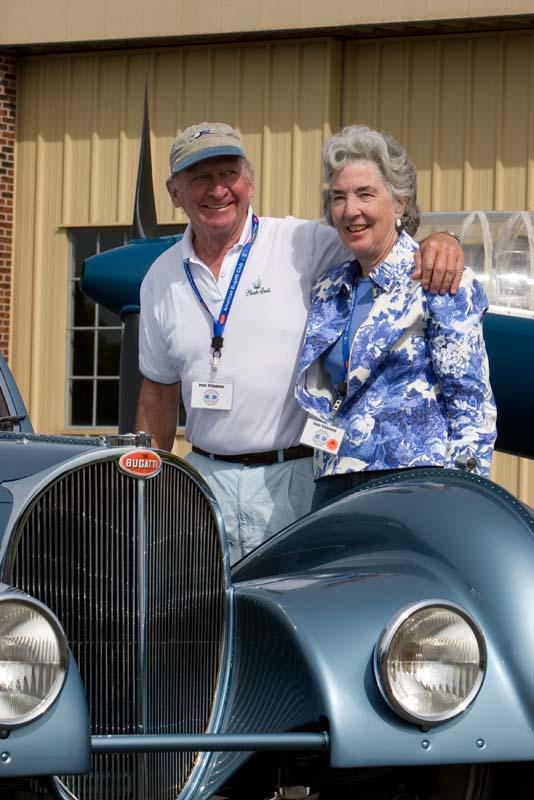 Requiem for a Collector
Johan Buchner
It is the wing-line of the Freestone & Webb berline that encapsulate, for me, the utterly superb taste and class of the Peter Williamson Collection. Each car is interesting, yet contribute to the whole - getting back to that wing-line. Type 46 (Ch.No. 46533) has a body quite in keeping with the Freestone & Webb style, elegant, conservative and understated. Add that wing-line and it suddenly becomes the epitome of Bugatti flair. It is similar, but not exactly the same, as Jean Bugatti's signature wing-line, yet the curve incorporates the 4 doors to perfection and gives the whole car a lightness and joy usually lacking in the best of Britain's coachbuilders - truly a fascinating conundrum.
Dr. Peter Williamson was an original, a healer, a man of medicine and owner of the greatest (not the biggest - the greatest) collection of Bugattis in the world. A proper appreciation of his many-fold achievements are beyond the abilities of this author, best left to those who knew and loved him. But I would like to take you, Dear Reader, on a great adventure. Walk with me, and let us celebrate Bugattis, you will not be disappointed, I promise you.
The first time I saw the name Peter Williamson was back in the late 90's, on Jaap Horst's The Bugatti Page. In his Revue there was an article covering the Meadow Brook Concours and there was this photo of a blue Atlantic. I took one look at it, and thought to myself : "The standard of Atlantic replicas has gone straight to Hell!" This was not the last injustice I did Dr. Williamson either, when I wrote an article on the Atlantics, I referred to him as Dr. Peter Williams. And now it is too late to say how sorry I am, Death in Horrid Majesty having come for this glorious man. He fought, My God how bravely he fought the cancer which eventually claimed him, and I am left with a feeling of unfinished business, and a mystifying amount of grief. I must make amends.
Generosity manifests itself in many ways, with Dr. Williamson it showed in the way he shared his cars with his many friends, and in his yearly meeting at his home. Imagine owning these cars and letting your friends drive them, like I said, generosity comes in many forms. In one of Ralp Stein's books I encountered his T55 Jean Bugatti Roadster for the first time, a colour photo from rear three-quarter view. Beautiful colour, a dark blue/green/grey body with soft yellow side panels, in beautiful, but not over-restored condition. 55201 (The lowest chassis number; first delivered to the Duc de la Tremoille in 1931) has, of course, the signature wing-line that makes for such a fascinating comparison with his Type 46. But before I go any further, please let the following cars work on your imagination:
Type 35 chassis numbers :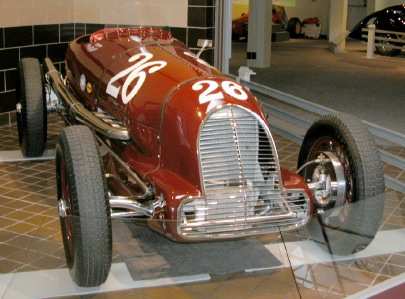 Chassis 4748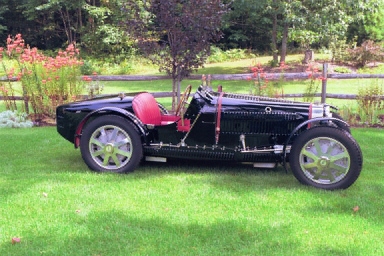 Chassis 4817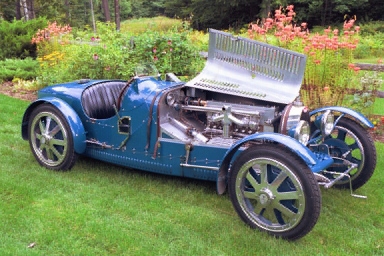 Chassis 4935
Type 44 :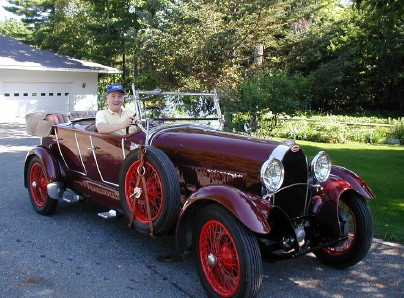 Chassis 44311
Type 46 :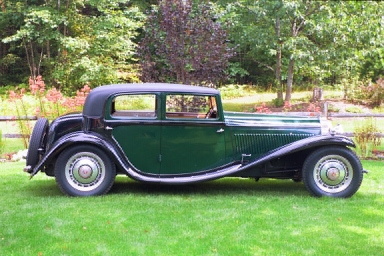 Chassis 46533
Type 50 :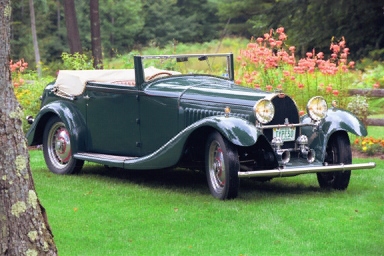 Chassis 50133
Type 51 :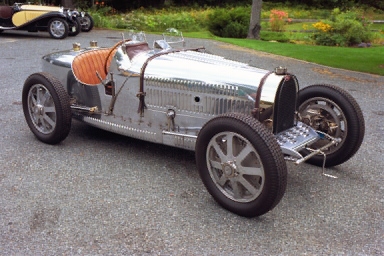 Chassis 4654
Type 55 :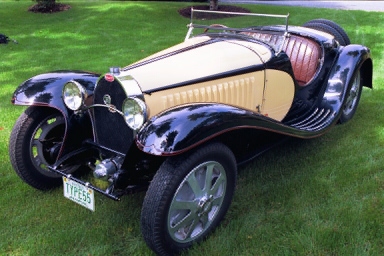 Chassis 55201
Type 57 :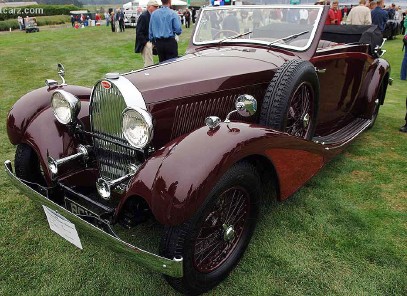 Chassis 57169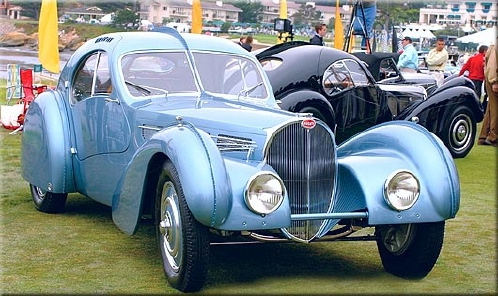 Chassis 57374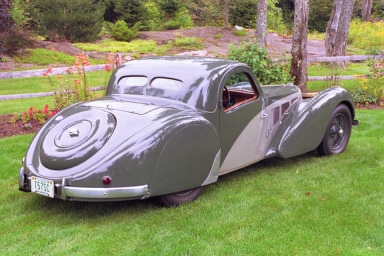 Chassis 57511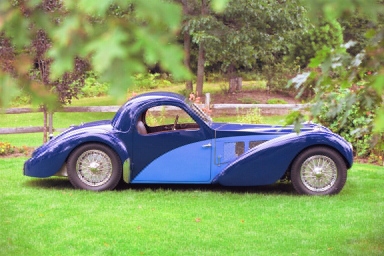 Chassis 57573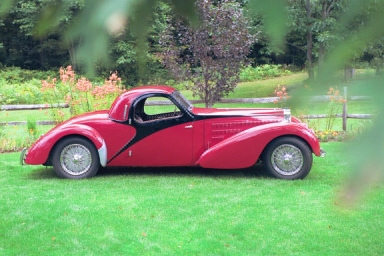 Chassis 57624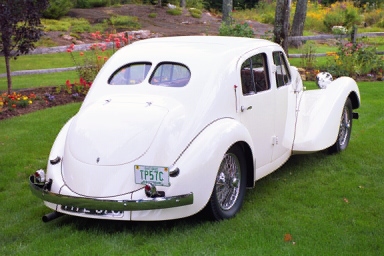 Chassis 57806
Mesmerising collection, innit? Let us continue the journey : In the same Ralph Stein book, a profile shot of 4817 allows the viewer to appreciate the owners attention to visual details.The underside of the fenders are painted red, close to, but not exactly the same shade as the upholstery and the leather detailing where the gearlever sprouts into the sunlight. Later T51 wheels completes the differentiation with 4935. In French racing blue, this car has a highly interesting racing history, while still being fitted with it's original engine - No. 172 TC. This is rare, and what makes it all the more remarkable is comparing it with the Type 51. Originally a T35 A, it is now unpainted, it's polished aluminium body giving it the look of a car prepared to the exact specification and taste of the owner. Then there is the Miller engine 4748; built and raced by Dr. Williamson's great friend and Bugatti mentor, Overton "Bunny" Philips, and acquired from his estate by Dr. Williamson after Bunny's death, and restored to the condition as built for the Indy 500. Refreshing to see an owner recognising the historical importance of this special, and resisting the temptation to return it into a facsimile of it's original specification. I think, though I am speaking under correction here, that this might have been the last Bugatti bought by Dr, Williamson. Seen all together, it is clear to the observer just how wide-ranging Dr. Williamson's priorities was; highly original, or rebuild to his specification, each car satisfied a specific need. Comparison with Fritz Schlumpf's collection is fascinating : To Schlumpf the acquiring was everything. I always got the feeling that even had Fritz Schlumpf managed to collect every Bugatti extant, he still would have been yearning for the lost ones. Dr. Williamson, on the other hand, carefully considered each addition, and used, loved and enjoyed them all his life. He owned 57374 for more than 30 years before taking the crown at the 2003 Pebble Beach Concours. To me this sums him up - measured, considered and triumphant. All the big collectors, Harrah, Nethercutt, Schlumf all rushed to acquire, restore and then move on to the next one. And remember, Peter Williamson collected only Bugattis, not even Briggs Cunningham had that purity of vision.
Onto the Type 50. 50133 was delivered in 1932 to, I think, Leon Fabre, and owned later by the famous British Bugattisti, Col. Eric Giles. Fitted with a rather abbreviated cabriolet body by the little-known coachbuilder, Brainsby-Woollard, it is still in highly original condition. I have never understood why so few Type 50's survived. Of the 38 T55's, 27 are left. Of the 40 T57S', 36 are left, or rather 36 originals are left, count the fakes and the number rises to 50+. But I digress, of the 65 T50's only 21 remain. And fewer still have their original bodies, or engines. Any suggestions as to why this is so? Just as a matter of interest, my favourite T50 is amongst the casualties : A fiacre built in-house by Bugatti (WIKI under unknown T50 ch.no's.) 50133 is one of only a handful of swb T50's left, and it is certainly understandable why Dr. Williamson thought her a worthy companion to his other beauties. Both original and elegant, yes it belongs.
I remain somewhat un-impressed by the T44 though. 44311, originally fitted with engine number 67, then a Ford V8 and now engine 254, there is just something rather gaunt about this dual-cowl torpedo, lacking the sublime elegance of the Lavocat & Marsaud T30 torpedo, recently sold for 298 000 Pounds at auction. A purely personal opinion, this is probably my least favourite Bugatti in the Williamson Collection. Well, there's the Bebe-Peugeot I suppose..... Let's move on, shall we?
Of the 6 Type 57's owned by Dr. Williamson, no less than 3 was the highly desirable "S" chassis. Comparing 57169 (A James Young cabriolet) with 57806 ( A late Galibier saloon) illustrates the manner in which each car was treated as a work of art in its own right, and not bedevilled by the so-called "philosophy" that destroyed so many cars in the Harrah Collection; the ex-Waterman Napiers jumps to mind. Edwardian racers requires a different approach than a Duesenberg. Fact. Dr. Williamson understood this so well, the Galibier is painted a creamy white, the wheels are chromed, but (a masterful touch this, just like the on Atalante 57573) the brake drums are a satin finish, allowing the chrome of the wheels to really pop. There is a tendency for modern restorers to polish the brake-drums just as highly as the wires, and a lot of details are lost in the process. This is one of the few aspects of John Mozart's ex-Giles T57S roadster open to criticism, but again, I digress. Getting back to the Galibier, don't you think that white suits this car very well? In my opinion two-tone Galibiers look a little hunchbacked. Now compare the continental flair of the Galibier with the understated lines of the James Young car. Painted two deliriously elegant shades of burgundy, and on painted wires, devoid of either disks or chrome, the finish not only complements the lines, it completes them. I am not sure when Dr. Williamson got this one, but it was restored fairly recently, making its post restoration debut at Pebble Beach in 2006. Didn't win, but it matters not, it partook in the Pebble Beach road-rally beforehand. This matters. A lot. An early T57 and one of the last ones, these two cars serve as complimentary bookends to the remaining four.
3 Atalantes, 2 (57573 & 57511 See Bugatti 57 Sport by Pierre-Yves Laugier) are Type 57S' and the third one (57624) a Type 57C. A T57S Atalante is an urgent, focused little racing berlinetta, a T57C Atalante, on the other hand, a languid exuberance. I keep jumping between the two, which is prettier, shorter and more intense, or longer and calmer? As to the answer, depends on the time of day you ask me, but right now I like the long low one. Earlier this afternoon, I went into ecstasy over the those 2 T57S'. No wonder Dr. Williamson needed three of them, the only way to avoid having to chose. Going back to the 2 T57S', 57511 is still painted in the 2 Rolls-Royce shades of green (Smoke over Sage) chosen by Dr. Hascal during restoration by Bunny Phillips in the 1960s. Dr.Hascal sold 57511 to Dr.Williamson during the 1970's and he has kept her in the same sublime condition it was when finished by Phillips - a remarkable testimony to the ability of the late Overton Axton Phillips. 57573, unveiled at the Paris Motor Show of 1937 in a single shade of dark blue, Dr. Williamson had her restored in the two-tone blue as she appeared at the London Motor Show of the same year. For most of the time it was owned by Dr.Williamson, it was painted a deep burgundy, only being changed to it's current shades of blue during the 1997-99 restoration by Don Lefferts. 57624, engine 448, is painted red with a black side flash. Three Atalantes, one red, one green and one blue, two Type 57S', one a Type 57C. One remarkable owner. By the way, did you know that Dr.Williamson, together with his father, bought 57573 in 1965? A life-time of Bugattis, and he healed the sick too. Make no mistake Friends; we have lost a giant.
Without doubt, the crown jewel in the collection was the deserved winner of the 2003 Pebble Beach Concours d'Elegance. When Atlantic 57374 came up for sale on the 12th of June 1971, Dr Williamson, recognising the importance of this unique car, paid the then unheard of price of 59 000 Dollars, a world record for a car sold at auction. To put that in perspective, in 1971 Caddillacs ranged in price from 6-8000 dollars. For thirty years this car was kept, and much used and enjoyed, in the slightly modified condition as when bought by Dr.Williamson, until, after much diligent research, including the exact shade of that fabulous light blue-green metallic paint, this car was sent to world renowned Bugatti restorers, Jim Stranberg and Scott Seargent. They provided proof that it is possible to take the laurels at Pebble and still keep the soul of a car alive. One can still see her hand-built origins, she looks now much as she must have done when delivered to Lord Victor de Rothschild in 1936. But even more impressive than her Pebble Beach triumph is the fact that Dr Williamson used her afterwards with just as much enthusiasm as he did before her restoration. I would like to think that winning at Pebble mattered far less than the way she drove.
And now the light has faded. Never again will these cars be loved as they had been during the life of this colossus amongst motoring enthusiasts. Never again will the USA be the home of Bugatti class and élan. Never again will New Hampshire be the epicentre of the Bugatti universe. Rest Gently Brave Warrior. Dr. Peter Williamson, Healer, Bugattiste, Gentleman. R.I.P.
Johan Buchner
15/06/2008
Port Elizabeth
South Africa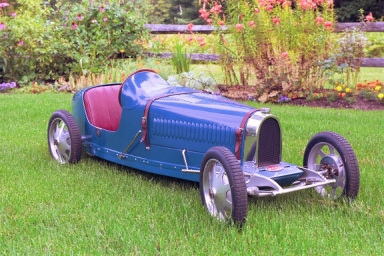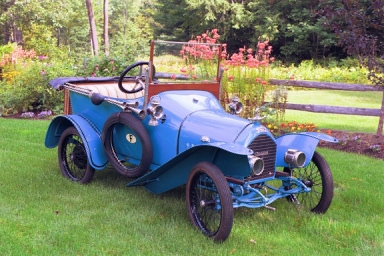 Just to be complete, Dr. Peter Williamson's Bugatti T52, and his - Bugatti Designed - Peugeot Bébé.
Top picture: At the 2005 Elkhart Lake festival, Peter with his wife Susan, beside his Atlantic, in front of the Bugatti 100P airplane. Peter Williamson bought the airframe from Ray Jones, who had bought the airplane from Serge Pozzoli in France. Dr. Peter Williamson started the restoration at Ron Lefferts shop in Connecticut. Restoration however was not completed until after donation of the airplane to the EAA Air Adventure museum in Oshkosh, where it still is, showing all it's splendor in it's current, restored shape.
---
Back to the Bugatti revue
---
Vive La Marque !!